NSG 6435 iHuman Case Study – Adolescent Risk Behaviors
NSG 6435 iHuman Case Study – Adolescent Risk Behaviors
NSG 6435 iHuman Case Study – Adolescent Risk Behaviors
Case Study Overview
In this case study, I will discuss the case of Angela, a 17-year-old female with symptoms of increased fatigue in the past two months. She also reports weight gain increased irritability and tearfulness. Besides, she reports that she always feels tired and has lost interest in day-to-day activities. On general examination, she is obese and has mild acne and further states that she feels unhappy with her looks. Nonetheless, she denies having suicidal ideations. Laboratory work-ups conducted came out negative. She is diagnosed with adolescent depressive disorder.
The Evaluation Tool and why it is Essential in The Care of Adolescent Patient Population
The evaluation tool used in taking history, assessment and diagnosis of Angela's case is the 'Patient Health Questionnaire for Adolescents' (PHQ-A). The tool was modified from the Patient Health Questionnaire (PHQ) for use in adolescent patients and is tailored to help recognize common disorders affecting them (Mitchell, Yadegarfar, Gill & Stubbs, 2016). The PHQ-A consists of simple questions and is administered to patients who respond to them as yes or no. Its primary purpose is to assess adolescents for anxiety, eating habits, and substance use and mood disorders. Adolescents are at a high risk of developing mental disorders such as anorexia nervosa, depression, suicide, or drug-induced psychosis (Gadomski, Scribani, Krupa, & Jenkins, 2014). Furthermore, the tool categorizes the severity of the mental disorder as none, minimal, moderate, moderately severe and severe (El-Den, Chen, Gan, Wong & O'Reilly, 2018). The PHQ-A tool is highly useful in helping mental health professionals and clinicians in early identification, treatment and appropriate management of mental disorders in the adolescent population.
Findings of Scholarly Research Articles to the Use of the PHQ-A Tool
            Researches on the PHQ-A tool have found the tool acceptable and efficient in detecting and recognizing mental conditions in adolescents who are at a high risk owing to their physical, emotional and mental growth. In screening for adolescents having a major depressive disorder, the tool was found to have a sensitivity of 0.73 and a specificity of 0.94 (El-Den et al., 2018). It has also facilitated in evaluating patients' response to therapy. Besides, care based on the severity of the mental disorder has revealed better health outcomes, especially in patients diagnosed with depression, anxiety and somatoform disorders (Mitchell, Yadegarfar, Gill & Stubbs, 2016). Additionally, the adoption of the tool in assessment has significantly helped mental health providers in avoiding medical errors such as over- and under- treatment.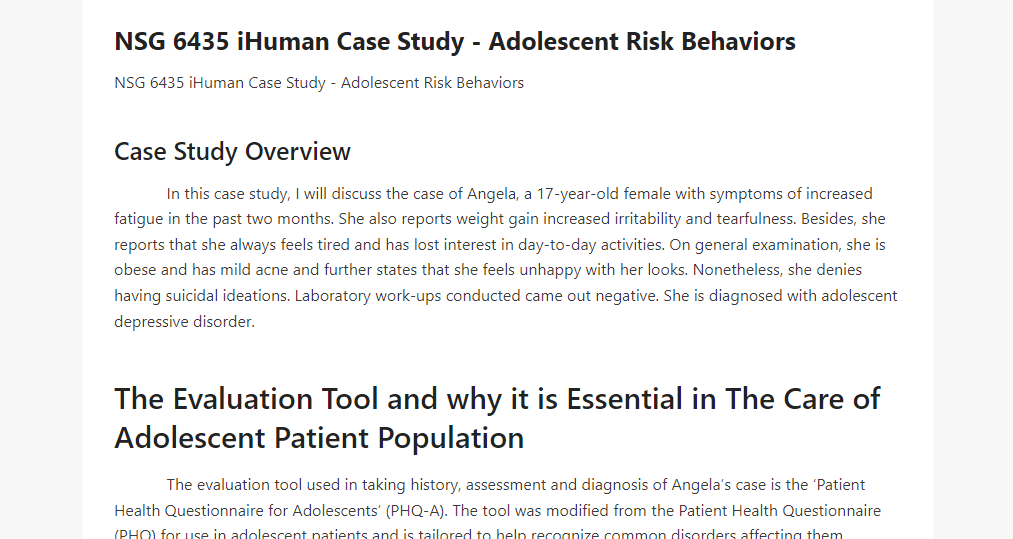 Furthermore, it has also facilitated in monitoring patients' response, modification of treatment, and in the assessment of the quality of health care provided to patients. The PHQ-A tool is currently translated into over 60 languages, which makes it a reliable tool that can be used in early screening and treatment of adolescent mental conditions worldwide (El-Den et al., 2018). Nevertheless, there is undefined ability of the tool in improving the patient's outcome if only a single mental disorder is screened for (Mitchell, Yadegarfar, Gill & Stubbs, 2016). For instance, screening for suicide alone might not be useful in improving the overall patient's outcome.
Application of the PHQ-A Tool to a Patient Situation
Angela was screened for mental disorders using the PHQ-A tool based on her presenting symptoms such as increased fatigue, lack of interest and feelings of tearfulness and unhappiness. Most points were awarded for responses on feeling tired, depressed, overeating, feeling bad about oneself, restlessness, and lack of interest. However, no point was awarded on responses to thoughts of being better dead or hurting oneself. The results reveal a score of 18 out of 27, which falls under moderately severe depression. The tool will help plan a treatment plan for Angela to manage the condition and promote a better quality of life for her.
Patient's Plan of Care
Management of a depressive disorder in adolescents is best managed with combination therapy of psychotherapy and medication. The management of Angela's condition will involve psychological and pharmacologic treatment. Psychological therapy will include:
Cognitive therapy. This will include monitoring and identifying automatic thoughts and replacing negative thoughts with positive thoughts (Clarke et al., 2015). For example, replacing negative views of her body image with positive thoughts on how she can lose weight and have an acne-free face.
Psycho-educational therapy. The patient will be provided with information about her symptoms, causes, pathophysiologic process and the treatment interventions available.
Family-focused Treatment. This will involve educating the family about her condition to help the patient improve her communication with her family and also improve her problem-solving technique (Davis, 2016). Sharing her problems with her family and appropriate solving will help her reduce the unhappy episodes.
Behavioral therapy. This will aim at changing the patient's undesired behaviors to more desirable ones to improve the overall outcome (Clarke et al., 2015). For instance, advising the patient to have a daily physical activity routine to help her in losing weight and remain active throughout with no episodes of fatigue.
Health education on the importance of a healthy diet. Advice on eating a balanced diet will help her in losing weight and further maintain healthy skin.
Pharmacologic therapy will comprise of antidepressants to increase the levels of serotonin and norepinephrine in the brain (Davis, 2016). This includes Amitriptyline 100mg qDay and Fluoxetine 20mg qDay.
References
Clarke, G., McGlinchey, E. L., Hein, K., Gullion, C. M., Dickerson, J. F., Leo, M. C., & Harvey, A. G. (2015). Cognitive-behavioural treatment of insomnia and depression in adolescents: A pilot randomized trial. Behaviour research and therapy, 69, 111-118.
Davis, J. (2016). Treatment for Adolescents with Depression Study (TADS). 50 Studies Every Pediatrician Should Know, 17.
El-Den, S., Chen, T. F., Gan, Y. L., Wong, E., & O'Reilly, C. L. (2018). The psychometric properties of depression screening tools in primary healthcare settings: a systematic review. Journal of affective disorders, 225, 503-522.
Gadomski, A. M, Scribani, M. B., Krupa, N., & Jenkins, P. L. (2014). Do the Guidelines for Adolescent Preventive Services (GAPS) facilitate mental health diagnosis? Journal of Primary Care & Community Health. 5(2), 85-89.
Mitchell, A. J., Yadegarfar, M., Gill, J., & Stubbs, B. (2016). Case finding and screening clinical utility of the Patient Health Questionnaire (PHQ-9 and PHQ-2) for depression in primary care: a diagnostic meta-analysis of 40 studies. BJPsych open, 2(2), 127-138.