NSG 6430 iHuman Case Study – HEENT and Respiratory Infections
NSG 6430 iHuman Case Study – HEENT and Respiratory Infections
NSG 6430 iHuman Case Study – HEENT and Respiratory Infections
Do you recommend limited or involved the use of antibiotics in the treatment of these diseases and other unconfirmed bacterial illnesses and why? What are the standards regarding the use of antibiotics in the pediatric population, and what assessment findings would warrant prescribing an antibiotic for Asthma symptoms?
Asthma is a reversible respiratory chronic condition which involves inflammation of the airways, increased mucus production and edema, which may trigger coughing, shortness of breath and wheezing. It can be a lifestyle limiting health condition with no cure but requires close monitoring and adequate management of the symptoms. Childhood asthma, on the other hand, has been classified by most treatment guidelines as mild, moderate and persistent, depending on the severity and persistence of the symptoms, of which differ in the type of medication that is recommended for the management of the symptoms (Baan et al., 2018). A diagnosis of asthma was made based on the findings from the pulmonary function tests that were conducted on Katherine Harris. According to the CDC, the triggers of asthma include indoor or outdoor allergens, medications, mold, pets, exercise, infections, pets and tobacco smoke among others.
The clinical report recommends that clinicians should use the most appropriate diagnostic criteria for pediatrics before deciding on what medication to prescribe. For instance, certain instances as acute bacterial sinusitis, pharyngitis, and acute otitis media will benefit from antibiotic therapy. The guideline by the American Academy of Pediatrics (AAP) recommends that acute otitis media be diagnosed based on the evidence of two main condition, that is, evidence of middle ear effusion, which is demonstrated by a moderate to severe bulging of the tympanic membrane or a new onset of otorrhea, which is not attributable to otitis externa. However, patients who display more severe symptoms, bilaterally involved and of young age have a higher likelihood of benefiting from antibiotic therapy. Watchful waiting is recommended for older patients with mild symptoms, which are unilaterally involved. Consequently, antibiotic therapy is also recommended for cases involving acute bacterial sinusitis with symptoms, which have persisted for more than 10 days or worsen as a result of a new onset of daytime cough, nasal discharge or fever after the improvement of a typical viral upper respiratory tract infection (Sheldon, Heaton, Palmer, & Paul, 2018). Diagnostically confirmed pharyngitis with β-hemolytic GAS also require antibiotic therapy appropriately prescribed in terms of dosage and frequency for the shortest time possible. Using antibiotics excessively or inappropriately leads to antibiotic resistance which makes it hard to treat other infections in the future.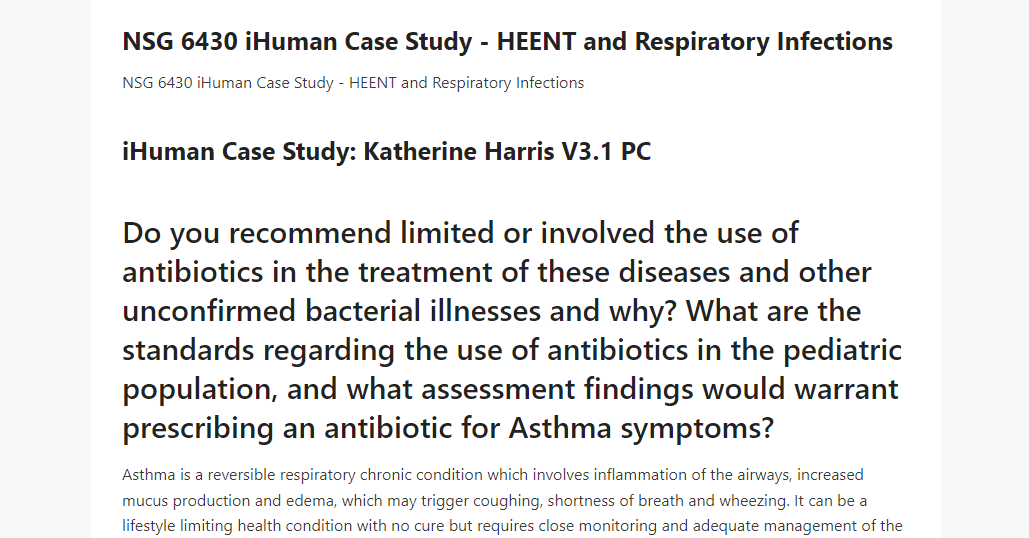 Using national guidelines and evidence-based literature, develop an Asthma Action Plan for this patient.
The action plan for this patient will include the daily treatment, long-term control of asthma, how to deal with a worsening state of asthma or an attack, and when it is necessary to seek medical attention in the course of treatment (Tesse et al., 2018).
| | | | | |
| --- | --- | --- | --- | --- |
| Classification of Asthma | Symptom frequency | Treatment | Patient education | Seek medical attention |
| Mild intermittent | Less than 2 days in a week | Bronchodilators which are short – 2 puffs of Albuterol after every 4-6 hours PRN. | Provide information on how to take the medication, proper inhaler techniques, and environmental triggers to avoid. | In case the symptoms persist for more than twice in a week or the patient has used short-acting beta antagonists (SABA)for more than 2 to 3 weeks. |
| Mild persistent | More than 2 days in a week and use of SABA for more than 2 to 3 weeks. | Low dose corticosteroid inhaler – 80-240 mcg/day beclomethasone or 180-600 mcg/day Pulmicort. SABA PRN for exacerbations. | Provide information on how to take the medication, proper inhaler techniques, and environmental triggers to avoid. | If daily use of SABA is required |
| Moderate persistent | Symptoms occur daily or for more one night in a week but not every night. | Low dose steroid inhaler, plus LABA, LTRB, or theophylline or medium dose steroid inhaler. SABA PRN for exacerbations. | Provide information adherence to daily prescription, proper inhaler techniques, and environmental triggers to avoid. | When symptoms persist. |
| Severe persistent | Symptoms occur all through the day and 7 nights in a week. | High dose corticosteroid inhaler plus, LABA and oral corticosteroid if needed – 2 mg/kg/day but should not exceed 60 mg/ day. SABA PRN for exacerbations. | Provide information adherence to daily prescription, proper inhaler techniques, and environmental triggers to avoid. | When symptoms persist. |
Do the etiology, diagnosis, and management of a child who is wheezing vary according to the child's age? Why or why not? Which objective of the clinical findings will guide your diagnosis? Why? When is a chest x-ray indicated in this case?
Wheezing is associated with breathing difficulties as a result of narrowing of the airways and is characterized by a high pitch whistling sound that is heard during respiration. As such, any complication or infection of the airways might have a significant impact that might lead to a total restriction of the airways in such a patient. Nasal flashing, murmurs and retractions are signals indicating distress in respiration. The earliest symptom is a nonproductive cough, followed by expiratory wheezing, tachypnea, and shortness of breath, tachycardia, prolonged expiratory phase, and hyper-resonance (Hudgins et al., 2019). The use of accessory muscles is a sign of severe asthmatic attack that is accompanied by decreased exercise tolerance and sudden nocturnal dyspnea. Through auscultation, the physician can identify the location and presence of crackles, stridor, and wheezing. However, it might be hard for these physical findings to be realized in pediatric patients who are unable to take deep breaths. Most research has revealed that localized wheezing might not be an indication of asthma, and hence recommend further investigations. It is also recommended that pediatric patients who present with localized wheezing be given bronchodilators such as albuterol as trial treatment (Horak et al., 2016). In case the drug does not help to stop the wheezing, then the patient is not suffering from asthma, but other underlying pathological conditions of the large central airway. A chest x-ray is indicated for children who present with symptoms of unexplained wheezing, which is not responsive to bronchodilators or is recurrent.
References
Baan, E.J., Janssens, H.M., Kerckaert, T., Bindels, P.J.E., Jongste, J.C., Sturkenboom, M.C.J.M., & Verhamme, K.M.C. (2018). Antibiotic use in children with asthma: cohort study in UK and Dutch primary care databases. BMJ Open 8(11), ,.
Hudgins, J. D., Neuman, M. I., Monuteaux, M. C., Porter, J., & Nelson, K. A. (January 07, 2019). Provision of Guideline-Based Pediatric Asthma Care in US Emergency Departments. Pediatric Emergency Care.
Horak, F., Doberer, D., Eber, E., Horak, E., Pohl, W., Riedler, J., Szepfalusi, Z., … Studnicka, M. (August 01, 2016). Diagnosis and management of asthma – Statement on the 2015 GINA Guidelines. Wiener Klinische Wochenschrift, 128, 541-554.
Tesse, R., Borrelli, G., Mongelli, G., Mastrorilli, V., & Cardinale, F. (January 01, 2018). Treating pediatric asthma according to guidelines. Frontiers in Pediatrics, 6.
Sheldon, G., Heaton, P. A., Palmer, S., & Paul, S. P. (January 01, 2018). Nursing management of pediatric asthma in emergency departments. Emergency Nurse: the Journal of the RCN Accident and Emergency Nursing Association, 26(4), 32-42.