NSG 6430 iHuman Case Study – Developmental Assessment and Biological Functioning
NSG 6430 iHuman Case Study – Developmental Assessment and Biological Functioning
NSG 6430 iHuman Case Study – Developmental Assessment and Biological Functioning
Why is the developmental assessment essential in the provision of primary care for infants, children, and adolescents, and what are the essential components of this assessment on the basis of a child's age?
Development assessment comprises of tests that are carried out on children in comparison with other children of the same age group to measure the expected milestones of development in that respective age group. The expected assessment revolves around the child's ability to think, walk, speak, play and analyse simple procedures. The assessment findings are of the suggestion that slow growth of a child as opposed to other children of the same age, is of great concern, given that the child might be experiencing complications such as visual defects, cerebral palsy, speech disorder, autistic spectrum defect and hearing loss (Wiener, Weaver, Bell, & Sansom-Daly, 2015). Hence, the development assessment is relevant in the diagnosis of such defects at an early stage to avoid future shortcomings.
Components of the development tests comprise of the child's ability to socialize with other children and language development. Additional tests include how fast or slow a child can learn from others, the child's interpretation and assessment strengths, and ability to come up with grammatically correct sentences, the physical aspect of how the child moves from one place to the next and cognitive assessment especially for children displaying autism disorder. Further, teenagers are the most affected with social changes as they are extremely mindful of their emotions and sexuality (Zeanah et al., 2016). They tend to learn more from school rather than at home. They tend to curve their personality as they discover and learn who they are. At this age, most teenagers seem to suffer from eating disorders, and as such, it is essential to carry out nutritional monitoring and physical body check-up.
Which tools will you use to assess specific components of development (such as speech, motor skills, social skills, etc.)? Which tools do you think are the most accurate in assessing the developmental components and why?
Children usually grow at different rates. As such, different mental and physical developments display direct effect on disorders such as autism. Consequently, there are various screening tools which are able to assess a child's ability to speak, in addition to determining how fast they can learn and their social-emotional status. Comprehensive receptive and expressive vocabulary tests are used to help evaluate the shortcomings that a child undergoes when it comes to constructing sentences as a means of expressing themselves. The tests also monitor the child's receptive abilities. The social skill rating system (SSRS) is also essential in measuring the child's personal and social behaviour (Chingono et al., 2018). It evaluates the factors that can make a child swerve from their ordinary social traits away from family and education environment. Battelle Developmental Inventory (BDI) tests are relevant in pointing out the weak and strong development characteristics of a child. This test is carried out in both infants and school going children. Boehm tests analyze the ability of the child to identify quantitative factors that comprise of balance, time and a sense of direction when starting school. Detroit test, on the other hand, assesses that child's strengths and weaknesses when it comes to language and vocabulary prowess. Nonetheless, Detroit test is not a reliable indicator in determining future changes. Most tests are conducted using questionnaires, which are more efficient and easier to evaluate. As such, a formal survey is the most recommended by professionals as one is able to have direct interaction with the child, hence more accurate.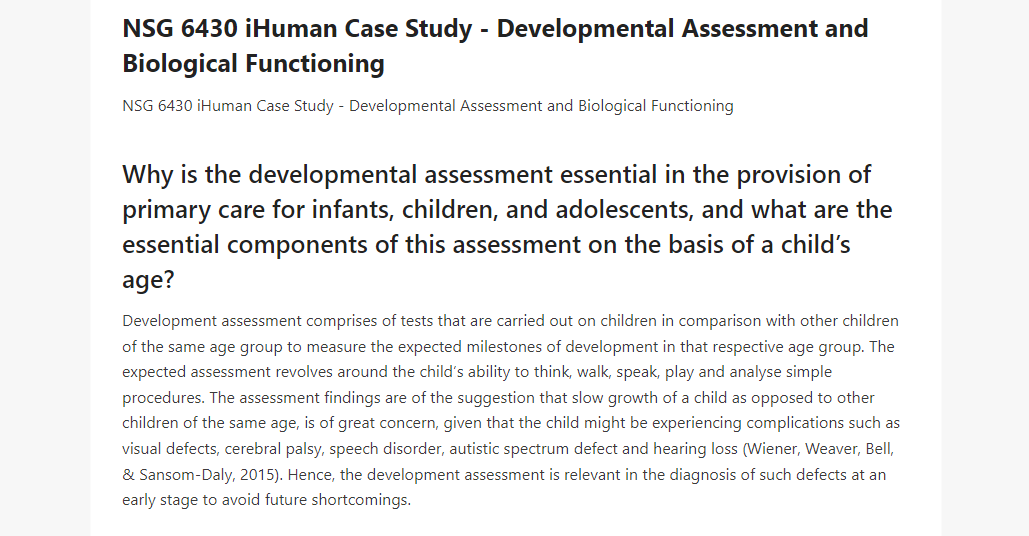 Which components would you consider in assessing the basic biological functioning and well-being of your paediatric patients? Why are these components important in providing primary health-care services to children?
The paediatric population is made up of young children and teenagers. Children can easily be evaluated using the paediatric triangle. Essentially, the paediatric testing comprises of factors such as respiratory tests that evaluate a child's breathing pattern, which is expected to be effortless, with no funny sounds involved, their height and weight, the child's physical flexibility and skin related care. The blood pressure of the child is also essential and should be monitored to assess cardiovascular and blood disorders. The skin assessment can also be used to evaluate the homeostatic properties of the child's body. For instance, skin colour changes might indicate cardiovascular shock. Children with wheezing sounds might have breathing problems. Consequently, gazing or crying of the child, in addition to other factors including changes in response to the environment or interaction with the caregiver might give a signal of whether the child is of normal health or ill. As such, all the development assessment help formulate treatment plans that can help boost the child's mental and physical health. Teenagers on the other hand usually experience numerous emotional changes and as a result, are vulnerable to dangerous activities that might compromise their health (Streiner, Norman, & Cairney, 2015). They end up being more vulnerable to traumatic disorders, hence the essence for assessment to formulate the best treatment option. Infants, on the other hand, are more vulnerable to respiratory disorders due to their underdeveloped respiratory system, and as such must be closely monitored to avoid the development of chronic complications. Teenagers should also be tested for drug abuse, as they are prone to peer pressure and might engage in the use of illicit drugs. lastly, it is only through a close relationship between parents and their children, that such complications can be easily noted and dealt with, without further complications.
References
Chingono, R., Mebrahtu, H., Mupambireyi, Z., Simms, V., Weiss, H. A., Ndlovu, P., Charasika, F., … Sherr, L. (July 09, 2018). Evaluating the effectiveness of a multi-component intervention on early childhood development in paediatric HIV care and treatment programmes: a randomised controlled trial. Bmc Pediatrics, 18(1), 1-10.
Streiner, D. L., Norman, G. R., & Cairney, J. (2015). Health measurement scales: a practical guide to their development and use. New York, NY: Oxford University Press.
Wiener, L., Weaver, M. S., Bell, C. J., & Sansom-Daly, U. M. (2015). Threading the cloak: palliative care education for care providers of adolescents and young adults with cancer. Clinical oncology in adolescents and young adults, 5, 1.
Zeanah, C. H., Chesher, T., Boris, N. W., Walter, H. J., Bukstein, O. G., Bellonci, C., … & Hayek, M. (2016). Practice parameter for the assessment and treatment of children and adolescents with reactive attachment disorder and disinhibited social engagement disorder. Journal of the American Academy of Child & Adolescent Psychiatry, 55(11), 990-1003.