NSG 601 Root Causes and the Use of Evidence
NSG 601 Root Causes and the Use of Evidence
NSG 601 Root Causes and the Use of Evidence
It is important to remember that medical errors of all types do not occur due to one person's actions, but exist within the mindset of a deficiency that continues to prevail systematically (Institute for Healthcare Improvement, 2020). Having this mindset instead of personal blame allows for the confidence to identify and pursue system improvement. There are situations that do involve the individual personal; however, it is better suited to advance the overall quality of patient care. The beginning part of this process is identifying the quality gap. The quality gap consists of an identifiable lack in healthcare delivery perpetrated by a system that is flawed (Ogrinc et al., 2018). There are numerous quality gaps within the healthcare system and continue to be a problem regardless of the existence of interventions based on evidence-based practice.
The Joint Commission has made the use of root cause analysis (RCA) mandatory in regards to sentinel events and improving patient safety (Black, 2019). Healthcare acquired pressure injuries (HAPI) remains a top initiative for quality improvement and patient care. Black (2019) examined RCA and HAPI to introduce an organized approach in facilitating policy and procedure. An important element consists of the development of a designated team that includes a person with advanced knowledge of the subject matter such as a wound care nurse (Black, 2019). Including persons with advanced knowledge enhances the ability to understand the progression of the focused element. Black (2019) discusses the importance of identifying the start time for pressure injuries to provide clarification on HAPI. The article continues with discussions regarding the RCA including the process of care and identifying the quality gap, determining economic aspects of implementation of changes, development of policies, and education resources.
References:
Black, J. M. (2019). Root cause analysis for hospital-acquired pressure injury. Journal of Wound, Ostomy and Continence Nursing 46, (4), 298-304. https://doi.10.1097/WON.0000000000000546
Institute for Healthcare Improvement. (2020). Root cause analyses and actions. https:/www.education.ihi.org
Ogrinc, G. S., Headrick, L. A., Barton, A. L., Dolansky, M. A., Madigosky, W. S., Miltner, R. S. (2018). Fundamentals of health care improvement: A guide to improving your patients' care (3rd ed.). Joint Commission Resources, Inc.
One quality improvement initiative that should be addressed within my workplace would be the use of a standardized communication tool between nurses during patient transfer. Currently, the standard of work during hand off report between nurses involves giving a verbal report to the receiving nurse. There are currently two policies regarding hand off and patient transfers at this facility. The policies, however, do not state that certain hand off communication tools should be used. At times, it is noticed that certain nurses may not relay pertinent patient information during patient transfer. Because of this, the quality gap may affect patient safety. This quality gap would be important to address because of its direct impact on patient care and safety. Some root causes for this gap in care are lack of education and guidelines regarding the topic.
One research article that was interesting to review was a study conducted by Stimpson et al. (2020). Stimpson et al. (2020) found that nurses throughout a hospital understood patient hand-offs differently which resulted in handoff errors across departments. Because of this, a interdepartmental hand-off tool was implemented. Stimpson et al. (2020) found that improvements were seen in reported patient safety events after the implementation of the tool. It was also found that nurse satisfaction increased after the implementation (Stimpson et al. 2020). This study and implementation provided evidence that a standardized communication tool would be beneficial for nurses during patient transfer.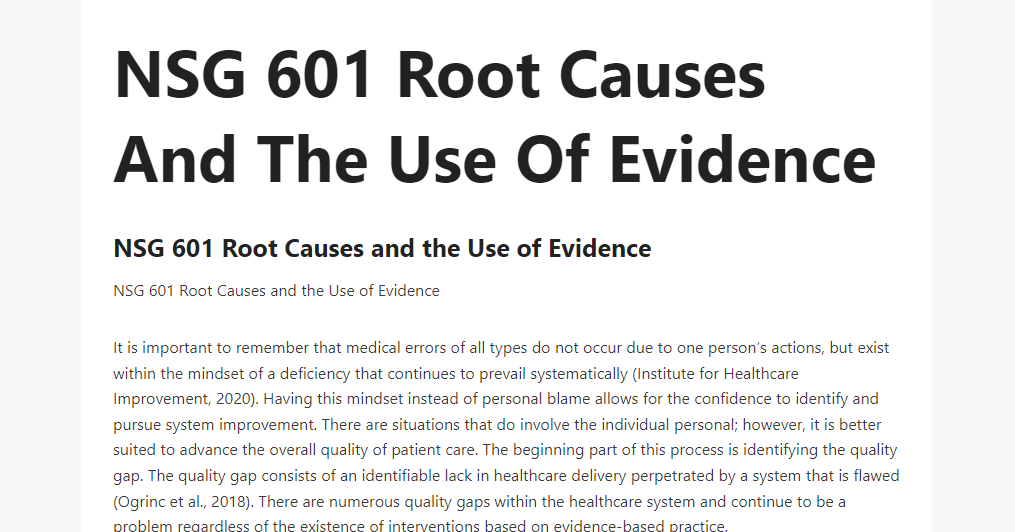 After reviewing the Institute of Healthcare Improvement module regarding Root Cause Analysis, it would be important to address this quality improvement initiative to prevent a catastrophic event for patients. Hand off report is incredibly important regarding patient safety. If pertinent patient information is not given during patient transfer, then a patient may be harmed. This could be a minor to a catastrophic event (Institute for Healthcare Improvement, 2020). Because of this, it would be important to conduct a root cause analysis, implement a standardized hand off communication tool, and ensure the tool is being utilized. This in return promotes patient safety.
References
Institute for Healthcare Improvement. (2020). Root cause analyses and actions. https:/www.education.ihi.org
Stimpson, M., Carlin, K., & Ridling, D. (2020). Implementation of the m-lSHAPED tool for nursing interdepartmental handoffs. Journal of Nursing Care Quality, 35(4), 329–335. https://doi-org.ezproxy.snhu.edu/10.1097/NCQ.0000000000000451 (Links to an external site.)
Upon last week's discussions surrounding the introduction of quality initiatives, I felt a strong desire to pay close attention to my work environment this week and identify some quality gaps in my workplace. I decided to strike up a conversation with my unit manager regarding our unit's specific quality/safety initiative needs and together we discussed a multitude of areas that could use some improvement on our floor. One quality initiative that really stuck out was the need to improve on the number of readmissions we experience as a cardiac unit at a community hospital. We discussed a new pilot program the hospital has been implementing on other units that involves using LACE scores to identify patients at a high risk of readmission and targeting them for extra support. I am now planning on assisting with this pilot program to be implemented on my unit starting next month.
A quality gap is described as the difference between an expected level of care to be provided and the actual measured outcomes provided (Ogrinc et al., 2018). For this initiative, the quality gap would be that patients should not be readmitted to the hospital within 30 days of discharge, however this does unfortunately happen fairly often in my hospital. Not only are readmissions not reimbursed, they represent a poor quality of life for patients who should be living their lives outside of hospital walls. A potential benchmark of this quality initiative is to keep track of the 30 day readmission rate for patients on the unit. This is a frequently used benchmark, and most importantly the 30 day readmission benchmark is utilized by the Hospital Readmissions Reduction Program (HRRP) and Centers of Medicare and Medicaid (CMS) to determine hospital remibursement (McIlvennan et al., 2015). While a proper root cause analysis will provide the most accurate answers as to the cause of readmissions on my unit, at this point I can attribute this quality gap to lack of discharge teaching, lack of follow up appointments being made and medication/ lifestyle noncompliance from patients.
While researching my potential quality initiative topic, I read an article entitled, Reducing All-cause 30-day Hospital Readmissions for Patients Presenting with Acute Heart Failure Exacerbations: A Quality Improvement Initiative, and found that it mirrors my goal of utilizing nursing interventions such as patient education and scheduling follow up appointments to decrease readmission rates (Nair et al., 2020). This quality initiative first used retrospective data on patients who had been admitted to inpatient care with a CHF exacerbation diagnosis to determine readmission patterns, including what percentage of these patients had a scheduled follow up appointment with either cardiology or their primary care physician. These researchers then focused on a new cohort of patients in a CHF exacerbation and implemented several interventions such as ensuring their follow up appointments were made, focusing on appropriate patient education from the nursing staff, which also included increasing nursing staff for adequate support, and optimizing heart failure medications. These interventions decreased readmission by 50% (Nair et al., 2020)! This article has reinforced the idea that when at risk groups are targeted and extra support is offered, an improvement in patient outcomes can be made.
McIlvennan, C. K., Eapen, Z. J., & Allen, L. A. (2015). Hospital readmissions reduction program. Circulation, 131(20), 1796–1803. https://doi.org/10.1161/CIRCULATIONAHA.114.010270
Nair, R., Lak, H., Hasan, S., Gunasekaran, D., Babar, A., & Gopalakrishna, K. V. (2020). Reducing all-cause 30-day hospital readmissions for patients presenting with acute heart failure exacerbations: a quality improvement initiative. Cureus, 12(3), e7420. https://doi.org/10.7759/cureus.7420
Ogrinc, G. S., Headrick, L. A., Barton, A. L., Dolansky, M. A., Madigosky, W. S., Miltner, R. S. (2018). Fundamentals of health care improvement: A guide to improving your patients' care (3rd ed., p.8). Joint Commission Resources and Institute for Healthcare Improvement.
One of my experiences as the "receiver" of patients from the acute hospital (I was in short-stay rehab and also a committee member in our "screening committee", (the screening committee received the requests for admissions from other facilities), and if I were to "guess", I would say approximately 30% of the time the patient being referred to us from the acute setting were not quite medically stable and the referral was premature, and I am probably underestimating this number. Like you have pointed out, this leads to readmissions to the acute setting, and aside from the cost there are many other concerns that also include effects to the patients and families. I wonder how much of the readmission is related to a premature discharge.
Fortunately, we have widely implemented telehealth services, which makes it much easier to follow up with patients in general, however the heart failure population tends to be older, which is the same population that struggles with technology making telehealth less useful in this setting.
I think it's great that you will be involved in this investigation! I am no longer in my previous position, but I am all too familiar with the elderly and acute admissions, readmissions, and heart failure exacerbations. From my own experience, discharge planning started before the patient was even admitted to our facility – which included a multidisciplinary approach with pharmacy, occupational and physical therapists, nutrition, social work, and the patient's support people (i.e., family, or close friends). We did this (honestly) because we had to (it was a requirement), and although we had "frequent fliers", there were not many readmissions.
Because I wasn't familiar with the LACE scoring system, and in my effort to understand better, I did a little investigation and came across a pilot study regarding readmissions and focusing on reducing readmissions with a team-based approach. In the article, Reducing Hospital Readmission Through Team-Based Primary Care: A 7-Week Pilot Study Integrating Behavior Health and Pharmacy (DeCaporale-Ryan, PhD, Ahmed-Sarwar, PharmD, BCPS, CDE, Upham, MD, MSEd, Mahler, RN, BS, & Lashway, RN, BSN, 2017), the aim was to incorporate a multi-disciplinary approach in transitioning a patient from the inpatient setting to the home setting; this pilot study utilized some of the same approaches we had in my previous setting. We did not involve the primary care provider or clinic specifically, but I was in a government setting and most of our patients were seen by the primary care team located within our hospital (and had access to all of us).
The article may be valuable to your pilot study, and I look forward to following along as your initiative unfolds!
Reference:
DeCaporale-Ryan, PhD, L. N., Ahmed-Sarwar, PharmD, BCPS, CDE, N., Upham, MD, MSEd, R., Mahler, RN, BS, K., & Lashway, RN, BSN, K. (2017). Reducing hospital readmission through team-based primary care: a 7-week pilot study integrating behavioral health and pharmacy. Families, Systems, & Health, 35, 10.