NSG 601 Reflect on two safety issues you have noticed in your workplace
NSG 601 Reflect on two safety issues you have noticed in your workplace
NSG 601 Reflect on two safety issues you have noticed in your workplace
One of the major responsibilities of a patient care environment is to ensure that patients are safe. However, some of the care settings present more security issues and challenges than others. One of such is the psychiatry patient care setting. Hence there is always a need to create an environment that can foster patient safety, patient recovery, and a safe working environment for the nursing staff (Slemon et al., 2017). While several safety issues can arise in a psychiatric patient care settings, some of the safety issues that have been noticed in my workplace are workplace aggression/violence and stress emanating from long hours of work. Violence and aggressive behavior are a threat to both the patients and the staff. The hazards in the work environment may impair both the nurses ability to provide quality service and risk the patients' lives. The second safety risk in my workplace is the stress emanating from long work hours. In my work place nurses are expected to work a 12 hour shift however sometimes you are mandated to stay longer depending on patient work load and nurse availability. Ideally, the relationship between work schedules and safety in the work environment is a complex issue characterized by the needs of the work environment (Polacek et al., 2015). The long hours of work cause stress to the nurses, which is often associated with various risks in the work environment which can negatively impact patient care especially in psychiatric unit in which is imperative for nurses to stay alert. Sometimes patients on a psych unit are unpredictable and can endanger others, so it is important for the nurse to not be drained but rather to stay alert.
Strategies to promote workplace safety require an evidence-based understanding of the issues. To reduce aggression and violence in psychiatric facilities, the management must establish education and training programs to lay out both acceptable and unacceptable behaviors within the facility (Slemon et al., 2017). Besides, the facility should establish reporting procedures and reduce the 'normalization' of workplace violence. According to Gaynes et al. (2017), one of the best evidence strategies of addressing violence and aggressive behavior is through a preventive strategy of offering a calm environment that thwarts aggression and violence. In addition, in some active aggression and violence cases, the staff can implement seclusion without restraint or with restraint however, least restrictive measure should be considered first. .
For safety issues originating from working for long hours, the facility must review human resources and employ more staff to enable adequate rest for better service delivery to our patients (Slemon et al., 2017). In addition, the management team should also implement strategies to improve the design of the nurses work hours and should promote frequent breaks when working long hours so that nurses are not burnt-out and tired. As a result, nurses are able to remain focus while on the unit and are ready to handle any crisis or emergency situations that frequently arises on a psychiatric unit.
References
Gaynes, B. N., Brown, C. L., Lux, L. J., Brownley, K. A., Van Dorn, R. A., Edlund, M. J., … & Lohr, K. N. (2017). Preventing and de-escalating aggressive behavior among adult psychiatric patients: a systematic review of the evidence. Psychiatric services, 68(8), 819-831. https://doi.org/10.1176/appi.ps.201600314 (Links to an external site.).
Slemon, A., Jenkins, E., & Bungay, V. (2017). Safety in psychiatric inpatient care: The impact of risk management culture on mental health nursing practice. Nursing Inquiry, 24(4), e12199. https://doi.org/10.1111/nin.12199 (Links to an external site.)
Polacek, M. J., Allen, D. E., Damin-Moss, R. S., Schwartz, A. J. A., Sharp, D., Shattell, M., … & Delaney, K. R. (2015). Engagement as an element of safe inpatient psychiatric environments. Journal of the American Psychiatric Nurses Association, 21(3), 181-190.
There are increasing safety issues in healthcare for many reasons. In my current workplace, the necessity of boarding critically ill patients in the Emergency Department (ED). While COVID has increased this necessity, this has occurred for many years. The Joint Commission defines boarding as "the practice of holding patients in the ED or another temporary location after the decision to admit or transfer has been made" (Mohr et al., 2020). This can become hours or days. Evidence based practice indicates that during this time, patient safety is diminished due to delays in care, lack of knowledge of how to care for the critically ill patients, and decreased competence in Intensive Care Unit (ICU) care bundles (Mohr et al., 2020). This not only creates patient safety problems, but decreases patient satisfaction and nurse satisfaction due to overwhelming staffing needs. The effort to change this needs to be system wide. Step-down units have been identified as having a positive impact on the decrease of boarding patients, cross training nursing staff, identifying ED prime surge times, and decreasing the misuse of ICU beds (Mohr et al., 2020).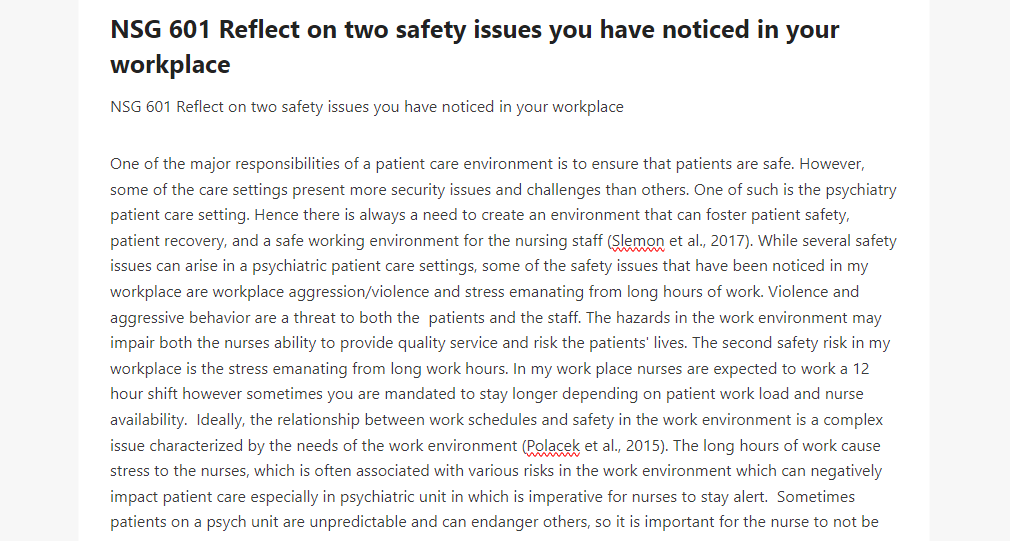 The majority of nurses have dealt with bullying in school and the workplace. The damage it causes is undeniable. This damage not only causes problems for nurses, but provides multiple issues for healthcare organizations. Social media has only made this environment increase. The outcome for nurses and organizations include excessive turnover, poor patient care secondary to a hostile work environment and increased anxiety, and financial loss due to wasted time and training on new employees (Edmonson & Zelonka, 2019). There are numerous ways to address nurse bullying that begin with admitting there is a problem and being willing to address the problem, commit to zero-tolerance as addressed in policies while providing a safe environment to report issues, and offer behavioral health for the perpetrator and victim (Edmonson & Zelonka, 2019).
References:
Edmonson, C. & Zelonka, C. (2019). Our own worst enemies: The nurse bullying epidemic. Nurs Admin Q, 43(3), 274-279. https://doi.org/10.1097/NAQ.0000000000000353
Mohr, N. M., Wessman, B. T., Bassin, B., Elie-Turenne, M. C., Ellender, T., Emlet, L. L., Ginsberg, Z., Gunnerson, K., Jones, K. M., Kram, B., Marcolini, E., & Rudy, S. (2020). Boarding of critically ill patients in the emergency department. Critical Care Medicine, 48(8), 1180-1187. https://doi.org/10.1097/CCM.00000000000004385
Healthcare safety is a topic that has become more apparent in my career and as a member of the leadership team on my hospital unit. As a member of the leadership team, there are healthcare safety issues that are witnessed on a daily basis that ultimately reflect on patient care and patient safety. Two safety issues that I have noticed in my workplace are staffing levels and an increase in patient falls.
When considering safety issues, it is important to consider human factors, a culture of safety, and best practices. For example, staffing levels are a human factor that have a direct relation to patient safety and adequate patient care. When a unit is short staffed, there is a large risk for errors that will affect patient safety (Finkelman, 2021). Recently, there has been a large rate of nurse turnover on the hospital unit. This has led to short staffing and higher nurse to patient ratios. Park et al. (2021) describes how proper nursing ratios affects nursing care provided to patients. When nurses are adequately staffed, then they will have more time to care for patients to the best of their ability. Using evidence and research to support proper staffing and safe nurse patient ratios would be important for patient safety. The problem recently, however, has been staff retention and the number of nurses available to hire. These factors are just as important in regard to patient safety.
One safety issue that has increased, which can be attributed to short staffing, is patient falls. There has been an increase in patient falls on the hospital units. Most falls noted have been during times that staffing is not up to par. When the unit runs short on nursing staff, patients are at increased risk for falls and other harmful events. Because of this, it would be important to use the evidence demonstrated by the correlation of short staffing and increased falls to influence leadership to support safe staffing levels. There are many different healthcare safety issues that influence patient safety. Human factors, a culture of safety, and best practices are important in considering safety issues on hospital units.
References
Finkelman, A. (2021). Quality Improvement: A Guide for Implementation in Nursing. 2nd Ed. Jones & Bartlett Learning.
Park, M.,Yang,  E., Lee, M., Cho, S., Shim, M., & Lee. S., (2021). The nurse staffing in intensive care units based on nursing care needs: A multicenter study. Journal of Korean Critical Care Nursing, 14(2), 1–11. https://doi-org.rivier.idm.oclc.org/10.34250/jkccn.2021.14.2.1 (Links to an external site.)
When thinking about two safety errors in my own workplace, one incident involved prescribing a medication to the wrong person, and the second has not been known to create a safety error (yet) but the potential is high and due to my own "workarounds" being created in the electronic medical record.
I would like to explain the first safety issue more thoroughly, because there was a point where I "assumed" that the person receiving my question would recognize that it was a "warning" that something was not right. I think it is safe to say that we should never "assume" anything.
We had hired a new medical assistant who was training during the week I was on vacation. A patient phone call came into the clinic requesting a refill for oral contraceptive. The new employee took the information and alerted the practice manager, who in turn texted me for permission to refill the medication. I did not recall this patient taking oral contraceptive and I questioned it, "are you sure?", to which I was told "yes". I said, "okay, you can call it in, but I wonder why she never told me". When I returned from vacation, I had a computer alert to "sign off" the medication, and again I wondered why I didn't know this patient was taking this medication, when I recalled that her daughter, who is also our patient (different last name), was taking oral contraceptive and I confirmed this through a chart investigation. At this time, I spoke with the medical assistant, identified my concerns and findings, and again questioned if we were sure it wasn't the daughter that called – the medical assistant became defensive and said she was sure. I still wasn't convinced so I called the patient and was only able to leave a voice message requesting a call back; I signed off the medication and awaited a return call (which did not happen). A week later the patient's daughter calls and is upset that she requested a refill on her oral contraceptive and never received it – mystery solved. As it turned out, the new medical assistant used the caller ID "name" to find the patient's chart instead of confirming the patient's name and date of birth at the time of the initial call.
The second safety issue is the creation of workarounds in the electronic medical record, created by me, to capture all types of data that has not been programmed (yet) as clickable items into the electronic medical record. There are numerous problems with this behavior including relying on memory to remember all the data points to free text into the record, missing information, reducing efficiency in an already burdensome charting time, inability to pool free-texted data for analysis, and inconsistencies between medical record data.
Both scenarios can be addressed by identifying and implementing best practices, and the medication error scenario can further be addressed by ensuring a culture of safety, which may not have been the experience of the new employee in her previous setting, (i.e., being defensive when questioning the medication request).
Best practices in telephone triage for medication refills can be implemented by utilizing the five rights of medication refills and in conjunction with a template within the patient's own electronic medical record that automatically populate the patient's name, date of birth, current medication information (drug, dose, route, and frequency), and prompts the receiver of the phone call to verify the information with the caller – thereby limiting human factors in this process and reducing the risk of a patient safety event. Although limited research has been completed regarding this exact scenario the article The Safe Administration of Medication: Nurse Behaviors Beyond the Five Rights (2019) identifies other variables that affect medication administration, including extraneous variables that can interrupt the success of this process, and recognizing the variables as an important step in reducing medication errors.
There has been a significant amount of research completed regarding workarounds in the electronic medical record, and a common theme of causes include lack of user knowledge and education, which is the case in the above scenario. Throughout this course we have been educated not just on the need to identify a problem in our setting, but to become part of the solution. To prevent a safety event due to workarounds in the electronic medical record, the workarounds need to be identified and then a plan needs to be implemented to customize that electronic medical record system to eliminate using free texting to capture data. Best practices in the use of electronic medical record data capture can also be implemented by reducing the need for free texting data input and customizing the electronic medical record to prompt data collection through clickable choices. Worthy of mentioning however, is that fixing the workaround does not fix the root cause of the problem – and so in this scenario and as identified in the article Electronic Health Records: A "Quadruple Win", a "Quadruple Failure", or Simply Time for a Reboot? (2018)healthcare teams need to solve the root cause (lack of training) to prevent further workarounds that can go on to create downstream problems and possibly patient harm.
References
Hochman, MD, MPH, M. (2018). Electronic health records: a "quadruple win", a "quadruple failure", or simply time for a reboot? General Internal Medicine, 3.
Martyn, J.-A., Paliadelis, P., & Perry, C. (2019). The safe administration of medication: Nursing behaviors beyond the five rights. Nurse Education in Practice, 37, pp. 109-114.
Safety for patients and staff is essential in any healthcare setting. Patients have a right to timely care, accurate diagnosis, appropriate administration of medication, along with necessary treatments and discharge planning. While working in the emergency department we see many safety issues on a daily basis, as it can be dependent on patient acuity, staffing shortages, over-crowding, boarding of admitted patients, etc. All can have the potential for errors to arise.
One area that pertains to safety in the emergency department is the delay in specialty consultation support, specifically psychiatric care. In the emergency department, resources are stretched thin and are limited which can delay appropriate diagnosis and treatment to psychiatric patients. Any delay in assessment and evaluation of a patient can be unsafe as a delay can have the potential to prolong care, delay medication management as well as outpatient services that could be rendered before discharge. In time, waits are extended past the norm creating overcrowding, which only increases the risk for potential errors to occur. To address this problem, a solution I would suggest is to utilize technology to decrease the weight times and delay in patient care, the tool used would be telepsychiatry. As a psychiatric nurse practitioner, this would be an effective way of delivering psychiatric consultations to patients in the emergency department, especially where there is limited access to specialties(Fairchild et al., 2019). Through multiple research articles about telehealth, one specific study showed when using the tool there was a decrease from time-to-provider compared to non-telehealth usage(Fairchild et al., 2019).
Another area is workplace violence. Physicians, nurses, and other staff have experienced verbal and physical abuse on a day-to-day basis. I can attest to this type of violence as I have been burdened with patients that have verbally, emotionally, and physically assaulted me. Workplace acceptance has evolved over the years, but most emergency departments continue to devalue violence in the emergency department as something "normal", as "part of the job" so to speak. I know the ENA and ACEP had a campaign that pushed for the passing of laws to increase penalties for individuals who harm healthcare workers back in 2018, but the abuse hasn't stopped, it seems it continues as "business as usual". Approximately "11,000 healthcare workers are victims of assaults annually, and 50% of emergency department nurses are physically and verbally assaulted regularly"(Lenaghan et al., 2018). But many organizations do not promote a culture of safety, so many staff members will underreport their experiences to their managers. So as a psychiatric nurse practitioner it is important to watch for potential volatile behavior, but that won't prevent healthcare workers from getting harmed by patients. It's important to help design a work environment that helps deter patients from violence. Such solutions could be, to separate and sequence patients through triage, clustering behavioral health rooms together to better access security personnel, and cameras in areas controlling patients in and out of rooms, etc(Lenaghan et al., 2018). Ultimately, it must take a multidisciplinary team effort to decrease workplace violence in the emergency department.
References
Fairchild, R., Ferng-Kuo, S.-F., Laws, S., Rahmouni, H., & Hardesty, D. (2019). Telehealth decreases rural emergency department wait times for behavioral health patients in a group of critical access hospitals. Telemedicine and e-Health, 25(12), 1154–1164. https://doi.org/10.1089/tmj.2018.0227 (Links to an external site.)
Lenaghan, P. A., Cirrincione, N. M., & Henrich, S. (2018). Preventing emergency department violence through design. Journal of Emergency Nursing, 44(1), 7–12. https://doi.org/10.1016/j.jen.2017.06.012 (Links to an external site.)