NSG 517 Reflect on and identify what biases, assumptions, behaviors might have led to the original outcome
NSG 517 Reflect on and identify what biases, assumptions, behaviors might have led to the original outcome
NSG 517 Reflect on and identify what biases, assumptions, behaviors might have led to the original outcome
One day over the weekend at work I was charge nurse on my unit. We have a smaller sister unit who also has a charge nurse, but I am in charge of their overall admissions and staffing. We had a completely full census upstairs with admissions waiting; we were very short-staffed lna's and downstairs had open beds and only short by 1 lna. The charge nurse on our smaller unit has 25 years of experience as opposed to my 3.5 years. She texted and called me multiple times during the day and complained about getting admissions, not having an lna, and how busy they were. I assured her many times I knew of the situation, I was sorry there was nothing I could do about it, that we were running even shorter upstairs with more patients, and we were all going to have to just make it work. Right before the end of my shift she called again requesting help to bring a patient to a test, I sent an lna from our floor to help them with that 1 task but that left us even shorter for a period of time and potentially compromised patient safety. Although not a critical situation, next time I would have once again reinforced that they were going to have to figure it out amongst themselves and do what was needed for that specific patient, as it was not urgent. I was so annoyed by the number of times she complained about things that I gave in and sent her help that was needed more upstairs. This nurse most definitely has a combination personality of the volcano & the chronic complainer. She complains about things constantly and uses a domineering, arrogant approach to get her way. After working with her for years I have learned not to take it personally, set boundaries, acknowledge her feelings, use fewer words, and try empathy. I find it difficult when interacting with her to hold my ground, she uses her experience and knowledge to manipulate others into doing what she thinks is best. (Sherman, 2013)
The NONPF competency this change would exemplify is quality. This includes evaluating the organizational structure, care processes, and impact of quality along with variations in practice. (Thomas et al., 2012) In order to maintain quality of care for the majority of the patients I should have not sent the lna down to help. Although that may sound terrible, the variation of being short-staffed puts all parties involves in a messy situation of weighing pros and cons. It is less harmful to risk reducing quality of care for the couple patients' inconvenienced on the smaller unit versus the much larger number on the larger unit.
As a leader I feel my willingness to collaborate and commitment are two of my strengths. I am able to respect others, build teams, and mentor. I also feel I am able to balance my professional and private life well, listen to my inner voice, engage in self-reflection, and plan ahead. (Tracy & O'Grady, 2019, p.272) I would like to further strengthen my risk taking attributes. I am working on my self -confidence as a leader and willingness to fail and begin again. I feel as though I have a good balance of getting involved, using creative thinking, good sense of timing, and coping with change. (Tracy & O'Grady, 2019, p. 272)
References:
Sherman, EdD, RN, NEA-BC, FAAN, R. O. (2013). Dealing with difficult people. American Nurse Journal, 8(7).
Thomas, PhD, ANP-BC, GNP – chair, A. C., Crabtree, DNSc, FAAN, APRN-BC, M. K., Delaney, PhD, PMH-NP, K. R., Dumas, PhD, RN, FNP-BC, FAANP, M. A., Kleinpell, PhD, RN, FAAN, FCCM, R., Logsdon, PhD, WHNP-BC, FAAN, M. C., Marfell, DNP, FNP-BC, FAANP, J., & Nativio, PhD, CRNP, FAAN, D. G. (2012). Nurse practitioner core competencies. The National Organization of Nurse Practitioner Faculties.
Tracy, M. F., & O'Grady, E. T. (2019). Hamric and Hanson's advanced practice nursing: An integrative approach (6th ed.). Saunders.
Upon reflection of this week's readings, I chose to relate my personal work scenario to the Covey's Eight Habits of Highly Successful People. This past week, I encountered a situation with a disgruntled family member who was upset at the lack of communication regarding their loved one and receiving updates throughout their surgery. As a PACU nurse, I often find that surgeons forget to update family members immediately after surgery as to how the procedure went. This along with the delay in timing that occurs due to patient prep, intubation, closure of the surgery, extubating and transport to the PACU often leads to a longer than anticipated time than families were originally told. Immediately upon arrival to the PACU the patient is cared for on a one-on-one basis and often requires a number of interventions that also take away from my time to call and update the family. So, when a surgeon tells a family member that surgery will take them an hour but the prep time, transport time and immediate care in the PACU add an additional hour or two families tend to assume something went wrong especially when they are not immediately updated by the surgeon at the completion of the surgery. This is the scenario that I encountered this past week. (Tracy, 2019)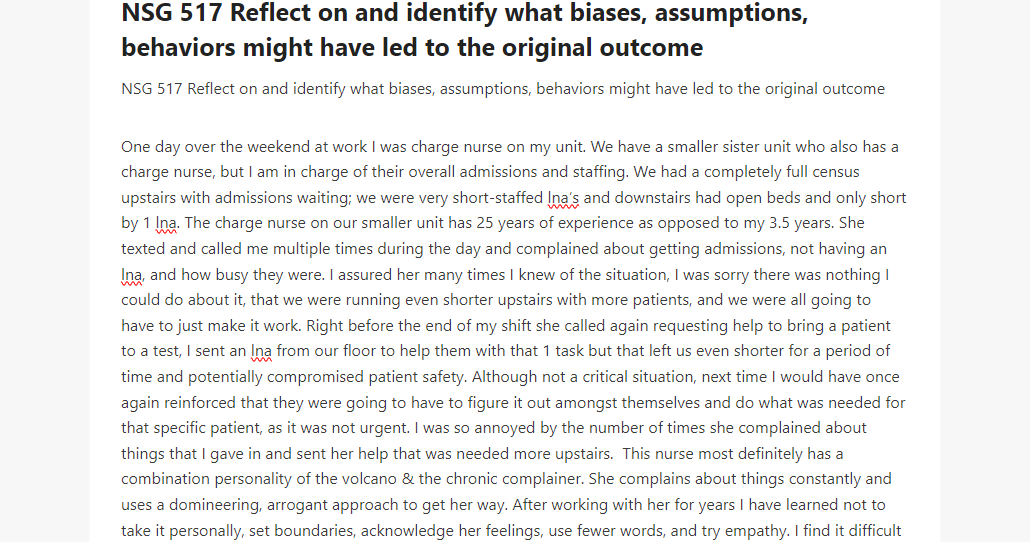 I receive a phone call from the surgery waiting room receptionist stating that my patient's wife was pacing and crying in the waiting room because she was not updated, and it had been over three hours since her husband had been wheeled off to surgery. The receptionist asked that I come out to the waiting room and speak directly to the family member. Meanwhile, I had been busy drawing labs, performing an EKG, bladder scanning, performing a straight catheterization followed by a foley catheter insertion and directly managing my patient's airway. I was immediately frustrated by the lack of communication from the surgeon to the family and resolved the issued by going to the waiting room and speaking directly to the wife who was very understanding after we sat down and discussed how her husband was doing.
In the future I think I could draw upon Covey's first habit which is to be proactive. Historically, particular surgeons neglect to update family members. In the future I will anticipate these situations with better understanding and reach out to the surgeon as a reminder to call the family and also give them an update more quickly upon their loved one's arrival to the PACU. (Tracy, 2019)
I feel that this proactive change for the future reflects the NONPF core competency of quality. By proactively anticipating which surgeons often forget to call family members and sending them a reminder along with personally updating those family members earlier, I will be anticipating variations on practice and being proactive in implementing an intervention to promote quality in care. (Thomas et. al. 2011)
As a leader in healthcare, I feel that my biggest strength is my ability to be a mentor for both my patient's and my coworkers. I easily encourage growth and push those around me to see their full potential. I feel my innovation could use some improvement as I am always growing and learning new skills and updated practices. This is an attribute I anticipate will always need focus and attention in my career. (Tracy, 2019)
References:
Thomas, A. C., PhD, ANP-BC, GNP. et. al., (April, 2011). NURSE PRACTITIONER CORE COMPETENCIES. Retrieved September 24, 2021.
Tracy, M., O'Grady, E. (2019). Hamric and Hanson's advanced practice nursing: An integrative approach. St. Louis, MS: Elsevier.
After stepping down from my management position at our pulmonary/sleep medicine practice, I wish that I had handled the transition of the new manager differently. I wanted more time to dedicate to my young children and my nursing career, so I recently requested to return to my initial position of being the RN for our practice without additional management duties. When the new manager stepped into her new role, she was a little intimidated by her new duties. I spent time with her trying to ease her fears and empower her initially, but then as time went on I started to just do certain tasks for her when she felt unsure of herself. Although I was trying to help her by just doing the task at hand, this was not very helpful to her in the long-run. I really should have empowered her to perform these tasks or even said let's do them together. Instead, I put more work on myself and she was left still intimidated by these tasks. I should have tried to boost her confidence or even asked her why she was questioning her abilities. Then I could have perhaps gotten to the root of the problem, empowered her, and set her up for success in the future. Perhaps I had an assumption that she was not able to perform the task or did not understand what needed to be done. This was not a good assumption to make and did nothing to boost her confidence. She had all of the tools that she needed, but when it came time for her to fill her role independently she was very apprehensive. I should have explored this hesitancy more and provided encouragement. While she was thrilled when I would tell her "I will take care of it", this was actually not helpful to her. When reflecting upon our readings from this week, this reminds me of the concept of empowering others. Tracy and O'Grady (2019) define empowerment as, "giving power to others, and this is often done by encouraging others and giving them authority" (p.270). They also maintain that, "it is a developmental process that a good leader fosters over time; it encourages constituents to feel competent, responsible, independent, and authorized to act" (Tracy & O'Grady, 2019). This is a concept that I wish I had helped her to embrace and understand.
The NONPF core competency that this change exemplifies is leadership competencies. I should have applied critical and reflective thinking to my leadership, in order to help the new manager confidently assume her new role. This competency also embraces communication skills and liaises between parties.
The attributes of a leader that I feel are strengths for me are commitment, willingness to collaborate, and developing one's own style. The areas I would like to improve are risk taking and expert communication skills. I think that sometimes in the hustle and bustle we just try to get certain tasks done and miss the opportunity for communication with our peers. For example, in the above scenario I truly thought that I was helping the new manager. The office was extremely busy and she was overwhelmed and anxious, therefore I just performed the task that needed to be completed in order to help her. However, I should have taken the time to understand her point of view and communicated more with her in order to save time for everyone in the long run. I feel I also am probably too hard on myself, so the concept of risk taking that involves being able to fail and begin again is probably something that I could use work on. I do begin again, but failure does set me back a bit first.
References
Tracy, M.F., & O'Grady, E.T. (2019). Hamric and Hanson's advanced practice nursing: An integrative approach. Elsevier.
This past week we were faced with a high acuity of patients, many of them well known to us with histories of abusing staff, both physically and verbally and in general working hard to irritate staff. During handoff report, I heard a great deal of sarcasm and negativity born of frustration and weariness of dealing with the patients. During my shift, I was impatient and lacked empathy for the patients which led me to not treat the patients with the respect and dignity they deserve. By the end of the shift, the patient continued to act out behaviorally and the situation escalated quickly to that patient being physically restrained. I was able to have the restraints removed quickly as the patient was able to calm down. I went home distraught at how the incidence unfolded and did a great deal of self-reflection regarding the situation. Had I handled the behavioral issues differently, restraints could have been avoided. Acknowledging that was hard and painful for me.
Using Steven Covey's 7 Habits, I realized I was not as proactive in overcoming my negativity for these patients nor in overcoming the negativity of my colleagues. I allowed the frustrations of the night nurse to distort my own view of the patient which led me to work outside my own values. I believe I need to work proactively to filter out the frustration and negativity of the outgoing staff during handoff so that I can begin my day with the patient with a positive approach. I am developing a short list of personal values and commitments I hold toward patient care and will review it before and after handoff report so that my shift begins with a solid foundation and proper focus. I also realized that after a long stretch of shifts close together, my saw needed to be sharpened. I spent some time reviewing some professional journals regarding effective interventions for patients with borderline personality disorder diagnosis. This searching for clinical expertise helped me feel better equipped to manage the behaviorally difficult patient. In the future, my plan is to spend some time each week looking at the professional journals and resources regarding effective interventions so that my "tool belt" or saw is continually being sharpened.
The change I discussed relates to the practice inquiry competency and the quality competency. By reviewing relevant professional journals for insights into effective interventions for different diagnoses I will be working to improve patient care and outcomes. As I share what I learn, I will also lead our team in developing skills and knowledge base to provide better care. In terms of quality competency, it is using the best available clinical evidence to improve quality of care.
Some of the attributes of an APRN leader mentioned in the reading are commitment, developing one's own style and willingness to collaborate. (Tracy and O'Grady, 2019). I feel my commitment is a strength for me. I am passionate about becoming the best I can be to provide the best care I can for my patients. I have spent a lot of time and tears in self-reflection attempting to learn from my mistakes and grow in my competence as a nurse. I also believe my willingness to collaborate is a strength. I love working in teams and learning from others. My current practice situation is a bit frustrating for me because I work as the only nurse and have limited contact with my colleagues to discuss issues related to practice. The attribute I realize I need to strengthen is developing my own style. I started in the ED psych unit last March. I was the last one hired and have the least psychiatric experience of the team. As I reflected on the reading for this class thus far, I realized I have been working at trying to fit into the styles of the other nurses I work with rather than pursuing my own style. I will be working toward that end in the coming months.
Tracy, M., O'Grady, E. (2019). Hamric and Hanson's advanced practice nursing: An integrative approach. St. Louis, MS: Elsevier.