NSG 5000 Distinguish between Advanced Nursing Practice (ANP) and the Advanced Practice Nurse (APN)
NSG 5000 Distinguish between Advanced Nursing Practice (ANP) and the Advanced Practice Nurse (APN)
NSG 5000 Distinguish between Advanced Nursing Practice (ANP) and the Advanced Practice Nurse (APN)
The advanced practice nursing (APN) role was instituted in the 1960s. It was a proposed solution to a shortage of physicians to meet the primary care needs of underserved populations and individuals living in rural areas. Advanced practice nurses (APNs) are highly trained and credentialed for practice. The purpose of this paper is to discuss the different APRN roles, the scope of practice, future NP role, certification, and applying leadership as an APN.
Differences between Advanced Nursing Practice and Advanced Practice Nurse
Advanced Nursing Practice (ANP) is primarily concerned with advancing the nurse's knowledge, skills, and role past the traditional professional boundaries. ANP is defined with regard to specific skills, knowledge, and competencies that surpass those typically expected from a nursing role but must be attained before a nurse can consider their practice as advanced (Lopes-Júnior, 2021). On the other hand, APN is a professional designation for Registered Nurses (RNs) with advanced training in a clinical specialization (Lopes-Júnior, 2021). APN is a less formal title for Advanced Practice Registered Nurses (APRNs) and indicates that the RN has completed a master's or post-graduate program.
Advance Nursing Practice and Roles
Advanced nursing practice extends and expands the boundaries of the scope of nursing practice. Nurses with advanced nursing practice (ANP) or advanced practice registered nurse (APRN) designations usually have completed a master's or doctorate that enables them to practice higher-level nursing roles (Hu & Forgeron, 2018). The ANP title enables nurses to be more autonomous and versatile in their practice and patient care. There are four roles given the designation of APRN: certified nurse practitioner (CNP), certified registered nurse anesthetist (CRNA), clinical nurse specialist (CNS), and certified nurse-midwife (CNM). The CNP provides direct primary and acute care across the lifespan and healthcare settings (Hu & Forgeron, 2018). They are trained to provide initial, continuous, and comprehensive care by diagnosing and treating patients with undifferentiated symptoms and established diagnoses.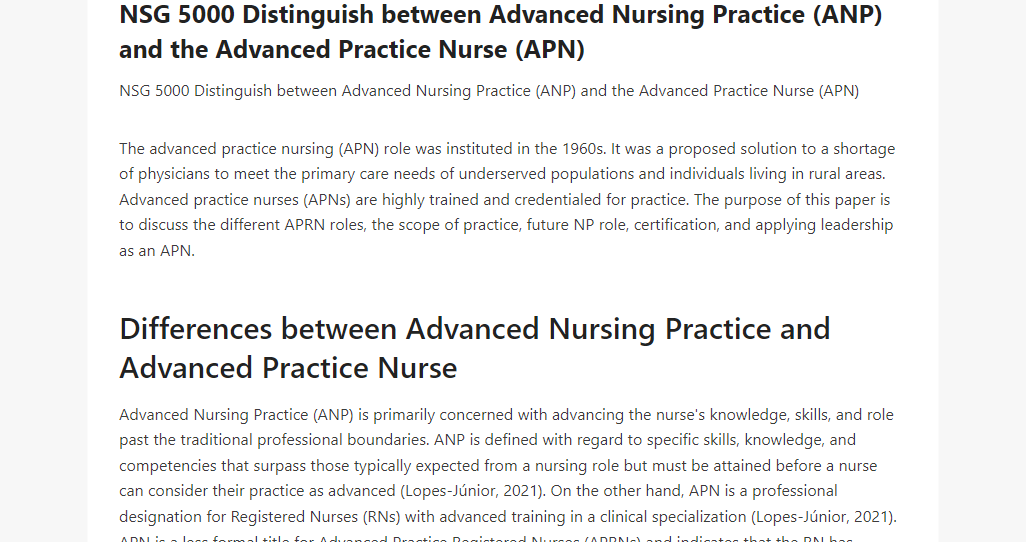 CNSs are prepared to take roles like patient education, consultation, and supervising nurses in the clinical setting. They have a unique role in integrating care across the continuum and facilitating continuous improvement of nursing care and patient outcomes. In addition, CNS roles include diagnosis and treatment, disease management, health promotion, disease prevention, and risky lifestyle practices among clients, families, and communities (Fukuda et al., 2020). The CRNA is trained to provide anesthesia and anesthesia-related care for patients across the lifespan. CRNAs work in surgical settings to provide anesthesia services during surgical procedures. CNMs are trained to offer women a wide range of primary healthcare services throughout their lifespan (Hu & Forgeron, 2018). They provide family planning services, gynecologic care, preconception care, prenatal and postpartum care, childbirth, and newborn care.
Future Advance Nursing Practice Role
I am currently enrolled in the MSN-FNP program at South University and will, in the future, be a CNP under the Family NP specialty. An FNP has specialized training to provide care to patients across the lifespan. FNPs focus on diagnosis, treatment, disease management, and health prevention (Lopes-Júnior, 2021). Pursuing the FNP program was influenced by my working experience as an RN. I previously worked as a med-Surg Tele Nurse and a pediatric nurse at a Home Care Pediatric Nursing Agency. Furthermore, I have worked with geriatrics and as a Case Manager for a Home Health Agency. Thus, I have experience providing care to all age groups, which led me to pursue an FNP program. My philosophy is that nurses should endeavor to provide high-quality care to patients as well as continuously improve their knowledge and skills to provide the best patient care possible.
Personal Nursing Philosophy and Model
My nursing philosophy is that the goal of nursing is to help patients adjust their behavioral patterns so that they can meet the demands of the elements in their life that cannot be modified. I believe nursing interventions should promote regularity in patients' behavior so that they can maintain or achieve balance in each subsystem. Besides, I believe that the nursing process is completed when the desired behavioral outcomes have been evaluated and the plan of care has been reviewed to promote further patients' stability of the behavioral system, modification to the situation, and adaptation to stress.
The nursing philosophy is influenced by the Behavioral System Model by Dorothy Johnson. According to the Behavioral System Model, a person is constantly exposed to situations in daily life that need adaptation and adjustment. The adjustments are natural in that they happen without a conscious effort by the person (Evgin & Bayat, 2020). Furthermore, the model defines man as a behavioral system that constantly endeavors to sustain balance through adjustments and adaptations to the ever-changing internal and external environments (Evgin & Bayat, 2020). The model views nursing as an external regulatory force aimed at avoiding disturbance in the system and preserving or restoring the best possible organization, and integrating a patient's behavior.
Regulatory and Legal Requirements in Florida
The Florida Board of Nursing is mandated with enforcing the regulatory and legal requirements for APRN practice in Florida. APRNs wishing to practice in Florida must have an active Florida RN license or multistate RN license from another state. In addition, the APRN must have a master's degree or post-master's certificate in a nursing clinical specialty area (Kumar & Williams, 2018). They should also have a national advanced practice certification from an approved nursing specialty board.
Competency and Certification Requirements for FNP Role
FNPs are APRNS with advanced education and training to provide patient care in a primary care setting. The core competencies for FNPs fall in the domains of Scientific Foundation, Leadership, Quality, Practice Inquiry, Technology and Information Literacy, Policy, Health Delivery System, Ethics, and Independent Practice. The FNP should be able to analyze and utilize data that can assist in evaluating and improving healthcare delivery (Chan et al., 2020). The leadership competency stresses scholarship, professional accountability, and advocacy, and FNPs are prepared to lead healthcare teams. Quality competency focuses on assessing the research and how it can enhance health outcomes (Chan et al., 2020). Furthermore, the practice inquiry competency ensures that FNPs comprehend research materials and translate the research information into clinical practice.
FNPs must incorporate new technologies to improve patient outcomes per the Technology and Information Literacy domain. The FNP should demonstrate knowledge of various policies to enable them to influence legislation that can improve the healthcare system and their patients. In the Health Delivery System domain, FNPs should be able to develop suitable methods of healthcare delivery that can address patients', providers', and stakeholders' needs (Chan et al., 2020). FNPs demonstrate ethics competency by incorporating ethical principles in decision-making, assessing the ethical consequences of decisions, and applying ethically sound solutions to complex issues. Under independent practice, the FNP should assess, diagnose, and treat patients with minimal direction or supervision.
Certification
FNP certification is provided by the American Academy of Nurse Practitioners (AANP) and the American Nurses Credentialing Center (ANCC). The certification requirements include a master's, doctoral, or post-graduate degree from an accredited NP program (Hoyt & Proehl, 2018). An individual must have completed the required APRN core courses in physiology, advanced pharmacology, and advanced health assessment. They should have also completed at least 500 clinical hours of supervised direct patient care. Lastly, they should have a valid RN license from their state.
Transformational Leadership
Transformational leadership focuses on promoting organizational change by implementing a strategic vision. It is a style of leadership where the leader identifies the required change, develops a vision to guide the change through inspiration, and implements the change with the commitment of a team (Steinmann et al., 2018). Transformational leadership relates to my leadership attributes since I can get individuals to want to change, improve, and be led. Besides, I demonstrate the ability to assess my colleagues' motives, satisfy their needs, and value them. As a leader, I can encourage and inspire my followers to achieve extraordinary outcomes and, in the process, develop their leadership capacity (Steinmann et al., 2018). Furthermore, my leadership qualities relate to transformational leadership since I can help my followers grow and develop into leaders by responding to their needs and empowering them.
Leadership Style
Transformational leadership is the leadership style that I plan to implement as an FNP in primary care. As a transformational leader, I will seek to transform the primary care setting through my vision, communication skills, and knack for building commitment. Besides, I will be energetic, synergistic, enthusiastic, and passionate about leading the organization's vision by encouraging positive changes among team members and helping every member succeed (Steinmann et al., 2018). I will aspire to change the organization as an APN and create and carve a vision that is inspiring and appealing to other employees. To facilitate the attainment of the organizational vision, I will motivate the employees to commit themselves to the organization's vision. Furthermore, I will encourage team spirit and a sense of purpose in attaining organizational goals.
Current Policy and Trends
The current policy on Florida APRN practice is the Full Practice Authority. The Florida Senate passed a policy stating that from July 2020, APRNs that have accumulated a minimum of 3,000 hours of experience under physician supervision can independently operate primary care practices in Florida without a supervising physician (Kumar & Williams, 2018). For APRNs to qualify for Full Practice Authority, they must complete minimum graduate level course work in pharmacology and differential diagnosis. Under the new law, qualified APRNs can independently practice general pediatrics, family medicine, and general internal medicine. The policy is related to my future FNP role since it allows me to practice independently without a collaborative practice from a supervising physician after I have completed the required supervision hours (Kumar & Williams, 2018). Consequently, I will practice to the full extent of my education and training, significantly improving access to quality care in the community I serve. This is a positive trend and should now include certified registered nurse anesthetists (CRNAs) to enable them to practice autonomously.
Conclusion
ANP promotes nursing knowledge and the advancement of the nursing profession, while an APN has advanced training in a clinical specialization. My nursing philosophy is driven by the Behavioral System Model, which proposes that an individual is constantly exposed to situations that need adaptation and adjustment. I will embrace transformational leadership in my APN practice, where I will influence individuals through my vision, communication skills, and commitment. The Full practice authority in Florida is one of the policies that relate to my practice since I will be able to practice autonomously.

References
Chan, T. E., Lockhart, J. S., Thomas, A., Kronk, R., & Schreiber, J. B. (2020). An integrative review of nurse practitioner practice and its relationship to the core competencies. Journal of Professional Nursing, 36(4), 189-199. https://doi.org/10.1016/j.profnurs.2019.11.003
Evgin, D., & Bayat, M. (2020). The Effect of Behavioral System Model Based Nursing Intervention on Adolescent Bullying. Florence Nightingale journal of nursing, 28(1), 71–82. https://doi.org/10.5152/FNJN.2020.18061
Fukuda, T., Sakurai, H., & Kashiwagi, M. (2020). Impact of having a certified nurse specialist in critical care nursing as head nurse on ICU patient outcomes. PloS one, 15(2), e0228458. https://doi.org/10.1371/journal.pone.0228458
Hoyt, K. S., & Proehl, J. A. (2018). Family Nurse Practitioner or Acute Care Nurse Practitioner in the Emergency Department? Advanced Emergency Nursing Journal, 37(4), 243-246. https://doi.org/10.1097/TME.0000000000000084
Hu, J., & Forgeron, P. (2018). Thinking, educating, acting: Developing advanced practice nursing. International journal of nursing sciences, 5(2), 99–100. https://doi.org/10.1016/j.ijnss.2018.04.006
Kumar, C. D., & Williams, D. A. (2018). Florida One Step Closer. Journal of Emergency Nursing, 44(6), 645-646. https://doi.org/10.1016/j.jen.2018.07.025
Lopes-Júnior, L. C. (2021). Advanced Practice Nursing and the Expansion of the Role of Nurses in Primary Health Care in the Americas. SAGE open nursing, 7, 23779608211019491. https://doi.org/10.1177/23779608211019491
Steinmann, B., Klug, H., & Maier, G. W. (2018). The Path Is the Goal: How Transformational Leaders Enhance Followers' Job Attitudes and Proactive Behavior. Frontiers in Psychology, 9, 2338. https://doi.org/10.3389/fpsyg.2018.02338