NSG 4076 Faith-Based Nursing
NSG 4076 Faith-Based Nursing
NSG 4076 Faith-Based Nursing
The Healthy People 2030 has outlined several objectives aimed at promoting the safety and quality of care provided. The objectives which are amenable to the parish nurse intervention include: eliminating health disparities, attaining healthy equity, and promoting health literacy to improve everyone's health and wellbeing; and creating a physical social, and economic environment essential in promoting full potential health and wellness (Hasbrouck, 2021). Faith-based communities can help attain these goals by implementing the role of pastoral leadership in providing the religious context health promotion and equality messages, creation of bi-cultural programs, and promoting public awareness through sermons on how the community can work together to promote healthy living.
The collaboration among community nurses and parish nurses is based on a clear understanding of individuals' role in promoting the health of community members. Concerning the healthy people 2030 goals identified above, the parish nurses can help with the identification of the healthcare disparities within the community starting by the church, as the community nurses focus on these disparities to understand the healthcare challenges facing the entire community and come up with appropriate intervention such as advocating for policies to promote health insurance coverage and enhance health promotion programs such as routine screening services.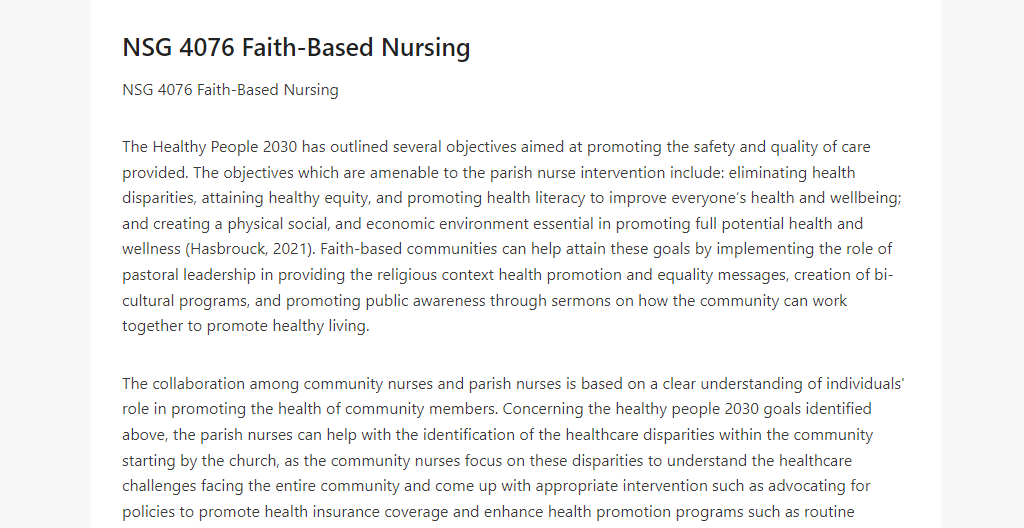 Collaboration between nurses working in the community and parish nurses can help decrease the redundancy among community members and promote duplication of healthcare services among community members hence easily accessible care services (Strait et al., 2019). Parish nurses working together with other nurses in the community will help in promoting the achievement of the above stated even more efficiently in terms of promoting the health, healing, and wholeness of all community members.

References
Hasbrouck, L. (2021). Healthy People 2030: an improved framework. Health Education & Behavior, 48(2), 113-114. https://doi.org/10.1177/1090198121997812
Strait, L. A., Fitzgerald, E., Zurmehly, J., & Overcash, J. (2019). A congregation transition of care program using faith community nurses and volunteer faith-based nurses. Journal of Christian Nursing, 36(3), 158-165. https://doi.org/10.1097/CNJ.0000000000000625