NSG 4076 Epidemiological Issues
NSG 4076 Epidemiological Issues
NSG 4076 Epidemiological Issues
Topic 2 Chronic Diseases
According to the Florida Department Of Health Division of Public Health Statistics and Performance Management, the two main chronic conditions affecting the people of Fort Pierce, Florida are heart disease and cancer (Roth et al., 2020). St. Lucie County Chronic Disease Profile as of 2020 reported that 5.8% of the adults were diagnosed with coronary heart disease and 7.2% with heart attack, whereas 9.4% of women above the age of 40 years were diagnosed with breast cancer, and 4.3% with cervical cancer (Westrick et al., 2020). The majority of the population in this area are between the age of 18 to 64 years and have an increased prevalence of heart disease and cancer.
            Some of the risk factors for cardiovascular diseases such as heart attack and coronary heart disease include high blood pressure, high cholesterol levels, physical inactivity, obesity, unhealthy diet, excessive consumption of alcohol, smoking, high-stress levels, and family history of heart disease. Adults in Florida were reported to display increased rates of smoking and alcohol consumption as a result of increased stress levels especially during the Covid-19 pandemic, which can be considered as a contributing factor to the increased prevalence of cardiovascular diseases (Roth et al., 2020). Consequently, the majority of community members in this region also display unhealthy lifestyle habits such as consumption of fast food and a sedentary lifestyle.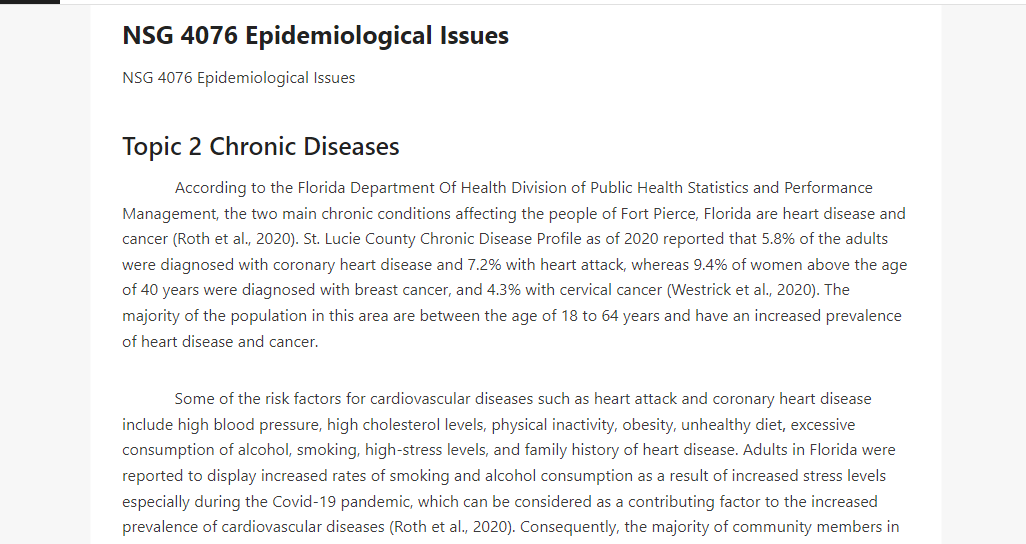 Additionally, Florida has been reported to have the second-highest cancer burden in the United States (Westrick et al., 2020). In 2011, the number of deaths as a result of cancer in this region surpassed that of heart disease. The high prevalence of cancer in this region has been attributed to unhealthy lifestyle habits such as smoking, poor diet, lack of physical activity, and obesity as reported by the National Cancer Institute.

References
Roth, G. A., Mensah, G. A., Johnson, C. O., Addolorato, G., Ammirati, E., Baddour, L. M., … & GBD-NHLBI-JACC Global Burden of Cardiovascular Diseases Writing Group. (2020). Global burden of cardiovascular diseases and risk factors, 1990–2019: update from the GBD 2019 study. Journal of the American College of Cardiology, 76(25), 2982-3021. https://doi.org/10.1016/j.jacc.2020.11.010.
Westrick, A., Schlumbrecht, M., Hlaing, W. M., Kobetz, E. K., Feaster, D., & Balise, R. (2020). Racial and ethnic disparities in the overall survival of women with epithelial ovarian cancer in Florida, 2001–2015. Cancer Causes & Control, 31(4), 333-340. https://doi.org/10.1007/s10552-020-01276-2