NSG 4076 Discussion Capstone Synthesis
NSG 4076 Discussion Capstone Synthesis
NSG 4076 Discussion Capstone Synthesis
Topic 1 Health Problems: Which area, rural or urban, has the most health problems? Why?Identify four common health problems found in that selected area.
Rural communities tend to experience an increased burden as a result of several health problems as compared to urban settings (Ameh et al., 2020). Some of the most common chronic conditions with higher prevalence in rural communities include cancer, heart disease, diabetes, and chronic respiratory disease. Such common health problems contribute to the high morbidity and mortalities rates in rural areas as compared to the urban communities. The poor health status in rural settings is attributed to several social determinants which limit accessibility to disease prevention and health promotion programs and healthcare services.
            Some of the social determinants undermining the health status in rural settings as mentioned above include the high poverty rates making care services unaffordable for a majority of community members. Low health literacy levels reported in rural settings are also associated with incomplete health perception promoting an unhealthy lifestyle (Chinyakata et al., 2021). There are also several cultural and social norms against some medical procedures in these areas. Additional factors include educational and linguistic disparities, limited availability of healthcare resources due to low population density, limited affordable means of transport, and lack of access to physical activity options and healthy foods.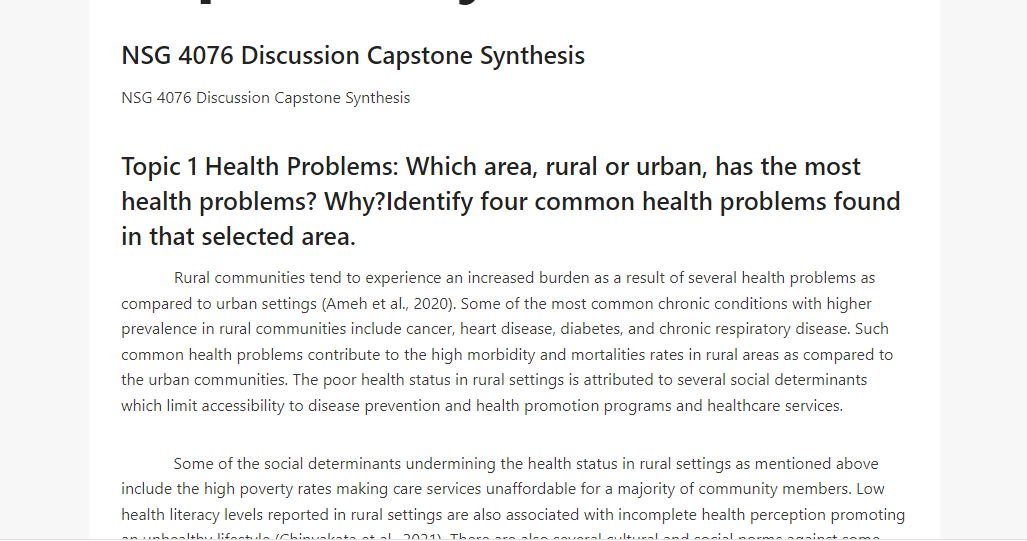 The above-shared barriers, like unhealthy living standards and lack of exercise, play a significant role in contributing to the development of conditions such as heart disease chronic respiratory disease, and diabetes (Dassah et al., 2018). Consequently, lack of adequate health promotion resources such as routine screening programs promote late detection of certain cancers like breast cancer, hence increased risk of complications which eventually lead to increased mortality rates.

References
Ameh, G. G., Njoku, A., Inungu, J., & Younis, M. (2020). Rural America and coronavirus epidemic: Challenges and solutions. European Journal of Environment and Public Health, 4(2), em0040. https://doi.org/10.29333/ejeph/8200
Chinyakata, R., Roman, N. V., & Msiza, F. B. (2021). Stakeholders' Perspectives on the Barriers to Accessing Health Care Services in Rural Settings: A Human Capabilities Approach. The Open Public Health Journal, 14(1). https://doi.org/10.2174/1874944502114010336
Dassah, E., Aldersey, H., McColl, M. A., & Davison, C. (2018). Factors affecting access to primary health care services for persons with disabilities in rural areas: a "best-fit" framework synthesis. Global health research and policy, 3(1), 1-13.
https://doi.org/10.1186/s41256-018-0091-x