NSG 4067 Wellness in the Elderly
NSG 4067 Wellness in the Elderly
NSG 4067 Wellness in the Elderly
As we grow older, there is a decline in psychological and physiological functioning, which increases the risks of developing comorbidities such as type 2 diabetes, fall injuries, hypertension, obesity, and cancer. As such, wellness programs are designed to help improve or maintain older adults' well-being through appropriate diet, stress management, exercise, and disease prevention(Anandh et al., 2021). Unlike health promotion, which mainly focuses on an end goal, a wellness program can adopt a holistic approach to balance every facet of the older adult's life, from spiritual, physical, intellectual, social, cognitive, emotional, and occupational well-being.
Holistic Wellness Program
With my patient's advanced age, it is necessary to develop the most effective holistic wellness program to promote the health of her body, mind, and spirit. The first part of the program focuses on physical wellness, with appropriate diet and activities such as group exercise, scheduled walking, and yoga (Fullen et al., 2018). To promote the patient's emotional well-being, the program recommends the accommodation of pets to ease anxiety and depression. Studies show that pets can elevate serotonin levels and lower the level of cortisol, hence relieving stress.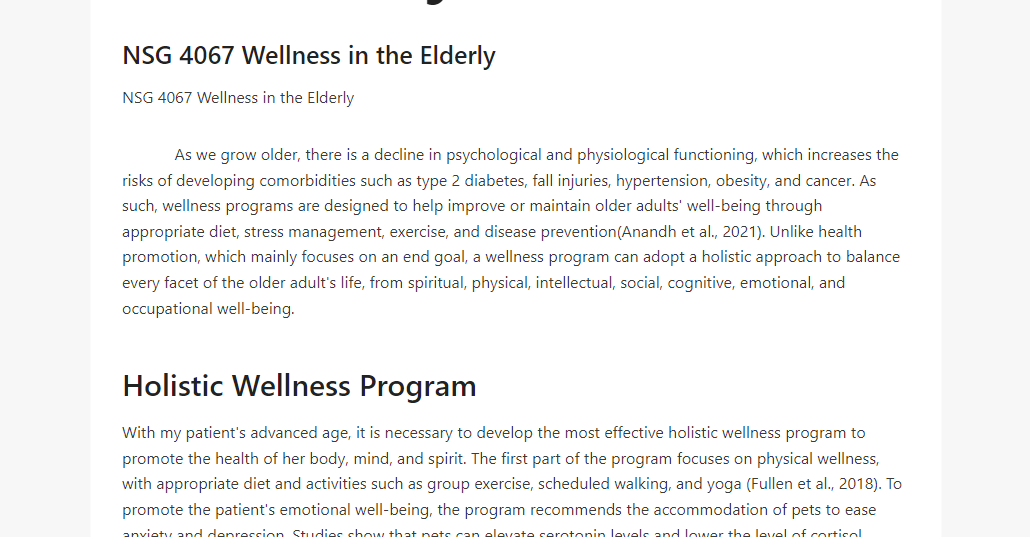 The program also covers intellectual wellness, community support groups, and internet services to help the patient remain sane. Social wellness will be promoted by attending local sporting and entertainment events to promote social interaction (Anandh et al., 2021). Spiritual wellness is promoted by encouraging the patient to remain strong in their religious values, and beliefs like Christians should be encouraged to go to church. Generally, this program will help promote the patients' overall health and prevent complications such as stress, anxiety, falls, fractures, Alzheimer's, diabetes, obesity, and hypertension.

References
Anandh, S., Varadharajulu, G., Alate, M. M., & Patil, D. M. (2021). Effect of Mindful Outdoor Walking on Attention Among Independent Rural Elderly. Int J Cur Res Rev| Vol, 13(01), 75. http://dx.doi.org/10.31782/IJCRR.2021.13106
Fullen, M. C., Richardson, V. E., & Granello, D. H. (2018). Comparing successful aging, resilience, and holistic wellness as predictors of the good life. Educational Gerontology, 44(7), 459-468. https://doi.org/10.1080/03601277.2018.1501230