NSG 4067 Analysis of an Age Related Topic
NSG 4067 Analysis of an Age Related Topic
NSG 4067 Analysis of an Age Related Topic
Mental and Physical Health in Old Age
Families, communities, and nations require healthy populations to remain optimally productive. However, health issues and financial instability affect productivity adversely and lower the quality of life in many populations. The outcomes have ripple effects. A culture of dependence is likely to be created when people become unhealthy. Reduced quality of life is also associated with mental health problems and high mortality. As a result, evidence-based interventions to enhance productivity in selected populations are required depending on their specific needs. This paper describes the deteriorating quality of life among older adults. Primary focus areas include the implications, practical interventions, and available resources.
The Problem and the Population Affected
All human beings should be functional regardless of their ages. To be optimally functional implies being in the right mental, physical, and emotional health. It is crucial to be financially independent too. According to Kruk et al. (2018), high quality of life is associated with reduced hospital visits and dependence on family and friends. Health care organizations also spend less when people's quality of life is at the desired levels. Unfortunately, the increased vulnerability in some populations lowers the quality of life as mental and physical health problems affect their overall wellbeing. Older adults are among the most affected by reduced quality of life.
From a health dimension, older adults include the population above 65 years of age. A significant portion includes retirees and veterans currently engaging in less-demanding physical and mental activities. Abdi et al. (2019) found that increased physical and mental health problems in old age are the leading causes of reduced quality of life. For instance, the overall health of older adults declines naturally due to reduced physical strength. It is also characterized by minimal social interaction, and mental health problems are an inherent part of aging. Depression, dementia, and anxiety are common mental health problems in old age (e Farias et al., 2020). Unless the elderly adults get proper support, vulnerability increases with age, further lowering the quality of life and increasing mortality rates.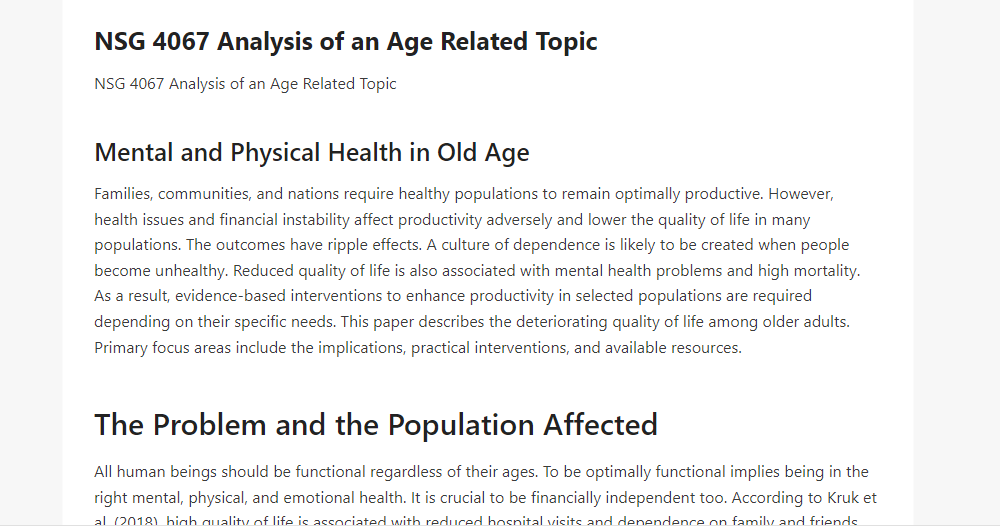 Cultural Implications
Elderly adults are a critical population that deserves close attention and support. Reduced quality of life due to the increased exposure to mental and physical health challenges creates a highly dependent population in society, which can be avoided through early interventions. The problems affecting elderly adults also manifest a society that normalizes isolation of the elderly population. They are left to age in seclusion without giving them appropriate support. Given the far-reaching effects of older adults' problems, changing the cultural approach to elderly care is vital.
Financial/Legal/Ethical Implications
Reduced quality of life due to increased vulnerability in old age has profound financial, legal, and ethical implications. Abdi et al. (2019) posited that increased vulnerability to health problems prompts a proportional increase in health care expenses at the individual, family, and organizational level. Resources that could have been used to improve people's productivity and wellness are used to diagnose and treat preventable conditions. Legally and ethically, health care organizations, communities, and families are mandated to protect special populations such as the elderly. They should adopt health approaches that promote quality health to reduce harm and keep everyone free from health problems.
Interventions to Improve the Problem
Normalizing Paid Caregiving
Older adults' dependence increases with age. Andrade and Andrade (2018) found that over a third of elderly adults need assistance with activities of daily living. The level of dependence is high when older adults have mental and physical problems. Andrade and Andrade (2018) further found that a majority of older adults depend on informal caregiving (family members), which may not provide optimal care for complex conditions. Normalizing paid caregiving implies that older adults rely less on busy family members. They would get professional help from qualified caregivers to maximize their safety, attention, and general care.
Support Older Adults in Lifelong Learning
Many older adults stop active living once they retire, lose their partners, or become sick. The problem is widespread due to obsolete social norms that normalize isolating older adults. As Abdi et al. (2019) posited, supporting older adults to stay engaged and have a different purpose in old age is critical for their mental and physical health. A practical intervention is to support older adults' lifelong learning. They should enroll in education programs that add value to their lives and enhance longevity. Such a change in approach to lifestyle would be integral in giving older adults meaningful engagement across lifespan. A more active lifestyle would also reduce physical and mental health problems associated with old age.
Financial Wellness
Older adults need financial wellness to enable them cope with many physical and mental health challenges lowering their quality of life. Generally, many people adopt traditional models of work and retirement that do not give older adults the financial freedom required to support life in this critical age. This shift needs adoption of new work and retirement models that give older adults employment opportunities. For instance, the retirement age can be increased to ensure that older adults are more financially secure.
Resources to Improve the Problem
Social Support
Older adults cannot live without social support. The World Health Organization regards social support highly since it is critical in disease prevention and chronic disease management (e Farias et al., 2020). Since many older adults live with health conditions, disease-specific support groups are a vital resource for this population to enable it to cope with the challenges of aging. Health care providers, friends, and family members should help older adults to connect with their colleagues going through similar experiences. Social support from support groups is also needed for mental health support. It helps older adults to share problems and coping skills, reducing the mental pressure characterizing many illnesses.
Education and Information Resources
Like other populations, older adults need information and awareness to improve the quality of their lives. They need education on coping with the challenges of chronic conditions, work-life balance, and isolation, among others. Education and awareness are available through community and social organizations that focus on the welfare of the elderly population. Hotlines for mental health to help during crises are also a crucial resource for older adults.
Costs Associated with the Interventions
Each intervention has cost implications depending on the needs of an older adult or a population. Regarding paid caregiving, services for formal caregiving, including support and tools to enable older adults to cope with the challenges of aging, come at a cost. Older adults can get the paid services at professional homes for older adults or higher qualified professionals to take care of them at their convenient places. In any case, salaries for the care professionals and formal care vary depending on the type of care required. Supporting older adults in lifelong learning also involves some costs, such as enrolling them in an education program. The last intervention, financial wellness, also involves some cost. It is expensive for the nation since it implies denying the young populations deserved employment opportunities to keep the elderly healthy.
Sustainability of the Interventions
Overall, the interventions are sustainable and can apply to the overall populace. Regarding paid caregiving, the benefits outweigh the costs. Due to their professional expertise, paid caregivers help older adults cope with mental disorders and physical health challenges more conveniently than busy family members. The professionalism involved enables older adults to live longer, active, and productive lives. Supporting older adults in lifelong learning is also a sustainable intervention. It is crucial to focus on long-term solutions when implementing population health solutions. Lifelong learning ensures that older adults are active throughout their lives, which reduces their chances of getting mental health problems. Active lifestyles also keep older adults physically healthy, preventing them from lifestyle diseases. Financial wellness is also a sustainable intervention since it is a long-term plan focusing on the overall welfare of older adults.
Conclusion
Older adults are a critical population vulnerable to many physical and mental health problems. The increased vulnerability to health problems affects the overall quality of life of older adults, which reduces progressively if they do not get proper support. It is crucial to ensure that older adults live in supportive environments and are not entirely dependent on busy family members. As a result, long-term solutions are crucial to ensure that this special population remains productive overall. As explained, paid caregiving, supporting older adults in lifelong learning, and financial wellness are sustainable interventions for helping older adults overcome aging-related challenges. Support through educational resources and social groups can further improve outcomes.
References
Abdi, S., Spann, A., Borilovic, J., de Witte, L., & Hawley, M. (2019). Understanding the care and support needs of older people: a scoping review and categorisation using the WHO international classification of functioning, disability and health framework (ICF). BMC Geriatrics, 19(1), 1-15. https://doi.org/10.1186/s12877-019-1189-9
Andrade, T. B., & Andrade, F. B. (2018). Unmet need for assistance with activities of daily life among older adults in Brazil. Revista de Saude Publica, 52, 75. https://doi.org/10.11606/S1518-8787.2018052000463
e Farias, I. P. S., Montenegro, L. D. A. S., Wanderley, R. L., de Pontes, J. C. X., Pereira, A. C., de Almeida, L. D. F. D., & Cavalcanti, Y. W. (2020). Physical and psychological states interfere with health-related quality of life of institutionalized elderly: A cross-sectional study. BMC Geriatrics, 20(1), 1-10. https://doi.org/10.1186/s12877-020-01791-6
Kruk, M. E., Gage, A. D., Arsenault, C., Jordan, K., Leslie, H. H., Roder-DeWan, S., … & Pate, M. (2018). High-quality health systems in the Sustainable Development Goals era: Time for a revolution. The Lancet Global Health, 6(11), e1196-e1252. https://doi.org/10.1016/S2214-109X(18)30386-3