NSG 4055 Week 3 discussion
NSG 4055 Week 3 discussion
Week 3 Discussion: Topic 2
Caregiver role strain occurs when a caregiver becomes overwhelmed and unable to carry out their role to the best of their ability. It is characterized by stress and anxiety. Financial pressure is the most important factor that causes caregiver role strain. The financial burden of taking care of a loved one causes immense stress (Kaur et al., 2018). Caregivers face financial pressures since they have to financially provide for their loved ones, as most persons are economically unproductive. As a result, the caregiver has to cater for medical bills, transport costs, and patients' basic needs, resulting in financial strain (Kaur et al., 2018). Besides, caregivers are forced to take a leave of absence or work shorter hours, reducing their income and worsening the financial burden.
Caregiver strain can be assessed using the caregiver strain assessment tool. Examples of the assessment tools include the Modified Caregiver Strain Index (MCSI). MCSI can be used to promptly screen for caregiver strain with long-term family caregivers (Kaur et al., 2018). It is a 13-item tool that assesses strain related to care provision. The tool has at least one item for each of the following major spheres: Physical, Financial, Employment, Social, and Time (Kaur et al., 2018). The tool is used to assess persons of any age who have assumed the role of caregiver for an older adult. A positive reply to any of the index's 13 statements should set off a more focused assessment and implementation of strategies to address the cause of stress.
Caregiver role strain can be reduced or prevented through preventive education, cognitive behavioral therapy, and counseling. The strategies can enhance the caregiver's quality of life and the care recipient's (Borji et al., 2017).  Preventive education can focus on stress-relieve techniques for the caregiver such as meditation, deep-breathing, physical exercises, and restorative Yoga.

References
Borji, M., Nourmohammadi, H., Otaghi, M., Salimi, A. H., & Tarjoman, A. (2017). Positive Effects of Cognitive Behavioral Therapy on Depression, Anxiety and Stress of Family Caregivers of Patients with Prostate Cancer: A Randomized Clinical Trial. Asian Pacific journal of cancer prevention : APJCP, 18(12), 3207–3212. https://doi.org/10.22034/APJCP.2017.18.12.3207
Kaur, P., Bhalla, A., & Katyal, P. (2018). Strain among the family caregivers of patients with stroke. J Perioper Crit Intensive Care Nurs, 4(02). https://doi.org/10.4172/2471-9870.10000144
Respond to one of the following questions: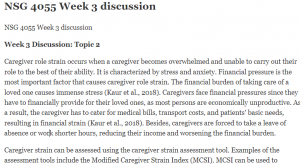 Review Healthy People 2020 Global Health Initiatives. Choose
one disease process and discuss the disease process, the goal of Healthy People
2020, and how the CDC plays a role in meeting the goal.
Search the South University Online Library for caregiver
role strain. What is the most important factor that causes caregiver role
strain? What can be done to prevent it?
Citations should conform to APA guidelines. You may use this
APA Citation Helper as a convenient reference for properly citing resources or
connect to the APA Style website through the APA icon below.
Click here to ORDER an A++ paper from our Verified MASTERS and DOCTORATE WRITERS: NSG 4055 Week 3 discussion
APA Writing Checklist
Use this document as a checklist for each paper you will write throughout your GCU graduate
program. Follow specific instructions indicated in the assignment and use this checklist to help ensure correct grammar and APA formatting. Refer to the APA resources available in the GCU Library and Student Success Center.
☐ APA paper template (located in the Student Success Center/Writing Center) is utilized for the correct format of the paper. APA style is applied, and format is correct throughout.
☐  The title page is present. APA format is applied correctly. There are no errors.
☐ The introduction is present. APA format is applied correctly. There are no errors.
☐ Topic is well defined.
☐ Strong thesis statement is included in the introduction of the paper.
☐ The thesis statement is consistently threaded throughout the paper and included in the conclusion.
☐ Paragraph development: Each paragraph has an introductory statement, two or three sentences as the body of the paragraph, and a transition sentence to facilitate the flow of information. The sections of the main body are organized to reflect the main points of the author. APA format is applied correctly. There are no errors.
☐ All sources are cited. APA style and format are correctly applied and are free from error.
☐ Sources are completely and correctly documented on a References page, as appropriate to assignment and APA style, and format is free of error.
Scholarly Resources: Scholarly resources are written with a focus on a specific subject discipline and usually written by an expert in the same subject field. Scholarly resources are written for an academic audience.
Examples of Scholarly Resources include: Academic journals, books written by experts in a field, and formally published encyclopedias and dictionaries.
Peer-Reviewed Journals: Peer-reviewed journals are evaluated prior to publication by experts in the journal's subject discipline. This process ensures that the articles published within the journal are academically rigorous and meet the required expectations of an article in that subject discipline.
Empirical Journal Article: This type of scholarly resource is a subset of scholarly articles that reports the original finding of an observational or experimental research study. Common aspects found within an empirical article include: literature review, methodology, results, and discussion.
Adapted from "Evaluating Resources: Defining Scholarly Resources," located in Research Guides in the GCU Library.
☐ The writer is clearly in command of standard, written, academic English. Utilize writing resources such as Grammarly, LopesWrite report, and ThinkingStorm to check your writing.
Also Check Out: NSG 4055 Week 4 discussion