NSG 4055 Describe the chronic illness trajectory for the selected illness based on the patient's age
NSG 4055 Describe the chronic illness trajectory for the selected illness based on the patient's age
NSG 4055 Describe the chronic illness trajectory for the selected illness based on the patient's age
Heart failure is a complex syndrome caused by various primary and secondary causes and shared pathways of disease progression. Heart failure in a 12-year-old is commonly attributed to coexistent congenital heart disease, with different risks based on the particular type of malformation. The patient has a trajectory of illness that manifests with an overall gradual decline in function interposed by periods of symptom exacerbation followed by a return nearly to their baseline. Heart failure can result in characteristic signs and symptoms, such as poor growth, respiratory distress, feeding difficulties, exercise intolerance, and fatigue (Proudfoot et al., 2019). Pulse wave velocity and carotid artery stiffness are strong predictors of heart failure in 12-year-old.
Heart failure trajectory in elderly patients is punctuated by multiple exacerbations, and the prognosis is usually difficult to estimate. A 75-year-old with heart failure would experience fatigue and shortness of breath on mild exertion (McClung, 2017). One may also experience feelings of increasing pain, anxiety, and depression. The patient has long-term limitations on function with intermittent exacerbations (McClung, 2017). The exacerbations are managed by rescue treatment and often followed by a return to nearly the prior functional status.
Engaging in physical activity during early childhood has favorable effects on trajectories of cardiovascular fitness, arterial stiffness, and blood pressure over three years. Consequently, the plan of care for a 12-year-old should include involving the patient in moderate exercises to improve cardiovascular fitness (Proudfoot et al., 2019). A 75-year-old is at risk of developing complications from heart failure. The patient would require a comprehensive advance care plan documenting an agreement among the patient, family members, and the care team on what should happen if there are complications (McClung, 2017). The care plan should also include teaching the patient on early detection and management of symptoms and exacerbations.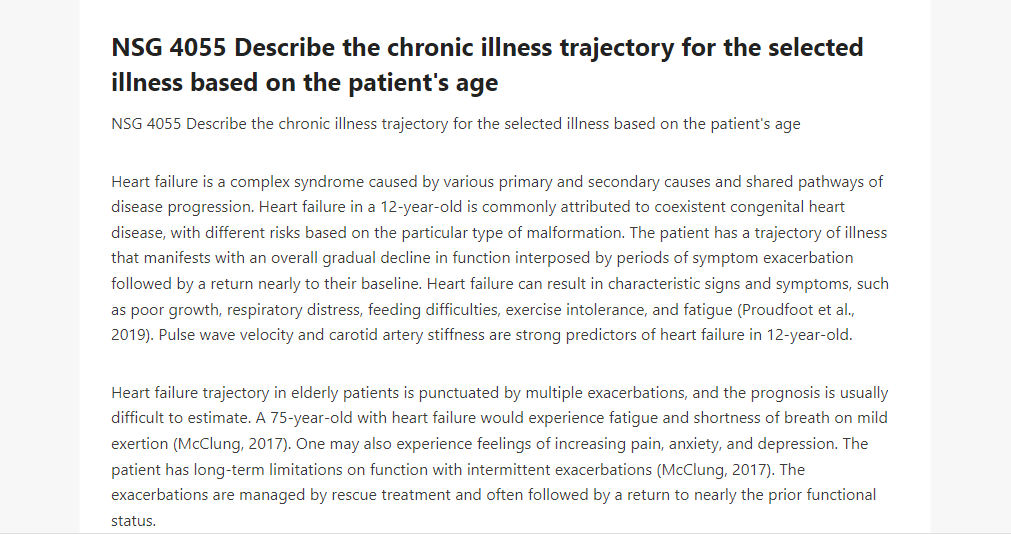 References
McClung, J. A. (2017). End-of-life care in the treatment of heart failure in older adults. Heart failure clinics, 13(3), 633-644. https://doi.org/10.1016/j.hfc.2017.02.014
Proudfoot, N. A., King-Dowling, S., Cairney, J., Bray, S. R., MacDonald, M. J., & Timmons, B. W. (2019). Physical activity and trajectories of cardiovascular health indicators during early childhood. Pediatrics, 144(1).