NRSG 495 Select a cultural or religious group to consider for this discussion
NRSG 495 Select a cultural or religious group to consider for this discussion
NRSG 495 Select a cultural or religious group to consider for this discussion
Unit 4 DQ: Patient-Centered Care
Patient-centered care is characterized by an in-depth understanding of a patient's health problems and interventions that respect beliefs, values, and preferences. A unique cultural group to consider for this discussion is African Americans. When providing care to African American patients and families, nursing professionals should understand that African Americans highly regard religious practices and spirituality (Aragon et al., 2018; Brooks et al., 2019). Their culture also influences their dietary practices, socialization, and other critical physical and mental health aspects. As a result, nurses are encouraged to embrace culturally-sensitive communication to promote a healthy patient-provider relationship (Hills et al., 2020; Claeys et al., 2021). Such communication also involves interviewing patients and families in their preferred language as much as possible. Other considerations include active listening, patient and family engagement, and empathy.
Nurses can apply different strategies to promote the patient and family to be a source of control. Promoting control ensures that patients can take the appropriate health initiatives, including medication adherence, and that the family can monitor and assist the patient where necessary. Wiig et al. (2020) recommended using individual proactive methods whose primary purpose is to involve individuals with the aim of collaboration. When collaborating to enhance health outcomes, these individuals use health information to guide and assist patients and ensure adherence to the treatment plan. As a result, intensive patient education is vital to maximize control.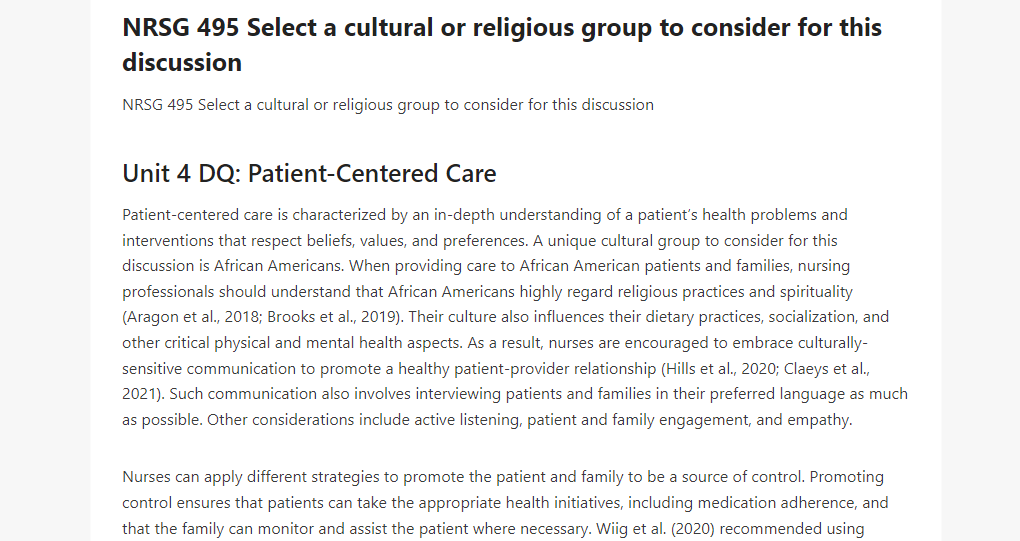 Concerning interventions, the electronic medical record should document all the essential information that can guide nurses to optimize health outcomes. Appropriate information in the nursing care plan includes current symptoms, medication types and administration, assistance required, and risk factors. This information can be adjusted depending on the patient's condition, health knowledge, and difficulties experienced during the assessment process. Any other information that can help nursing professionals to monitor vitals and the recovery progress should also be documented.
References
Aragon, S. J., Sherrod, D. R., Mcguinn, L. J., & Gesell, S. B. (2018). Nursing patient-centeredness improves African-American female medicare patients' experience-of-care. Journal of Best Practices in Health Professions Diversity: Research, Education and Policy, 11(2), 123–134. https://www.ncbi.nlm.nih.gov/pmc/articles/PMC8929674/
Brooks, L. A., Manias, E., & Bloomer, M. J. (2019). Culturally sensitive communication in healthcare: a concept analysis. Collegian, 26(3), 383-391. https://doi.org/10.1016/j.colegn.2018.09.007
Claeys, A., Berdai-Chaouni, S., Tricas-Sauras, S., & De Donder, L. (2021). Culturally sensitive care: Definitions, perceptions, and practices of health care professionals. Journal of Transcultural Nursing, 32(5), 484-492. https://doi.org/10.1177/1043659620970625
Hills, O., & Shah, D. (2020). Online health information seeking, medical care beliefs and timeliness of medical check-ups among African Americans. Patient Education and Counseling, 103(12), 2468-2476. https://doi.org/10.1016/j.pec.2020.06.006
Wiig, S., Rutz, S., Boyd, A., Churruca, K., Kleefstra, S., Haraldseid-Driftland, C., … & van de Bovenkamp, H. (2020). What methods are used to promote patient and family involvement in healthcare regulation? a multiple case study across four countries. BMC Health Services Research, 20(1), 1-15. https://doi.org/10.1186/s12913-020-05471-4