NRSG 413 Discuss how you would plan to implement this innovation into your clinical setting
NRSG 413 Discuss how you would plan to implement this innovation into your clinical setting
NRSG 413 Discuss how you would plan to implement this innovation into your clinical setting
The selected innovative idea in the facility is telemedicine aimed at improving the overall interactions between patients and care providers, especially those in remote and rural areas who have challenges accessing healthcare facilities and are suffering from chronic conditions like diabetes. At the core of telemedicine is the use of telecommunication tools like computers and smartphones to offer healthcare services to individual patients (Anderson et al., 2021). The implementation would leverage the system development life cycles based on its steps that include planning and requirement definition, designing, analysis, implementation and post-implementation support. Therefore, the implementation will involve establishing the approach and setting goals, developing a collaborative team and ensuring compliance to organizational protocols, policies and other regulatory aspects at state and federal levels, and getting a vendor to design develop and execute the system (Berlin et al., 2021). It will also involve engaging different stakeholders, especially nurses and their leaders as well as nurse informaticists and the management.
The next step would to communicate the need for change and create the urgency through a collaborative approach. Testing the implementation would be important based on acceptable standards and best practices to ensure that its meets user's aspects and goals.
Executing change is a complex situation that requires the participation and engagement of all stakeholders, especially nurses in the facility. Change theories and models help implementation teams to establish the right attitude and acceptance of new ways of doing things (Haleem et al., 2021). Therefore, the implementation will leverage the Lewin's change theory that is based on three steps; unfreezing, change, and refreezing. This model would help effective communication to nurses on the benefits of telemedicine and prepare them to embrace it.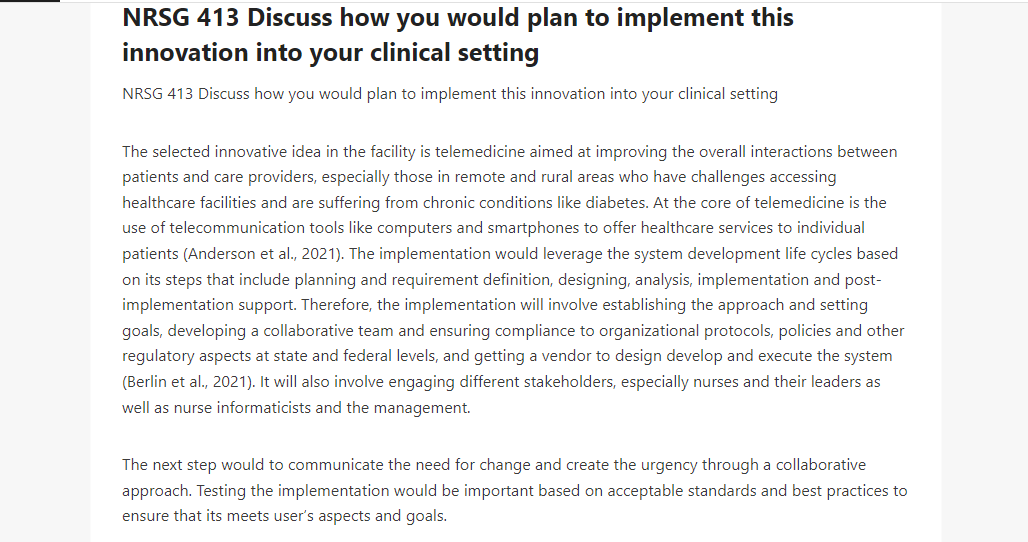 Evaluation is a critical aspect of ascertaining a program's or initiative's success and areas that need improvement (Smith et al., 2020). The evaluation method in this case would be a pre and post-implementation design where providers will record response and feedback from patients on the efficacy of the new innovation to improve their access to quality care.
References
Anderson, J., & Singh, J. (2021, June). A Case Study of Using Telehealth in a Rural Healthcare
Facility to Expand Services and Protect the Health and Safety of Patients and Staff. Healthcare Basel, 9(6): 736. DOI: 10.3390/healthcare9060736
Berlin, A., Mike, L., Tran, T., Melwani,S., Liu, J., Liu, Z. A., Badzynski, A. et al. (2021). Implementation and outcomes of virtual care across a tertiary cancer center during
COVID-19. JAMA oncology 7(4): 597-602. DOI: 10.1001/jamaoncol.2020.6982.
Haleem, A., Javaid, M., Singh, R. P., & Suman, R. (2021). Telemedicine for healthcare:
Capabilities, features, barriers, and applications. Sensors international, 2, 100117. https://doi.org/10.1016/j.sintl.2021.100117
Smith, W. R., Atala, A. J., Terlecki, R. P., Kelly, E. E., & Matthews, C. A. (2020).
Implementation guide for rapid integration of an outpatient telemedicine program during the COVID-19 pandemic. Journal of the American College of Surgeons, 231(2), 216-222. DOI: 10.1016/j.jamcollsurg.2020.04.030