NRSG 412 Why is health promotion essential for the family?
NRSG 412 Why is health promotion essential for the family?
NRSG 412 Why is health promotion essential for the family?
The family is a core setting for promoting health. There are several opportunities for health promotion that include emphasizing relationships among family members and neighbors, having common shared values and collective interest to enhancing health, creativity and devotion as well as centralized communication (Michaelson et al., 2021). In this case, health promotion is essential for the family because of the benefits that it provides. Health promotion allows the family to integrate best practices and interventions, especially primary care to reduce costs of care and enhance lifelong healthy practices (Barnes et al., 2020). Health promotion is essential for the family since it is a resource and a priority group that requires preventive and curative services across the life course. The use of family to promote health is important since it is the basic social unit and the first level of community interactions.
The best way to educate the individual and the family in promoting healthy living is to involve them through shared decision-making and based on the principle of patient preference. The shared decision-making approach ensure that the family and individuals demonstrate their common shared values and collective interest to enhance their health (Grabowski et al., 2018). Through this approach, it is possible to assess the level of willingness and confidence that they have in dealing with possible challenges based on the selected topics like importance of having healthy diets and being active in physical activities.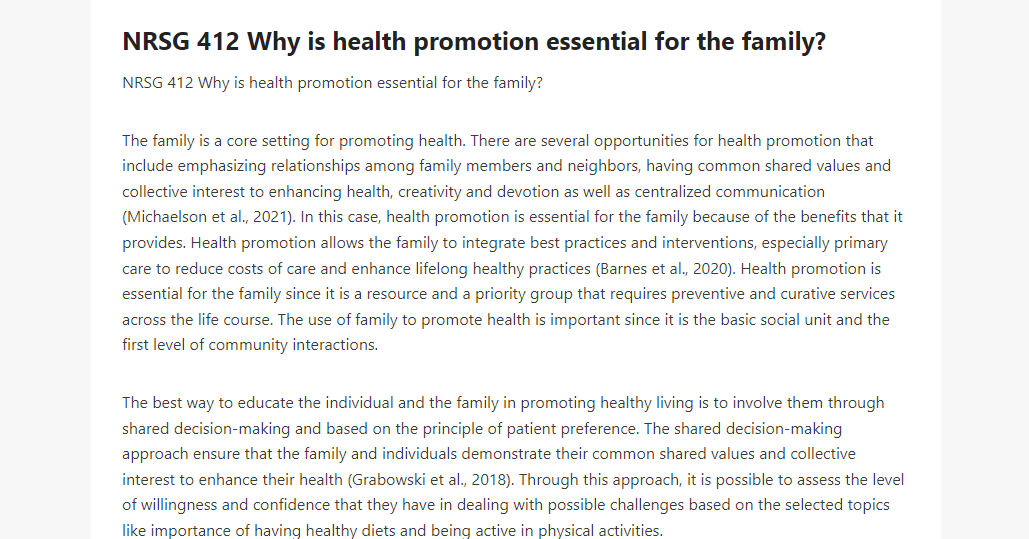 Following up with this family will entail having close interactions based on filling the required surveys on a regular interval. This implies that the family will keep records of the things that they accomplish based on the requirements and timelines (Robson et al., 2021). Having regular sessions like after two weeks and also communicating with them through making phone calls will also be essential in making necessary follow-ups.
References
Barnes, M. D., Hanson, C. L., Novilla, L. B., Magnusson, B. M., Crandall, A. C., & Bradford, G.
(2020). Family-centered health promotion: Perspectives for engaging families and achieving better health outcomes. INQUIRY: The Journal of Health Care Organization, Provision, and Financing, 57, 0046958020923537. DOI: 10.1177/0046958020923537
Grabowski, D., Aagaard-Hansen, J., Willaing, I., & Jensen, B. B. (2017). Principled promotion
of health: implementing five guiding health promotion principles for research-based prevention and management of diabetes. Societies, 7(2), 10. https://doi.org/10.3390/soc7020010
Michaelson, V., Pilato, K. A., & Davison, C. M. (2021). Family as a health promotion setting: A
scoping review of conceptual models of the health-promoting family. PLoS One, 16(4), e0249707. DOI: 10.1371/journal.pone.0249707
Robson, S., Stephenson, A., McCarthy, C., Lowe, D., Conlen, B., & Gray, A. J. (2021).
Identifying opportunities for health promotion and intervention in the ED. Emergency Medicine Journal, 38(12), 927-932. http://dx.doi.org/10.1136/emermed-2019-209101