NRSG 412 What were the most compelling leadership topics learned in this course?
NRSG 412 What were the most compelling leadership topics learned in this course?
NRSG 412 What were the most compelling leadership topics learned in this course?
I have enjoyed this Leadership and Nursing System Management course because I want to ultimately head a team of nurses in my company. I gained a greater grasp of leadership and how it operates in a company thanks to the training. For me, the subject of leadership styles was the most interesting. I gained knowledge of a variety of leadership philosophies, including coaching, autocratic, democratic, transactional, and contingency theories (Heinen et al., 2019). However, the transformational leadership style is the one that I found intriguing and that I could use in my company. This kind of leadership involves encouraging those in the lower ranks to take on leadership roles. Thus, a leader can challenge their team to accept change, take on new challenges, provide guidance, and reward them when they succeed by using this style. Thus, transformational leadership makes sure that the team members have a better understanding of their roles and responsibilities, which boosts productivity.
The discussion forums were quite engaging, and I was able to learn from others on topics that I found challenging to comprehend. I was able to see the value of doing empirical research for assignments and personal projects. I gained more knowledge about successful leadership from my colleagues' comments and discussion answers. Notably, the task that required us to interview a nurse in leadership was the most thrilling. I was able to relate to the director of nursing via this and comprehend both her leadership style and the characteristics necessary for effective management. I also heard about how nurse leaders may motivate their staff to work together more effectively and face less pushback (Schick-Makaroff & Storch, 2019). To make the training more participatory, I think live chats or seminars should have been included.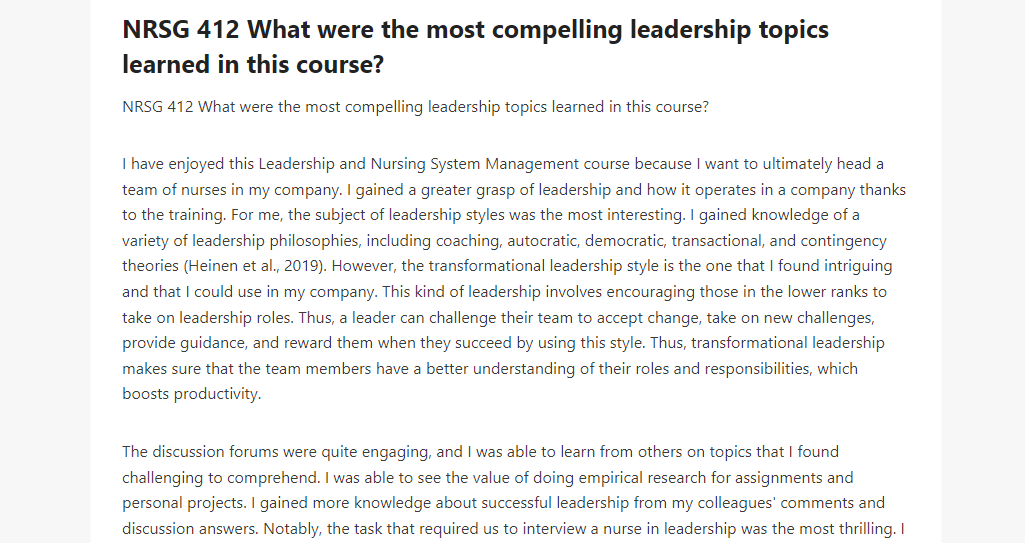 Similar to how varied viewpoints from students and the teacher may have provided more crucial insights and information. In the future, additional courses may integrate this. Additionally, the teacher offered enough sources that could be used for additional reading and research (Cummings et al., 2020). This helped to complete the varied and interesting tasks that were assigned to each student.
Thus, all topics in this course were informative, especially leadership theory and practice, which I can apply at work. Leadership affects productivity because leaders provide work and assess talent (Labrague et al., 2021). This training showed me that nurse supervisors lacked leadership qualities. I will propose to the human resources department that nurse supervisors take leadership management training to assist them set unit goals and provide staff with timely feedback. In this manner, facility issues may be resolved smoothly, fostering unity and confidence.

References
Cummings, G. G., Lee, S., Tate, K., Penconek, T., Micaroni, S. P. M., Paananen, T., & Chatterjee, G. E. (2020). The Essentials of Nursing Leadership: a Systematic Review of Factors and Educational Interventions Influencing Nursing Leadership. International Journal of Nursing Studies, 115(103842), 103842. https://doi.org/10.1016/j.ijnurstu.2020.103842
Heinen, M., Oostveen, C., Peters, J., Vermeulen, H., & Huis, A. (2019). An integrative review of leadership competencies and attributes in advanced nursing practice. Journal of Advanced Nursing, 75(11), 2378–2392. https://doi.org/10.1111/jan.14092
Labrague, L. J., Al Sabei, S., Al Rawajfah, O., AbuAlRub, R., & Burney, I. (2021). Authentic Leadership And Nurses' Motivation To Engage In Leadership Roles: The Mediating Effects Of Nurse Work Environment And Leadership Self‐Efficacy. Journal of Nursing Management, 29(8). https://doi.org/10.1111/jonm.13448
Schick-Makaroff, K., & Storch, J. L. (2019). Guidance for Ethical Leadership in Nursing Codes of Ethics: An Integrative Review. Nursing Leadership (Toronto, Ont.), 32(1), 60–73. https://doi.org/10.12927/cjnl.2019.25848