NRSG 412 Identify and describe the leadership theory that you would like to follow in your new job
NRSG 412 Identify and describe the leadership theory that you would like to follow in your new job
NRSG 412 Identify and describe the leadership theory that you would like to follow in your new job
Performing jobs entailing leadership roles in various sectors offers an individual a chance to display and apply effective leadership qualities, which can be key to driving the organization toward success (Ledlow et al., 2023). Assuming a new job in a leadership role in a nursing department can be quite demanding since the leader has to explore strategies to ensure that the nursing staff performs to the best of their potential and that the patients are satisfied with the services being offered. In such instances, leadership theories can be of great help. Therefore, in such a situation, I would follow the transformational leadership theory. Also known as relationship theory, it focuses on the connections formed between the leader and those they lead.
There are specific behaviors that I will need to support the transformational leadership theory. The behaviors include trusting the team members, inspiring participation, and being open to new thinking (Robbins & Davidhizar, 2020). These three behaviors will support the team members in performing various responsibilities in the environment.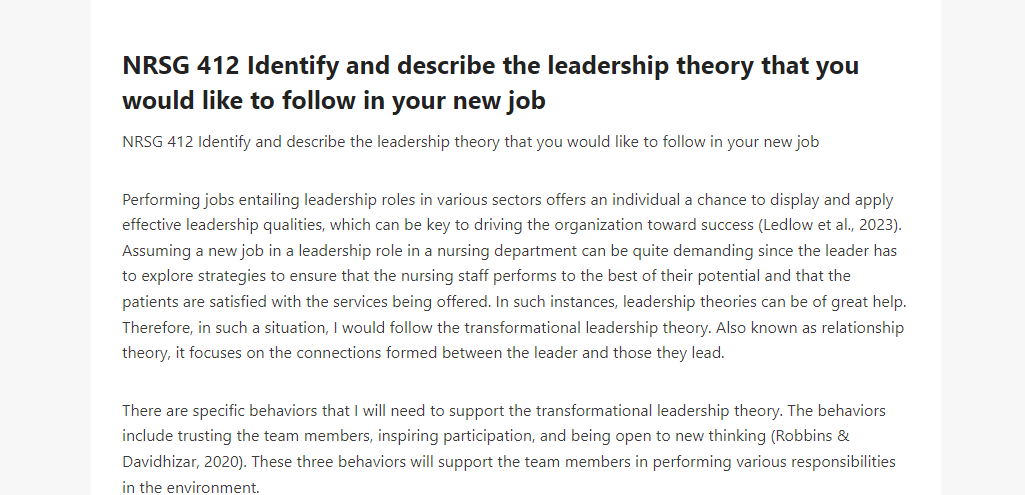 This class can play a key role in helping me to develop various leadership skills, which can be helpful in the role at my new position. One of the skills I would like to develop is collaboration. Collaboration skills will be used to bring the team members together and collectively work in various roles as appropriate. Another skill I would like to develop in this class is self-awareness. Self-awareness as a skill will enable me to have public awareness and ensure that my appearance to people is motivating. Another skill is a willingness to take responsibility to inspire my team to take responsibility. Developing these skills should be carefully considered. One way of developing them is by studying literature on transformational leadership and practicing the skills during the course (Akdere & Egan, 2020).

References
Akdere, M., & Egan, T. (2020). Transformational leadership and human resource development: Linking employee learning, job satisfaction, and organizational performance. Human Resource Development Quarterly, 31(4), 393-421. https://doi.org/10.1002/hrdq.21404
Ledlow, G. R., Bosworth, M., & Maryon, T. (2023). Leadership for health professionals: Theory, skills, and applications. Jones & Bartlett Learning.
Robbins, B., & Davidhizar, R. (2020). Transformational leadership in health care today. The Health Care Manager, 39(3), 117–121. Doi: 10.1097/HCM.0000000000000296