NRSG 412 Construct a health and wellness plan of care to improve the health status of the family (child, adult, and older adult)
NRSG 412 Construct a health and wellness plan of care to improve the health status of the family (child, adult, and older adult)
NRSG 412 Construct a health and wellness plan of care to improve the health status of the family (child, adult, and older adult)
Health and Wellness Plan of Care
Child (3-year-old son)
Nutrition: Your child is still developing, although at a considerably slower rate than in infancy. Give your kid a nutritious diet and let him decide how much to eat. Use skim, 1%, or 1/2% milk. Family dinners are crucial. Focus more on being together than being polite and eating everything (LEE, 2021). Your youngster should be able to feed itself with a spoon and fork. Even though vitamins aren't always essential, you might wish to take a multivitamin. If the fluoride content of your well water is negative, fluoride is required.
Development and Behavior: At this age, kids start showing an interest in playing with their friends and may take part in simple games, but they also spend a lot of time daydreaming. Your youngster is susceptible to the negative impacts of television because of how busy their imagination is. Reduce your child's daily TV time to no more than two hours, and keep an eye on the shows they watch (LEE, 2021). Talk about your child's opinions about favorite shows as you watch TV together. As often as you can, read to your youngster. It is important to concentrate your child's discipline at this age on teaching them acceptable conduct. The three-year-olds still struggle to manage their impulsivity. To instill desired behavior, set clear, logical, consistent boundaries with suitable penalties. Keep your attention on your child's positive traits and highlight these.
Safety: When using a forward-facing car seat, always put your kid in the rear seat. Wear your seatbelt and set a positive example for others. Never leave your kid unattended in a vehicle. Never put a youngster in an airbag-equipped seat. Watch water play cautiously and keep an eye on any outside play. Lock away any medications, vitamins, cleaning products, toxins, and weapons (Woodall & Cross, 2021).
Health Maintenance: Your child will need to have a hearing and vision screening today. If your kid is up to date on their vaccines, no lab tests or immunizations are planned. For routine dental checks, we advise taking your child to the dentist (LEE, 2021).
Next Appointment: Your child will get a checkup at age 4 and have their height, weight, and blood pressure taken. If your kid will be attending school the next year, they may have DTaP, Polio, Chicken Pox, and MMR booster shots. If your kid has ever experienced an allergic response to eggs or neomycin or has close relatives or other guests who have weak immune systems, let your provider know (Woodall & Cross, 2021).
Adult (40-year-old mother)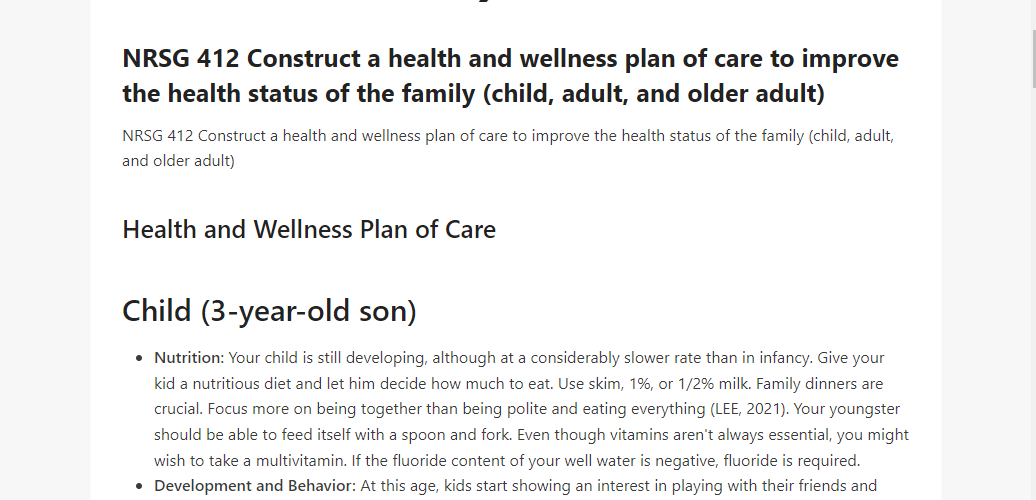 Taking care of your health, mind, and spirit is more crucial than ever in this time of transition.
In your 40s, diet, and exercise may be even more crucial because women tend to put on weight every decade of their lives.
Getting adequate vitamin D in your 40s is important for your diet. Bone health depends on vitamin D. In the latter stages of the 20s and early 30s, females reach their maximal bone mineral density. Before menopause, we must maintain a good bone structure.
Maintain annual examinations with your OBGYN.
Regular screening is crucial, and it involves a pap smear (every three years) or a pap smear plus HPV testing (every five years). Cervical cancer often develops in women in their 40s.
Beginning around age 40, schedule annual mammograms and breast exams.
Understand your heart-healthy stats, such as blood pressure and cholesterol.
Keep up with colorectal cancer screenings.
Keep moving by engaging in regular exercise, and feed your body nutritious meals.
If there are indications that pressures in your life are producing anxiety or depression, consult a doctor (Woodall & Cross, 2021).
Elderly (65-year-old grandmother)
You should visit your doctor for a check-up at least once a year, even if you feel fine.
You still need wholesome meals as you age, but you need fewer calories. You can make smart decisions with the assistance of your healthcare professional and the USDA's revised Choose My Plate for Older Adults. On the USDA website, you may also obtain a personalized nutrition plan.
Only take supplements, vitamins, and medicines as prescribed.
Regularly get your hearing and eyesight checked, as well as your blood pressure, bone density, depression, and colorectal cancer.
Obtain vaccines: An annual flu shot, the pneumococcal conjugate vaccination (PCV)13 and the pneumococcal polysaccharide vaccine (PPSV)23, and a herpes zoster vaccine, given once after age 60 or older, and a tetanus injection, given every 10 years.
By ensuring that you consume enough vitamin D and calcium each day to support strong bones, you can reduce your risk of fractures and falls.
You may achieve and keep a healthy weight with the aid of both a balanced diet and exercise. It strengthens bones, improves cognitive function, elevates your mood, and can help prevent and treat depression. It also tones up the cardiovascular system, pulmonary and muscles.
Train your mind by Joining a reading or discussion group. Enrol in a course at the neighborhood community college, senior center, or library (Ayaz-Alkaya et al., 2019).
Community Resources
The Summit on the Park Kids' Corner: Call the Summit front desk at 734/394-5460 for further details.
Social clubs: All groups can sign up in person by phone at 734/394-5485, or (if appropriate) online at www.cantonfun.org.
Favor Family Medical Practice, LLC of Canton, GA.
For routine check-up visits: Canton Health Centre is located at 1051 North Canton Centre Road in Canton, Michigan, 48187.
Healthy People 2030 Initiative
According to Carroll et al. (2020) to lower their chance of developing chronic diseases and to enhance their health, people should consume the appropriate quantities of healthful foods, such as vegetables, fruits, and whole grains.
The Physical Activity Guidelines for Americans, which are available online, describe how much exercise children, teenagers, and adults should engage in to promote their health.
Interprofessional Collaboration
Your family will need the help of a group of medical experts from different specializations to achieve the aforementioned health and well-being goals.
To ascertain the family's nutritional needs and offer the optimal diet, a nutritionist will be needed (Woodall & Cross, 2021).
Promoting vaccines and yearly family check-ups will be the responsibility of the family physician.
A gerontologist will be needed to meet the medical needs of the family's elderly members.
You can also consult with a life coach to help improve the mental health and well-being of the family.
Consideration of Individual Diversity
With a multicultural population, Canton Township provides a wide range of family healthcare services, recreational opportunities, and breathtaking natural beauty to everyone.
The township is attracting families with its suburban vibe and ranking among the greatest locations to live (Ho et al., 2022).
Pandemic-Related Health Risk
At the Sheldon School location (44649 Michigan Avenue, Canton, MI), the State of Michigan's MDHHS continues to conduct testing. The service is available from Monday through Friday from 9 am to 4 pm (Carroll et al., 2020).
Please contact the Wayne County Health Department at 866/610-3885 for at-home immunizations.
References
Ayaz-Alkaya, S., Terzi, H., Işık, B., & Sönmez, E. (2019). A healthy lifestyle education program for health literacy and health-promoting behaviors: A pre-implementation and post-implementation study. International Journal of Nursing Practice, e12793. https://doi.org/10.1111/ijn.12793
Carroll, N., Sadowski, A., Laila, A., Hruska, V., Nixon, M., Ma, D. W. L., & Haines, J. (2020). The Impact of COVID-19 on Health Behavior, Stress, Financial and Food Security among Middle to High-Income Canadian Families with Young Children. Nutrients, 12(8), 2352. https://doi.org/10.3390/nu12082352
Ho, Y.-C. L., Mahirah, D., Ho, C. Z.-H., & Thumboo, J. (2022). The role of the family in health promotion: a scoping review of models and mechanisms. Health Promotion International, 37(6), daac119. https://doi.org/10.1093/heapro/daac119
LEE, A. (2021). The Healthy Settings Approach in Hong Kong: Sustainable Development for Population Health. City University of HK Press.
Parsons, P. L., Slattum, P. W., & Bleich, M. (2019). Mainstreaming health and wellness: The RHWP Innovation model to complement primary care. Nursing Forum, 54(2), 263–269. https://doi.org/10.1111/nuf.12326
Woodall, J., & Cross, R. (2021). Essentials of Health Promotion. SAGE.