NRSG 410 Why is health promotion essential for the family?
NRSG 410 Why is health promotion essential for the family?
NRSG 410 Why is health promotion essential for the family?
The practice of empowering people to gain more control over and improve their health is referred to as health promotion (Bart et al., 2018). For a family like the one described in the scenario, where all of the members are in good health, the counseling will initially concentrate on promoting education about the necessity of medical visits for a variety of reasons as chances for health promotion activities. Families that have kids between the ages of 2 and 17 are eligible for Family Check-Up (Edelman & Kudzma, 2021). This vulnerable population's health can be promoted by these visits. Childhood immunization appointments and growth monitoring appointments can be used for health promotion to enhance the well-being of kids and teenagers. I will also teach the family about the benefits of eating well and exercising to help prevent diseases like cardiovascular disease, diabetes, and stroke.
      The health of those in the family will be improved by health promotion. Research demonstrates that health promotion raises everyone's quality of life and lowers the number of early deaths (Kuchler et al., 2022). Health promotion lowers the expenses (financial and human) that individuals and families would incur for medical treatment by emphasizing prevention. Living an active, healthy lifestyle makes it easier to maintain a healthy weight and prevent diseases like diabetes, cardiovascular disease, respiratory problems, and high blood pressure.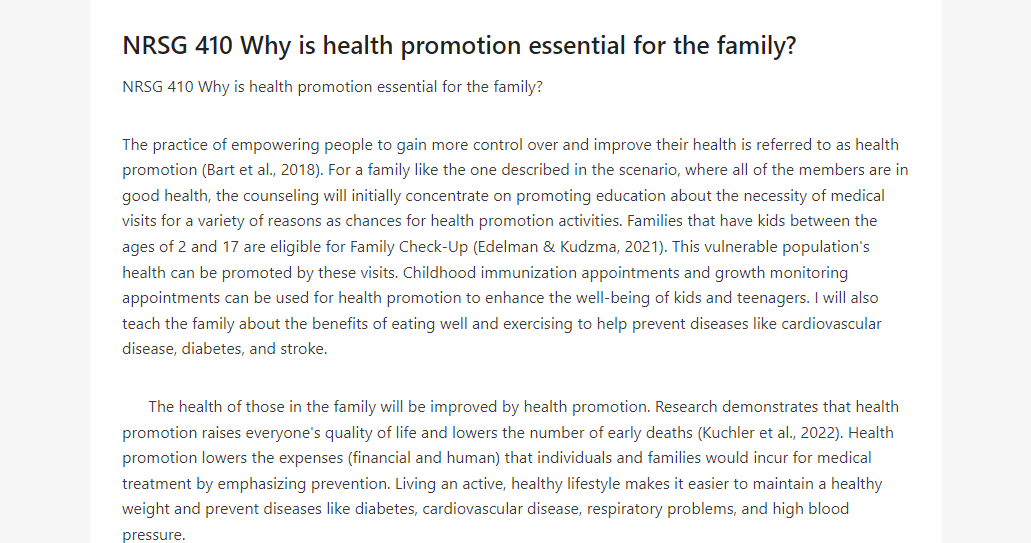 When promoting healthy living education, to the individual and his family, I will place a strong emphasis on leading an active lifestyle, eating a balanced diet, and encouraging regular medical checkups. I will use the teach-back technique to check that I've provided health promotion material in a way that patients and their families will find understandable (Fernandez-Jimenez et al., 2019). Also, I will provide teaching resources in patient-favored formats like handouts. To determine whether the family has embraced a healthy lifestyle and received the benefits that go along with it, I will check in with them during the next hospital visit or six months from now. I will get in touch with them by phone or email.

References
Bart, R., Ishak, W. W., Ganjian, S., Jaffer, K. Y., Abdelmesseh, M., Hanna, S., Gohar, Y., Azar, G., Vanle, B., Dang, J., & Danovitch, I. (2018). The Assessment and Measurement of Wellness in the Clinical Medical Setting: A Systematic Review. Innovations in Clinical Neuroscience, 15(09-10), 14–23. https://www.ncbi.nlm.nih.gov/pmc/articles/PMC6292717/
Edelman, C., & Kudzma, E. C. (2021). Health promotion throughout the life span. Elsevier.
Fernandez-Jimenez, R., Jaslow, R., Bansilal, S., Santana, M., Diaz-Munoz, R., Latina, J., Soto, A. V., Vedanthan, R., Al-Kazaz, M., Giannarelli, C., Kovacic, J. C., Bagiella, E., Kasarskis, A., Fayad, Z. A., Hajjar, R. J., & Fuster, V. (2019). Child Health Promotion in Underserved Communities: The FAMILIA Trial. Journal of the American College of Cardiology, 73(16), 2011–2021. https://doi.org/10.1016/j.jacc.2019.01.057
Kuchler, M., Rauscher, M., Rangnow, P., & Quilling, E. (2022). Participatory Approaches in Family Health Promotion as an Opportunity for Health Behavior Change—A Rapid Review. International Journal of Environmental Research and Public Health, 19(14), 8680. https://doi.org/10.3390/ijerph19148680