NRSG 410 What does the term health mean to you?
NRSG 410 What does the term health mean to you?
NRSG 410 What does the term health mean to you?
For me, being healthy means more than simply being free of disease or infirmity; it also encompasses the state of comprehensive physical, psychological, and spiritual well-being (Bart et al., 2018). In light of the aforementioned facts, I think it is more important than ever that we put our health first. Instead of focusing on treatments, we should prevent health complications. Achieving optimum health is not unattainable or reserved for a select group of people; it is possible for anyone prepared to put in the effort.
I discovered a wide range of perspectives on interventions and health during this course. I've been able to understand the necessity of doing thorough evaluations of patients and their families overall health and well-being. To complete an assessment, the nurse must complete a thorough health history, a physical exam, a family and social and spiritual background, and a lifestyle behavioral evaluation, according to the information from this course (Moore, 2017). This course has taught me the methods for doing and documenting a thorough patient assessment that is centered on health and well-being across the lifetime, in contrast to the health and wellness knowledge I learned from my pre-licensure program.
I've learned to recognize the need of encouraging individuals to consume suitable amounts of nutritious foods, such as whole grains, vegetables, and fruits, to lower their chance of developing chronic diseases and to enhance their health, exactly like in Healthy People 2030. To ascertain each person's specific health promotion needs, a health risk assessment is necessary (Moore, 2017). To protect patients from risks, mistakes, and injury when adopting healthy habits, it is helpful to analyze the likelihood of adverse health consequences.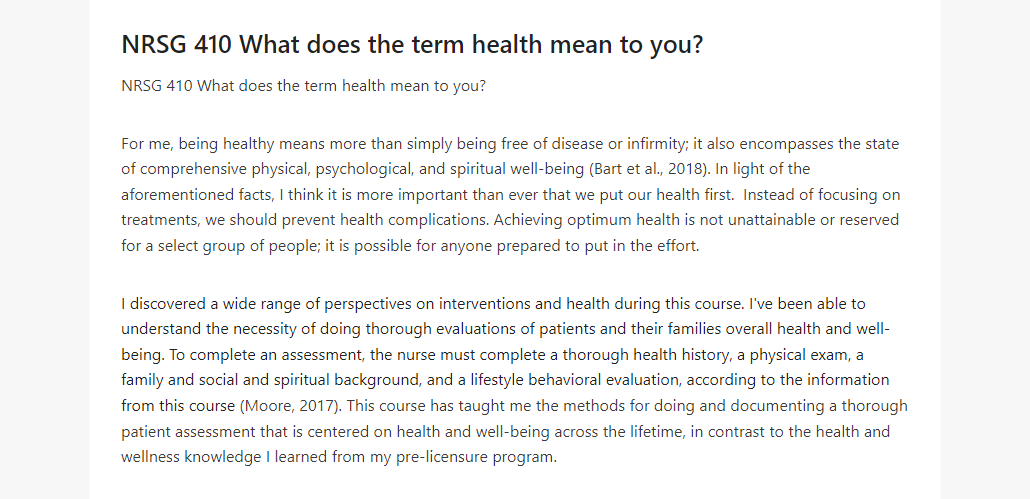 It has been quite beneficial to learn from my classmate's comments to gain extra knowledge. The ideal addition to this course would be to have students turn in a rough draft or sample of the model for that week's class to be evaluated as a second submission or assignment each week. That was my first time utilizing these models, therefore there were times when I wasn't sure if I was understanding a topic completely. The additional assessment would make it clear if my comprehension matches expectations or is incorrect.

References
Bart, R., Ishak, W. W., Ganjian, S., Jaffer, K. Y., Abdelmesseh, M., Hanna, S., Gohar, Y., Azar, G., Vanle, B., Dang, J., & Danovitch, I. (2018, October). The Assessment and Measurement of Wellness in the Clinical Medical Setting: A Systematic Review. Innovations in Clinical Neuroscience, 15(9-10), 14–23. DOI: PMC6292717
Moore, K. D. (2017, May). The use of an integrative wellness care plan in primary care. Sophia, the St. Catherine University repository website. Retrieved from https://sophia.stkate.edu/dnp_projects/75