NRSG 313 reflect on any alternative treatments that you have ever opted to use in particular, treatment other than what was recommended by your allopathic medical provider
NRSG 313 Reflect on any alternative treatments that you have ever opted to use in particular, treatment other than what was recommended by your allopathic medical provider
NRSG 313 Reflect on any alternative treatments that you have ever opted to use in particular, treatment other than what was recommended by your allopathic medical provider
Patients use different interventions to cure illnesses. Besides conventional medical approaches, complementary and alternative medicine (CAM) dominates patient care. CAM represents modalities, practices, and products often regarded as not standard medical care (Nile, 2019; National Cancer Institute, 2022). Health care practitioners should discuss the efficiency and safety of these medical procedures with patients in detail. I once opted for a back massage to treat back pain stemming from weight issues. Although not extreme, I considered it a more effective and sustainable solution than pain relievers and other drugs I was supposed to take as I made the necessary lifestyle and dietary changes. I discussed my decision with my medical provider, who was open to changes as we evaluated the pros and cons of massage therapy. It was clear that health care professionals are adequately aware of CAM and its effectiveness despite much reliance on allopathic medical procedures.
Since the problem was not severe and I had no active insurance coverage, I paid for the services. However, insurance coverage is crucial for CAM options like acupuncture, medically-recommended body massage, and chiropractic therapy. Insurance coverage is crucial for these options since they are widely accepted as complementary and integrative alternatives (American Cancer Society, 2021; Grossman, 2021). Besides, insurance coverage will encourage people to consider CAM when it is viable or closely available to them. However, patients should get a referral or appropriate recommendation from their health care providers. Patients must also be aware of the safety of these medical products and procedures, how to use them, and how much coverage the insurance plan provides and for how long.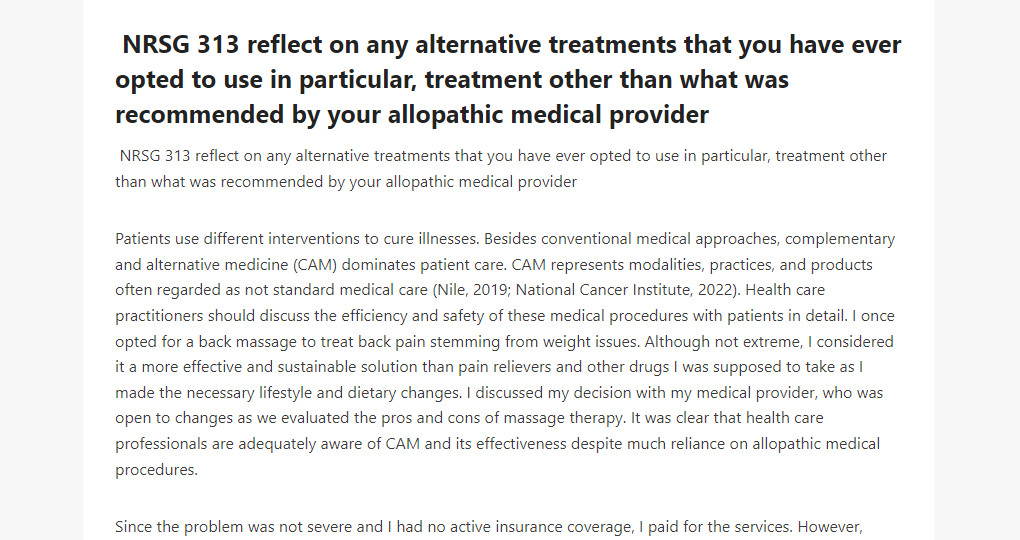 References
American Cancer Society. (2021). Will my insurance cover complementary and integrative therapies? https://www.cancer.org/treatment/treatments-and-side-effects/treatment-types/complementary-and-integrative-medicine/complementary-and-alternative-methods-and-cancer/insurance-coverage.html
Grossman, L. A. (2021). Choose your medicine: Freedom of therapeutic choice in America. Oxford University Press.
National Cancer Institute. (2022). Complementary and alternative medicine. https://www.cancer.gov/about-cancer/treatment/cam#:~:text=Complementary%20and%20alternative%20medicine%20includes,chi%2C%20and%20drinking%20green%20tea.&text=Integrative%20medicine%20is%20an%20approach,to%20be%20safe%20and%20effective.
Niles, N. J. (2019). Basics of the US health care system. Jones & Bartlett Learning.