NRSG 312 Summative Discussion Board
NRSG 312 Summative Discussion Board
NRSG 312 Summative Discussion Board
This course has been enlightening with a substantive boost to my professional development. I have gained knowledge in various important subjects such as the vulnerable population, population education interventions and effectiveness evaluation, community-based organizations and resources, and the community's resilience and engagement in response to public health emergencies such as COVID-19. Community empowerment, engagement, and participation in healthcare interventions have been emphasized with various potential benefits of improved health outcomes, capacity-building, better social cohesion, and enhanced acceptability and access to quality care (Haldane et al., 2019). This necessitates collaboration between community stakeholders and other primary healthcare givers.
The course-related assignments equipped me with adequate knowledge and skills, especially in matters of community health education interventions. I was able to successfully design health educational material. The realization of the importance of the appropriate choice of health education delivery modality was made. The need for evaluating the learning process, with the resultant identification of misinformation was also fostered (Ragsdale et al., 2020). This is integral in the nursing implementation of evidence-based practices.

This course has also immensely built my knowledge of population health. The population's health outcomes are determined by various social health determinants and factors (Silberberg et al., 2019). The factors include socioeconomic status, race, ethnicity, culture, religion, political environment, healthcare system, and literacy level (Tangcharoensathien et al., 2018). Disparities in these factors lead to inequalities in access to quality healthcare with the resultant emergence of the vulnerable population. The knowledge of these two concepts will enable me to identify any vulnerabilities and contributing factors that will guide tailored nursing practice in healthcare. This will ensure that the needs of patients within the vulnerable population are adequately met through informed interventions and policies.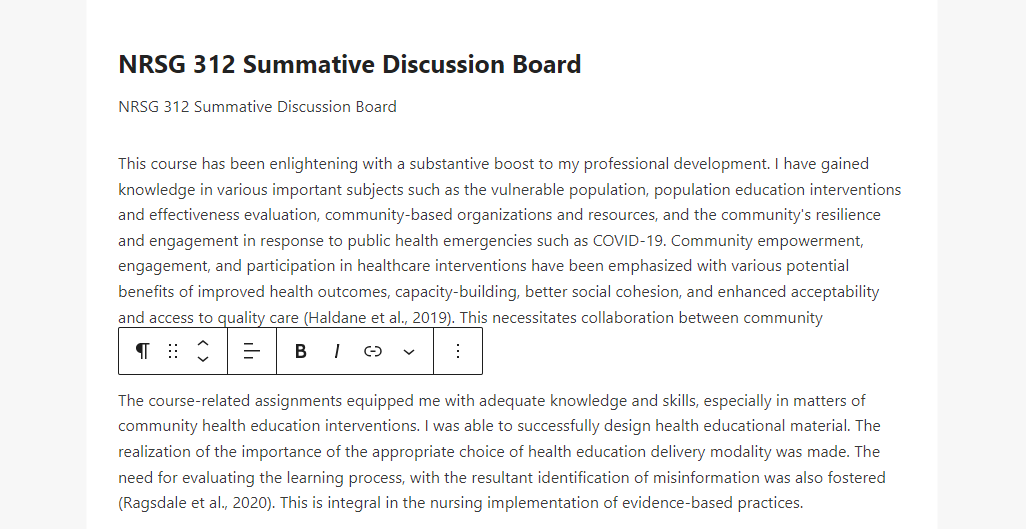 References

Haldane, V., Chuah, F. L., Srivastava, A., Singh, S. R., Koh, G. C., Seng, C. K., & Legido-Quigley, H. (2019). Community participation in health services development, implementation, and evaluation: A systematic review of empowerment, health, community, and process outcomes. Plos One, 14(5). https://doi.org/10.1371/journal.pone.0216112
Ragsdale, J. W., Berry, A., Gibson, J. W., Herber-Valdez, C. R., Germain, L. J., & Engle, D. L. (2020). Evaluating the effectiveness of undergraduate clinical education programs. Medical Education Online, 25(1), 1757883. https://doi.org/10.1080/10872981.2020.1757883
Silberberg, M., Martinez-Bianchi, V., & Lyn, M. J. (2019). What Is Population Health? Primary Care, 46(4), 475–484. https://doi.org/10.1016/j.pop.2019.07.001
Tangcharoensathien, V., Mills, A., Das, M. B., Patcharanarumol, W., Buntan, M., & Johns, J. (2018). Addressing the health of vulnerable populations: Social Inclusion and universal health coverage. Journal of Global Health, 8(2). https://doi.org/10.7189/jogh.08.020304