NRSG 312 Individual Project Evaluation Plan and Measures  
NRSG 312 Individual Project Evaluation Plan and Measures  
NRSG 312 Individual Project Evaluation Plan and Measures  
Evaluation of the learning process is integral in determining the effectiveness of the education, the learner's understanding of shared information, and any gaps in knowledge. This forms the basis for quality improvement and the progression of the learning process. An evaluation plan provides the description how a project will be monitored and assessed to determine its effectiveness and guide appropriate informed decisions and actions by addressing the what, when, who, and how of the project (Balmer et al., 2021). To evaluate learning, the plan should identify the tasks to be undertaken, the stakeholders who will take part in the evaluation, the duration needed including a clear deadline, and how the evaluation will be carried out.
Measures to assess the effectiveness of learning activities include baseline measures before learning, process measures addressing the learning activities and the delivery aspect, and outcome measures to assess the fulfillment of objectives and target outcomes (Ragsdale et al., 2020). Donald Kirkpatrick's four-level training model is an efficient educational framework that effectively assesses and measures the effectiveness and outcomes of the learning process. The components of this model aligned from levels 1 to 4 include reaction eliciting learner satisfaction and engagement, learning that imparts knowledge, skills, and appropriate attitudes, change in behavior attributed to the learning process, and results dictated by learning outcomes (Ragsdale et al., 2020). All the stages of the learning process are addressed to identify any gaps that enable the application of targeted strategies.
Misunderstanding health information during the learning process can occur. This may have detrimental effects during the translation of theoretical knowledge into practice. To and minimize misunderstanding, certain strategies can be adopted. These include promoting proactive learner engagement, fostering a psychologically safe and friendly learning environment, enhancing collaborative learning, offering customized activities depending on individual learner needs, and improving learner motivation (Thammasitboon et al., 2021). A student-friendly learning culture free from punishment and shame will be promoted. This will enable students to express their concerns without fear.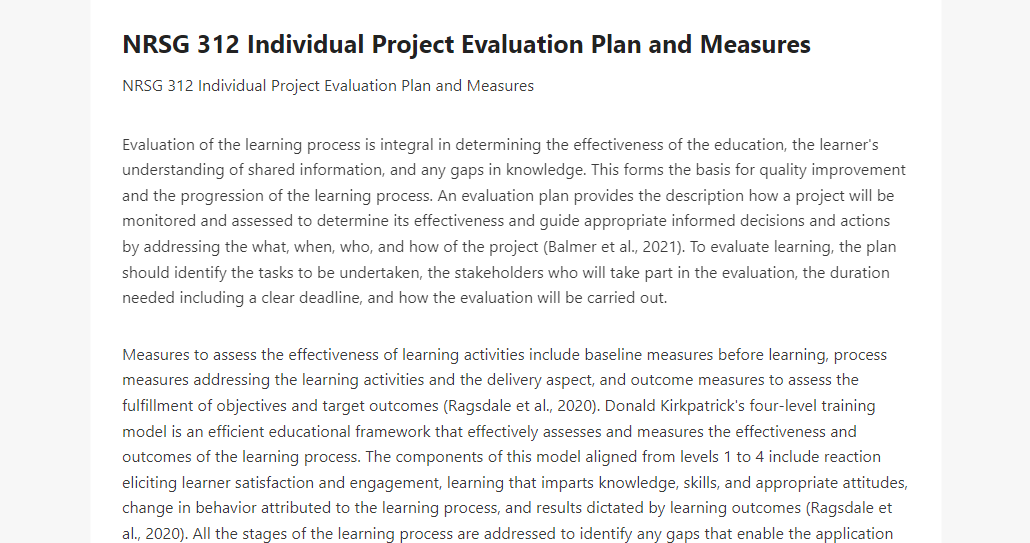 Identification and remediation of learner misunderstandings and information misconceptions are also essential. This can be elicited and achieved through written assignments and assessments, peer review processes, and appropriate revision (Halim et al., 2018). This offers an opportunity to identify specific aspects of learning that need further relevant actions. Learners can also reshape any misplaced misinformation and correct any mistakes from feedback and responses from other peers.
References
Balmer, D. F., Rama, J. A., & Simpson, D. (2021). Implementing the evaluation plan and analysis: Who, what, when, and how. Journal of Graduate Medical Education, 13(1), 129–130. https://doi.org/10.4300/jgme-d-20-01523.1
Halim, A. S., Finkenstaedt-Quinn, S. A., Olsen, L. J., Gere, A. R., & Shultz, G. V. (2018). Identifying and remediating student misconceptions in introductory biology via writing-to-learn assignments and Peer Review. CBE—Life Sciences Education, 17(2). https://doi.org/10.1187/cbe.17-10-0212
Ragsdale, J. W., Berry, A., Gibson, J. W., Herber-Valdez, C. R., Germain, L. J., & Engle, D. L. (2020). Evaluating the effectiveness of undergraduate clinical education programs. Medical Education Online, 25(1), 1757883. https://doi.org/10.1080/10872981.2020.1757883
Thammasitboon, S., & Brand, P. L. (2021). The Physiology of Learning: Strategies Clinical Teachers can adopt to facilitate learning. European Journal of Pediatrics, 181(2), 429–433. https://doi.org/10.1007/s00431-021-04054-7