NRSG 312 Discussion Outline the COVID-19 recovery plan in your community
NRSG 312 Discussion Outline the COVID-19 recovery plan in your community
NRSG 312 Discussion Outline the COVID-19 recovery plan in your community
The COVID-19 Pandemic
The COVID-19 pandemic has had devastating effects on the healthcare system globally. This has led to the redesign and restructuring of healthcare delivery with the adoption of mitigation strategies to mitigate its spread. These measures are implemented depending on specific community-level disease-specific attributes and risks whether low, medium, or high (CDC, 2022). Some of the effective public health measures that have been implemented include movement restrictions, targeted contact tracing and testing, isolation and quarantine of confirmed cases, social distancing, and the use of personal protective equipment such as masks (Ayouni et al., 2021). The availability of COVID-19 vaccination has also played a role in reducing the spread, severity, morbidity, and mortality of the disease.
Nursing homes are high-risk settings for the rapid spread of COVID-19 disease. This is due to various predisposing factors such as vulnerability from advanced age and comorbidities, constant interaction among a large number of individuals, social and community activities during the care processes, and limited clinical resources for the prevention and treatment of COVID-19 infection (Cazzoletti et al., 2021). A nursing home is one of the community-based settings where I could easily assess the COVID-19 status. There have been 150 confirmed cases since the onset of the pandemic. The number that is currently hospitalized is 8 cases including one patient in the intensive care unit. 5 patients have succumbed to the infection since its onset.
The strategies to mitigate the spread of COVID-19 infection have played an integral role in the decrease in reported cases of the disease. These strategies have also guided the recovery plan in various settings to minimize any reopening surges. The reopening phase is done in stages namely the support phase, lifting of restrictions phase, back to normal phase, and readiness for any possible future pandemics guided by key metrics such as the sufficiency of preventive capacity (Askarian et al., 2021). The supporting phase included measures such as reduced access to the facility by the general public and various public health measures such as handwashing. The restrictions were gradually lifted with activities going back to normal currently. Targeted in-phase preventive strategies were implemented during the phases to prevent associated surges. The facility is currently operating in a near-normal routine and enhancing its preparedness for future public health outbreaks.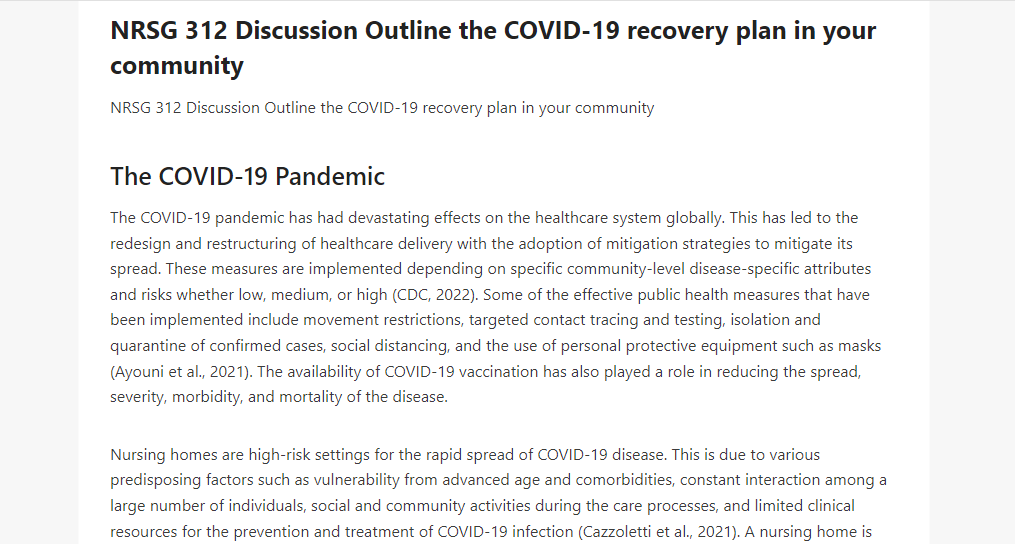 References
Askarian, M., Groot, G., Taherifard, E., Taherifard, E., Akbarialiabad, H., Borazjani, R., Askarian, A., &Amp; Taghrir, M. H. (2021). Basics of developing a COVID-19 reopening roadmap: A systematic scoping review. Iranian Journal of Public Health. https://doi.org/10.18502/ijph.v50i2.5336
Ayouni, I., Maatoug, J., Dhouib, W., Zammit, N., Fredj, S. B., Ghammam, R., & Ghannem, H. (2021). Effective public health measures to mitigate the spread of COVID-19: A systematic review. BMC Public Health, 21(1). https://doi.org/10.1186/s12889-021-11111-1
Cazzoletti, L., Zanolin, M., Tocco Tussardi, I., Alemayohu, M., Zanetel, E., Visentin, D., Fabbri, L., Giordani, M., Ruscitti, G., Benetollo, P., Tardivo, S., & Torri, E. (2021). Risk factors associated with nursing home covid-19 outbreaks: A retrospective cohort study. International Journal of Environmental Research and Public Health, 18(16), 8434. https://doi.org/10.3390/ijerph18168434
Centers for Disease Control and Prevention (CDC). (2022, August 11). COVID-19 by County. Retrieved from https://www.cdc.gov/coronavirus/2019-ncov/your-health/covid-by-county.html