NRS 493 Identify one professional journal and one nursing or health care conference where you might present your project
NRS 493 Identify one professional journal and one nursing or health care conference where you might present your project
NRS 493 Identify one professional journal and one nursing or health care conference where you might present your project
The exchange of innovation provides an outlet to display new processes that can be utilized to allow for much more efficient and practical healthcare to be provided. Nursing journals and healthcare conventions and conferences allow healthcare professionals to spread and disseminate the latest information and knowledge. These publications and professional gatherings empower nurses to improve the quality of service given to the population. Nurse leaders are strategically positioned to ensure data is being used to inform decisions about care delivery and implement strategies aimed at achieving quality and safety outcomes.
If given the opportunity to disseminate the research finding of my Urine culture initiative, I would choose the Journal of Nursing Care Quality (JNCQ). This would be a great option because it is a peer-reviewed journal that provides practicing nurses as well as nurses who have leadership roles in nursing care quality programs with useful information regarding the application of quality principles and concepts in the practice setting. The journal offers a forum for the scholarly discussion of "real world" implementation of quality activities.
To disseminate my research findings via healthcare conferences, I would choose the International Conference on Nursing Interventions and Patient Outcomes. This is a good place to showcase my findings because this conference aims to bring together leading academic scientists, researchers, and research scholars to exchange and share their experiences and research results on all aspects of Nursing Interventions and Patient Outcomes. It also provides a premier interdisciplinary platform for researchers, practitioners, and educators to present and discuss the most recent innovations, trends, and concerns as well as practical challenges encountered, and solutions adopted in the fields of Nursing Interventions and Patient Outcomes (Evidence Based Nursing Conferences, 2021).
References
Evidence-Based Nursing Conferences. (2021). Evidence-Based Nursing Conferences | World Evidence-Based Nursing Conference | Evidence-Based Nursing Congress. https://nursingworldconference.com/program/scientific-sessions/evidence-based-nursing
Journal of Nursing and Practice (2022) Top-ranked Journals In USA | Scholars.Direct. https://scholars.direct/journal.php?jid=nursing
One health conference in which I could present my project is the National Association of Indian Nurses of America (NAINA). One professional journal that I could present my project is The American Journal of Maternal/Child Nursing (MCN). The MCN is the best option for me to disseminate my knowledge because this journal is focused on providing information that is relevant and timely about nursing practice in terms of perinatal, neonatal, midwifery, and pediatric specialties (About the journal, 2022). In terms of my change proposal and presentation, the main topic of discussion is on maternal health and affects of one of the pillars of society known as socioeconomic status affecting health of mothers and babies and how that could be combatted. NAINA is the best option for me to disseminate my new knowledge because it allows my topic's relevance to being applied to various different ethnicities to also be checked (About Us, 2022). For my personal topic, the focus was on all women and the findings were generalized to women but these findings could also be taken into consideration to find similar patterns in women of Indian descent to prevent illness
About the journal. About the Journal : MCN: The American Journal of Maternal/Child Nursing. (2022). Retrieved June 23, 2022, from https://journals.lww.com/mcnjournal/Pages/aboutthejournal.aspx 
About Us. National Association of Indian Nurses of America. (n.d.). Retrieved June 23, 2022, from https://nainausa.org/about-us/ 
Maternal and child health has been a top priority across the globe for several years and is considered a vital public health service (Chadra Sahoo, 2021). Hence the development of more evidence-based interventions will help to improve maternal and childhood outcomes. One would totally agree with your choice of The American Journal of Maternal and Child Nursing for the dissemination of evidence-based projects desirous of improving the health disparities affecting the maternal and child health of lower-income communities. If this grave global problem is not addressed with the current best methods then the cycle will continue to replicate.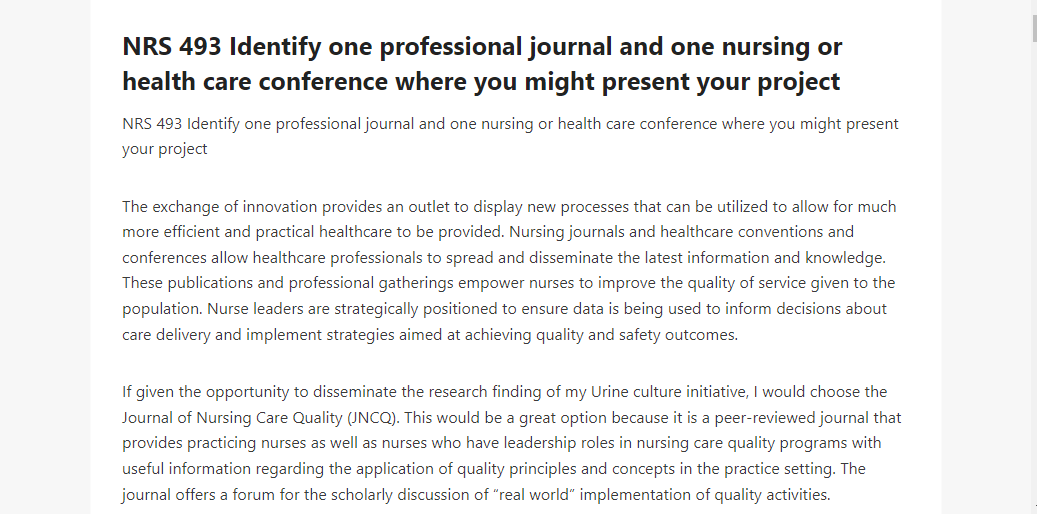 Another professional journal that you could use to disseminate such a global issue is the International Journal of Maternal and Child Health (MCH) and AIDS (IJMA). The IJMA is a multidisciplinary peer-reviewed open-access journal that focuses on the social determinants of health, diseases, and disparities affecting the MCH population (IJMA, 2022).
Reference
Chandra Sahoo, K., Negi, S., Patel, K., Mishra, B., Kumar Palo, S., & Pati, S. (2021). Challenges in Maternal and Child Health Services Delivery and Access during Pandemics or Public Health Disasters in Low-and Middle-Income Countries: A Systematic Review. In NCBI. Retrieved from https://www.ncbi.nlm.nih.gov/pmc/articles/PMC8306470/
IJMA, . (2022, March 6). ABOUT THE JOURNAL. In International Journal of Maternal and Childhealth and AIDS. Retrieved from https://www.mchandaids.org/index.php/IJMA
Several ways can be used to disseminate EBP and research including presentation of the findings at a health conference or writing an article for a journal. The nursing journal that I would choose to present my EBP and research is the Nursing Research and Practice Journal. This journal is chosen because it contains many peer-reviewed articles. It is also appropriate because it reviews clinical research and articles that are conducted in every aspect of nursing without focusing only on specific aspects of nursing. Additionally, the choice of the article was also informed by its pen access nature. Journals that are open access are essential because most of the research findings published in them are accessible to anyone who accesses the journal.
The health care conference that I would opt for to disseminate my EBP and research is the World Nursing and Healthcare Conference. The choice of this conference was informed by its massive following and that it often attracts many health care leaders and professionals from different places internationally. As such, the presentation of EBP and research in this forum is likely to attract a big audience of health care players from various parts globally. In addition, the conference is crucial for the presentation of the findings of my project findings because it is an ideal platform to get more creative presentations and discourse on various nursing fields from various players, which is crucial in promoting the acquisition of innovative ideas, developing partnerships with other health care professionals, and promotion of the nursing practice (Arashi, 2020). Moreover, the conference is important in advancing the acquisition of new ideas in different areas such as medicine, technology, and sciences, which are critical in augmenting nursing practice and professional development.
References
Arashi, Y. (2020). Nursing Practice 2021 Market Analysis of World Congress on Nursing Practice and Research. The Open Access Journal of Science and Technology, 8(2), 1-7. https://www.agialpress.com/abstract/nursing-practice-2021-market-analysis-of-world-congress-on-nursing-practice-and-research-54868.html
Emergency medicine is a specialty practice that nursing can engage in. Since it is a specialty, there is an organization and a journal that are specific to emergency medicine. The journal of emergency nursing is a publication produced by the emergency nurses association (ENA). The ENA also holds a very large conference each year with many smaller focused conferences throughout the year. The writer's specialty work area is the emergency room (ER), therefore it would make sense that project ideas would be focused on the ER, presented to ER focused organizations and journals.
The journal of emergency medicine accepts articles for their publication. It is an inclusive and diverse organization (Amberson, et al., 2022). The publication of an article to this publication makes sense. The focus of the writer more than likely would involve something probably related to the ER. This is the exact publication the writer would be aiming at. Each month the ENA puts out a journal that has various research studies. These generally are focused on the ER room. The writer's project was on diabetes education and as a practicing ER nurse, the writer is familiar with the lack of education. The project idea would work well for the ENA. Diabetes education is very lacking from an ER discharge summary. Thus, any implementation of increased diabetes education would be beneficial. Since the publication reaches nurses all over the United States and abroad, this would be a perfect avenue of knowledge distribution.
As mentioned in the previous paragraph, the ENA is the primary organization for ER nurse knowledge and updates. A presentation at an ENA conference would be the writer's choice for the change proposal. As Tager, M. (2019) suggests, the audience should be interested in the material. On the other hand, diabetes education is valuable for any nurse to have. The choice of the ENA and diabetes education is merely due to the writer's familiarity with the lack of education for our diabetes patients.
Amberson, T., Barnason, S., Bell, S. A., Blansfield, J. S., Burchill, C. N., Castner, J., Cato, K., Chang, B. P., Gillespie, G. L., Horigan, A. E., Laskowski-Jones, L., & Normandin, P. A. (2022). Journal of Emergency Nursing Diversity, Health Justice, and Inclusion Pledge. JEN: Journal of Emergency Nursing, 48(2), 120–122. https://doi-org.lopes.idm.oclc.org/10.1016/j.jen.2022.01.006 Tager, M. J. (2019). How to Give an Amazing Presentation…International Society of Plastic and Aesthetic Nurses (ISPAN) Meeting 2019, September 20-23, 2019, San Diego, California. Plastic Surgical Nursing, 39(3), 70. https://doi-org.lopes.idm.oclc.org/10.1097/PSN.0000000000000275
One of the most important aspects of dissemination is the dissemination strategy. In order to make the most gains out of dissemination, it is vital to ensure that the project is disseminated through the right channels that will have the most reach (Ashcraft et al. 2020). Failure to do this will have adverse consequences, mostly being that the project may not get an adequate audience (Vazquez et al., 2021).
For this project, the journal that I have selected is American Nurse Today. This is the official journal of the American Nurses Association and I have selected it because first, it is affiliated with the biggest nursing organization in the United States. Furthermore the journal has over 175,000 subscriptions in several specialties. Therefore, the journal will reach a large number of nurses.
The nursing conference that I have selected is the Nursing World Conference. This event is organized by the Magnus Group, and it was initiated in order to pursue the collective goals of the nursing and scientific world. This would be an interesting and ideal conference to present because it is multidisciplinary. This means that the conference will have a wide number of diverse nurses.
References
Ashcraft, L. E., Quinn, D. A., & Brownson, R. C. (2020). Strategies for effective dissemination of research to United States policymakers: a systematic review. Implementation science : IS, 15(1), 89. https://doi.org/10.1186/s13012-020-01046-3
Vazquez, E., Gouraud, H., Naudet, F., Gross, C. P., Krumholz, H. M., Ross, J. S., & Wallach, J. D. (2021). Characteristics of available studies and dissemination of research using major clinical data sharing platforms. Clinical trials (London, England), 18(6), 657–666. https://doi.org/10.1177/17407745211038524
Thank you, for bringing up having a strategy. I will share what I used
We will be doing many presentations as we continue our careers with our new knowledge on how to change practice issues effectively. This writer's preceptor's statement that we are selling an idea and evidence through persuasion gave this writer the idea to check out what salespeople had to say worked. Here the findings and application are shared: going forward, hoping it is of value.
Before putting the presentation together, this writer searched for information from well-known and successful public speakers for knowledge. Multiple reviews led to Brian Tracy. His bio declared him "the top sales training and personal success authority in the world today" (Tracy, 2022). Of course, we all know the bias of personal reviews. However, his tips had relevance. "The goals of professional speaking are to entertain, inform, inspire, and get the audience to take action" (Tracy, 2022). The eight tips presented are:
1) Say Something Right Off The Bat That Connects To The Audience
2) Connect With Emotion
3) Tell The Audience How Good They Are
4.) Link Back To Your Opening During Your Speech
5) Relate To The Audience's Self-Interests
6) Entertain Your Audience With Stories
7) Appeal To Patriotism, Loyalty Or Personal Gain
8) Tell The Audience EXACTLY What They Are Going To Gain
(Tracy, 2022)
His article gave direction to the presentation. They gear the terms to motivation and sales, which correlated to my presentation's idea to motivate my audience, managers, and administration to accept the sale of the practice change.
I used my credentials and experience to connect with the audience. For the health care setting, that is important to give credibility.
Brain's (2022) idea of connecting to the audience through emotion was priceless for my audience. Knowing that the intervention of dispelling nurses' aversion to incontinence care and wound identification, as a factor that delayed care, had the possibility of being seen as a minor factor, I needed them to feel it. Knowing my audience had already spoken of their aversion to wounds many times throughout my time at this facility, using real-life pictures was vital.
The tip of telling the audience how good they are and appealing to personal gain and loyalty was used by promoting the fact that they hired good and knowledgeable nurses and that the intervention aligned with our organizational values. This tip also focused on the motivation for positive patient and organizational outcomes.
Not using linking back to the opening, as he recommended, gave me the idea to use the exact phrase purposely to ingrain the fact that urinary catheters did not manage moisture effectively or prevent pressure injuries.
Relating to the audience's self-interest was covered by the stats on hospital-acquired infections and pressure injuries.
The tip of entertaining the audience with stories was not helpful in the raw sense. However, it helped develop a way to engage the audience physically and mentally by asking questions they had to answer, viewing it as committing to the material, and driving home a crucial point of aversion. In the three phases, he suggested timing for the stories in "the opening, key points, and the conclusion" (Tracy, 2022).
Tracy, B. (2022, April 4). 8 techniques to WoW your audience. https://www.briantracy.com/blog/public-speaking/tips-to-wow-a-crowd/
Evidence based practices and research are part of the current healthcare that seeks to incorporate safe and valuable nursing practices aimed at ensuring safe and effective healthcare delivery. Dissemination is an essential feature in the propagation of evidence if the research findings or evidence best practices are not disseminated appropriately, change will not be adopted appropriately (Murad, 2017). Dissemination of EBP and research helps to convey essential information to the right audience and stakeholders who are responsible in implementing change. The most effective approaches to disseminating EBP and research is through publications which ensures that the information is propagated into the future. Besides, presenting the evidence in professional meeting helps to engage the right minds into the newly proposed practices.
One professional journal that I would like to use in disseminating my evidence-based practice is The American Journal of Nursing. The journal is a peer reviewed and highly honored evidence-based journal that has been in existence for a long period. The American Journal of Nursing is a monthly peer-reviewed nursing journal that will help in propagating the research and evidence among the nursing community therefore giving a chance for positive criticism of my research findings which will help in incorporating better ideas into my findings.
I will present my research paper in a Global Nursing Education Conference. The conference is attended by dignitaries and professionals interested in nursing who embrace current evidence-based solutions to nursing challenges both from the nursing education, nursing practice and nursing research (Keating et al., 2021). The conference is ideal because it is in line with my research issue of nursing fatigue.
References
Keating, S. A., Berland, A., Capone, K., & Chickering, M. J. (2021). Global nursing education: International resources meet the NLN core competencies for nurse educators. OJIN: The Online Journal of Issues in Nursing, 26(1), 1-9.
Murad, M. H. (2017, March). Clinical practice guidelines: a primer on development and dissemination. In Mayo Clinic Proceedings (Vol. 92, No. 3, pp. 423-433). Elsevier.
One professional journal that I think would be a good fit for my EBP change topic: safe nurse staffing utilizing resource shift nurses would be the American Journal of Nursing. The website states:
it's the #1 nursing journal viewed on Ovid, the institutional platform used by health systems and libraries.
AJNonline.com site averages 98,000 visitors and 189,000 page views monthly.
AJN has over 225,000 Facebook fans and 55,000 followers on Twitter, @AmJNurs.
AJN e-News, a monthly e-newsletter reaches over 80,000.
AJN was the only nursing journal named among the "100 Most Influential Journals in Biology & Medicine over the last 100 Years," by the Special Libraries Association (SLA) BioMedical & Life Sciences Division (DBIO).
AJN has been chosen by the National Library of Medicine's print preservation program as one of a "primary set of materials to preserve in print format".
The online portion, e.g. Twitter & Facebook, is the platform that reaches a large population of viewers. Therefore, I think AJN would best disseminate my research.
As far as disseminating my research at a health care conference, I think our own HCA "nurse residency" conference would be a good fit. Three times a year, the nurse residents present their EBP projects which are evaluated by HCA leadership. A top EBP project is chosen to go on to the HCA National Conference to compete against fellow EBP projects. I think our CNO would be open to allowing other EBP projects to be presented, even though the nurse is not in the residency program. The dissemination via leadership from all the HCA cohort hospitals would be an appropriate size audience to relate EBP information, "HCA Healthcare, one of the nation's leading providers of healthcare services with 185 hospitals and approximately 2,000 ambulatory sites of care, including surgery centers, freestanding ERs, urgent care centers, and physician clinics, in 20 states and the United Kingdom" (https://hcahealthcare.com).
Reference
Healthcare providers place great importance on Evidence Based Practice, as it providers greater opportunity in introducing new and advanced practice methods in health care, that will help in providing high quality health care service. Dissemination is one of the most crucial elements in an EBP process. For the implementation of the EBP change proposal and its success dissemination process is very important. It is through this process that the evidence based practice methods with the accurate data is being distributed to a wide range of health care organizations, health care providers, clinical practice audience and soon. Dissemination can be done through various sources like scholarly journals, conferences, public speeches, advertising, broadcasting and so on. This is considered to be a very important part of professional practice as it will reach out to a greater number of health care providers, which will increase the credibility of your EBP and its success rate (Arends & Callies, 2022).
The EBP, its change proposal, its implementation, evaluation and results require to be presented at conferences or published as articles in scholarly journals. For the presentation of my EBP project the conference that I would choose will be International Conference on Nursing and Health Care Research and the scholarly journal that I would choose will be International Journal of Nursing Studies. The International Conference on Nursing and Health Care Research will have health care providers, the hospital board of various health care organizations, research scholars and many other health care associated professionals from various parts of the world attending the conference. Hence, presenting my EBP project at such a conference will not only be a great privilege but also a great credit. The value and credibility of my project will be high. Not only that shortcomings or corrections if any can be made as per the valuable feedback from the conference. As far as the publication of my scholarly article on my EBP project in the International Journal of Nursing Studies is concerned, it will be a strong approval with regard to the studies, implementation, practice and procedure. Above all, for presentation at this conference and publication in this scholarly journal, my research work will be submitted for a detailed study and approval by the medical board, which again will approve the credibility of my EBP project (Becker et al, 2018).
References:
Arends, R., & Callies, D. (2022). Dissemination enhancement in Doctor of Nursing Practice students. Journal of professional nursing : official journal of the American Association of Colleges of Nursing, 40, 34–37. https://doi.org/10.1016/j.profnurs.2022.02.007
Becker, K. D., Johnson, S., Rucker, D., & Finnell, D. S. (2018). Dissemination of scholarship across eight cohorts of doctor of nursing practice graduates. Journal of clinical nursing, 27(7-8), e1395–e1401. https://doi.org/10.1111/jocn.14237