NRS 493 Discuss two barriers that might hold nursing practice from achieving this goal and suggest ways in which identified barriers may be addressed
NRS 493 Discuss two barriers that might hold nursing practice from achieving this goal and suggest ways in which identified barriers may be addressed
NRS 493 Discuss two barriers that might hold nursing practice from achieving this goal and suggest ways in which identified barriers may be addressed
Evidence-based practice (EBP) has become the new approach to care delivery in the healthcare sector. Liu et al. (2019), regarded EBP as the care practice that entails searching current literature and trends on a given healthcare issue and evaluating the highest quality findings or solutions to implement hence improving care delivery, patient experience, and outcome. At the same time, the Institute of Medicine has stated that the goal is to attain 90% and above practice in nursing EBP by 2020; only 15% has been achieved in the United States. Evidence-based practices have been linked with quality care, knowledge acquisition and generation, and improved patient outcomes. However, adopting the EBP into practice is not a straightforward case. This essay discusses challenges or barriers holding nursing practice from achieving the 90% goal of evidence-based practice and strategies to address the challenges
The barriers to the Adoption of EBP in Nursing Practice
EBP has been identified as the method to obtain the highest level of care for patients (Thoele et al., 2020). Barriers to EBP adoption can be organizational or individual-based. One barrier is the lack of adequate resources to facilitate evidence-based research, limiting nurses from actively participating in generating evidence or knowledge to be used in care delivery. Lack of resources resulted in research inaccessibility, hence was difficult to collect data and make effective statistical analyses. This obstacle has limited nurses and care providers to the old and traditional care practices, curtailing the research of modern or evidence-based care practices.
Secondly, lack of time, knowledge, and resistance to change. Nurses have been recognized as the key players in the health sector. Nurse shortage in the country has subjected the available ones to be busy with their care delivery work. Time limitations have often limited nurses' indulgence in implementing EBP. More so, limited knowledge about the EBP process has also limited its adoption into nursing practice. Concerning limited knowledge and time, healthcare professionals have resisted the notion of change, 'citing it has always been done this way,' an obstacle to organizational culture change towards EBP.
Strategies to Address the Barriers
Despite the barriers to adopting and utilizing evidence-based practices in nursing, it has become inevitable to ignore the EBP paradigm (Mahmoud & Abdelrasol, 2019). Healthcare organizations have been forced to assimilate into the EBP practices slowly. One approach to foster the adoption of EBP is an organizational investment into evidence-based support tools such as research centers and libraries, enabling nurses to participate in the research process actively. Financial support can be aligned with administration support. In addition to the provision of needed tools, the administration support fosters positive culture change within an organization, resulting in a higher acceptance rate for evidence-based practices.
The second approach is through nurse training and collaboration approach to adopting EBP. According to Mathieson et al. (2018), culture change success is determined by the collaboration input among the various stakeholders. Nurses' training allows or motivates them to learn the application of the new evidence. It helps them link their practice to the best or quality patient care and experience. Collaboration and engaging the stakeholders help build trust and motivate nurses and other caregivers to learn and adopt evidence-based practices.
In conclusion, EBP is changing the way care delivery is done. However, this has not been an easy case as it needs planning resources, perseverance, and stakeholders' willingness to adopt the change. Lack of resources, limited time knowledge, and time and resistance to change has curtailed the rate of EBP adoption; measures such as collaboration among stakeholders, worker training, and administration indulgence have helped revert the trend towards successful adoption and utilization of EBP in nursing practices.
References
Liu, Y., Zupan, N. J., Swearingen, R., Jacobson, N., Carlson, J. N., Mahoney, J. E., Klein, R., Bjelland, T. D., & Smith, M. A. (2019). Identification of barriers, facilitators and system-based implementation strategies to increase teleophthalmology use for diabetic eye screening in a rural US primary care clinic: A qualitative study. BMJ Open, 9(2) http://dx.doi.org/10.1136/bmjopen-2018-022594
Mahmoud, M. H., & Abdelrasol, Z. F. M. (2019). Obstacles in employing evidence-based practice by nurses in their clinical settings: a descriptive study. Frontiers of Nursing, 6(2), 123–133. https://doi.org/10.2478/fon-2019-0019
Mathieson, A., Grande, G., & Luker, K. (2018). Strategies, facilitators and barriers to implementation of evidence-based practice in community nursing: a systematic mixed-studies review and qualitative synthesis. Primary Health Care Research & Development, 20. https://doi.org/10.1017/s1463423618000488
Thoele, K., Ferren, M., Moffat, L., Keen, A., & Newhouse, R. (2020). Development and use of a toolkit to facilitate implementation of an evidence-based intervention: A descriptive case study. Implementation Science Communications, 1, 1-12. http://dx.doi.org/10.1186/s43058-020-00081-x
In my research, I did establish that education played a key role in determining how conversant and competent nurses were in terms of evidence-based practice. Nurses that has extra certification and advanced education were more competent in EBP (Yoder et al., 2022). This therefore does confirm that your suggestion to train nurses would be a great way to not only improve competency, but also ensure that nurses contribute to the development and implementation of EBP. For instance, EBP can be included in continuing education in order to improve the competency of the nurses engaging in it.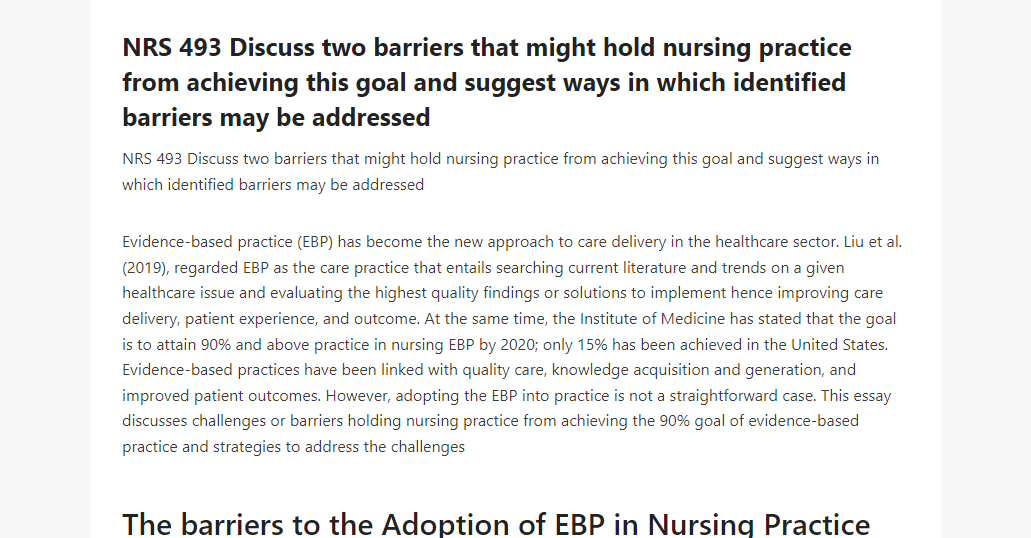 Cognizant of the role that training plays when it comes to improving a nurse's competencies in EBP and thus empowering them to contribute to the development of EBP, here are certain strategies that can be undertaken from both an organizational level, to the larger professional level. At the organizational level, the organization can organize for opportunities where their nurses can get trained on evidence based practice. On the greater professional levels, professional bodies such as the ANA and the ANCC have developed certification program for nurses. By including components of evidence based practice in the certification exams, this ensures that nurses will prepare and apprise themselves on EBP and thus, in order to earn the certification, they will have to be competent in EBP. Alternatively, the institutions can include a whole different certification for EBP, where nurses will specifically be trained on EBP, tested on the same and thus, their competency will be proven by their certification. This will ultimately improve their ability to participate in the development and implementation of EBP.
References
Yoder, L. H., Cengiz, A., Hinkley, T., Hertel, R. A., Gallagher-Ford, L., & Koshy Thomas, B. (2022). Medical-surgical nurses' EBP beliefs and competencies. Worldviews on evidence-based nursing, 19(2), 149–159. https://doi.org/10.1111/wvn.12567
Yes, the lack of resources is a barrier for many organizations and practitioners. We are limiting nurses from actively participating in generating evidence or knowledge to be used in care delivery. EBP gives nurses the tools to become change agents for improved healthcare outcomes. Many state and national nursing organizations, such as the ANA, conduct nursing research. The National Institute of Nursing Research is well-known for comprehensive research studies that build our nursing practices, enhance hospice and palliative care, and help guide the prevention, treatment, and innovative management of diseases (Chrisman, Rita, Davis, Williams, Wanda 2014).
Reference
Chrisman, Rita, Davis, Williams, Wanda (2014) APRN exploring evidence-based practice research, Nursing made incredibly easy!: Volume 12 – Issue 4 – p 8-12 doi: 10.1097/01.NME.0000450295.93626.e7
Evidence-based practice (EBP) is a problem-solving manner for the delivery of health care, incorporating the best evidence from studies and patient care information with clinician competence, and patient preferences and beliefs. When supporting organizational culture while delivering care, the best quality of care and highest patient outcomes can be accomplished (Stillwell, 2010). A good way to implement EBP consequently is to give nurses the knowledge and skills necessary to integrate EBP into an organization. Nurses need to acquire the spirit of inquiry and supporting culture to fully implement EBP. The spirit of inquiry leads to developing the clinical question. This makes it possible to find an answer more quickly and efficiently contributing to the improvement of the nursing process and positive patient outcomes (Stillwell, 2010). The clinical question is specific and relevant to the clinical issue, determining which interventions are more effective to get the best outcomes. An example of a clinical question might be " In a gerontology dementia people unit, how do the elderly who walk around holding baby dolls compare with elderly who walk without baby dolls in one year in a long-term care unit?". Other examples would be: "In elderly people predisposed to develop cardiovascular disease, how does a regular diet without restrictions compared with diet salt and fat restrictions affect the risk of developing symptoms within one month?", "In elderly people, how does hourly rounding compare with no rounding affect influence fall rates in each hour". Background question:" What is the best way to prevent falls?", "When does the effect of short-acting insulin Humalog peak?". Using PICOT structure when formulating clinical structure helps to clarify patient population, intervention interest, comparison intervention, outcomes of interest, and the time it takes for the intervention to accomplish the outcome, guiding to search for evidence. A well-formulated PICOT question contributes to the best evidence-based to inform practice will be efficiently and quickly developed. The barrier to implementing EBP might be the lack of implementation of a rapid response team addressing issues of interest in cardiac arrest of patients. Developing a searchable question in a clinic determines a helpful answer in finding strategies of evidence to answer the clinical question (Stillwell, 2010). Nurses adhere to accepted standards of practice and professional performance using evidence-based intervention and the translation of research into practice. EBP approach determines improving patient outcomes, however, studies reflected that health professionals do not always use the evidence to direct their practice. Barriers for nurses to integrating EBP in clinical community settings include difficulty to access the evidence and apply evidence due to lack of time, heavy workload, lack of knowledge about English, lack of confidence, or technological issues. Nursing educators have a significant role in translating research into practice, ensuring nursing students access to information, understanding, and application of EBP. The teaching strategy is an effective integration of EBP ideas in clinical practice, this resolution decreases the barriers in human resources (lack of knowledge and skills) and increases EBP efficacy in nursing students. Cultivating inquiry, asking clinical questions per PICOT format, searching for evidence critically appraising evidence, selecting findings, integrating evidence in practice, and evaluating the outcome are strategies used to address impediments of EBP implementations in the practice of nursing and academic nursing education. Teaching nurses the process and skills to access, appraise, and apply evidence practice is significant in professional nursing for improving the population's health status and patient outcomes (Andiwatir, 2019).
References:
Andiwatir. (2019). Letter to the Editor: Evidence-based practice for nursing profession: Barriers and teaching strategies solutions. International Journal of Nursing Sciences. https://www-ncbi-nlm-nih-gov.lopes.idm.oclc.org/pmc/articles/PMC6608662/
Stillwell. (2010). Evidence-Based Practice, Step by Step: Asking the Clinical. . . : AJN The American Journal of Nursing. American Journal of Nursing. https://journals.lww.com/ajnonline/Fulltext/2010/03000/Evidence_Based_Practice,_Step_by_Step__Asking_the.28.aspx 
According to Bell (2021) Step 0 of the EBP process entails cultivation of the spirit of inquiry. This refers to the creation of ongoing curiosity regarding the best evidence that guides clinical decision making and this would most definitely influence the development of evidence based practice. The question, therefore, is how a nurse leader can cultivate a spirit of inquiry. The first step that nurse leaders can take is incentivizing the spirit of inquiry. An example would be by chatting initiatives such as higher budget allocations to those units that have shown that they are deeply invested in patient developing and implementing evidence-based practice through strategies like undertaking quality initiative programs, or research programs.
Another important step that an organization or nurse leader could take in order to improve the spirit of inquiry is by being a role model. When the nurse leader deliberately engages in evidence-based practices, they are bound to inspire and motivate their juniors to follow in their footsteps.
Cultivating a spirit of inquiry plays a vital role when it comes to enhancing the development and implementation of evidence-based practice. Therefore, it is vital that nurse leaders and organizations take into consideration the above steps, and possibly implement them. This way, not only will they cultivate a spirit of inquiry, but also create a culture that will extensively promote the development of evidence based practice. All these activities will work towards ensuring that the nursing profession meet the goals set aside by the Institute of Nursing.
References
Bell S. G. (2021). Step 0: The Spirit of Inquiry. Neonatal network : NN, 40(1), 38–39. https://doi.org/10.1891/0730-0832/11-T-686