NRS 493 Describe one internal and one external method for the dissemination of your evidence-based change proposal
NRS 493 Describe one internal and one external method for the dissemination of your evidence-based change proposal
NRS 493 Describe one internal and one external method for the dissemination of your evidence-based change proposal
Dissemination refers to the action or fact of spreading something, especially information, widely. More specifically, dissemination research is the scientific study of targeted distribution of information and intervention materials to a specific public health audience (Guerin, Glasgow, Tyler, et.al, 2022). Dissemination is the communication of clinical, research, and theoretical findings for the purpose of transitioning new knowledge to the point of care. There are both internal and external methods to disseminate information. Internal dissemination is sharing project information results within an organization. For example, an internal dissemination would be to increase the nurse's abilities to use and apply the evidence. External dissemination focuses on increasing the reach of evidence and includes sharing information with individuals or groups outside of an organization (Sarver, McNett, 2019).
Internal audiences are those who share values or common points of interest and are the focus group for internal evidence dissemination and example are hospital boards. While external dissemination includes sharing information to individuals or groups outside of the organization. External audiences are stakeholders like professional nursing organizations. Dissemination of my change proposal to both internal and external stakeholders is key to the project's implementation and success of outcomes. Communication strategies may vary with these groups, however, using targeted communication is key and involves tailoring your basic message both to your project goals and your target audience.
Dissemination of project outcomes is helpful because it allows for the sharing of appropriate information to the respective audience, allowing stakeholders to make informed decisions based on the positive and negative outcomes of the project (Estabrooks, Brownson & Pronk, 2018). Dissemination is a key component in the translation of evidence because if the translation is not disseminated, then no change in care will occur and innovations will not be adopted.
References
Estabrooks, P. A., Brownson, R. C., & Pronk, N. P. (2018). Dissemination and Implementation Science for Public Health Professionals: An Overview and Call to Action. Preventing chronic disease, 15, E162. https://doi.org/10.5888/pcd15.180525
Guerin, R. J., Glasgow, R. E., Tyler, A., Rabin, B. A., & Huebschmann, A. G. (2022). Methods to improve the translation of evidence-based interventions: A primer on dissemination and implementation of science for occupational safety and health researchers and practitioners. Safety Science, 152. https://doi-org.lopes.idm.oclc.org/10.1016/j.ssci.2022.105763
Sarver, Wendy & McNett, Molly. (2020). Determining the dissemination plan: Internal and external considerations. DOI10.1016/B978-0-12-816543-0.00007-8  
This was an agreeable summary of the discussion. I enjoyed reading it and fetching the concepts discussed. Certainly, increasing a nurse's ability to use and apply knowledge within an organization is a great example of internal dissemination. This would qualify as it involves the sharing of the project results within that particular organization. To add, there are various specific techniques for both internal dissemination and external dissemination, and knowing your target is vital before choosing what technique one would go with (Sarver & McNett, 2020). This would be important in ensuring the success of the knowledge delivery. Internal targets have been characterized as those sharing similar points in a specific group or organization. For instance. this can be linked to nurses in a hospital as the group target for the transfer of information.
Additionally, the dissemination of information through communication strategies may be traditional or social media forms (Faerch & Kasper, 1984). Traditional media includes television, oral communication, publications, and phones. On the other hand, social media includes microblogs, web-based news outlets, and text messages. As mentioned, the choice of strategy would vary with each group.
Other than allowing stakeholders to make knowledgeable decisions on a particular project, dissemination is also vital in leveraging funding for statistics as well as increasing return on investment within the organizations involved. Moreover, the cost of data dissemination would reduce as the number of pre-set tables that they produce. For instance, when information is highlighted through media, this would definitely appeal to a greater audience and urge people to support data collectors' efforts.
References
Faerch, C., & Kasper, G. (1984). TWO WAYS OF DEFINING COMMUNICATION STRATEGIES. Language Learning, 34(1), 45–63. https://doi.org/10.1111/j.1467-1770.1984.tb00995.x
Sarver, W., & McNett, M. (2020). Determining the dissemination plan: Internal and external considerations. Data for Nurses, 101–110. https://doi.org/10.1016/b978-0-12-816543-0.00007-8
To describe methods of dissemination, a definition of dissemination is necessary. Dissemination is the transfer of knowledge to adopt, integrate and sustain some evidence-based research (Guerin, et al., 2022). This dissemination is the movement or the introduction of information to a targeted group. As the question asks, there can be two different types of groups, internal and external. There are different approaches based on the group that you are trying to target.
An internal method of dissemination related to the project proposal relates to the staff at Wellness connection L.L.C. The providers and staff will be the target of the internal dissemination. For this practice, the most applicable and appropriate method would be a direct face to face transfer of knowledge. The practice is controlled by the providers and small enough that face to face would be appropriate. This is not a large corporation or hospital with hundreds of employees. The ability to transfer the knowledge must be obtainable. Differing approaches are necessary based on the environment of the change proposal. The method of face-to-face discussion and dissemination is obtainable in this environment. Every employee that is necessary in the involvement of the change proposal can be contacted. A presentation using a PowerPoint would be appropriate for this setting.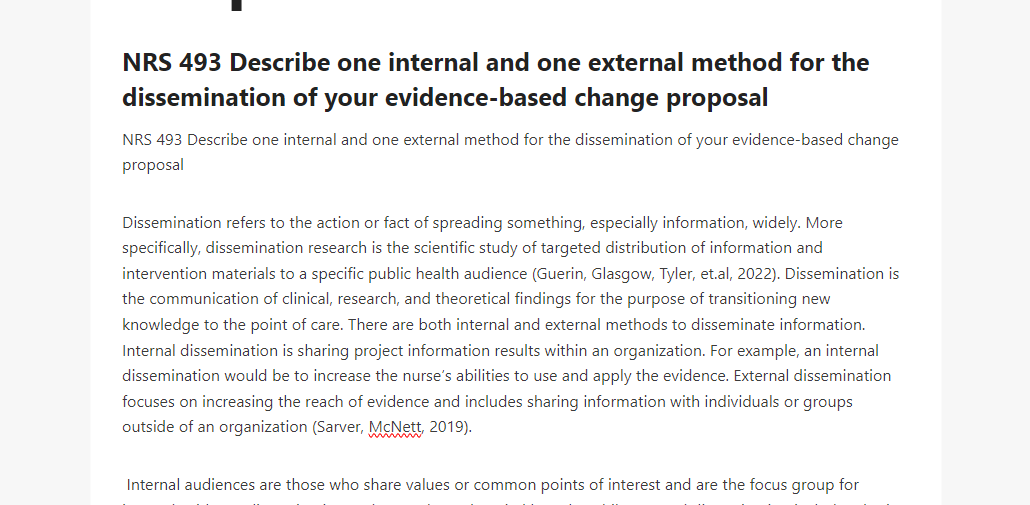 An external method of dissemination related to the project proposal relates to areas outside of the main body involved with a change proposal. This can be an organization, group of people or a locality. This project is different then the typical evidence-based proposal change. There is not a traditional external dissemination group in the typical format. This project takes a slightly different approach when answering the question about method of delivery for the external. The method is not the anomalous point, the intended group to disseminate to is. This project will look to use a typical method to disseminate to a non-typical group. The method of dissemination will encompass the same method but in two different situations. A face-to-face interaction will be done to introduce diabetes education to the patient. This is the core of the practicum. However, in order to create an adequate proposal a face to face will be done with particular patients the providers feel could better the change proposal. As the providers and employees are the internal, the patients will be the external. However, a small and group of patients will help with the change proposal as the external. Jennifer, et al., (2020) suggest that in order for dissemination to be best received, knowing the audience is an important aspect for a successful reception.
Guerin, R. J., Glasgow, R. E., Tyler, A., Rabin, B. A., & Huebschmann, A. G. (2022). Methods to improve the translation of evidence-based interventions: A primer on dissemination and implementation science for occupational safety and health researchers and practitioners. Safety Science, 152. https://doi-org.lopes.idm.oclc.org/10.1016/j.ssci.2022.105763
Jennifer R. Tomasone, Kaitlyn D. Kauffeldt, Rushil Chaudhary, & Melissa C. Brouwers. (2020). Effectiveness of guideline dissemination and implementation strategies on health care professionals' behaviour and patient outcomes in the cancer care context: a systematic review. Implementation Science, 15(1), 1–18. https://doi-org.lopes.idm.oclc.org/10.1186/s13012-020-0971-6
Dissemination refers to the process of communicating clinical, research, and theoretical findings with the aim of imparting new knowledge to the point of care to improve patient outcomes and satisfaction (Brown-Sharon, n.d.). Dissemination occurs at various levels such as internal and external and is considered most successful over a long-term period if multiple methods are utilized (Brown-Sharon, n.d.). When the change project is complete the first area of dissemination is internal where the information is disseminated at the institutional level. The writer will use the hospital's monthly administrative meeting to disseminate an evidence-based project. This will be done using a PowerPoint presentation to translate an evidence-based change project on the use of SBAR communication tools to improve safety in a behavioral health institution.
External dissemination aims to influence policy-making decisions through media use or government advocacy (Brown Sharon, n.d.). Evidence-based projects are not intended for the general population but intended to provide positive insight into an individual's population or organization within a clinical setting. The knowledge gained from these change initiatives can help to positively impact the use of evidence-based care across healthcare institutions (Dean & Gallagher- Ford, 2021). Since the writer is an active member of Sigma Theta Tau, this would be a vital medium for external dissemination. This would be beneficial since several nurses from across the globe would have access to one's evidence-based project to improve healthcare delivery models within their healthcare institution. The dissemination would be presented in the form of an article showcasing the evidence-based change project.
When considering the dissemination of evidence-based projects nurses must realize that policymakers and healthcare practitioners can be more effectively reached via news media, social media, one-on-one meetings, workshops or meetings, seminars, and policy briefings. As such healthcare organizations can create greater awareness of current treatment modalities by the use of greater use of evidence-based interventions and changes in some healthcare policies (Ross et al, 2018).
Disseminating evidence-based projects are vital in healthcare to reduce the massive redundancy in clinical inquiry at the organizational level. A healthcare sector having a structured guide that promotes the use and dissemination of evidence-based projects is vital for organizational growth since it will enhance the delivery of higher quality healthcare provided by the organization to individuals and families across the health continuum (Dean& Gallagher-Ford, 2021).
Reference
Brown- Sharon, D. (n.d.). Chapter Twelve: Dissemination of Evidence in Nursing and Healthcare. In Springer Publishing Company Connect. Retrieved from https://connect.springerpub.com/content/book/978-0-8261-4737-0/part/part03/chapter/ch12
Dean, J., & Gallagher-Ford, L. (2021, February 3). Evidence-Based Practice: A New Dissemination Guide. In Sigma Theta Tau International. Retrieved from https://sigmapubs.onlinelibrary.wiley.com/doi/ftr/10.1111/wvn.12489
Ross, B., Amy, E., Jenine, H., & Tabak, M. (2018, April). Getting the Word Out: New Approaches for Disseminating Public Health Science. In Public Health Management and Practice. Retrieved from https://journals.lww.com/jphmp/fulltext/2018/03000/getting_the_word_out__new_approaches_for.4.aspx
Dissemination of evidence-based practice findings is critical in healthcare and it can be achieved through the application of internal and external methods and both methods vary significantly. Some of the internal methods can be sharing the findings with the hospital which is one of the most essential stakeholders in healthcare. An external method of disseminating the findings may include sharing the findings to an external professional nursing firm such as the American nursing association. The process of sharing the findings of evidence-based practice is important because it lays the foundation for creating awareness on the various projects implemented in healthcare and the ultimate outcomes of such projects (Brownson et al., 2018). Dissemination of the findings helps in passing the right information to the respective audience which enables stakeholders to make appropriate decisions based on lessons learnt by assessing the positive and negative outcomes of the project. Decision making based on project outcomes is essential in healthcare because it helps in enhancing the credibility and effectiveness of healthcare systems hence enhancing positive patient outcomes (Brownson, Colditz & Proctor, 2017).
While disseminating the findings to these two different stakeholders, distinct communication strategies are applied to each of the stakeholders based on the most suitable for each stakeholder. For instance, formal communication strategies when addressing internal stakeholders such as the hospital board. Formal reports for example can be drafted for the board highlighting the outcomes of the projects and further recommendations. Formal reports are essential among internal stakeholders because they can add value to the project.
For external stakeholders such as professional nursing associations, the use of conferences is essential because they have the ability to reach a wider audience. The external stakeholders can analyze the cost effectiveness and outcomes of the project and influence policy formulation due to recent involvement of nurses in policymaking (Rasheed, Younas & Mehdi, 2020). In addition, external stakeholders including professional nursing organizations can help in identifying appropriate evidence-based practices.
References
Brownson, R. C., Colditz, G. A., & Proctor, E. K. (Eds.). (2017). Dissemination and implementation research in health: translating science to practice. Oxford University Press.
Brownson, R. C., Eyler, A. A., Harris, J. K., Moore, J. B., & Tabak, R. G. (2018). Research full report: getting the word out: new approaches for disseminating public health science. Journal of public health management and practice, 24(2), 102.
Rasheed, S. P., Younas, A., & Mehdi, F. (2020). Challenges, extent of involvement, and the impact of nurses' involvement in politics and policy making in in last two decades: An integrative review. Journal of Nursing Scholarship, 52(4), 446-455.
Dissemination is a vital aspect of any EBP implementation process. This is because it is only through dissemination that both internal and external stakeholders are well apprised of the change proposal, or evidence based practice and that they can contribute to the development or implementation of the change process. Some of the barriers to proper implementation is poor dissemination that ultimately lead to vital stakeholders being left out of the implementation process and this, ultimately leads to adverse outcomes in the proposal.
One internal dissemination method that I am most likely to use is a dissemination presentation to all internal stakeholders. This presentation will outline the proposed change, the potential outcome, the posts and the role of all the stakeholders involved. I would use this dissemination method because it is engaging and I can best present the proposal. Furthermore, this mode allows me to present the information and answer questions in real time, in addition to giving clarifications and responses that are as comprehensive as possible. This eliminates potential misinterpretation that may arise from impersonal communication (Di Girolamo, 2019) .
The external mode of dissemination that I would use is dissemination through a conference on drug and substance use. These conferences are usually multidisciplinary and in attendance are professional from various organizations. This method of dissemination would ensure that members of various organizations are well apprised of the change process and its expected gains.
In order to guarantee effective change management, it is important to ensure that both of these groups are well informed and educated about the cane proposal This ensures that first, there is adequate knowledge about the change and its implications for patients (Borquez et al., 2020). Furthermore, dissemination gives all the stakeholders opportunities to contribute by giving their opinions on the best way through which the desired change can be achieved, in addition to ensuring that any gaps in the conceptualization are sealed.
The major change will be made in the communication strategy for internal stakeholders This is because since they are the implementers of the proposal, the dissemination has to be extensively engaging. This is because the implementers have to be very well educated on their role and there is no room for ambiguity in the change process (Ludden et al., 2020). It is for this reason that the internal dissemination should be well done.
References
Bórquez P, B., Luengo-Charath, M. X., Anguita M, V., Bascuñán R, M. L., Pacheco M, I. M., Michaud Ch, P., & Vacarezza Y, R. (2020). Uso y difusión responsable de la información en pandemia: un imperativo ético [The responsible use and dissemination of information in a pandemic: an ethical imperative]. Revista chilena de pediatria, 91(5), 794–799. https://doi.org/10.32641/rchped.vi91i5.2420
 Di Girolamo N. (2019). Advances in Retrieval and Dissemination of Medical Information. The veterinary clinics of North America. Exotic animal practice, 22(3), 539–548. https://doi.org/10.1016/j.cvex.2019.06.005
Ludden, T., Shade, L., Welch, M., Halladay, J., Donahue, K. E., Coyne-Beasley, T., Bray, P., & Tapp, H. (2020). What types of dissemination of information occurred between researchers, providers and clinical staff while implementing an asthma shared decision-making intervention: a directed content analysis. BMJ open, 10(3), e030883. https://doi.org/10.1136/bmjopen-2019-030883