NRS 493 Consider your internal stakeholders, such as the facility, unit, or health care setting where the change proposal is being considered, and your external stakeholders, like an individual or group outside the health care setting
NRS 493 Consider your internal stakeholders, such as the facility, unit, or health care setting where the change proposal is being considered, and your external stakeholders, like an individual or group outside the health care setting
NRS 493 Consider your internal stakeholders, such as the facility, unit, or health care setting where the change proposal is being considered, and your external stakeholders, like an individual or group outside the health care setting
Individuals or groups and organizations that have an interest in making decisions that affect the healthcare industry and its subsidiaries are called stakeholders. Stakeholders in healthcare play a major role in the direction of the healthcare industry as their support is critical to provide funding, support, strategic direction and solutions as it pertains to the healthcare Industry (Lübbeke, Carr, & Hoffmeyer, 2019). While obvious stakeholders include patients and care givers, it also extends further to include nurses, doctors, employers, community leaders and entities such as insurance companies.
Internal stakeholders for my capstone change proposal in the rehab hospital include rehab nurses, doctors, managers, and administrators. Their support is necessary in planning and execution of change proposal implementation. Studies support the concept of a stakeholder analysis which can be a critical success factor that should be included in every change proposal because it allows you to understand the needs and perspectives of these decision makers, as well as other individuals who influence and are influenced by the change proposal (Panorama Consulting Group, 2021).
References
Lübbeke, A., Carr, A. J., & Hoffmeyer, P. (2019). Registry stakeholders. EFORT open reviews, 4(6), 330–336. https://doi.org/10.1302/2058-5241.4.180077
Panorama Consulting Group. (2021). The Role Of A Stakeholder Analysis In Change Management [4 Reasons It's Essential].  https://www.panorama-consulting.com/stakeholder-analysis-in-change-management 
Stakeholders play a vital role in determining. the trajectory of any change project. This is because they are directly in the line of implementation and both their actions or inactions could influence the outcome of the case. In any implementation program there are internal stakeholders and external stakeholders. Internal stakeholders are those that are directly affected by the implementation of the project (Yang et al., 2022). External stakeholders, on the other hand, are not directly affected, but are bound to be somehow affected by the actions of the implementation.
In my change project, some of the direct stakeholders include smokers, nurses and the healthcare institution (Spaglietti & Marino, 2022). First the support of smokers to this intervention plays a vital role in ensuring that the project has adequate support and thus, this would ensure that the project records significant outcomes. When the smokers do not cooperate, nor do they participate and as a result, there are a small number of participants, this ultimately leads to adverse outcomes as it will be difficult to assess the impact of the project.
Nurses on the other hand are vital to the project as they are the implementers of the project. Lack of nurse support will adversely affect the implication of the project (Cutill, 2020). In healthcare, nurses are the most important sources of education of patients. Therefore, when an intervention requires education, such as this one, nurses are at the frontline of implementation and thus, their cooperation is vital.
The healthcare organizations that are hosting these interventions are also fundamental. While it is professionals such as nurses and doctors that implement projects, it is healthcare organizations that provide both the resources and platform needed for the implementation of these projects and thus, cooperation and support from healthcare organizations vital for the success of their programs.
The major external stakeholder that would be influenced by the project is the government. The government is a healthcare payer, and it at times absorb the costs of care, specially through uncompensated care (Dielman et al., 2020). Support by the government through things such as relaxing regulation to allow for such projects is vital as it ensures that nurses do not experience any barriers when attempting to implement the project.
Another vital external stakeholder is the larger society. These stakeholders play a vital role in terms of motivating the internal and external stakeholders to support the project. The members of the public motivate action by hospitals, nurses, patients and the government by working together to create a live support for an intervention. This will motivate action by internal stakeholders. For instance, members of the public can rally together and advocate against smoking in order to minimize the effects of secondhand smoke and this would motivate the smokers to seek help through the intervention and cease smoking in order to comply with public interests.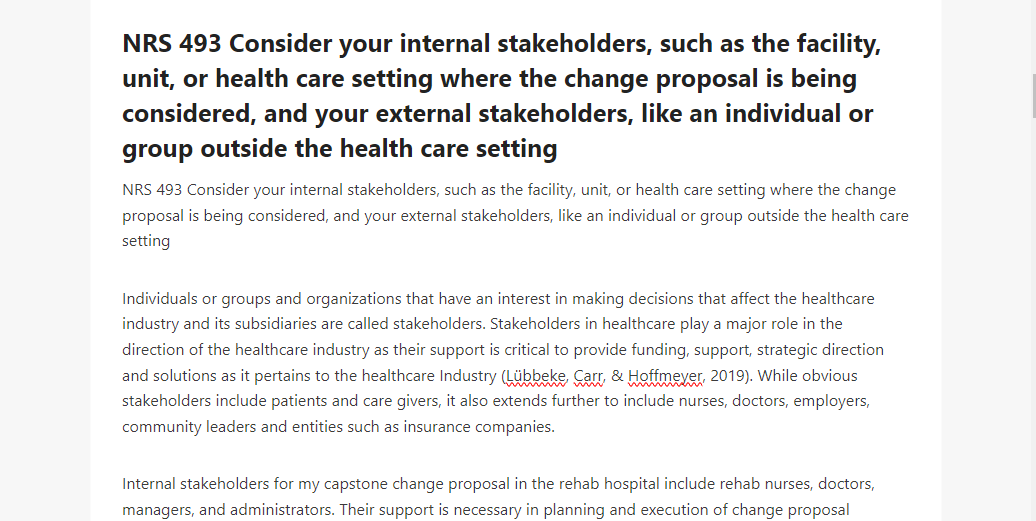 References
Cutilli C. C. (2020). Excellence in Patient Education: Evidence-Based Education that "Sticks" and Improves Patient Outcomes. The Nursing clinics of North America, 55(2), 267–282. https://doi.org/10.1016/j.cnur.2020.02.007
Dieleman, J. L., Cao, J., Chapin, A., Chen, C., Li, Z., Liu, A., Horst, C., Kaldjian, A., Matyasz, T., Scott, K. W., Bui, A. L., Campbell, M., Duber, H. C., Dunn, A. C., Flaxman, A. D., Fitzmaurice, C., Naghavi, M., Sadat, N., Shieh, P., Squires, E., … Murray, C. (2020). US Health Care Spending by Payer and Health Condition, 1996-2016. JAMA, 323(9), 863–884. https://doi.org/10.1001/jama.2020.0734
 Saglietti, M., & Marino, F. (2022). Accomplishing Intergroup Relations in Group Homes: A Discursive Analysis of Professionals Talking About External and Internal Stakeholders. Frontiers in psychology, 13, 784345. https://doi.org/10.3389/fpsyg.2022.784345
Yang, Y., Yang, F., & Zhao, X. (2022). The impact of the quality of environmental information disclosure on financial performance: the moderating effect of internal and external stakeholders. Environmental science and pollution research international, 10.1007/s11356-022-20553-y. Advance online publication. https://doi.org/10.1007/s11356-022-20553-y
Coralline, in my experience I find that lifetime smokers are the hardest patient population to reform. I understand that the tobacco industry purposely included addictive ingredients into their products therefore making it more difficult for their consumers to quit smoking. However, it still surprises me that my cancer patients continue to smoke. My diabetic patients continue to smoke. And my cardiac patients continue to smoke. Education is extremely important but so are tangible resources for smokers to quit, like providing nicotine patches/gum, support group information and accessible follow up visits to healthcare providers. My grandmother would put on her big coat in the winter and stand in our backyard to smoke in the freezing winter because my mother would not allow her to smoke inside our house. My grandmother eventually died of pancreatic cancer, which is prevalent among smokers.
This past Thanksgiving we received a patient on our floor for a serious wound infection two months post op from a double mastectomy. The patient was with us until February and her wound had not improved much, despite the debridements, hyperbaric therapy & wound vac. This patient continued to go outside with family members and smoke (yet always denying it). She would take her oral chemotherapy drug, have her wound dressings changed and then smoke whenever she could sneak away.
I've realized how much a person's mental strength and mental health plays in to making choices for physical health. Smoking is a very difficult habit to break. I wish you all the best in your capstone change topic to improve the health of this patient population.
As the nurse, it is important to nurture relationships with policy makers and community stakeholders. Community stakeholders are defined as "people, groups, organizations, or business which have an interest or concern in the community" (Glendinning, 2016, para 2). These individuals, groups or entities have the potential to cause change which can positively or negatively affect the community. However, through intentional collaboration, the nurse can advocate on behalf of the community ensuring their needs are met and addressed. Assessment of the community includes data collection, health assessments, population statistics, and data banks to identify health risks and disparities present in the community. During the year 2008-2012, the Centers for Disease Control and Prevention (CDC) developed and implemented the "Healthy Communities Program" in response to several identified health risks. The focus of this program was to "increase the skills and commitment of community leaders and stakeholders to develop and promote lasting strategies that help people make healthy choices where they live, learn, work, and play" (CDC, n.d., pp 1). The three areas addressed during these years were physical inactivity, unhealthy eating, and tobacco use and exposure to secondhand smoke (CDC, n.d.). Though no longer funded, this program showed the benefits of identifying previous, current, and future need of community resources which can be utilized to develop individualized community health plans to inspire positive change to improve health outcomes (Green, 2018).
The change proposal being considered is the implementation of a diabetes self-management education program within a primary care setting to address the unmet educational need among the African Americans population serviced by this location. Unfortunately, research has shown that primary care practices often lack the workforce, time, and culture to support the provision of this effective but resource- intensive program (Kwan et al., 2017). After organizational assessment, the internal stakeholders were identified as the patient, their families, and the healthcare provider. External stakeholders include community organizations, dieticians, and diabetes educators. One method to assist in securing the support of all stakeholders is the use of an evidence-based method to spotlight the degree of diabetes distress and need for self-management support among this population. A study conducted by Kwan et al. (2017), has shown a "stakeholder engagement approach to evidence translation which may help ensure the interventions provided within the diabetes self-management programs are acceptable to patients and feasible and sustainable for real-world primary care practices (Kwan et al., 2017). The research concluded with the following results, "patients and family engaged in diabetes care research value peer support, group visits, and multidisciplinary care teams as key features of SMS models. SMS should be tailored to an individual patient's health literacy." (Kwan et al., 2017, p. 358).
References:
Centers for Disease Control and Prevention. (n.d.). NCCDPHP: Community health. Centers for Disease Control and Prevention. https://www.cdc.gov/nccdphp/dch/programs/healthycommunitiesprogram/index.htm.
Glendinning, R. (2016). Community stakeholders. Neighborhood Economics. https://neighborhoodeconomics.org/community-stakeholders/.
Green, S. Z. (2018). Community & Public health: The future of health care. https://lc.gcumedia.com/nrs427vn/community-and-public-health-the-future-of-health-care/v1.1/#/chapter/1.
Kwan, B., Jortberg, B., Warman, M. K., Kane, I., Wearner, R., Koren, R., Carrigan, T., Martinez, V., Nease, Jr, D. E. (2017). Stakeholder engagement in diabetes self-management: patient preference for peer support and other insights, Family Practice, 34(3), Pages 358-363. https://doi.org/10.1093/fampra/cmw127 
Evidence demonstrates that disparities in the burden of diabetes diseases exist due to race and poverty. Inability or limitation in accessing adequate nutrition is a significant modifiable SDOH, especially in adults with chronic diseases. American African (AA) population is more predisposed to develop diabetes than the white population, relating to food insecurity. Among individuals with diabetes, AAs and people living below the federal poverty level have poorer metabolic control, higher complications, and increased mortality compared to whites and people living at a high-income level. Food insecurity is related to greater diabetes distress, low self-efficacy, and people who have worse glycemic control. The use of farmers' markets and food vouchers demonstrates an improvement in to access nutritious food for individuals with food insecurity and diabetes, even though little evidence exists on their influence on diabetic management and outcomes. Federal and local resources assist food insecure such as Supplement Nutrition Assistance Program (SNAP), and the Women, Infants, and Children programs to enhance caloric nutrient intake but some individuals may not be eligible due to income guidelines and the food choices may not be ideal for diabetic people. There is limited evidence if diabetes education in joint with food supplementations leads to improved clinical outcomes compared to education only. No large randomized trials indicate if food supplementation is beneficial in improving glycemic control in diabetic AAs food insecure or if diabetes education with food nutrition is essential for improving health outcomes. By focusing on low-income urban AAs with diabetes, incorporating food pantries and food insecure people on barriers and facilitators to diabetes care, answering questions to guide program development for food insecure, measuring glycemic control, and designing diabetes education, the study research emphasizes solutions that shift the field of food insecurity and diabetes to implement interventions at the healthcare communities (Walker et al., 2020).
Reference:
Walker et al., S. D. (2020). Lowering the impact of food insecurity in African American adults with type 2 diabetes mellitus (LIFT-DM) – Study protocol for a randomized controlled trial. ScienceDirect. https://www-sciencedirect-com.lopes.idm.oclc.org/science/article/pii/S1551714420302846