NRS 493 Compare and contrast two change theories, and determine which theory makes the most sense for implementing your specific EBP intervention
NRS 493 Compare and contrast two change theories, and determine which theory makes the most sense for implementing your specific EBP intervention
NRS 493 Compare and contrast two change theories, and determine which theory makes the most sense for implementing your specific EBP intervention
One change theory, very widely used in nursing, is Lewin's Change Theory. Lewin developed the change model to illustrate how people react when facing changes in their lives. The three stages of this process include unfreezing (the person has an existing state), moving or changing towards new ways of being, and then refreezing into a new state. The theory has barriers and facilitators, referred to as driving and resistant forces. Driving forces facilitate change because they push the person in the desired direction. For this theory to be successful the facilitating factors must overcome barriers and resistance (Current Nursing, 2020).
Kotter's Eight-Step Change Model, created in 1995, includes the following change management steps: create a sense of urgency for change, form a guiding change team, create a vision and plan for change, communicate the change vision and plan with stakeholders, remove change barriers, provide short-term wins, build on the change, and make the change stick in the culture. According to Kotter change happens when at least 75% of employees are convinced that change is necessary. This sense of urgency is developed among employees by "change leaders" with a focus on what are new realities, what are threats and new opportunities. In this theory, the vision for change needs to be agreed upon Barrow, Annamaraju &Toney-Butler, 2021).
Lewin and Kotter's theories both must overcome resistance for change to occur. Lewin's theory, more generalized, is described in three steps as opposed to Knotter's whose theory put emphasis on organizations, highlighting teamwork and coalition formation.
References
Barrow, J. M., Annamaraju, P., & Toney-Butler, T. J. (2021). Change Management. StatPearls StatPearls Publishing. https://www.ncbi.nlm.nih.gov/books/NBK459380
Current Nursing. (2020). Change Theory – Kurt Lewin.  https://www.currentnursing.com/nursing_theory/change_theory.html 
Kurt Lewin not only has a nursing theory, he is considered the father of social psychology and the designer of the nursing model known as Change Theory and it his original theory which others have used as a foundation. (Petiprin, 2020). Lewin's Change Theory is known as the "unfreeze-change-refreeze model" with 3-concepts or steps which are the "driving forces, restraining forces and equilibrium" per Petiprin (2020). The key points of Lewin's change model is compelling forces, "restraining forces and equilibrium" (Petiprin, 2020).
Step 1 = "Unfreeze": to put aside old ways of doing things. Helping people to do away with old patters or habits, increasing the key need to readdress away from the something has always been done.
Step 2 – "Change" in ways of thinking, acting and/or feeling that is a more productive manner.
Step 3 = "Refreeze" establishing solid actions, ways of doing things or habits in such (firm/solid/established) way that the actions, thoughts or feeling replace the prior. If this is not fully established the olde ways shall become new again ~ not actually replaced per Petiprin, 2020. (side thought: if no fresh trays and water for the "icecubes of life"…trays of ice just left on the counter and melted, but not really dealt with ~ using the same olde water, not a fresh source for fresh cubes to be created)
Lippitt has a Seven-Step Change Theory that has the foundation of Levin's change theory [er .
Step 1: Acknowledge (Diagnosis) the problem: come to grips as to the issue or problem by looking at information, data or the big picture to assess what needs to be and that whoever shall be affected by the change is committed to the outcome needed.
Step 2: "Assess the change agent's motivation and capability for change": assess what shall be needed to in the process of achieving the change.
Step 3: "Assess the change agent's motivation, resources, experiences, stamina and dedication"
Step 4: "Select progressive change objectives": assess what needs to be done, what is needed to achieve accomplish it and how to go about it to get it done.
Step 5: "Explain the role of the change agent to all employees" to assure everyone fully comprehends what is needed and expected of them.
Step 6: "Maintain change": encourage and welcome interaction from employees
Step 7: "Gradually terminate the helping relationship of the change agent": due to a full understanding and utilization of change incorporated, the change agent shall not be needed, as the employees shall fully realize the importance of the changes made and shall "take ownership" going forward and sharing the information/new ways/procedures/interventions with others. (per Wisconsin Technical Manner, n.d.)
The comparison is that Lippitt's change theory made use of the foundation of Levin's change theory which was concise and to the point and branched it out to expound upon it, creating a more detailed set of steps (WTCS, n.d.). Although it seems too many steps, Lippitt's 7-Step Change Theory seems to make most sense, especially in the light of out-patient care regarding Covid-19 at the site of my preceptorship and capstone. The site I am at does not utilize either theory, yet verbalized Lippitt's theory would work well in most medical settings.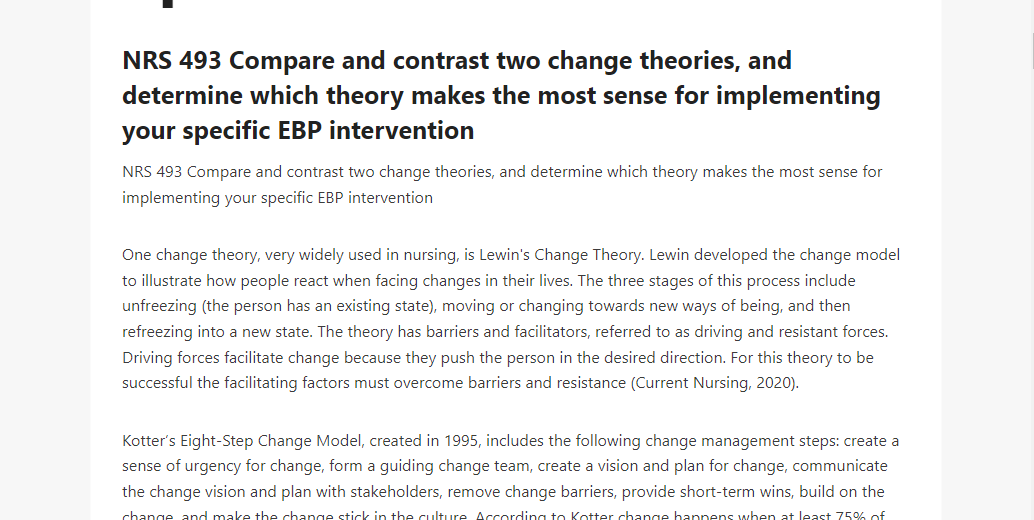 Resources
Petiprin, A. (2020). Kurt Lewin – Nursing theorist. Nursing Theory. https://nursing-theory.org/nursing-theorists/Kurt-Lewin.php
Wisconsin Technical College System (WTCS) . (n.d.). https://wtcs.pressbooks.pub/nursingmpc/chapter/4-3-implementing-change/#footnote-993-1
The three stages that make up the Lewin theory of change are known as "unfreezing," "moving," and "refreezing." It argues that the cycle will ultimately repeat itself because unfreezing occurs when there is a requirement for change, movement occurs while change is occurring, and refreezing occurs when change is stabilized, and equilibrium has been achieved. Because of this, forces are set in motion that either encourage or discourage change (Petiprin, 2020).
1. Unfreezing (when change is needed).
2. Moving (when change is initiated).
3. Refreezing (when equilibrium is established).
The approach proposed by Lewin is highly logical, goal- and plan-oriented. It does not take into consideration personal circumstances, which are a potential driving force for change. On the other hand, the change hypothesis developed by Prochaska and DiClemente It outlines a change process that is more generic, and as a result, it is less particular. It suggests that rather than going around the problem, people should learn from their past mistakes by reflecting on such experiences. My preceptor claims that she frequently makes use of Lewin's and Lippet's change theories when she wants to launch a change since these theories are highly persuasive and drive people to change. Additionally, the theories assist her in recognizing any and all types of resistance that may impede the process of change implementation.
Reference:
Petiprin, A. (2020). Kurt Lewin – Nursing theorist. Nursing Theory. https://nursing-theory.org/nursing-theorists/Kurt-Lewin.php
Lewin's Force Field Model is applied in the Unfreezing phase of the Unfreezing-Change-Refreeze Model. This is when disequilibrium upsets the system and the need for change are identified, also revealing the barriers to that change. Lewin describes behavior as two opposing forces: driving and restraining. The driving force pushes the person in the right way to cause or facilitate a change, and the restraining force is the barrier to the change and pushes the individual away from making the change.
Lewin's Force Field and The Unfreezing-Change-Refreeze Models have many expansions by other theorists. One expansion was Lippitt, Watson, and Westly's (1958) Planned Change model. Unlike Lewin's Model, Planned Change is not focused on the process of change and instead considers the role of who is promoting or enabling the change to happen: the change agent.
The essential steps are centered around communication skills, team building, problem-solving strategies and the method of feedback. The seven steps include diagnosing the problem, assessing the motivation and capacity for change in the system, assessment of the change agent's motivation and resources, developing objectives and strategies, identifying the role of the change agent, maintaining the change, and terminating the helping relationship as the intervention becomes sustainable.
Udod, S., & Wagner, J. (2018, June 30). Common change theories and application to different nursing situations – Leadership and influencing change in nursing. Leadership and Influencing Change in Nursing – Simple Book Publishing. https://leadershipandinfluencingchangeinnursing.pressbooks.com/chapter/chapter-9-common-change-theories-and-application-to-different-nursing-situations/
One of the top challenges for complex healthcare organizations is how to deal with change effectively. Rising healthcare costs, declining reimbursement, workforce shortages, new technology, and the growing elderly population are critical factors driving the force for change, whether in a clinical or hospital setting. "Contemporary healthcare agencies must continually institute change to upgrade their structure, promote greater quality, and keep their workers" (Marquis & Huston, 2017). Healthcare organizations must continually make changes to organizational restructuring, patient satisfaction, and employee satisfaction leading to retention. However, it is essential to realize that not every organizational change program is a success. They are implementing the use of change theories such as Kurt Lewin's models of change, Burrowes and Need's Contemporary Adaption of Lewin's model, complexity science and adaptive systems, and Edward Lorenz's Chaos Theory. Healthcare organizations can implement effective change to meet the demands of the ever-changing healthcare system. They understand when change is necessary to increase patient satisfaction and employee satisfaction and maintain a successful, thriving organization.
Reference
All Answers Ltd. (November 2018). Change Theories and Relevance in Health Care. Retrieved from https://nursinganswers.net/essays/change-theories-and-relevance-in-health-care.php?vref=1
Change management is vital when instituting change in an organization. This is because appropriate change management ensures that organizations are well prepared on how best to transition to the new mode of operation, in addition to ensuring that the previous culture is replaced by a culture that is in line with the change. Change management models contribute to change by guiding organizations on how best to make organizational change and navigate the process of transformation and eventually attain optimal outcomes such as the acceptance of change into practice.
The first change management mode is the 3-stage of Changes Model by Kurt Lewin. Popularly termed as Lewin's 3-stage model of change, this model executes change in three phases which are Unfreeze-Change-Refreeze. Based on this model, when instituting change, the first step entails unfreezing current processes and the best way to do it is to create the urgency for change and ensure that everyone understands the need for change (Conne & Unni, 2020). When this happens, the next step entails making the change and guiding the employees through the change process and in this phase, the employees are empowered to appreciate the change and through the transition. The final step entails refreezing which basically involves turning the new status quo into organizational culture. The second model is Kotter's Change Management model and this is a more complex model that builds on the Unfreeze-Change-Refreeze model. The model is divided into eight stages and these are creating a sense of urgency, building the change team, forming a strategic vision, communicating the vision, removing the barriers to change, maintaining momentum and finally instituting change.
The first similarity between these models is that both of them initiate change by first ensuring that the members of the organization understand the need for change. This is facilitated by creating the need for change and generating urgency for change. This involves ensuring that the members of the organization are well motivated to engage in change. Furthermore, both of these models facilitate the creation of change by first changing organizational culture.
These models similarly have a range of difficulties and they include those associated with the conclusion of the change. In Lewin's model, the change process ends with the refreezing of change and this involves tuning the organization's culture to reflect the change and aligning the change to organizational needs (Haas et al., 2019). On the other hand, Kotter's change model stops at the institution of change and thus, this model assumes that once changes are in place, cultural changes will automatically follow.
I believe that a hybrid of both models would make sense of the EBP intervention. The suggested hybrid is using Kotter's model during the change pros and then concluding with the 'Refreeze' step that is contained within the change process and this ensures that even after the model has been implemented, there are active steps to solidify the change into culture. This way, the change becomes a part of the core culture of the organization and the healthcare system and guarantees optimal outcomes in the long-run.
References
Cone, C., & Unni, E. (2020). Achieving consensus using a modified Delphi Technique embedded in Lewin's change management model designed to improve faculty satisfaction in a pharmacy school. Research in social & administrative pharmacy : RSAP, 16(12), 1711–1717. https://doi.org/10.1016/j.sapharm.2020.02.007
Haas, M., Munzer, B. W., Santen, S. A., Hopson, L. R., Haas, N. L., Overbeek, D., Peterson, W. J., Cranford, J. A., & Huang, R. D. (2019). #DidacticsRevolution: Applying Kotter's 8-Step Change Management Model to Residency Didactics. The western journal of emergency medicine, 21(1), 65–70. https://doi.org/10.5811/westjem.2019.11.44510
Change theories are important in the context of this course and can be applied to support the Evidence Based Practice intervention. Two examples of change theories are Lewin's Change Theory and Roger's Diffusion of Innovation Theory. The Change theory was created by someone known as the father of social psychology who is Kurt Lewin and this theory is said to be the most influential of them all. This theory is separated into 3 stages of the model which is referred to as the unfreezing-change-refreeze model which enunciates the need for rejecting and replacing old ideas that have since become outdated (Lewin's change theory, 2020). The three main ideas of the theory are driving forces, restraining forces, and equilibrium. Driving forces cause change to occur. The restraining forces counter driving forces by hindering any change and equilibrium is when driving forces and restraining forces reach a balance (Lewin's change theory, 2020). The three stages of nursing theory are unfreezing, change, and freezing. Unfreezing allows individuals to let go of old patterns and the method to this is increasing driving forces or decreasing restraining forces (Lewin's change theory, 2020). The change stage allows for the creation and production of changes in thoughts and behavior and refreezing establishes change as a new habit so that patients don't fall back into their old counterproductive habits (Lewin's change theory, 2020). The Diffusion of Innovation Theory was introduced by Gabriel Tarde in 1903. This specific change theory is regarded with the modification and presentation of technological innovation so that all types of needs are met (Kaminski, 2017). This theory enunciates the significance of networking between peers and communication. Innovation diffusion is the adoption of new ideas, perspectives, practices etc. and this process is mapped out within this theory eluding to the fact that there a few initially who are open to the new ideas and adopt it to put into practice (Kaminski, 2017). These adopters start spreading the word so that more people are influenced to do the same. The new idea or practice is circulated until everyone has adopted it or the popularity of it spreading has died out which is called saturation point (Kaminski, 2017). The five categories of adopters are innovators, early adopters, early majority, late majority, and laggards, and sometimes non-adopters (Kaminski, 2017). Innovators appreciate technology, gatekeep for the next group, recruit peer educators etc. Early majority are seen as opinion leaders and tend to be trend setters and role models within their social system and society. The late majority respond best to peer pressure and are very cautious about change and implementing new practices and policies but they are motivated to keep up with competitors and very cost sensitive (Kaminski, 2017). Finally, the laggards are isolated from opinion leaders and suspicious of innovations and almost completely opposed to technology. I think the Lewis Change Theory makes the most sense for implementing my EBP because it allows for the freezing of old theories and practices, change of treatment plans and intervention, and freezing of new practices that are included in the solution to the problem.
Kaminski, J. (2017). Diffusion of innovation theory. Diffusion of Innovation Theory | Canadian Journal of Nursing Informatics. Retrieved May 14, 2022, from https://cjni.net/journal/?p=1444 
Lewin's change theory. Nursing Theory. (2020, July 19). Retrieved May 14, 2022, from https://nursing-theory.org/theories-and-models/lewin-change-theory.php