NRS 493 Briefly describe your proposed solution to address the problem, issue, suggestion, initiative, or educational need and how it has changed since you first envisioned it
NRS 493 Briefly describe your proposed solution to address the problem, issue, suggestion, initiative, or educational need and how it has changed since you first envisioned it
NRS 493 Briefly describe your proposed solution to address the problem, issue, suggestion, initiative, or educational need and how it has changed since you first envisioned it
My initial capstone topic started out as CAUTI (Catheter Associated Urinary Tract Infection) associated with foley utilization rates. Although there are several evidence-based practices that have been shown to reduce CAUTI including reducing the use of urinary catheters, incorporating interventions to help avoid the use of urinary catheters when they are not indicated including nurse-driven protocols for the removal of urinary catheters as soon as no longer required (Centers for Disease Control and Prevention, 2019).
This is quite different than the current focus of my change proposal. I decided to shift to a more narrowed focus that is a direct reflection of a current need at the rehabilitation hospital. One influential moment for the change came when I was asked by a staff nurse, "Do I really have to change the foley out before I get a specimen?" I thought that she was just joking, considering her experience and longevity with the company. Either way I assumed that she would know the proper procedure to collect from a catheterized patient. After going over the policy of urine specimen collection in catheterized patients, it dawned on me that perhaps she actually didn't know, which may result in improper collection and false positive readings. After discussing this situation with my preceptor, she shared with me that that hospital just got their second CAUTI of the year, due to urine cultures being ordered without proper clinical indication. After considering these factors, my focus shifted to urine culture collection and how they can increase CAUTI rates.
My capstone change proposal project involves the initiation of a Urine culture stewardship initiative focused on addressing the issue of increased rates in CUATI associated with improper testing of urine cultures for reason that do not indicate the need for culture testing, as well as addresses the significance of proper specimen collection practices and in reducing the overtreatment with antibiotics and other associated treatment costs. Specific studies have shown that urine culture stewardship initiatives aimed at reducing UC overutilization and were correlated with a decrease in CAUTIs, and the addition of urine-culture stewardship to standard best practices could reduce CAUTI in various care settings (Al-Bizri, Vahia, Rizvi, Bardossy, Robinson, et al., 2021).
Reference
Al-Bizri, L., Vahia, A., Rizvi, K., Bardossy, A., Robinson, P., Shelters, R., Alangaden, G. (2021). Effect of a urine culture stewardship initiative on urine culture utilization and catheter-associated urinary tract infections in intensive care units. Infection Control & Hospital Epidemiology, 1-4. doi:10.1017/ice.2021.273
CDC (Centers for Disease Control and Prevention). (2019). Survey Practices and Outcomes. Urine Culture Stewardship. HAI. https://www.cdc.gov/hai/prevent/cauti/indwelling/survey.html 
The issue I am focusing on for the Capstone Project is an unmet educational need specific to prenatal/postpartum women and newborns. The educational need is in regard to a specific audit tool used when hospitals and/or clinics are working toward the Baby Friendly Hospital Initiative (BFHI). The Ten Steps to Successful Breastfeeding are the broad framework that guide the Baby-Friendly Hospital Initiative. In a recent audit, the scores identified that there were not enough mothers who could list 4-5 benefits of breastfeeding for both mothers and babies. The topic and intervention will target mothers during the prenatal and postpartum period and education will be done at the OB/GYN clinic with their provider. The overall goal is to council and educate mothers of all ages and gravidas on the benefits of breastfeeding to both mom and baby and have them verbalize 4 benefits during an audit.
Education on benefits of breastfeeding is the intervention strategy in this case, as it helps create awareness on the impact. Education could be in through groups or individual visits. Additionally, it can take the form of written materials, videos or orally through talks and demonstrations (Lumbiganon, 2011). Lack of or insufficient knowledge about the necessity of breastfeeding has been demonstrated to be detrimental to an infant's general growth and development. Preterm newborns cannot be placed under exclusive breastfeeding, according to current clinical or nursing practice. As a result, it focuses on the best time to advise the mother about starting exclusive breastfeeding (Maastrup et.al. 2014). In this example, the intervention technique is education on the benefits of breastfeeding, which serves to raise knowledge about the impact. Individual or group visits could be used to educate. It can also take the shape of textual materials, videos, or spoken presentations and demonstrations (Lumbiganon, 2011). The plan has not really changed much since I first envisioned it. I created a plan and am happy I was able to stick with it and gather more information as I move forward.
References:
Lumbiganon, P., Martis, R., Laopaiboon, M., Festin, M. R., Ho, J. J., & Hakimi, M. (2017). Antenatal breastfeeding education for increasing breastfeeding duration. The Cochrane Database of Systematic Reviews, (11), CD006425. Advance online publication. http://doi.org/10.1002/14651858.CD006425.pub2
Maastrup, R., Hansen, B. M., Kronborg, H., Bojesen, S. N., Hallum, K., Frandsen, A., … Hallström, I. (2014). Breastfeeding Progression in Preterm Infants Is Influenced by Factors in Infants, Mothers and Clinical Practice: The Results of a National Cohort Study with High Breastfeeding Initiation Rates. PLoS ONE, 9(9), e108208. http://doi.org/10.1371/journal.pone.0108208
I enjoyed reading your post and this intervention, in particular, seems to address a major problem in healthcare. I actually came to understand the issues surrounding breastfeeding when I joined the nursing profession. In my community, breastfeeding was a nonissue when it came to the health of infants. This is because breastfeeding was always considered as the best way to not only improve the health and immunity of children, but also provide an opportunity for bonding between mothers and children. This activity was so well respected that for children whose mothers were unable to breastfeed them, wet nurses were a common solution. There was no shame or embarrassment attached to breastfeeding in public as it was understood and appreciated that this was the only solution through which infants could get their nutrients.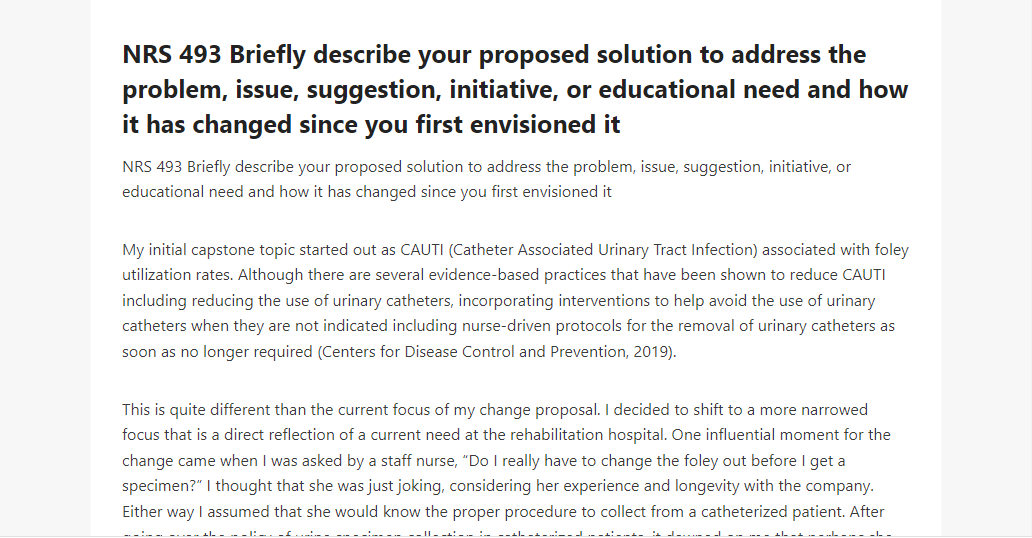 I do however understand that the perceptions of breastfeeding vary greatly between societies and even cultures and I believe that this would similarly affect your change projects. While some others may be readily accepting of the intervention, some, due to cultural issues, may not accept the intervention. In my opinion, therefore, one of the most important tasks that you should execute is to try and assess the perceptions of the mother regarding breastfeeding (Srisopa & Lucas, 2021). This will give you an opportunity to understand what type of interventions that you need to put in place in order to ensure that the intervention you deliver is culturally responsive ad thaw, will be well accepted by the patient population.
References
 Srisopa, P., & Lucas, R. (2021). Maternal perception of paternal breastfeeding support: A secondary qualitative analysis. Midwifery, 102, 103067. https://doi.org/10.1016/j.midw.2021.103067
I see you are doing a project related to education as well. Starting to read your discussion response immediately made me wonder if we are failing our patients more than I initially thought. One of the reasons that I wanted to do something related to education was my experience in the emergency room. We discharge patients with new problems and chronic problems. Sometimes when discussing with the patient, they are missing basic information on their disease and it shocks me each time. In fact, Adjei, et al., (2018) suggest that their research findings indicate that 50-80% of diabetic patients are lacking necessary education to care for their disease. When I first read this study I was shocked, but then looking at how we discharge diabetics in the emergency room, I was not. I imagine that there are failures of the health care system related to educating in your project area, leading you to see a need for change. I too felt that way when talking to my preceptor about his patient population. When he told me that a lot of his diabetic patients couldn't even tell him what a carbohydrate was, he knew there was a significant problem with their self-management. This lead to my project change related to diabetes education. I hope to help his patient population by providing guidance into making small changes and educating his patient to help them better manage their diabetes. This can make a significant impact to their blood glucose control and diabetic health problem incidence.
Adjei Boakye, E., Varble, A., Rojek, R., Peavler, O., Trainer, A. K., Osazuwa-Peters, N., & Hinyard, L. (2018). Sociodemographic Factors Associated With Engagement in Diabetes Self-management Education Among People With Diabetes in the United States. Public Health Reports, 133(6), 685–691. https://doi-org.lopes.idm.oclc.org/10.1177/0033354918794935
My evidence-based practice project is based on the challenge of alarm fatigue among nurses working in the intensive care units. Alarm fatigue is a major problem among nurses working in the intensive care unit because of the numerous alerts from monitoring devices used to inspect patient conditions. Some of the alerts happen to be clinically insignificant while others are false alerts thereby increases unnecessary workload for the nurses leading to fatigue and burnout (Hravnak et al., 2018).
To avert the effects of alarm fatigue among healthcare providers, some interventions are used such as silencing some of the clinically insignificant alerts or adjusting the alert threshold so that some clinically insignificant alerts are eliminated. However, currently the healthcare system has implemented policies that prevent nurses and pother healthcare providers from silencing or adjusting the telemetry alarm systems hence, all alerts have to recur.
To overcome alarm fatigue which can lead to alarm desensitization the proposed solution is on the use of nurse education to helps nurses learn how to manage the large number of alerts and develop resilience to avoid psychological exhaustion by changing their attitude towards clinical alarms. Nurse education allows nurses to recognize the essence of alerts in healthcare and its pivotal role in improving patient outcomes hence eliminate possibilities of alarm desensitization which can lead to alarm fatigue.
Initially, I had proposed to prevent the adverse events associated with alarm fatigue by adjusting telemetry alarm threshold to help reduce false and clinically insignificant alerts as well. Adjusting telemetry alarm settings to increase the threshold helps to reduce the number of alerts. However, as the project progresses, I have changed my intervention to nurse education to prevent alarm fatigue because I learnt that the organization has implemented policies preventing the change of telemetry alarm setting. The change of intervention was therefore informed by existing organizational policies.
References
Hravnak, M., Pellathy, T., Chen, L., Dubrawski, A., Wertz, A., Clermont, G., & Pinsky, M. R. (2018). A call to alarms: Current state and future directions in the battle against alarm fatigue. Journal of electrocardiology, 51(6), S44-S48 https://doi.org/10.1016/j.jelectrocard.2018.07.024
Salous, M., Alkhawaldeh, J., Kewan, S., Aburashideh, H., Hani, D. B., & Alzayyat, A. (2017). Nurses' attitudes related to alarm fatigue in critical care units: a systematic review. IOSR Journal of Nursing and Health Science, 6(2), 62-66 https://www.researchgate.net/profile/Hafez-Aburashideh/publication/316330429_Nurses'_Attitudes_Related_To_Alarm_Fatigue_in_Critical_Care_Units_A_Systematic_Review/links/5b307103aca2720785e3b249/Nurses-Attitudes-Related-To-Alarm-Fatigue-in-Critical-Care-Units-A-Systematic-Review.pdf
I have worked with the staff at Aperion since the start of my preceptorship. I have offered hands on assist as well finding ways to make the workload lighter. I have had a chance to speak with management and offer some suggestions. I discussed with Director of nursing the possibility of changing their 8 hour shifts to 12 hours shift. I have also presented paying staff overtime after 8 hours verses 40 hours. The facility has a program that if a nurse that is not staff comes in to work for 90 days, they receive compensation of 45 dollars per hour for the 90day contracted period. Staff nurses are in total disagreement because they are being paid between 32-35 dollars an hour. They complain that the nurses who are receiving this pay come in and do the minimal. After speaking with staff, I have learned that they are discouraged and burned out. They feel as if management disregard them. I also had the chance to speak with the administrator and share with him the concerns that staff nurses and Certified nurse assistant voiced. I also discussed with the administrator the possibilities of looking at a pay increase for his nursing staff. I spoke about the patients and their relationship with staff opposed to contractual workers coming in making patients uncomfortable. Administration was very opened to my proposal and offered to speak with me on my next assigned workday. It very important for staff voices to be heard, and someone to advocate for them.
References:
Mehdavoa, E. (2017). Strategies to overcome the nursing shortage [Doctoral dissertation]. Walden university.
Thompson, S. (2021, April 21). 4 ways to address the nursing shortage in 2021.
Apploi. Retrieved April 28, 2022, from https://www.apploi.com/blog/nursing-shortage/4-ways-to-address-the-nursing-shortage-in-2021/
The initial project planning focus was the importance of early interventions which includes treating the symptoms and promoting health for each person when receiving a positive Covid-19 result. Due to the many articles, research papers, individuals and personal observations, this has morphed into a stronger and more steadfast resolve of realizing the importance of all patients being provided the opportunity to accept or decline the use of early intervention medications be they over the counter (OTC) or prescribed. In addition to that, once a person has tested negative, it is important that it is not "everything is fine, I'll just go back to eating my hot cheetos and drinking soda or beer" rather being educated of the importance of the vitamins, supplements, healthy fluids and nutrition and some sort of physical activity. At the risk of going into tangents of many possibilities of this project. This student believes the 2 go hand-in-hand… and beyond Covid-19 for a healthier individual, healthier family and thus a healthier community to help fight illnesses by being as immunity strong/healthy as possible.
OTC medications may be for lack of other words result in immune boosters or internal warriors for our health, include the use of vitamin D, which found among "significantly less" lung involvement among persons with higher levels of vitamin D and alternately, patients with to deficiencies of vitamin D experienced higher rates of lung involvement and instances of death (Abrishami et al., 2021). Markwell acknowledged the importance of wound healing and recovery from colds in 1947. Today, have learned via studies of the importance of vitamin C as it helps to regulate the inflammatory response and when a person has lower levels of vitamin C there have been links with higher histamine levels which may be normalized with additional vitamin C (Nandi et al., 1974). Vitamin C has been found to help recover from Covid-19, especially for person who are overweight or obese (Cerullo et al., 2020). It was interesting to learn persons who are obese or overweight, even among <50 years old with a BMI <40 was "identified as one of the strongest risks of hospitalizations and also for severe Covid-19 illness of SARS CoV2 infection (Petrilli et al., 2020). The supplements and nutrition are not silver beneficial bullets, yet these and other studies show profound benefits of what we have readily available, especially in America, and may provide additional benefit of lowering the risk of severe illness for our community and those we serve.
  Resources
Abrishami, A., Dalili, N., Mohammadi Torbati, P., Asgari, R., Arab-Ahmadi, M., Behnam, B. & Sanei-Taheri, M. (2021). Possible association of vitamin D status with lung involvement and outcome in patients with COVID-19: a retrospective study. European Journal of Nutrition 60, 2249–2257. https://doi.org/10.1007/s00394-020-02411-0
Cerullo, G., Massimo, N., Parimbelli, M., Pecoraro, M., Perna, S., Liguori, G., Rondanelli, M., Cena, H., and D'Antona, G. (2020). The long history of vitamin C: From prevention of the common cold to potential aid in the treatment of COVID-19. Frontiers in Immunology: Nutritional Immunology. https://doi.org/10.3389/fimmu.2020.574029
Markwell, M. (1947). Vitamin C in the prevention of colds. Medical Journal of Australia, (2), 777-778. Vitamin C in the prevention of Colds. (cabdirect.org)
Nandi, B.K., Subramanian N., Majumder, A.K., and Chatterjee, I.B. (1974) Effect of ascorbic acid on detoxification of histamine under stress conditions. Biochemical Pharmacology, 23, 643–647. doi: 10.1016/0006-2952(74)90629-7
Petrilli, C. M., Jones, S.A., Yang, J., Rajagopalan, H., O'Donnell, L., Chernyak, Y., Tobin, K. A. ,Cerfolio, R. J. Francois, F. and Horwitz, L. I. (2020). Factors associated with hospital admission and critical illness among 5279 people with coronavirus disease 2019 in New York City: Prospective cohort study. BMJ 369:m1966. doi: 10.1136/bmj.m1966