NRS 493 After discussion with your preceptor, name one financial aspect, one quality aspect, and one clinical aspect that need to be taken into account for developing the evidence-based change proposal
NRS 493 After discussion with your preceptor, name one financial aspect, one quality aspect, and one clinical aspect that need to be taken into account for developing the evidence-based change proposal
NRS 493 After discussion with your preceptor, name one financial aspect, one quality aspect, and one clinical aspect that need to be taken into account for developing the evidence-based change proposal
Over the last 2 decades there has been an undeniable rise in health care costs which has caused a shift in focus toward measuring care quality. Studies have shown that improved quality of care has been associated with lower health care costs through decreased complications and length of stay (Agarwal, Youngerman, Kaakaji, Smith, McGregor, Et. Al, 2021). In efforts to improve care quality, providers use clinical practice guidelines, which are statements that include recommendations, informed by systematic reviews of evidence, intended to optimize patient care. CAUTI caused by improper testing of urine can have financial ramifications. A urine culture can cost $80 or more. Antibiotic treatment for a UTI cost from $3 to over $300. In addition, drug-resistant infections (caused by improper treatment with antibiotics) add costs for extended lengths of stay, expensive medicines, and nursing care (ABIM Foundation, 2014).
After discussion with my preceptor, a urine culture stewardship initiative will reduce costs associated with improper testing and the treatment. Implementation of this initiative will affect clinical practice by decreasing the total number of urine cultures ordered and reducing the number of inappropriate treatments. Regarding quality, a urine culture stewardship will help identify areas where routine ordering and inappropriate practices increase costs and affect patient outcomes, as well as used to reduce excessive ordering, lower contamination rates, and decrease unnecessary antibiotic prescribing (Sinawe, Casadesus, 2022).
References
Agarwal, N., Youngerman, B., Kaakaji, W., Smith, G., McGregor, J. M., Powers, C. J., Guthikonda, B., Menger, R., Schirmer, C. M., Rosenow, J. M., Cozzens, J., & Kimmell, K. T. (2021). Optimizing Medical Care Via Practice Guidelines and Quality Improvement Initiatives. World Neurosurgery, 151, 375–379. https://doi-org.lopes.idm.oclc.org/10.1016/j.wneu.2021.02.013
American Board of Internal Medicine Foundation. (2014). Tests & treatments for urinary tract infections (UTIs) in older people When you need them—and when you don't. https://www.choosingwisely.org/wp-content/uploads/2014/09/ChoosingWiselyUTIAGSAMDA-ER.pdf
Sinawe H, Casadesus D. Urine Culture. (2022). In: StatPearls [Internet]. Treasure Island (FL): StatPearls Publishing; 2022 Jan-. Available from: https://www.ncbi.nlm.nih.gov/books/NBK557569
After speaking with my preceptor there are different financial aspects, quality aspects, and clinical aspects when developing the evidence-based change proposal. The capstone project change proposal is on fall interventions and the use of bed alarms and the benefits of hourly rounding. The use of bed alarms can cause a mistrust among staff and of the patients in our care. Patients can feel mistrusted and confined to their beds with the use of these alarms. As nurses we can take on that leadership role to help our facilities strive away from the use of alarms and implement the use of hourly rounding. We able to improve the dignity of our patients and their well faire. We can help to get us the education that we need to understand how to properly hourly round on our patients. By doing this, we are building upon that trusting relationship with our patients. Ensuring that we are providing our patients with quality care is vital to their success in their health. Ensuring quality care is being provided is always a concern. There are rising concerns that poor quality care often results in harm to patients, but also an increase in healthcare costs (Agarwal et al. 2021). This is where focusing on the quality of care being provided is of great importance. Improving the care being given has been related to the lowering of health care and has been shown to decrease complications and the decrease in patient stay (Agarwal et al. 2021). By building upon a trusting relationship with our patients and ensuring that we are providing patient centered care, we can provide our patients with quality care. Increasing patient satisfaction with their care is how quality care can be given. By hourly rounding and increasing patient centered care, is how falls can be prevented. Falls lead to an increase in patient complications and increase in patient stay. This prolongs patients need for hospital care and increases healthcare costs. Patients are at risk for infections and further negative aspects the longer they are in the hospital. This is a financial aspect of care as patient falls leads to an increase in costs. By implementing hourly rounding, we can decrease the financial aspects of the healthcare system. We are able to prevent further injuries to our patients as well and improve patient care. Ensuring that patients are safety is how quality care can be ensured as well. A clinical aspect of the evidence-based practice can be due to staffing. As staffing in the healthcare system is short, being able to implement this intervention can be tough. As many are left short staffing, doubling up on patients is often occurring. At my place of work, this often occurs in order to meet the needs of the patients. Being able to purposefully hourly round can be a challenge in order to meet and care for all of the patients. As short staffing makes it difficult to meet the needs of the patients in a purposeful way. But the implementation of this intervention is crucial in the care and needs of the patients.
Agarwal, N., Youngerman, B., Kaakaji, W., Smith, G., McGregor, J. M., Powers, C. J., Guthikonda, B., Menger, R., Schirmer, C. M., Rosenow, J. M., Cozzens, J., & Kimmell, K. T. (2021). Optimizing Medical Care Via Practice Guidelines and Quality Improvement Initiatives. World Neurosurgery, 151, 375–379. https://doi-org.lopes.idm.oclc.org/10.1016/j.wneu.2021.02.013
Moncada, L., & Mire, L. G. (2017). Preventing Falls in Older Persons. American Family Physician, 96(4), 240–247. https://www.aafp.org/afp/2017/0815/p240.html 
Falls in hospitalized persons are widespread and severe threats to patient safety. Accidental falls are among the most common incidents reported in hospitals, complicating approximately 2% of hospital stays. About 25% of falls in hospitalized patients result in injury, and 2% result in fractures. Substantial costs are associated with falls, including costs of patient care associated with increased length of stay and liability.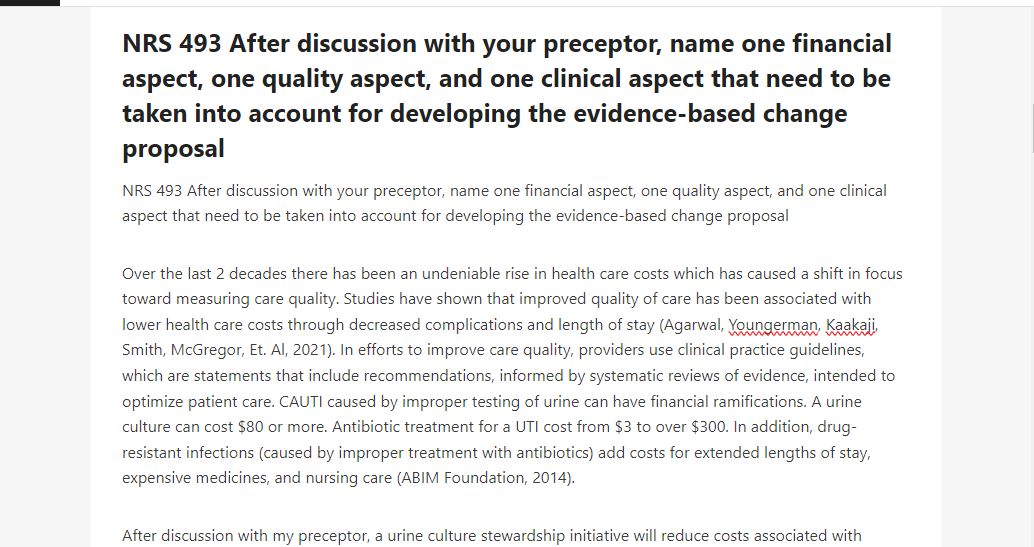 Most falls in hospitalized patients occur in inpatient rooms and are related to ambulating from a bed, chair, or toilet without adequate assistance. Bed alarm systems (for example, bed or chair alarms) could reduce falls by alerting personnel when at-risk patients attempt to leave a bed or chair without assistance. Another potential benefit is that bed alarm systems may reduce the need for physical restraints—a Centers for Medicare & Medicaid Services quality-of-care indicator. Although one uncontrolled study found that restraint use decreased by 37% after introducing alarms, the relationship between bed alarm monitoring falls, and physical restraint use has not been well-studied.
Reference
Shorr, R. I., Chandler, A. M., Mion, L. C., Waters, T. M., Liu, M., Daniels, M. J., Kessler, L. A., & Miller, S. T. (2012). Effects of an intervention to increase bed alarm use to prevent falls in hospitalized patients: a cluster-randomized trial. Annals of internal medicine, 157(10), 692–699. https://doi.org/10.7326/0003-4819-157-10-201211200-00005
The student's practicum focuses on bringing more diabetes education to the practice to facilitate better patient control of their blood sugar. Discussing the financial aspect, the cost of delivery method needs to be discussed. What delivery methods are available and which ones would the patients prefer? Once this has been determined, the cost of education materials or delivery devices are considered. Telehealth or virtual education has been shown to be effective (Esmaeilpour-BandBoni, et al., 2021) in enhancing patient education and providing better outcomes for patients. This is a low-cost alternative that only costs the time of the provider or the employee that does the teaching. This can be done verbally and compose most of the teaching. However, there is a cost associated to multiple other sources of information that can be forwarded on to the patient. Luckily, there is a plethora of accurate and free information available to forward to patients (Tomomi, et al., 2020). This keeps the costs down as well as time use down for the provider as obtaining and sorting the information is the only intensive task. The proposal will not cause a significant impact financially to the patients or the practice.
Devchand, et al., (2017) speak to a National diabetes education management system. The quality aspect related to the practicum introduction is the quality of the education to be delivered. Diabetes is one of the most prevalent diseases we deal with. The education and information that is available for diabetic patients is significant. However, in this digital age, it is also possible a lot of that information is wrong or even dangerous. Therefore, the quality of the diabetes education needs to be from a reputable source and vetted through the providers. This ensures that the patients are receiving accurate information and safe information.
The clinical aspect to consider for this project relates to tool availability and related staff. Considerations must be made for what is available to use to deliver diabetes education. Free education can be requested and then handed out to in-office patients. The same education could be mailed to telehealth clients. The office can do telehealth visits as that is over half their practice, on purpose. The computer technology is available in the clinic to reach the goals of the practicum. The staff that are going to be involved in the teaching need to be assessed. Questions should be made about what technology are they able to work with. They need familiarity with the education materials and the delivery methods intended. The clinical team associated with the project implementation are all competent to use any possible technology needed. The clinical staff is willing to enhance their diabetes education to implement the project and provide greater diabetes education and time to their patients.
Devchand, R., Nicols, C., Gallivan, J. M., Tiktin, M., Krause, S. H., Larkin, M., & Tuncer, D. M. (2017). Assessment of a National Diabetes Education Program diabetes management booklet: The GRADE experience. Journal of the American Association of Nurse Practitioners, 29(5), 255–263. https://doi-org.lopes.idm.oclc.org/10.1002/2327-6924.12445
Esmaeilpour-BandBoni, M., Gholami-Shilsar, F., & Khanaki, K. (2021). The Effects of Telephone-Based Telenursing on Glycated Hemoglobin Among Older Adults With Type 2 Diabetes Mellitus: A Randomized Controlled Trial. Journal for Nurse Practitioners, 17(3), 305–309. https://doi-org.lopes.idm.oclc.org/10.1016/j.nurpra.2020.09.015
Tomomi Horiguchi, Yuya Asada, Keiko Tasaki, & Michiko Inagaki. (2020). Investigation of Educational Methods Using E-Learning Teaching Materials to Improve Nurses' Skills in Promoting Team-based Diabetes Medical Care. Journal of Japan Academy of Nursing Science, 40, 579–586. https://doi-org.lopes.idm.oclc.org/10.5630/jans.40.579
I enjoyed reading your post and one thing that I agree with wholeheartedly is the need for quality education as a quality indicator of health outcomes. In this case, one of the key issues that we need to understand when designing educational interventions is the fact that when educational interventions are developed poorly, they are most likely to lead to auction fatigue. When the population hears the same thing time and time again ultimately leads to the population ignoring the education, or being desensitized about the education they receive (Cutilli, 2020). This waters down the quality of the health education received by the patient population.
In this case, it is vital to ensure that the education material will be more effective on the patient population. For example, when designing the educational intervention, you can explore things such as using personal stories of other patients in order to appeal to the patient population, or even using a peer to peer educational intubation, where the nurses empowered person within the community that have dealt with such an issue, and empower them to educate other individual grappling with the health issue in the community.
Identifying and deploying innovative educational material will play a vital role in ensuring that the patient population is well educated, and that the patients are empowered with even more innovative health outcomes.
References
Cutilli C. C. (2020). Excellence in Patient Education: Evidence-Based Education that "Sticks" and Improves Patient Outcomes. The Nursing clinics of North America, 55(2), 267–282. https://doi.org/10.1016/j.cnur.2020.02.007