NRS 451 TOPIC 1 DQ 3
NRS 451 TOPIC 1 DQ 3
Review your state's mandated reporter statute. Provide details about this in your post. If faced with a mandated reporter issue, what are the steps in reporting the issue? Create a mandated reporter scenario and post it. Respond to one of your peer's scenarios using the guidelines for submission/reporting in your state. Be sure to include a reference to your state's website related to mandated reporting.
In our state, the mandated reporter laws states that all the physicians, nurses, teachers or those holding any role in the professional or any official capacity reports specific injuries to the children. In the event they suspect that there is any form of abuse of neglect to a child, they report the form of abuse within 24 hours to the local county either where the child resides or where the neglect is suspected to occur. Also, we have a toll-free hotline for the Department of Child Abuse and Neglect where anyone can call in the event one doesn't know the residence of the child or where the abuse occurred. Individuals are encouraged to report any form of abuse immediately it occurs. Sometimes children may be born and they may be suspected to be exposed or born testing positive of any form of substance abuse should be reported within 48 hours of birth. If the case is an adult, it should also be reported immediately to the Department of Adult Protective Service. If one does not report, they will be fined with up to $500 (New York Department of Human Services (n.d).
In reporting any form of suspected abuse, one need to call the appropriate agency and give the required information on the form of abuse. This is the only time releasing patient information is not a violation of HIPPA.
A mom comes in the ER and states that she is 35 weeks pregnant and has started bleeding. When she is taken to the exam room, neither her of the companion is in an appropriate condition. They are impaired with dilated pupils, she answers the questions vaguely and varies on the information regarding what exactly happened and the time the bleeding started. When she is examined, she is bleeding profusely from the placental abruption which forces the nurses to rush her to the OR for delivery and save the life of the child. Both of them tests positive for cocaine substance. From interviewing the mother, it reveals that she was spotting more than 6 hours before she seek treatment as she did not want anyone to know she was a cocaine addict.
References
New York Department of Human Services (n.d). Mandated Reporting Laws Code of New York Retrieved from https://www.google.com/url?sa=t&rct=j&q=&esrc=s&source=web&cd=&cad=rja&uact=8&ved=2ahUKEwjOz6bsvo7zAhUFgRoKHfWJBtkQFnoECAsQAQ&url=https%3A%2F%2Fstatelaws.findlaw.com%2Fnew-york-law%2Fnew-york-child-abuse-laws.html&usg=AOvVaw31kxnAWzTY4fy6Jxh6YG1h
Certain adults are required to report suspected instances of child abuse under the Child Protective Services Law (CPSL) in the state of Pennsylvania. These persons are deemed to have a legal obligation to report. The individuals who are required to report suspicious activity in the state of Pennsylvania include, but are not limited to, school personnel, medical professionals, law enforcement officials, and providers of child care services.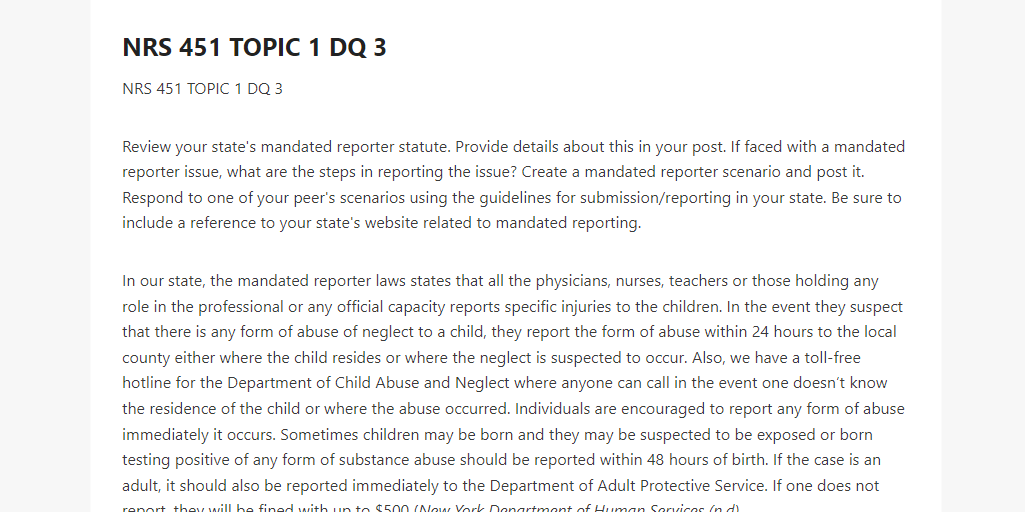 If a mandated reporter has reason to believe that a child has been abused, they are required to report their suspicions to ChildLine at 1-800-932-0313, which is part of the Pennsylvania Department of Human Services (DHS). The report has to be sent right away, or at the very least as soon as is reasonably practicable.
When filing a report, mandated reporters are required to disclose information including their name, contact information, and the cause for their belief that child abuse has occurred. Additionally, the mandatory reporter is responsible for making oneself accessible to respond to any inquiries that may be posed by DHS.
Even if you are unsure if the behavior you are seeing constitutes child abuse, you should still report it to the Department of Human Services (DHS). You may also call the ChildLine to talk with a trained professional who can assist you in determining whether or not what you are seeing constitutes child abuse.
If you are unsure of what to do, err on the side of caution and make a report. It is preferable to report anything, even if it turns out to be inaccurate, than it is to not report something and let a kid suffer as a consequence of it. The following is an example of a mandatory reporter scenario: You are currently employed as a teacher in a primary school in your community. A youngster who is 6 years old and is one of your classmates shows up to school with cuts and bruises on his face and arms. When you inquire as to what took occurred, he responds by claiming that his father struck him. You are troubled by the possibility that this situation involves the mistreatment of a kid.
What is it that you ought to do? If you have any reason to believe that the child has been subjected to abuse, you should get in touch with the ChildLine at the Pennsylvania Department of Human Services (DHS) as soon as possible by calling 1-800-932-0313. You need to include your name, some contact information, and the rationale behind why you think a kid is being abused. In addition to this, you need to make sure that you are ready to answer any questions that the DHS may have.
References
Schmid, S. W., & Robertson, L. Pennsylvania: Child Abuse Renewal: Recognition and Reporting, 2 units.
Rizvi, M. B., Conners, G. P., King, K. C., Lopez, R. A., & Rabiner, J. (2020). Pennsylvania Child Abuse Recognition and Reporting.