NRS 451 Health Organization Evaluation
NRS 451 Health Organization Evaluation
NRS 451 Health Organization Evaluation
Health organizations operate in a changing and intricate environment due to healthcare reforms and changes focused on meeting increased care demands, the need to lower costs, and ensure patient care quality. Imperatively, these entities require an effective operational strategy and a well-crafted strategic plan to meet the present and future care demands. These organizations must evaluate their operations to identify underlying issues and opportunities that are essential to their long-term success (Buchbinder et al., 2019). The purpose of this paper is to evaluate Providence Health as one of the leading national healthcare systems operating across the country. The paper describes the organization and evaluates its readiness and offers a strategic plan to help it in network growth, management of its resources, and patient satisfaction. It also looks at potential issues in the organizational culture that may impact the realization of the proposed strategic plan.
Description of Providence Health & Services (Providence)
Providence Health and Services (Providence) is a not-for-profit Catholic healthcare organization that operates multiple facilities and clinics across the seven western states and headquartered in Renton, Washington. The health system operates in Alaska, California, Montana, New Mexico, Oregon, Texas, and Washington. The health system was founded in 1859 by the Sisters of Providence, a Catholic nun congregation founded in Montreal, Quebec Canada (Providence, 2023). Providence Health and Services was created formally on 1 January 2006 after the merger of Providence Health System, the progenitor firm, and Providence Services. The system runs 52 hospitals and 950 clinics. It also boasts over 120,000 caregivers or employees with over 36,000 nurses and 23,000 physicians who include specialists. The health system engages in research with over 1,700 published research studies. The system also covers 1.9 million lives and sees more than 28 million patient visits. It has also established nursing schools and a university to train its healthcare providers.
Providence also boasts 17 supportive housing facilities and offers one health plan for all its patients and communities that it serves. The plan shows that the system is keen on providing care to patients irrespective of their background based on its mission statement of expressing God's healing love witnessed through the ministry of Jesus and being steadfast in serving all, especially the poor and vulnerable. Providence uses its voice to advocate for vulnerable populations that include low-income families and the uninsured (Providence, 2023b). The organization focuses on treating patients holistically through their minds, body, and soul or spirit. The care it offers is consistent with its core values of compassion, dignity, justice, integrity, and excellence. The organization uses these core values at every stage of care delivery; from diagnosis to treatment and even health promotion.
Organization's Readiness Based on the Findings
Organizations demonstrate their readiness to meet diverse patient needs through innovative approaches and responding to changes and transformations in healthcare delivery, especially in dealing with emerging issues and increased deployment of health technologies to deliver care (Dearing, 2018). Based on the evaluation of Providence Health, it is evident that the organization is ready to meet the ever-changing and dynamic patient needs and health promotion. Firstly, Providence's core values and mission statement demonstrate its readiness to serve communities and patients irrespective of their socioeconomic status. The organization welcomes input from community members and current patients to enhance new care pathways and innovate novel products and services as well as help offer a better digital experience through the provision of virtual health (Providence, 2023). These surveys offer data that the organization analyzes to help initiate new care approaches, policies, and processes to enhance patient satisfaction and promote positive patient outcomes. The system has also invested in virtual health to expand access and lower the cost of care, especially for vulnerable and uninsured individuals and households.
Secondly, Providence collaborates through its affiliate family with facilities in West Texas and New Mexico, California, and Washington. These facilities offer comprehensive healthcare to patients and advance best practices and continue the organization's over-a-century tradition of serving the poor and vulnerable in the community. The expanded network and specialty facilities across the seven states demonstrate the health system's focus on being ready to meet the growing patient and health population needs across the age and care continuum. The system has one plan that incorporates all patients, irrespective of their status, as an illustration of its overall readiness (Providence, 2023b) Studies are categorical that healthcare demand will increase due to aging, and rising population; especially fueled by immigration and diverse patients that will implore providers to integrate culturally-sensitive care (Mannion & Davies, 2018).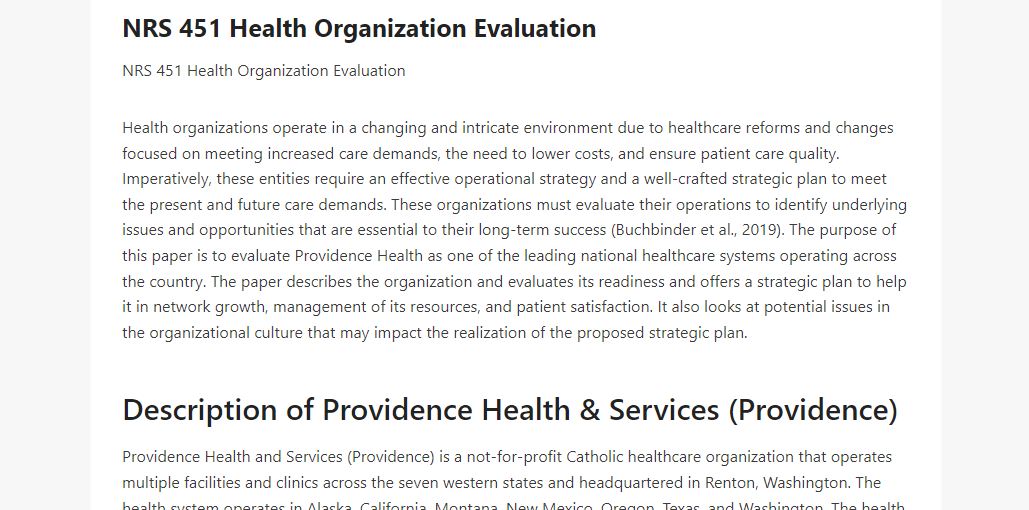 Strategic Plan on Network Growth, Nurse Staffing, Resource Management & Patient Satisfaction
A strategic plan is a general pathway that offers an organization direction to attain its set goals and align them with the established mission and vision. The strategic plan entails an action plan and timelines to reach the set goals (Buchbinder et al., 2019). Providence Health can leverage the proposed strategic plan to address network growth, nurse staffing, management of resources, and patient satisfaction.
The analysis of its network shows that the organization has a strong foundation that can accelerate its growth, especially through collaboration. To expand its network, the organization must focus on specialty clinics in areas that do not have sufficient services. Getting rural areas in Alaska, Oregon, and New Mexico would provide new growth opportunities for the health system. The organization can also partner with more educational institutions to conduct more research on ways to serve the needs of different populations or demographics. The growth of its network implies a rise in the number of its workforce, especially nurses (Greiner et al., 2021). As the system boasts over 36,000 nurses, it should ensure that they are specialized in different areas to improve service delivery to certain populations. Managing nurses using an integrated system will also help to improve efficiency by assigning them based on case demands. Such a system leads to the effective allocation of resources and available nursing staff without causing burnout, turnover, and any associated levels of fatigue. The system can also leverage increased deployment of technology to enhance access for patients, especially those with chronic conditions and in remote areas who need close monitoring.
Patient satisfaction should remain a top priority for Providence Health. Satisfied patients lead to a better reputation and increase the number of people served as well as attract new talent to the system. A core strategy for improving patient satisfaction levels is to educate nurses on the use of evidence-based practice approaches to offer quality care and leverage technologies to improve access (Westwood et al., 2018). By increasing the resources used in the network, customers can get quality care at any time and anywhere. Tracking patient health, offering timely solutions to issues that emerge, and adopting technologies and tools are also effective strategies to attain patient satisfaction based on the services provided by the system.
Issues with the Organizational Culture & Impact on Strategic Planning
Providence Health operates in seven states and it can face two critical issues that may affect the overall attainment of the strategic plan. These include managing a diverse culture of its employees, patients, and the communities that it serves, especially in expanding services, and communication. Multicultural organizations encounter conflicts that may affect the overall quality of services delivered (Mannion & Davies, 2018). Again, the provision of culturally competent and sensitive care is critical in healthcare to meet unique patient needs and satisfaction. Imperatively, the health system that can address cultural issues and improve cultural skills within their workforce and operations can enhance their operational and workplace environment and quality of care for their customers.
Effective communication between employees working in the network may also be a challenge because of the size of the workforce and their situation in different states. The implication is that the organization must focus on how to standardize or adapt its communication based on its core values and mission, irrespective of the health facility and clinic's location (Meesala & Paul, 2018). If it does not configure and manage the communication system well, coordination of the parties in the network can be a problem and this leads to conflicts or inefficient patient care.
Model to Support the Implementation of Providence's Strategic Plan
The evaluation shows the need for improved interconnectivity and coordination within the healthcare system. As such, the most appropriate model to support the implementation is the systems theory which proposes that organizations as entities are made up of functional and interconnected systems that are influenced by the environment in which they operate (Anderson, 2018). Strategic plans to expand the network should address the changing markets they seek to enter and meet patient needs. Again, change models like Lewin's change process are critical to aiding the system theory to improve the attainment of the set goals. Therefore, the adoption of resources, human capital, and operations in these new market environments is essential to the success of strategic planning.
Conclusion
Health systems should evaluate their strategic positions and develop strategic plans to meet the rising care demand and needs of patients. The analysis of Providence Health and Services (Providence) shows that the organization is ready to meet the healthcare needs of diverse populations that it serves across the seven states. The paper develops a strategic plan that entails looking at network growth and nurse staffing as well as resource management and patient satisfaction to make the organization better placed to remain competitive and attain its mission, goals, and objectives.
References
Anderson, B. R. (2018). Improving health care by embracing Systems Theory. The Journal of
thoracic and cardiovascular surgery, 152(2), 593-594. DOI: 10.1016/j.jtcvs.2016.03.029.
Buchbinder, S. B., Shanks, N. H., & Kite, B. J. (2019). Introduction to health care management.
Jones & Bartlett Learning.
Dearing, J. W. (2018). Organizational readiness tools for global health intervention: A review.
Frontiers in Public Health, 6(56), 1-6. DOI: 10.3389/fpubh.2018.00056.
Greiner, J., Naik, H., Liu, D., & Ballouk, H. (2021, June). Learning from the first wave: Lessons
about managing patient flow and resource utilization on medical wards at providence health during the COVID-19 pandemic. Healthcare, 9(2): 100530. DOI: 10.1016/j.hjdsi.2021.100530
Mannion, R., & Davies, H. (2018). Understanding organizational culture for healthcare quality
improvement. BMJ, 363, k4907. DOI: https://doi.org/10.1136/bmj.k4907
Meesala, A., & Paul, J. (2018). Service quality, consumer satisfaction and loyalty in hospitals:
Thinking for the future. Journal of Retailing and Consumer Services, 40, 261-269. https://doi.org/10.1016/j.jretconser.2016.10.011
Providence Health (2023). About Us. https://www.providence.org/about
Providence Health (2023b). Providence Health Plan. https://www.providencehealthplan.com/
Westwood, G., Richardson, A., Latter, S., Macleod Clark, J., & Fader, M. (2018). Building
clinical academic leadership capacity: sustainability through partnership. Journal of
Research in Nursing, 23(4), 346-357. https://doi.org/10.1177/1744987117748348