NRS 451 Discuss the purpose of strategic planning in a health care environment
NRS 451 Discuss the purpose of strategic planning in a health care environment
NRS 451 Discuss the purpose of strategic planning in a health care environment
Are different types and levels of strategies with different purposes to bring an organization's actions to align the action for its stated mission and values (Master of Health Administration., 2021). All healthcare settings are more focused on patient-centric care, approaches are valuable and reliable. To achieve their requirements many systems follow the old and traditional models with modified changes. This is supported by Backer's Hospital review that the organization is having to recalibrate its healthcare strategies to suit current market trends and changing approaches to patient care.
The levels of healthcare strategies are explained by The American College of Healthcare Executives (ACHE) the healthcare strategies vary in types such as prospective or emergent, and at the organizational level which includes corporate, business, or functional. Both strategies are helpful to make a progress toward their long-term goal. Prospective or emergent strategies involve the retrospective analysis of the events to make a better decision for the future. The implementation of new healthcare policies, changes in the prices of prescription drugs, and the effect of an epidemic disease can fluctuate the market and requires continually experiment and adaptation of new policies. It is a good point about emergent strategies it should be flexible and able to re-evaluate internal strategies according to current marketing. At the level of corporate, it involves a board of directors, executive leaders, and stakeholders play an important role in the decision-making process. It also helps in clarifying the picture goal and identifies the mission of an organization. Advanced education related to the development, goal achievement, analysis, creation, and implementation of strategies are the best tools for professional development and standard patient health care.
Strategic planning enables managers to achieve their organizational goals and objectives. Hospital goals, such as improving service quality and increasing patient satisfaction cannot be achieved if agreed strategies are not implemented. The research study investigates the purpose to check the effects of factors in strategies implementation, and measurement in a hospital using interpretive structural modeling (ISM). The author involves experts and senior managers of organizations. The information collected from managers with a questionnaire designed and analysis of previous studies helps to evaluate five factors affecting strategies plan implementation. The senior manager's awareness and participation in the strategic planning process, creating and maintaining team participation in the strategies planning process, organizational structure effects on strategies planning, and organizational culture effects on the planning process are the factors affecting the improvement and relationship among factors and the overcoming the barriers in the achievement of goals and outcomes of planning (Bahadori M., et al, 2018).
The other article explains the failure of some companies without proper planning and poor implementations of strategies. It is like walking in a dark room without any clue of direction or a light. There are 6 different factors involved in planning for success such as management and executive time/input, commitment, cost, research, assumptions, and review are key factors required in planning strategies to achieve goals (Bhasin H. (2018).
References
Bahadori M., Teymourzadeh E., Tajik H. Ravangard R., Raadabadi M., Hossein S. M.i. (2018, June 11). Factors affecting strategic plan implementation using interpretive structural modeling (ISM). National Library of Medicine. https://pubmed.ncbi.nlm.nih.gov/29865959/
Bhasin H. (2018, February 22). 6 important factors in planning. MARKETING91. https://www.marketing91.com/6-important-factors-planning/
Master of Health Administration. (2021, October 29). Understanding Strategic Planning in Healthcare Organizations. Regis College. https://online.regiscollege.edu/blog/understanding-strategic-planning-health-care-organizations/
Effective planning in the administration of healthcare may contribute to the generation of clarity and increase communication. In the strategic plan, each of the key issues, as well as the organization's vision and objectives, as well as the measures to achieve those goals, should be addressed. When it comes to healthcare facilities, having strategic planning that is effectively formulated, put into action, and communicated to personnel might be of great assistance in achieving long-term goals for a bright future. Every sector of the healthcare business has to collaborate in order to improve their efficiency and quality of care. Effective models of strategic planning may bring people in the healthcare business together to deliver high-quality treatment, exceptional customer service, and increased efficiency.
Bryson, J. M., Edwards, L. H., & Van Slyke, D. M. (2020, April 13). Getting strategic about strategic planning research. Experts@Minnesota. Retrieved November 19, 2022, from https://experts.umn.edu/en/publications/getting-strategic-about-strategic-planning-research
Strategic planning in healthcare organizations involves creating objectives and setting goals for where the organization sees itself in the long-term (Strata, 2018). The strategic plan is necessary for any organization to be successful so they can be prepared for whatever may come along. Any government changes, financial events or technological new trends must always be expected and anticipated in any change made by the organization. The goals of a healthcare organization involves staying within budget. Strategic planning is an example of one of the many tools that the health sector has adopted from the business sector in an attempt to manage an extremely complex and financially constrained system, which often exists in conflicts with political and professional pressures (Dennis, 2019). Covid-19 was a political pressure issue that made most healthcare organizations change how they normally operate. There were staff shortages due to stress burnout and some retired and left the healthcare profession as a result. Most organizations learned so much from the pandemic upgrading ventilation systems, expanded vendor relationship(to improve supplies) and extended medical care with Telehealth due to many patients fear of getting infected. The most important to healthcare professionals was the implementation of coping strategies to help healthcare workers cope with various work related challenges.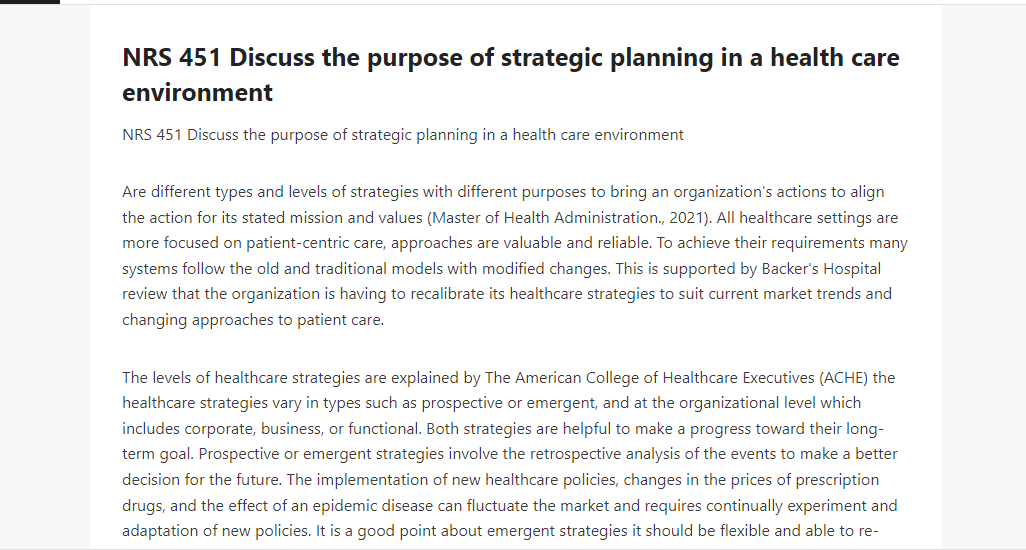 Reference:
Dennis, C. (2019). Strategic Planning–a health system operational perspective. Journal of Hospital Management and Health Policy, JHMHP. Vol 3.
Why Strategic Planning is Important in Healthcare. Strata. Blog.
Strategic planning is a process in which an organization's leaders define their vision for the future and identify their organization's goals and objectives (Whitney, 2018). The process includes establishing the sequence in which those goals should be realized so that the organization can reach its stated vision. A healthcare organization engages in strategic planning to reduce costs, improve quality and service, and ensure access to care.
Having a strategy in place holds everyone involved accountable. This means an increased commitment from your team and faster work processes (Haines, 2014).
Strategic planning helps healthcare organizations to become proactive rather than reactive. Through strategic planning, providers can anticipate unfavorable events much before they occur and take the necessary precautions before they happen. I think Covid taught us why this is so important.
Additionally, planning for the future delivery of health services is essential if we are to successfully meet the health needs of our growing and aging population.
Stephen G. Haines (2014). ABCs of strategic management: an executive briefing and plan-to-plan day on strategic management in the 21st century.
Whitney, S. (2018).  Roles and Responsibilities in Leadership and Management. In GCU (Ed.), Nursing Leadership & Management: Leading and Serving. Retrieved from https://lc.gcumedia.com/nrs451vn/nursing-leadership-and-management-leading-and-serving/v1.1/#/chapter/2
The pandemic caused organizations to implement a new strategic plan focusing on the social determinant of those without healthcare to make it more accessible for everyone. As the pandemic continues to disrupt the world, strategic planning in healthcare can enable organizations to build resilience and prepare to adapt (Athens State University, 2022). So many people lost their jobs and health insurance because the pandemic caused businesses to close. I personally lost my second temporary job in a outpatient surgical facility because their were less surgical procedures being scheduled. The surgeons only scheduled four procedures a day, instead of the twelve we were used to scheduling. Social distancing was needed to keep patients and employees safe when they were most vulnerable after surgery. Most organizations were able to overcome the negative effect of Covid-19 with strategic planning.
Reference:
Why Strategic Planning in Healthcare is Essential Post-Pandemic. (2022). Athens State University. Blog.