NRS 451 Discuss how nurse managers and nurse leaders contribute to the reengineering of health care
NRS 451 Discuss how nurse managers and nurse leaders contribute to the reengineering of health care
NRS 451 Discuss how nurse managers and nurse leaders contribute to the reengineering of health care
Nurse leaders are responsible for staying educated and informed on the latest evidence-based practices. They can implement and evaluate their effectiveness and influence change in policies and procedures. Patient safety and outcomes should be the main focus amongst all the staff members in the organization. The main focus of the leader should be toward the quality of delivery of care, while balancing other areas of management, such as productivity. Leaders should also be up to date on the latest policies and procedures of the organization. They have the ability to share ideas about current practices that are effective, in order to assist with modifying or making changes to current policies or procedures. Nurse leaders are in the position to influence changes in legislation as well. Nurse leaders can participate as members in professional nursing organizations to stay up to date on the latest practices, and/or changes in legislation. "Clinical inquiry is the combination of quality improvement, research, and evidence-based practices, which nurse leaders use to ensure that patients are receiving quality patient-centered care (Helbig, 2018)."
Nurse leaders must also consider the organization's mission statement and values, and identify which staff members are not practicing behaviors that align with them. They must be able to do what is not always easy, such as address issues amongst staff members as well as with patients.
Reference:
Helbig, J. (2018).  Reengineering Health Care Management. In GCU (Ed.), Nursing Leadership & Management: Leading and Serving. Retrieved from https://lc.gcumedia.com/nrs451vn/nursing-leadership-and-management-leading-and-serving/v1.1/#/chapter/5
As you stated it is definitely necessary that nurse leaders stay educated and informed on the latest evidence-based practices. Nurse managers and nurse leaders contribute to the reengineering of healthcare through two steps delegation and evaluation. Delegation is the act of appointing someone to carry out the task. In 2015 the National Council of State Boards of Nursing (NCSBN) "convened two panels of experts representing education, research, and practice, and the goal for the guidelines from the National Council of State Boards of Nursing to facilitate and standardize the nursing delegation process (National Council of State Boards of Nursing., 2016). The objective of developing panels is to understand the evidence-based standards for delegation in nursing and recognize the difference between delegation and assignment and define the responsibilities of each level of nursing in healthcare. The five rights of the delegation also included the right task, right circumstances, right person, right direction & communication, and right supervision & evaluation.
Evaluation is the systemic process for obtaining valid information about the performance of an organization and the factors that affect performance"(Rojas & Laidlaw, n.d., para 1). It is a responsibility of a nurse manager or a leader to evaluate the performance and find a responsible person to delegate the task and evaluate the assignment for the desired goal or to check the work performance to meet the standard of nursing. Public protection with the recognition of tasks, the patient needs, communication-related to the delegation process, delegation competency level mastery, training and education, and two-way communication is necessary to achieve successful results.
References
National Council of State Boards of Nursing. (2016). National guidelines for nursing delegation. Journal of Nursing Regulation, 7(1), 5-14. Retrieved December 10, 2022, from https://www.ncsbn.org/NCSBN_Delegation_Guidelines.pdf
Rojas, K., & Laidlow, J. (n.d.). Evaluating the performance of an organization. Retrieved December 10, 2022, from http://www.betterevaluation.org/en/theme/organizational_performance
Nurse leaders must create environments and opportunities for staff innovation; communicate expectations concerning time commitments and acceptable levels of risk; and allow for failures (OJIN, Thomas et al.,2016). Healthcare leaders need to consider changes that will be required to improve the quality of patient outcomes, increase care access, and reduce cost in light of new technologies including telemedicine and more educational of healthy lifestyle resources. Nurse leaders with their training, skills and innate resourcefulness, are qualified to help shape what healthcare is, into what healthcare should be in the future. Reengineering healthcare by leadership will need to drive their organizations to achieve improved outcomes in quality, safety and effectiveness of care delivery by using the value-based approached.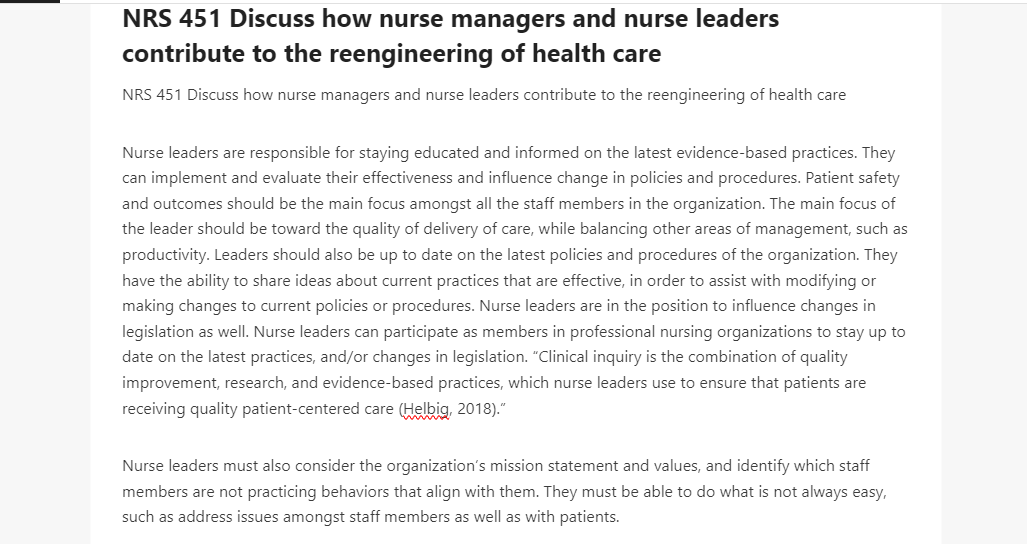 Reference:
Thomas, T.,Seifert, P.,Joyner, J. (2016) Registered Nurses Leading Innovative Changes I OJIN. The Online Journal Of Issues In Nursing. A Scholarly Journal of the American Nurses Association.
The reengineering process of the healthcare system involves several strategies that focus on patient-centered care and utilize evidence-based practices (Alvarez et al., 2019). The reengineering model includes the collaborative efforts of healthcare professionals from various disciplines in the strategic planning process (Alvarez et al., 2019). The strategic planning process involves changes that result in improvements in the quality, efficiency, and efficacy of the healthcare system (Alvarez et al., 2019). Continuous quality improvements (CQI) are necessary to manage the complexity and highly variable healthcare system (Alvarez et al., 2019).
Nurse managers have several responsibilities which contribute to the reengineering of the healthcare system. Managers are responsible for the nursing workforce in their departments (Kerfoot, 2021). Nurse managers ensure that nurses are educated, trained, and competent as care providers (Kerfoot, 2021). Managers are also responsible for the schedules and evaluations of their employees (Kerfoot, 2021). Nurse managers will also identify goals for the department and ensure that these goals are attained within the allotted time frame (Kerfoot, 2021). Managers are also responsible for the departmental budget is balanced, ensuring that electronic health records systems are functioning and that technological device are calibrated and operational (Kerfoot, 2021).
Nurse leaders have several responsibilities that contribute to the reengineering of the healthcare system. Leaders focus on improving the quality, efficiency, and patient-centered provision of care (Kerfoot, 2021). In addition, leaders will focus on evaluating the health outcomes of patients and communities (Kerfoot, 2021). Strong leadership is crucial in the development of nurses, the organizational culture, and the healthcare environment (Kerfoot, 2021). Effective leadership has been directly correlated with increases in the competencies of staff, greater patient satisfaction scores, and optimal health outcomes for patients (Kerfoot, 2021). Strong nurse leaders are also responsible for better patient health outcomes including decreased incidences of medication errors, hospital-acquired infections, and patient mortality (Kerfoot, 2021).
References:
Alvarez, J.A., Flores, R.F., Grau, J.A., & Matarranz, J. (2019). Process Reengineering and Patient-Centered Approach Strengthen Efficiency in Specialized Care. The American Journal of Managed Care. 2019, February 6th. Volume 25, Issue 2. https://ajmc.com/view/process-reengineering-and-patientcentered-approach-strengthen-efficiency-in-specialized-care
Kerfoot, K. (2021). How Nurse Leaders Drive Change and Affect Strategic Goals. Symplr. 2021, November 22nd. https://symplr.com/blog/nurse-leaders-drive-change-affect-strategic-goals
Reengineering healthcare is the process of reconstructing processes and procedures through change according to health priorities. The purpose of reengineering healthcare is to promote optimal quality outcomes, patient safety, and cost-effectiveness. Nurse managers and nurse leaders are at the forefront of reengineering efforts in healthcare through their expertise, knowledge, and available evidence (Nene & Ally, 2020). Nurse leaders and nurse managers contribute to the reengineering of healthcare by leading and directing strategic change. For example, nurse leaders set strategic vision, plans and objectives to attain that vision. Through these, they implement changes based on evidence-based principles that contribute to quality improvement (Majers & Warshawsky, 2020). On the other hand, nurse managers are involved in hands-on activities to execute change tasks to attain the desired goals. As part of quality improvement initiatives, nurse leaders and nurse managers evaluate processes such as workflow to identify potential issues and then redesign the process to promote quality and safety outcomes for patients and be more efficient for the clinical staff.
Nurse leaders and nurse managers contribute to healthcare reengineering through participation in policy development and policy changes within the organization and the wider community. Nurse leaders and managers constantly review policies to determine their effectiveness; therefore, update and propose other policies that promote better health outcomes for populations. In particular, nurses contribute to policies that enhance health access to underserved and vulnerable populations as part of reengineering health care to be more equitable (Thomas, 2018). Nurse leaders and nurse managers also contribute to healthcare reengineering by championing and implementing informatics and other health IT systems. They use evidence to support the benefits of these systems in improving healthcare delivery, promoting patient safety, and enhancing quality outcomes.
References
Majers, J., & Warshawsky, N. (2020). Evidence-Based Decision-Making for Nurse Leaders. Nurse Leaders, 18(5), 471-475. https//doi.10.1016/j.mnl.2020.06.006.
Nene, S. E., & Ally, H. (2020). Nurse managers experiences of their leadership roles in a specific mining primary healthcare service in the West Rand. Curationis, 43(1). https://www.doi.10.4102/curationis.v43i1.2129.
Thomas, T. W. (2018). Registered Nurses Leading Innovative Changes. OJIN: The Online Journal of Issues in Nursing, 21(3). https://doi.org/10.3912/OJIN.Vol21No03Man03.
Today, health care must reengineer its care delivery model to manage the chief medical crisis of the 21st century, chronic disease. Health care/system redesign involves making systematic changes to primary care practices and health systems to improve the quality, efficiency, and effectiveness of patient care. Nurses play an important role in adopting strategies for transforming a practice to improve quality, reduce costs, and better satisfy the needs of patients and families, incorporating preventive services and self-management support into care. Nurses should also empower all clinic staff to suggest and help implement effective changes, and develop leadership for change and ongoing quality improvement.
A good leader is pivotal to play the role as a re-engineering of health care. A leader can sheer staff, patients, and their families through difficult decision-making processes. As laid out in our lecture notes, a leader can assist in the navigation of ethical decision-making, which impacts legal issues, patient, and staff conflict, change, conflict resolution, and communication.
Whitney, S. (2018). Theories and Concepts in Leadership and Management. Retrieved from Nursing Leadership & Management:: https://lc.gcumedia.com/nrs451vn/nursing-leadership-andmanagement-leading-and-serving/v1.1/#/home
Helbig, J. (2018). Reengineering Health Care Management. In Grand Canyon University (Ed.). Nursing Leadership & Management: Leading and Serving Chapter 5. https://lc.gcumedia.com/nrs451vn/nursing-leadership-and-management-leading-and-serving/v2.1/#/chapter/5