NRS 451 Discuss how nurse leaders serve as advocates for their employees
NRS 451 Discuss how nurse leaders serve as advocates for their employees
NRS 451 Discuss how nurse leaders serve as advocates for their employees
Clinical nurse leaders have an important role as advocates for changes in the healthcare system (Bellucci, 2021). Nurse leaders advocate for justice and equal rights for patients and communities to access healthcare and services (Bellucci, 2021). Clinical nurse leaders have the responsibility of communicating strategies to attain health equity for all citizens (Azar, 2021). Nurse leaders are highly proficient and knowledgeable about developing strategies to attain health equity (Azar, 2021). Nurse leaders and nurses have earned the opportunity to collaborate with administrators and other healthcare professionals in developing strategies that revolutionize healthcare (Azar, 2021). The ability of nurse leaders and nurses to initiate changes was observed during the COVID-19 pandemic (Azar, 2021). They informed and protected the health of the community by advocating for public health measures to be adopted such as social distancing, washing hands, getting immunized, and wearing masks (Azar, 2021).
Nurse leaders advocated for more personal protective equipment for nurses and other healthcare professionals during the pandemic (Stamps et al., 2021). They advocated measures to ensure that nurse colleagues be given adequate personal protective equipment as they cared for patients who were highly contagious (Stamps et al., 2021). Nurse leaders also educated and trained nurses on the utilization of protective equipment and measures to prevent becoming ill (Stamps et al., 2021). Healthcare leaders had the weighted responsibility of ensuring the health and safety of patients as well as their healthcare professionals (Stamps et al., 2021). Nurse leaders utilize their power to advocate and communicate the importance of the health and well-being of the nursing workforce (Stamps et al., 2021). Healthcare professionals are essential in the promotion of preventative health measures and the provision of care (Stamps et al., 2021). Clinical nurse leaders and nurses are needed to continue to provide high-quality and safe care so that positive health outcomes can be attained by patients and communities (Stamps et al., 2021).
References:
Azar, K.M. (2021). The Evolving Role of Nurse Leadership in the Fight for Health Equity. Nurse Leader. 2021, December. Volume 19, Issue 6, 572-575. https://doi.org/10.1016/j.mnl.2021.08.006
Bellucci, N. (2021). Improving Nurse Leadership Through Stewardship, Shared Governance, and Advocacy. Daily Nurse: The Pulse of Nursing. 2021, January 12th. https://dailynurse.com/improving-nurse-leadership-through-stewardship-shared-governance-and-advocacy
Stamps, D.C., Foley, S.M., Gales, J., Lovetro, C., Alley, R., Opett, K., Glessner, T., & Faggiano, S. (2021). Nurse Leaders Advocate for Nurses Across a Health Care System. Nurse Leader. 2021, April. 19(2), 159-164.
In various ways, nurse leaders act as advocates on behalf of patients, nurses, and the profession as a whole. This advocacy involves taking steps that contribute to the creation of positive working environments. When nurse leaders look out for the best interests of their employees, a trusting connection develops and valuable communication is achieved. Leaders advocate by establishing goals for the unit, establishing criteria for the task of the nurses, avoiding burnout, engaging employees in decisions and establishing standards for the safety of the workplace, all of which contribute to creating an environment that is favorable for all. Through these activities, the nursing staff and leaders rise to the occasion, come up with innovative ideas, and improve the system technologically (Stamps et al., 2021). When nurse leaders achieve these principles, they can work together with employees and other healthcare professionals to achieve exemplary patient care. Higher levels of engagement among employees are associated with lower levels of burnout and higher levels of job satisfaction (Bergstedt & Wei, 2020). As a result, nurses have an excellent prospect of delivering adequate patient care and a better understanding of patients' needs.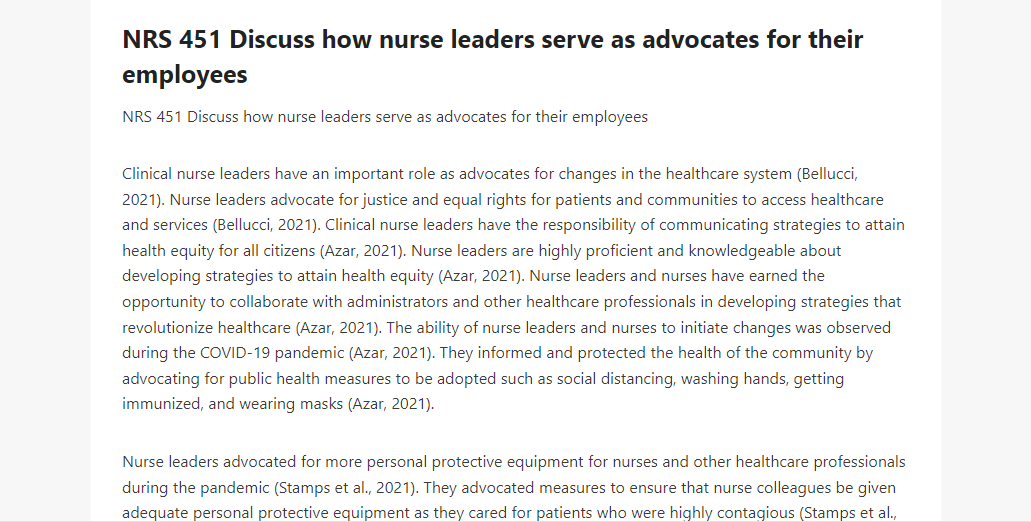 References
Bergstedt, K. BSN, RN, CMSRN; Wei, H. PhD, RN, CPN. Leadership strategies to promote frontline nursing staff engagement. Nursing Management (Springhouse): February 2020 – Volume 51 – Issue 2 – p 48-53 DOI: 10.1097/01.NUMA.0000651204.39553.79
Stamps, D. C., Foley, S. M., Gales, J., Lovetro, C., Alley, R., Opett, K., Glessner, T., & Faggiano, S. (2021). Nurse Leaders Advocate for Nurses Across a Health Care System: COVID-19. Nurse leader, 19(2), 159–164. https://doi.org/10.1016/j.mnl.2020.07.011
I agree with your response and your mention of nurses feeling supported enough to speak up. A poor understanding of the importance of speaking up would elicit a negative response, but it is important in promoting and ensuring patient safety.
Among health care professionals in varying practice settings, the nurses close contact with patients allows them the advantage of proximity to observe and address patient safety issues. Nurses are well positioned to detect early signs of health hazards, and can bring them to the attention of other medical personnel. Therefore, it is vital for clinical nurses to voice their concerns regarding patient safety to prevent harm to patients. However "research has shown that nurses voice their concerns less often when they perceive patient safety issues in hospital settings, compared with other health care professionals" (NCBI, 2021) Speaking up' is defined as " the raising of concerns by health care professionals for the benefit of patient safety and care quality upon recognizing or becoming aware of the risky or deficient actions of others within health care teams in a hospital environment"(NCBI, 2014) These include incorrect diagnoses or substandard clinical performance and failure to operate within set guidelines. Organizational research indicates that, in many cases, "people choose the 'safe' response of silence, withholding input that could be valuable to others or thoughts that they wish they could express"(NCBI, 2014) As nurses, speaking up for patient safety can be defined as "discretionary, facilitating change, communication in clinical situations using questions or statements with information, concerns, or opinions about safety-related issues"(NCBI, 2021) It is vital that nurse leaders concentrate efforts to provide a working environment open for important information to be communicated.
Okuyama, A., Wagner, C., & Bijnen, B. (2014). Speaking up for patient safety by hospital-based health care professionals: a literature review. BMC health services research, 14, 61. https://doi.org/10.1186/1472-6963-14-61
Lee, S. E., Choi, J., Lee, H., Sang, S., Lee, H., & Hong, H. C. (2021). Factors Influencing Nurses' Willingness to Speak Up Regarding Patient Safety in East Asia: A Systematic Review. Risk management and healthcare policy, 14, 1053–1063. https://doi.org/10.2147/RMHP.S297349
The nurse leaders advocate for the nurses, patients, and the profession by ensuring the appropriate resource allocation, promoting a positive work environment, and enabling staff to autonomously address concerns. Leaders also fulfill the advocacy role by protecting nursing resources during times of budget scrutiny, work process redesign, or workflow change (Tomajan,2012). Nursing leaders promote a healthy work environment when they support open communication, collaboration, and conflict resolution skills, and staff can advocate more effectively for themselves and their colleagues. Successful nurse leadership as a change agent hinges on promoting and empowering nursing engagement. A nurse leader must look beyond point-of-care issues to develop a global view of the interconnections, environments, and stakeholders within the complex healthcare system (0'Keeffe, 2019). Fostering the development of conflict resolution skills and addressing unprofessional behavior, including incivility, promotes an environment in which advocacy can flourish (Tomajan,2012). A nurse leader advocating for work environment safety, professional growth, and proper allocation of resources definitely encourages staff to work with dedication and give their best during patient care. Encouraging the nursing staff for their professional growth, and advocating for providing the needed in-service education in the areas where they lack knowledge is also a great way to improve their knowledge and skill in providing care which in turn ensures effective patient care. When the employees are supported through education, and training, it leads to decreased errors, increased accountability, and optimal patient outcome (Thomas, 2018). Employees that work in a safe and satisfying environment with a good support system will be able to advocate for their patients as well, thus providing safe and effective care for patients, and enhancing their recovery and safety.
References:
O'Keeffe, C. (2019, July 1). Engagement is a choice: What Every Medical Surgical Nurse Should Know About Advocacy and Leadership. Med-Surg Matters. Retrieved from https://eds-s-ebscohost-com.lopes.idm.oclc.org/eds/pdfviewer/pdfviewer?vid=1&sid=6a3019ab-45a7-4701-b470-78b664bca09b%40redis 
Thomas, J. S. (2018). Nursing Leadership & Management: Leading and serving. Retrieved from https://lc.gcumedia.com/nrs451vn/nursing-leadership-and-management-leading-and-serving/v2.1/#/chapter/4 
Tomajan, K. (2012, January 31). Advocating for Nurses and Nursing. OJIN. Retrieved from https://doi.org/10.3912/OJIN.Vol17No01Man04
A nurse leader plays many roles in healthcare settings or organizations. Advocacy is one of the important roles of a nurse for her patients and other employees working as team members. Advocacy is a process to take an action to create a change for something, and it is a step to organize ourselves to take an issue. it is also known as the power to speak the truth about the negative impacts on someone's life. It is also a way to express someone's feelings or convey a massage the person is not able to approach directly.
Advocacy is defined by Merriam-Webster Collegiate Dictionary as the act or process of supporting a cause or proposal. An advocate is defined as one that pleads, defends, or supports a cause or interest of another. The role of an advocate is to work on the behalf of self/or others to raise awareness of a concern and to find the solution to a problem. It is a process to work through formal, decision-making individuals to achieve the desired outcome. This process is including a "chain of command" with a healthcare organization, a commission, a state legislature, or another group at the healthcare system's policy level (Tomajan, 2012). Another dentition of nursing advocacy is "to serve as a bedrock for supporting problems affecting nursing practice, profession as a whole, and health care issues. Every nurse has a professional mandate to advocate for the profession and answer the call to action to be the voice in all issues affecting nursing and patient care (Downs S., Lopez N. F., 2022). Nursing is involved a safe, healthy environment for patients and employees in healthcare settings. Nurse leaders should be promoting the ideas and policies which are beneficial for the nursing profession and colleagues as a whole. A nurse leader advocates for patients, the profession, and the community to inherence to the role of health professionals. advocacy is not limited to the health care settings or a hospital but covers the areas at the local state, and federal levels and communities.
Advocacy for a patient:- While advocating for a patient a nurse leader should follow ANA's Code of Ethics for Nurses, which includes the importance of respecting, honoring, protecting, and providing a safe environment for patients. Nurses should educate the patient and communicate their needs and concerns. Treating a patient with respect, honoring the wishes of a patient, protecting the dignity and rights of a patient, and proper communication between the patient and providers, providing details about their concerns like disease, diagnosis, treatment options, and prevention measures including healthy lifestyle and daily exercises, involving their families and contact to involved health team, and providing information about resources available for patient and helping change their policies are some strategies a nurse leader can follow for effective advocacy for a patient (Advocacy in Nursing: Resources for Nurse Practitioners., 2021).
Advocacy for professionals or employees:- A role of the nurse leader is to provide knowledge of health, healthcare, and the nursing profession to promote a safe and friendly environment for workers and work smoothly to provide and promote safe care for patients. A good nurse leader accumulates the staff with organizations policies, decision-making skills, effective communication and provides relevant data. Nurse leaders always try to fix the problems such as shortage of staff to ensure safe and adequate care for patient and employee safety. Other concerns like inequities in the provision of health care like ethnic minorities, immigrants, and low-income individuals need to discuss to prevent the effect of services and to receive the care they deserve. Prevention of violence at the workplace is another concern for health settings. The violence can be from patients, families, or staff members. Taking control of this issue are necessary for the safety of patient and employees for better care and desired outcomes. Regular checks and education regarding infection control can help to provide a healthy environment for all individuals receiving services.
References
Advocacy in Nursing: Resources for Nurse Practitioners. (2021, December 6). Norwich University Online. https://online.norwich.edu/academic-programs/resources/advocacy-in-nursing#
:~:text=Advocacy%20in%20nursing%20also%20can%20involve%20promoting%20ideas,in%20hospitals.%20Nursing%20advocacy%20isn't%20limited%20to%20hospitals.
Downs S., Lopez N. F. (2022, February). Getting Comfortable With the Uncomfortable: Nurse Leader as Advocate—One Leader's Story. ScienceDirect. https://www-sciencedirect-com.lopes.idm.oclc.org/science/article/pii/S1541461221002275?via%3Dihub
Tomajan K. (2012, January 31). Advocating for Nurses and Nursing. OJIN THE ONLINE JOURNAL OF ISSUES IN NURSING. https://ojin.nursingworld.org/MainMenuCategories/ANAMarketplace/ANAPeriodicals/OJIN/TableofContents/Vol-17-2012/No1-Jan-2012/Advocating-for-Nurses.html