NRS 451 Discuss barriers caused by an organizational culture that can be encountered by nursing leaders that can make them feel powerless
NRS 451 Discuss barriers caused by an organizational culture that can be encountered by nursing leaders that can make them feel powerless
NRS 451 Discuss barriers caused by an organizational culture that can be encountered by nursing leaders that can make them feel powerless
Common organizational culture problems can include ambiguity, poor communication, and inconsistency. These can contribute to the experience of a hostile and unpleasant workplace, which can make workers less loyal and may contribute to issues like harassment, bullying, and high turnover.
Organizational culture is a collection of values, norms, and behaviors displayed by a group of individuals working toward a common objective (Thomas, 2018). This can be used to describe healthcare personnel who are working to improve the quality of care they give to patients based on evidence-based practice and by enacting positive, creative changes that improve workplace ethics and clinical competence.
One of the most common barriers include a lack of communication and clear directions from upper management on the missions of the organization. Another major obstacle to change can be too much administrative processing of changes which can lead to significant delays in bringing changes and hinder positive outcomes. Issues like lack of decision making power in recruitment and allocation of resources, lack of respect for nurses from higher management (Barkhordari-Sharifabad, Ashktorab & Atashzadeh-Shoorideh, 2017) can all be detrimental in an organizational culture which should empower its nursing leaders to drive changes and push the organization forward.
Barkhordari-Sharifabad, M., Ashktorab, T., & Atashzadeh-Shoorideh, F. (2017). Obstacles and problems of ethical leadership from the perspective of nursing leaders: a qualitative content analysis. Journal of medical ethics and history of medicine, 10, 1.
Thomas, S, J. (2018). Chapter 4: Organizational Culture and Values; Nursing Leadership & Management: Leading and Serving. Retrieved from https://lc.gcumedia.com/nrs451vn/nursing-leadership-and-management-leading-and-serving/v1.1/#/chapter/4
Organizational culture can be defined as the moral principles, values, and standards of conduct that a particular organization has established (Thomas, 2018). Healthcare professionals are more likely to actively engage at work if the values of an organization parallel their personal values and beliefs (Thomas, 2018). A positive working culture results when the healthcare professional and the organization have shared values and beliefs (Thomas, 2018). Positive work culture results in greater productivity and efficacy in attaining optimal outcomes (Thomas, 2018). Additionally, a positive work culture results in innovations, effective teamwork, positive work interactions, and optimal outcomes in an organization (Thomas, 2018). An organization can be successful if its employees are treated with respect and dignity (Thomas, 2018). It is important that the organization wisely values and invests in its employees' ideas for change (Thomas, 2018). The incorporation of innovative ideas from employees will result in continuous quality improvements (Thomas, 2018). Continuous quality improvements are necessary for an organization to advance to the forefront of the business world (Thomas, 2018).
Nursing leaders are essential in initiating and implementing improvements in the field of healthcare (Hughes, 2018). Healthcare leaders might encounter several barriers in their roles including time constraints, lack of professional development, lack of financial resources, and lack of support from the administration (Hughes, 2018). Nursing leaders stated that time constraints were a significant barrier in a healthcare organization (Hughes, 2018). Healthcare leaders expressed frustration with not having enough time to seek further education and training to become effective leaders (Hughes, 2018). Nursing leaders also stated that they felt advanced graduate degrees in nursing are necessary preparations for becoming an effective leader and opportunities should be provided to do so (Hughes, 2018). Nurse leaders also expressed the lack of funding allocated to continuously educate, train, and support them in their new roles and responsibilities as healthcare leaders (Hughes, 2018). Leaders also stated their frustration with the problematic workloads assigned to them resulted in their inability to balance work and family responsibilities (Hughes, 2018).
References:
Hughes, V. (2018). What are the Barriers to Effective Nurse Leadership? – A Review. Athens Journal of Health. 2018, Volume 5, Issue 1, pp.7-20. https://athensjournals.gr/health/2018-5-1-1-Hughes.pdf
Thomas, J.S. (2018). Organizational Culture and Values. Nursing Leadership & Management: Leading and Serving. https://lc.gcumedia.com/nrs451v/nursing-leadership-and-management-leading-and-serving/chapter/4
An organization's values, norms, and practices are collectively called its organizational culture (Thomas, 2018). Organizational culture can characterize healthcare professionals implementing positive, innovative changes to strengthen workplace ethics and clinical competence while also trying to improve the quality of care they provide based on evidence-based practice. Each organization has a unique culture because each has its vision, mission, and value statements. Collaboration in providing services to the patient or consumer can result in difficulties when there are contradictions between the mission and vision of multiple institutions. With the importance of collaboration between healthcare institutions growing, it is crucial to know how to deal with the obstacles posed by cultural differences that could hinder teamwork (Libretexts, 2022).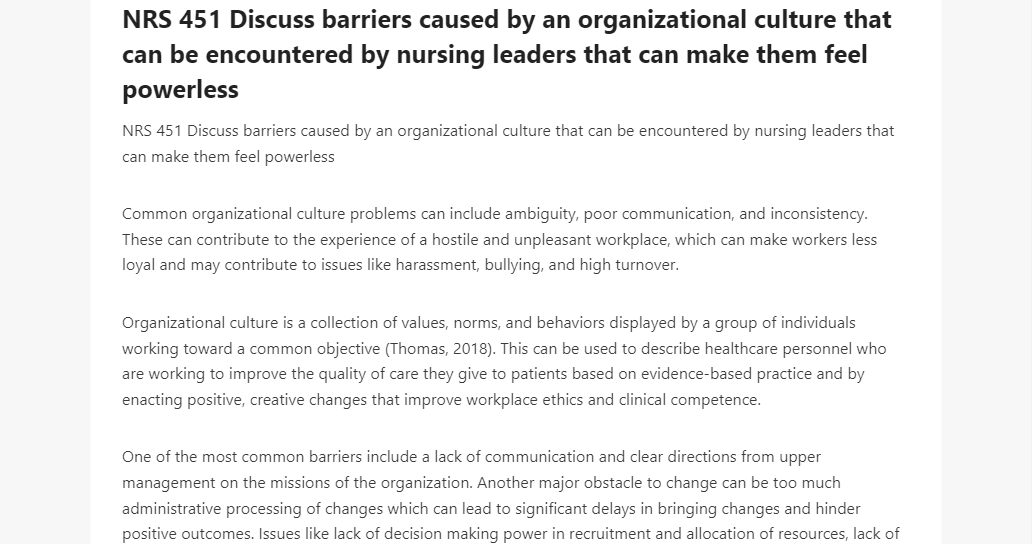 Some common organizational culture issues include ambiguity, poor communication, and inconsistency. Some organizations must communicate clear roles of nurse leadership positions; otherwise, nurse leaders juggle multiple professional roles, including the nurse, educator, manager, mentor, role model and supervisor. The demand and expectations to manage different roles become a barrier to effectively performing their duties due to increased patient load, managing availability of beds, and putting in extra work hours to cope with increased workload (Casida, 2008).
Libretexts. (2022, April 2). 5.4: Organizational Culture and Nursing Leadership. Medicine LibreTexts. https://med.libretexts.org/Bookshelves/Nursing/Book:_Leadership_and_Influencing_Change_in_Nursing_(Wagner)/05:_Providing_Nursing_Leadership_within_the_Health_Care_System/5.04:_Organizational_Culture_and_Nursing_Leadership
Casida, J. J., & Pinto-Zipp, G. (2008). Leadership-organizational culture relationship in nursing units of acute care hospitals. Nursing Economics, 26(1), 7.
Poor organizational involvement, inadequate process that exclude nurses and the mistrust are barriers that can make nursing leaders feel powerless. Nurses working in hospitals should treat their patients and colleagues with respect because the consequences of a disrespectful workplace, such as a tendency to leave work, job dissatisfaction, and reduced motivation can be harmful to the persons, patients, and organizations (Nouri et al.,2021). An unpleasant work environment can be unhealthy for the whole nursing staff and their patients. The culture must be changed so the mission of the organization will be to provide a positive experience for patients. Barriers encountered by the nursing leader that can make them feel powerless are personal cultural values, people with different perceptions about organizational culture when employees on accept the decision based on what they believe and value it becomes a barrier to the nurse leader. Workplace culture in nursing and healthcare is so important to job satisfaction, staff retention, and patient outcomes (Carlson, 2017).
Reference:
Carlson, K. (2017). Nursing Workplace Culture: Change Begins With You. Nurse.org. Industry.
Nouri, A.,Sanagoo, A.,Jouybari, L.,Taleghani, F. (2021). Contextual Barriers of Respectful Workplace in Nursing: A Focused Ethnography. Iranian Journal of Nursing and Midwifery Research.
Some barriers that can occur in an organization's culture leaving a powerless affect are lack of structure and communication. Things like this can really make an organization struggle and even cause that organization issues in growth and success long term. It is important to be an involved leader and make sure you are open minded and listen to your team. In nursing we are all leaders in some way, so being considerate to that can make a difference in the work cultures environment. Poorly managed conflict leads to poor cultures, unengaged staff, and poor patient outcomes (Johansen, 2012). Our jobs are hard enough everyday so added barriers like these and a few others only make things worse. Another big barrier is change, and how drastic that change is going to be. Some individuals do fine adapting to new things or ways, while others can't fathom the idea. The transition from old to new can be daunting to those affected by the change; however, Lewin's theory suggests that an organization can limit the strain during the transition through effective communication, education, and genuine support (Mulholland, 2017). Every organization has to keep up with the times and continue to grow with the world around it, so it's only necessary the staff do the same. This is why it's important to have strong management and leadership to guide the way and make transitions and barriers as easy and pleasant as possible.
References
Johansen, M. (2012). Keeping the peace: Conflict management strategies for nurse managers. Nursing Management, 43(2), 50-54. doi:10.1097/01.NUMA.0000410920.90831.96
Mulholland, B. (2017). 8 critical change management models to evolve and survive. Retrieved from https://www.process.st/change-management-models/
The common values and standards of an organization's members make up its organizational culture. Individuals that belong to a group have a set of shared rules, values, and beliefs that make up their culture. This term may be used to describe healthcare professionals who are trying to enhance the quality of care they provide to patients by implementing positive, innovative changes. However, nurse leaders may be hindered by a number of culture barriers, leaving them feeling powerless.
Time restrictions are one of them. Time constraints caused by a staff shortage can hinder nurse leaders from focusing on current issues and compel them to spend all of their time filling clinical shortages. Most employees are subjected to high time pressure, with peaks of extreme time pressure, which causes stress, exhaustion, negative health effects, and even mortality (Edina et al., 2020). When time constraints become too great, people will realize they are no longer capable of managing the situation.
A lack of support from management is another barrier that can make nurses feel powerless. For example, a study concluded lack of support resulted in job dissatisfaction and nurse turnover. The qualitative content analysis of email responses (n = 66) revealed 'Lack of support' as a social work value describing their manager's lack of support, unsupportive relationships within their work group, and a health-care system that prioritizes business principles over care, resulting in job dissatisfaction and nurse turnover (Tuckett et al., 2015). Toxic leaders can be devastating to employees at all levels of an organization, eventually leading to its demise.
Edina Dóci, Joeri Hofmans, Sanne Nijs & Timothy A. Judge (2020) Leaders Under Pressure: Time Pressure and State Core Self-evaluations as Antecedents of Transformational Leadership Behavior, European Journal of Work and Organizational Psychology, 29:4, 515-524, DOI: 10.1080/1359432X.2020.1714717
Tuckett, A., Winters-Chang, P., Bogossian, F., & Wood, M. (2015). 'Why Nurses are Leaving the Profession … Lack of Support from Managers': What Nurses from an E-cohort Study Said. International journal of nursing practice, 21(4), 359–366. https://doi.org/10.1111/ijn.12245