NRS 451 Describe the fundamental principles of servant leadership
NRS 451 Describe the fundamental principles of servant leadership
NRS 451 Describe the fundamental principles of servant leadership
Leadership is a wide area to explore and discuss the types of leads including business, politics, the healthcare profession, and much more. Each field has a different choice and priority. As we going to discuss a theory is called servant leadership is used all around the world in both Eastern and Western philosophy. The theory is focused on the idea at the top of the system are employees. the priority of a leader or a manager is to serve the followers. In this theory, the main focus is to follow the idea of authority is more important than power (The principles of servant leadership.,2020). The root of servant leadership is to accomplish the organization, where personal goals and gains are not superior to followers' needs and dignity. The focus is to empower and uplift others instead of personal gains. Even if it is not widely adopted, many organizations have a great benefit of success by adopting this theory.
The fundamental principle of servant leadership is to develop the organization without any personal benefit and focus on the group as a whole.
Servant leaders focus on the goals and development of the team as a whole instead of everyone solely focusing on themselves. Humility, empathy, active listening, engagement, and facilitation of growth are some qualities a servant leader accumulates. Nurse leaders influence the team around them through their leadership. They make sure there is open communication, trust, and mutual respect between all the team members. They strive to foresee how they can best serve the community, build meaningful relationships, and optimize patient care and satisfaction (Tropello & DeFazio, 2014). This is especially important in health care, where change is constant and a necessary part of continuous improvement. Building trust is an essential leadership quality as this helps the teamwork as a whole. All healthcare workers trust each other for getting a particular job done to make sure care is provided to the patient. Active listening is another quality a servant leader shall endure. It supports inter-professional communication by making sure the addressed issues or concerns regarding the patient are looked at and any issue is provided with a solution. Active listening prevents you from missing important information and also helps build trust between team members as you can take into consideration any suggestions by the members and let them know they are heard.
References
Jennifer S. Thomas. (2018). Applying Servant Leadership in Practice. Nursing Leadership and Management Leading and Serving. https://lc.gcumedia.com/nrs451vn/nursing-leadership-and-management-leading-and-serving/v2.1/#/chapter/3
The principles of servant leadership. (2020, August 27). WGU Western Governors University. https://www.wgu.edu/blog/principles-servant-leadership2008.html
I agree with your reference to the importance of nurse leaders looking ahead to see how best they can serve the community and the importance of managing and maximizing change in healthcare. "The only constant is change", this truthful statement was made by Heraclitus in 500 BC and is still relevant today. Adapting to changes or making changes is not easy, it requires energy to control newly focused actions. Continuous improvement means constant change for the better. We make decisions everyday to change things in our lives in order to be healthier, look better, be more productive. (Linked In, 2020) According to psychologists and authors of the book "Switch", after a while of trying to adopt the new set of patterns to follow, our mental muscles drain, we feel exhausted, and we justify our actions against the change and eventually stop. Therefore "what may look like resistance is sometimes just exhaustion trying to consciously deter us from our decisions to do differently"(Switch, Dan Heath,2010). I found that information interesting.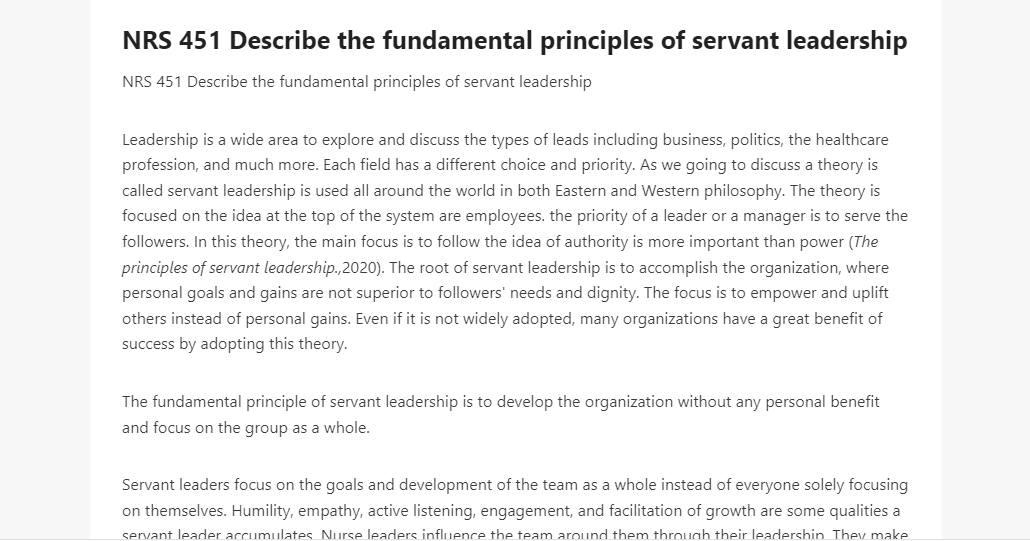 Allowing ourselves to continue in nonproductive patterns only results in status quo and will not yield the best outcomes. As nurse leaders we must set clear goals and make the destination appealing, focus on what works and applying more of it, shape the path to shape the behavior and provide motivation. "Motivation comes from belonging and purpose" (LinkedIn, 2020) As nurse leaders we must engage and invest in people, bring in the enthusiasm regarding the change, encouragement brings positive feelings that broaden and build team members.
LinkedIn, The Only Constant is Change (2020) retrieved from; https://www.linkedin.com/pulse/only-constant-change-so-what-should-we-do-jelena-pantic
A servant leader is one who puts the needs of others before their own. I myself have also worked under the direction of a servant leader. Even on days when she was not caring for patients, she would still make her rounds to check on our patients to see if they needed anything. If she saw that any of us were falling behind on our work, she would jump in to help resolve any issues, or take patients to prevent any of them waiting to get started. She always made sure we ate our lunches before she would take her break. As a new nurse, she taught me so much and as always willing to take advantage of teaching opportunities with me or any of the other new nurses. Her guidance always made me feel comfortable in knowing I was not alone, should I have any doubts or questions. When it came time for her to transfer to a new department, she asked me if I wanted to fill her spot. At the time, I didn't feel ready to oversee the department, but I knew I would keep learning as time passed. She reassured me that I was good and knowledgeable enough to take on the position. I have since remained head of the department (4 years), and many of the mannerisms she possessed, I adopted into my own work practice.
Servant leadership is a distinctive type of leadership in that the leader provides service to others before leading their followers (Thomas, 2018). Jesus Christ exemplifies the principles of servant leadership (Thomas, 2018). The principles of servant leadership include listening, empathy, persuasion, stewardship, commitment, and building community (Thomas, 2018).
Servant leadership has two essential qualities that are necessary which include listening and stewardship (Thomas, 2018). Leaders are excellent listeners and listen to the concerns and opinions of their followers (Thomas, 2018). Servant leaders utilize this information to lead their followers to attain the goals that they have established (Thomas, 2018).
Servant leaders also exhibit the quality of stewardship (Thomas, 2018). A servant leader focuses on serving their followers (Thomas, 2018). The leader encourages and guides followers so that they can one day assume the role of a leader (Thomas, 2018). Followers express more contentment in feeling honored and valued (Thomas, 2018).
Reference:
Thomas, J.S. (2018). Applying Servant Leadership in Practice. Nursing Leadership & Management: Leading and Serving. https://lc.gcumedia.com/nrs451v/nursing-leadership-and-management-leading-and-serving/v2.1/chapter/3
In servant leadership, the leader ensures that the followers are growing in all areas their profession, knowledge, autonomy and even their health and physical development (Tait, 2020). One quality which is very important for a leader is conceptualization, translating a vision for the organization's mission into productive action and aids in progressing toward public health goals. One constant is being future oriented by understanding the past, managing the present, and anticipating the future. Another quality of servant leadership is communication, which inspires confidence in others. A great servant leader is a learner and teacher that foster an environment of open communication so there is a collective appreciation involving everyone to make key decisions to reach a common goal. Effective communication leads to increased employee retention and positive patient feedback, building a more productive environment.
Reference:
Tait, B. (2020). Traditional Leadership Vs. Servant Leadership. Forbes Coaches Council. Leadership.
I agree with your post. Servant leadership has build a sense of social identity to its followers and created teams that are more like the kinship found in hunter-gatherer societies as team members assist and build the capacity of others. It is a holistic leadership approach that engages followers in multiple dimensions, for example ethical, spiritual and rational. When followers' well-being and growth are prioritized they in turn are more engaged and effective in their work . Servant leaders see themselves as stewards of the organizations (Van Dierendonck, 2011), who seek to grow the resources, financial and otherwise that have been entrusted to them. Servant leaders focus on sustainable performance over the long run.
​While Knight (2018) Tian (2018) have presented empirical evidence for the incremental validity of servant leadership over other leadership approaches, as this has been hard to establishconsidering the limitations present in existing studies and the small number of studies coupled with relatively low sample sizes that were used in the meta-analysis. Servant leadership flips the typical leadership script by putting people ahead of power. A servant leader prioritizes the team's growth and well-being, letting their own needs and ambitions take a backseat. In order to develop into a better servant leader one has to encourage diversity of thought, create a culture of trust, have unselfish mindset and foster leadership in others.
References
Lee, A., Lyubovnikova, J., Tian, A. W., & Knight, C. (2020). Servant leadership: A meta‐analytic examination of incremental contribution, moderation, and mediation. Journal of Occupational and Organizational Psychology, 93(1), 1-44.
Van Dierendonck, D. (2011). Servant leadership: A review and synthesis. Journal of management, 37(4), 1228-1261.