NRS 440 CLC – Leadership Styles and Nursing
NRS 440 CLC – Leadership Styles and Nursing
NRS 440 CLC – Leadership Styles and Nursing
Some of the leadership styles include Democratic, strategic, and transformational leadership. Democratic, strategic, and transformational leadership styles are all effective in different situations. Democratic leadership is best suited for organizations that are stable and have a well-established track record. In this type of environment, employees are comfortable with taking risks and don't need a lot of direction from their leader. The democratic leader's role is to provide support and guidance as needed. Strategic leadership is necessary in times of change or uncertainty (Adiguzel et al., 2020). Organizations that are facing new challenges or competition need a leader who can develop a plan and execute it effectively. The strategic leader sets the direction for the organization and makes sure everyone is on board with the plan. Transformational leadership is ideal for organizations that want to make significant changes. By studying leadership practices and theories, individuals can gain a greater understanding of what makes a successful leader and what leads to ineffective or unsuccessful leadership.
´The Democratic, Participative Leadership 
The nurse leader (democratic-participative) has bi-weekly weekly team meeting consisting of RN's, LPN's, and Certified Nurse Aide's. Each employee is given the chance to voice their opinion ask questions and offer suggestions of how to improve the unit and working together as a team. Once the meeting is over the nurse leader converses with the unit charge nurse and asks for her feedback. 
Heather More
-Open, transparent Communication
-Enjoys teamwork & values team members
-Addresses concerns & ensures all team members are heard
-Strong relationships fostered
Importance of Awareness of Leadership Styles, Traits & Practices for Nursing Professionals

´Leadership is the art of influencing others to achieve their maximum potential (Specchia, 2021)"
´Team Cohesion results in reduced stress and increased empowerment.
´Leadership is a predictor of quality Outcomes. Real leaders provide effective Role Models that are congruent with their values and goals.
´Leaders motivate those they are leading, fostering creativity and innovation.
5 Key Leadership Styles
´Transformational Leadership: Characterized by charismatic, effective communication, shared goals, loyalty and relationships
´Transactional Leadership: Characterized by punishment / reward, task assignment, independent work and recognition
´Laissez –Faire Leadership: Characterized by responsibility avoidance, passive, used by insecure and inexperienced leaders
´Democratic Leadership: Characterized by open communication & staff input and support, relationships with team members are viewed as valuable
´Authoritarian Leadership: Characterized by an intolerant approach and "Do as I say" communication where information may be withheld
(Specchia, 2021)
´LEADERSHIP TRAITS AND STYLES
´Leaders can set the tone for communication, role-model effective conflict management, as well create and foster an environment that facilitates safety and quality care.
´ Administrators, Nursing Supervisors, and other leaders within the healthcare organization can support new nurses by providing effective feedback.
´Leadership providing an environment of open communication is necessary so nurses can approach leaders to facilitate change when needed.
´Most leaders continually assess their environment and the people that report to them to determine if adequate support is provided for their staff to do their jobs.
´Nurse managers can foster communication by making themselves accessible and by establishing a structure for unit-wide collaboration (Williams, 2022).
´Interprofessional teamwork and collaboration is essential to ensure quality healthcare for patients and maintain safety.
´Nurses are valued members of the interprofessional healthcare team.
´Clear and open communication among team members allows ideas to be shared and counteracts the potential for human errors and judgment.
´All members of the interprofessional healthcare team have an obligation to improve patient care and patient outcomes by communicating to coordinate safe and effective quality care.
´Working together, physicians and nurses have developed work processes to address quality and safety on all levels for patients.
´Although all members of the interprofessional healthcare team possess specific expertise that would benefit the patient, if they were unable to coordinate those skills and connect vital services together, the patient may not receive optimal care
Leading Nurses and Integrating the Tenets of Serving Leadership to Empower Others
´Stewardship-There is an innate desire to serve others first instead of themselves for the improvement of their community or the individual.
´Empathy-Trust is built because followers realize they are individually equal, due to the empathetic nature of the servant leader.
´Listening- is another trait because the servant leader actively listens and is able to apply and address the circumstance at hand.
´Conceptualism-current and future goals help to produce better results for the organization.
´Commitment-The servant leader has a personality of commitment to help the individual grow and want them to have success (Mindtools, 2022).
´Persuasion- a coaxing tool that gains approval of the individual and allows the person to seek themselves for their viewpoint.
´Healing- they are able to demonstrate an understanding of personal healing and encourage others to heal.
When communicating to an individual put your personal needs and opinions to the side (e.g., The servant leader had a stressful morning before going to work, and they do not want to handle anyone else's problem or situation), so once they arrive at work their focus is not on what happened at home but serving the individual in
Leadership Style, Traits, And Practices
As a leader, I strive to demonstrate democratic, strategic, and transformational leadership styles. My traits drive effective practices as an inspirational leader. Self-awareness bolsters respect for my colleagues and subordinates, which leads to feelings of gratitude that foster integrity. I always lead with empathy not just for those I manage but also their respective issues and conflicts. The courage to take risks motivates me to challenge the status quo with a shared vision and by modelling desired behaviour that encourages others to step up and seize opportunities. By inspiring this kind of growth among the team, I am able to foster a strong sense of trust in the workplace which leads to greater success over time (Stauffer & Maxwell, 2020). The three leadership styles can be effective under different circumstances. For example, democratic leadership can be effective when a leader wants to get input from all members of the team and build consensus before making a decision. Strategic leadership can be effective when a leader wants to focus on long-term goals and objectives and make sure all team members are aligned with those goals. And transformational leadership can be effective when a leader wants to inspire team members to reach higher levels of performance.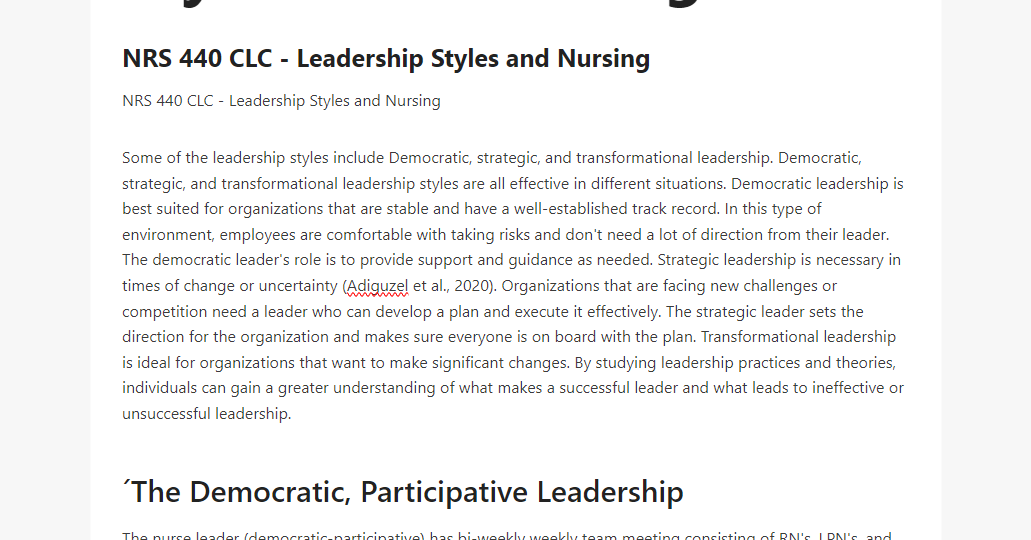 How Leaders Who Practice Servant Leadership and Have a Strong Understanding of Their Personal Leadership Traits Can Successfully Lead Others
In order to foster communication, empowerment and a shared vision, servant leaders must first create an environment in which people feel safe and valued. People need to feel that they can trust their leader enough to be open and honest, without fear of reprisal (Brouns et al., 2020). Once this environment is established, the leader can begin to delegate authority and responsibility, empowering their team to make decisions and take actions that will move the organization forward. The goal of a servant leader is to create a sense of community in which everyone feels they are working towards a common purpose (Setyaningrum et al., 2020). By sharing their vision with their team and empowering them to act on it, the leader helps build a sense of ownership and responsibility among the members of the organization. A leader who practices servant leadership will be more likely to encourage open communication within the team and to actively listen to the concerns and suggestions of team members. This can help to create a culture of trust and respect, which can lead to better collaboration and problem-solving.
References
´Setyaningrum, R. P., Setiawan, M., & Irawanto, D. W. (2020). Servant Leadership Characteristics, Organisational Commitment, Followers' Trust, Employees' Performance Outcomes: A Literature Review. European Research Studies, 23(4), 902-911. https://www.researchgate.net/profile/Retno-Setyaningrum/publication/346671856_Servant_Leadership_Characteristics_ERSJ/links/5fcdce4945851568d146991e/Servant-Leadership-Characteristics-ERSJ.pdf
´Adiguzel, Z., Ozcinar, M. F., & Karadal, H. (2020). Does servant leadership moderate the link between strategic human resource management on rule breaking and job satisfaction?. European Research on Management and Business Economics, 26(2), 103-110. https://www.sciencedirect.com/science/article/pii/S2444883419302359
´Stauffer, D. C., & Maxwell, D. L. (2020). Transforming servant leadership, organizational culture, change, sustainability, and courageous leadership. Journal of Leadership, Accountability and Ethics, 17(1), 105-116. http://www.digitalcommons.www.na-businesspress.com/JLAE/JLAE17-1/6_Stauffer_Maxwell_17_1_.pdf
´Brouns, T., Externbrink, K., & Blesa Aledo, P. S. (2020). Leadership beyond narcissism: On the role of compassionate love as individual antecedent of servant leadership. Administrative Sciences, 10(2), 20. https://www.mdpi.com/2076-3387/10/2/20
´Williams, E. (2022). The Role of a nurse Leader in Communication. Chron.com https://work.chron.com/role-nurse-leader-communication-23457.html
´Specchia ML, Cozzolino MR, Carini E, Di Pilla A, Galletti C, Ricciardi W, Damiani G. Leadership Styles and Nurses' Job Satisfaction. Results of a Systematic Review. Int J Environ Res Public Health. 2021 Feb 6;18(4):1552. doi: 10.3390/ijerph18041552. PMID: 33562016; PMCID: PMC7915070.
´Mindtools. (2020). https://www.mindtools.com/ad648ub/servant-leadership
´
´Thomas, J. (2018). Quality of a Servant Leader. https://lc.gcumedia.com/nrs451vn/nursing-leadership-and-management-leading-and-serving/v1.1/chapter 3
´
´Yashi, Strivastava, ( 2022).Democratic Leadership Style How to Make it Work as a Team. https://www.betterup.com/blog/democraticle-adership-style-pros-cons-examples-and-how-to-make-it-work