NRS 434 Describe various risk factors or precursors to adolescent pregnancy
NRS 434 Describe various risk factors or precursors to adolescent pregnancy
NRS 434 Describe various risk factors or precursors to adolescent pregnancy
Teen pregnancy may be something nurses see frequently in their community or rarely depending on the area they live in. In 2018, according to the California Department of Public Health, most adolescent births occurred among those aged 18-19 (12,707 births), followed by those aged 15-17 (4,184 births), and finally those under the age of 15 (130 births). Teen pregnancy has significantly declined over the last decade mainly due to increased contraception use(Querin et al., 2020). Some risk factors for teenage pregnancy include depression, history of abortion or prior teenage pregnancy, living with a partner, lower socioeconomic conditions (poverty, unemployment, etc.), and fewer publically funded family clinics in the area(Querin et al., 2020). Teen mothers and babies are at high risk for medical complications during and post-pregnancy. Teen patients are at an increased risk of medical adverse outcomes, including pre-eclampsia, preterm birth, intrauterine fetal growth retardation, and infant death (Querin et al., 2020).  Compared to infants born to women aged 20 and over, infants born to adolescents are more likely to be premature and underweight and are at increased risk of dying within the first year of life (Chabot et al., 2021). Teen pregnancy can bring about many financial burdens and emotional distress. Teenage mothers are more likely to face poverty and not graduate high school.
According to a study in 2016, having an older sister who was a teen mom significantly increases the risk of teenage childbearing in the younger sister, and daughters of teenage mothers were significantly more likely to become teenage mothers themselves(Wall-Wieler et al., 2016). Teen pregnancy is not something that will disappear in our lifetime and nurses need to be able to provide support in all cases whether a teen mother decides to carry the baby, give the baby up for adoption, or abortion. In Santa Barbara, many programs can assist teen parents such as the CalSAFE Pregnant Teen Support which provides support services to teen parents so that they can remain in high school and graduate. California offers the Adolescent Family Life Program (AFLP) which is a strengths-based case management program designed to support and empower expectant and parenting youth.
References:
Adolescent Family Life Program (AFLP)
CalSAFE Pregnant Teen Support
Chabot, MJ, Kwan, K, Guenzburger, GV. Lavezzo, M, Pressfield L. Adolescent births in California, 2000-2018. California Department of Public Health, Center for Family Health, Maternal, Child and Adolescent Health Division. Sacramento, California: June, 2021
Querin, L. B., & Migliaccio, D. (2020). Teen pregnancy part 1: The first trimester. Pediatric Emergency Medicine Reports, 25(9) Retrieved from https://lopes.idm.oclc.org/login?url=https://www.proquest.com/trade-journals/teen-pregnancy-part-1-first-trimester/docview/2436339921/se-2
Wall-Wieler, E., Roos, L.L. & Nickel, N.C. Teenage pregnancy: the impact of maternal adolescent childbearing and older sister's teenage pregnancy on a younger sister. BMC Pregnancy Childbirth 16, 120 (2016). https://doi.org/10.1186/s12884-016-0911-2
Access to quality reproductive health services, including contraception and sexually transmitted infection services, plays an important role in supporting the health and well-being of adolescents and promoting health equity. Yet some teens face barriers in accessing these services. What are some social marketing campaign in your state that help these teens with easier access to health services?
I agree with your topic, nurse's do encounter more pregnant teenagers depending on the community for example in a town where there are less resources and poverty, would have an increase in higher unwanted pregnancies. Then a community that is wealthy and has more resources available such as contraception and abortion
Sex education programs for young people have long been implemented in developed communities. In most Western countries, a variety of strategies and methods have been used to prevent unwanted pregnancies; the impact on teenagers have helped them make better choices.
Reference:
 Franklin C et al., Effectiveness of prevention programs for adolescent pregnancy: a meta-analysis, Journal of Marriage and the Family, 1997, 59(3):551-567; and DiCenso A et al, Interventions to reduce unintended pregnancies among adolescents: systematic review of randomized controlled trials, Primary Care, 2002,324(7351): 1426-1434.
A teenage pregnancy refers to a pregnancy of a young woman ages between 10 and 19 years. This is the age when puberty begins to transition the body from a child into an adult. The breasts are not fully developed, the pelvis is smaller in diameter compared to an adult female and the reproductive system continues to mature and prepare the body for the reproductive years. In a teenage pregnancy there are many risk factors that place both the pregnant mother and fetus at risk of complications. Most common health risks to the pregnant teenager include: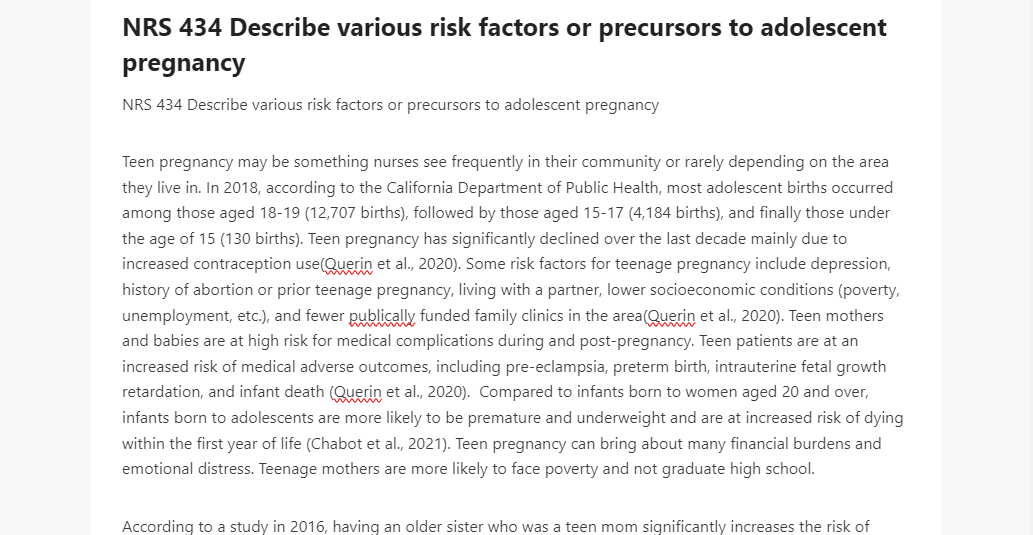 · High blood pressure. Often occur during the first pregnancy (pregnancy induced hypertension)
· Difficult labor. Pregnant adolescent often have high risk of obstructive labor due to small pelvic cavity which may lead to the use of tools to assist delivery (Instrumental delivery)
· Anemia
· Placenta abruption
Birth complications that can result in infant death
· Low birth weight (less than 2.5 kg)
· Early birth (premature). Pregnant adolescent often give birth earlier than expected (before 37 weeks)
· Infant death. Pregnant teen often do not get adequate antenatal care which can lead to detrimental consequences for the baby (Farhana, B., 2016).
Common precursors include:
Key risk factors include living in poverty, limited maternal educational achievement, and having a mother who gave birth before the age of 20. Additional risk factors include being from a single-parent home, living in a home with frequent family conflict, early sexual activity, early use of alcohol and drugs, and low self-esteem. Lastly, a teen's race and ethnicity can be a risk factor for teen pregnancy (Risk and Protective Factors | Youth.gov., n.d.). Further, there is slower progress in reducing adolescent first births amongst these and other vulnerable groups, leading to increasing inequity. Child marriage and child sexual abuse place girls at increased risk of pregnancy, often unintended. In many places, barriers to obtaining and using contraceptives prevent adolescents from avoiding unintended pregnancies (World Health Organization: WHO. (2023).
Planned Parenthood is a local community clinic that provides services for insured and uninsured individuals under 18 and over 18 years of age. Planned parenthood in California has served:
• Number of women, men, and young people worldwide provided with sexual and reproductive health care and education by Planned Parenthood each year: 4,665,000
• Percentage of Planned Parenthood health care patients
• age 20 and older: 83
• with incomes at or below 150 percent of the federal poverty level: 79 •
who receive services to prevent unintended pregnancy: 75
• Estimated number of unintended pregnancies averted by Planned Parenthood contraceptive services each year: 515,000 (Planned Parenthood, 2014).
This is a resource available to those who seek various medical services such a pregnancy prevention, sex education, sexually transmitted infection testing, cervical cancer screenings and breast exams. Another resource is Women Infant Children WIC program which is a state funded resources providing assistance with monthly vouchers for groceries for the pregnant woman and or formula for the infant. WIC also provides education before and after pregnancy to the mother and infant. Including other resources, the family may need.
The teen birth rate in California declined 85% between 1991 and 2020. Teen birth rates have fallen for all racial and ethnic groups, and in some cases the gap in teen birth rates by race/ethnicity has narrowed, but disparities remain. (California Data, 2020). According to NPR, The most immediate reasons behind the declines in teen births are delays in sex and increases in contraceptive use, particularly the use of the most effective contraceptive methods. For example, teens in the late 2010s were five times more likely to use IUDs and implants than teens in the late 2000s. But recently, there have also been declines in sexual activity among high school students (Rascoe, A., 2023). In my community of Santa Maria in 2021, Santa Maria had the highest proportion of births to teenage mothers at 9.2%. Although there was a significant decrease in the SBC teenage mother birth rate between 2017 and 2018 (21.9 to 17.1 births per 1,000 SBC women 15-19 years of age), these birth rates have remained stable over the last 5 years (SBCPHD, 2022). It is unclear as to the reason of the increase for teenage pregnancies in 2021. However, a few possibilities could have to do with the population. The population in Santa Maria is approximately 109,000 with 80,000 being Hispanic and 29,000 being white and other ethnic backgrounds. Given the large Hispanic population, thousands of low income and uneducated households these are a few suggestions. In addition, low poverty communities have low contraception rates due to lack of sexual education or knowledge. And lastly, lack of parental guidance and/or exposure to social media which normalizes exposure and influences sexuality and promiscuous behaviors.
References
California Data | Power to Decide. (2020). Power. https://powertodecide.org/what-we-do/information/national-state-data/california
Farhana. (2016, April 14). Effects & Consequences of Teenage Pregnancy – PORTAL MyHEALTH. PORTAL MyHEALTH. http://www.myhealth.gov.my/en/effects-a-consequences-ofteenage-pregnancy/
Planned Parenthood by the numbers. (2014, January). Planned Parenthood. Retrieved June 21, 2023, from https://www.plannedparenthood.org/files/9313/9611/7194/Planned_Parenthood_By_The_Numbers.pdf
Rascoe, A. (2023, January 8). Teen pregnancy rates have declined significantly. NPR. https://www.npr.org/2023/01/08/1147737247/teen-pregnancy-rates-have-declined-significantly
Risk and Protective Factors | Youth.gov. (n.d.). https://youth.gov/youth-topics/pregnancy-prevention/risk-and-protective-factors
SANTA BARBARA COUNTY BIRTH REPORT 2017-2021. (2022, October). Santa Barbara County Public Health Department. Retrieved June 21, 2023, from https://content.civicplus.com/api/assets/4d22cce2-ac10-4344-babb-5130bc2a444d?cache=1800
World Health Organization: WHO. (2023). Adolescent pregnancy. www.who.int. https://www.who.int/news-room/fact-sheets/detail/adolescent-pregnancy