NRS 428 Discuss how geopolitical and phenomenological place influence the context of a population or community assessment and intervention
NRS 428 Discuss how geopolitical and phenomenological place influence the context of a population or community assessment and intervention
NRS 428 Discuss how geopolitical and phenomenological place influence the context of a population or community assessment and intervention
Geopolitical variables are political, financial, and social aspects of an area (Green, 2018). Phenomenological variables are metacontextual because it is subjective perceptions and culture in a community (Green, 2018). For example, people may perceive an illness as a curse from someone. Geopolitical variables place influence on a community assessment and intervention by (Green, 2018). These variables impact the community assessment by requiring nurses to be aware of and respectful towards the diverse cultural backgrounds and beliefs within the community. Understanding the phenomenological variables helps nurses tailor interventions that are culturally sensitive, promoting meaningful engagement and collaboration with individuals and communities (Green, 2018). The nursing process can be used to identify local health issues by using assessment, diagnosis, planning, intervention, and evaluation just how you would assess the individual patient (Almeida, 2023). The nurse assesses the physical, sociocultural, spiritual aspects for assessment, diagnosis by analyzing the community data and identifying the issue, plan for what goals and plans of care is needed for the community, implements the intervention, and evaluates the effectiveness of the community intervention (Almeida, 2023). For instance, in the case of teenage pregnancy, the nursing process can be applied to identify and address this local health issue. Through assessment, the nurse can gather data on teenage pregnancy rates, sociocultural factors influencing sexual health behaviors, and available resources (Tabi, 2002). Diagnosis involves analyzing the data to understand the contributing factors and risks associated with teenage pregnancy. Planning includes setting goals to reduce teenage pregnancy rates, developing comprehensive sexual education programs, and creating partnerships with community organizations like teenage pregnancy centers. Implementation involves executing the planned interventions, such as providing sexual education classes, offering contraception counseling, and facilitating access to healthcare services. Evaluation assesses the effectiveness of the intervention by monitoring changes in teenage pregnancy rates and collecting feedback from the community (Tabi, 2002). The Christian worldview values respect for human dignity and that there is higher meaning when respecting each person's dignity for God's sake. Nurses guided by a Christian worldview are more likely to approach interventions with compassion and focus on promoting the well-being of individuals and communities.
References
Almeida, S. L. P., Primo, C. C., Almeida, M. V. de S., Freitas, P. de S. S., Lucena, A. de F., Lima,
E. de F. A., & Brandão, M. A. G. (2023). Guide for systematization of care and nursing process: Educational technology for professional practice. Revista Brasileira de Enfermagem, 76Suppl 4(Suppl 4), e20210975. https://doi-org.lopes.idm.oclc.org/10.1590/0034-7167-2021-0975
Green, S. Z. (2018). Community & public health: The future of healthcare. Grand Canyon
University. https://lc.gcumedia.com/nrs427vn/community-and-public-health-the-future-of-health-care/v1.1/#/home
Tabi, M. M. (2002). Community perspective on a model to reduce teenage pregnancy. Journal of
Advanced Nursing (Wiley-Blackwell), 40(3), 275–284. https://doi-org.lopes.idm.oclc.org/10.1046/j.1365-2648.2002.02369.x
It is valuable that you mentioned the Christian worldview and its emphasis on a person's dignity. This attitude leads nurses to approach solutions with compassion and to emphasize the well-being of individuals and communities. This values-based approach promotes holistic care and builds a feeling of dignity and respect for all people, regardless of their circumstances.
When looking at a community as a whole, it is important to consider environmental factors and risks that may alter the health of the individual over time. Environmental factors relevant to the geographic location affect the health of the community (Greene, 2018). This is because an assessment of the area in which a person lives in can show a plethora of things. For example, how the climate is, how clean the water is, sanitation conditions, how close they are to a farmers' market, and the accessibility of parks and walking paths among many other thing. A geopolitical place consists of community boundaries, transportation infrastructure, geographic features, climate, vegetation, animals, and human-made homes and facilities (Greene, 2018).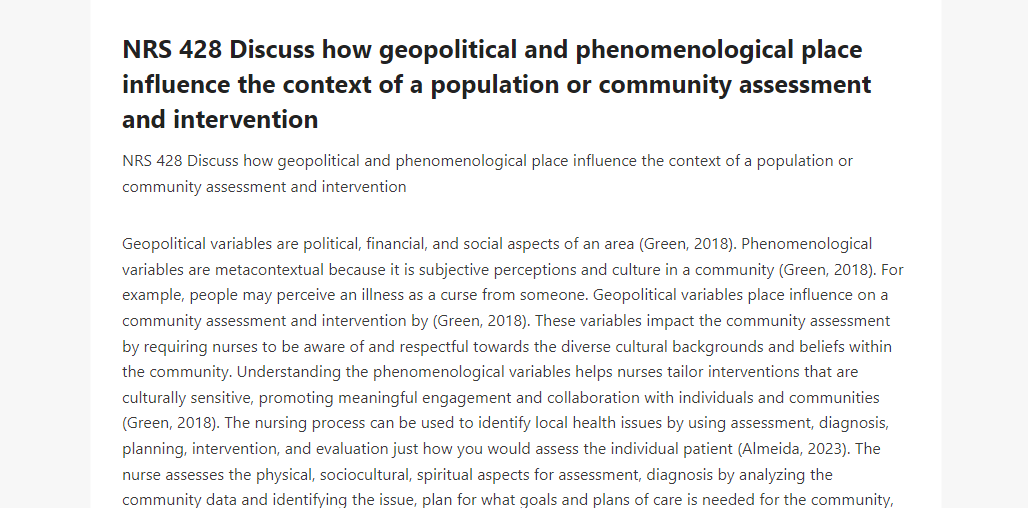 All these items combine can alter, prevent, or increase health disparities and conditions. For example, someone who does not have access to a park to walk, may be more immobile.
The nursing process is utilized, in this case, in assisting to identify health issues by creating assessments of a community's environment. By collecting data and analyzing it, the nurse can then provide nursing diagnosis and essentially outcomes of the community. If there is an area with limited free space, limited community centers, a public health nurse, in collaboration with other city leaders can speak with legislation or county officials to change this. When interventions are needed, the public health nurse may speak out at community centers against prevention or reducing other diseases in the community. It is important to take a look at what resources the community has already and what resources are needed. The Christian worldview influences one's perspective fo human value and dignity when it comes to interventions because Christian wants what is best for the individual. Christians believe in the core values of respect, dignity, autonomy, among others. Central to assessing a patient's spirituality is a basic knowledge of the spiritual development of the human person (O'Brien, 1999.) Once the assessment has been made, interventions will begin and the correct resources will benefit the community as a whole.
Green, Z., S. (2018). Populations as Clients. In Grand Canyon University (Ed). Community & public health: The future of health care.https://lc.gcumedia.com/nrs427vn/community-and-public-health-the-future-of-health-care/v1.1/
O'Brien, M. E. (1999). Spirituality in nursing : standing on holy ground. Jones & Bartlett Learning.
I agree that the community health nurse must look at what available resources the community has. If there is an area that the community has and more patients can be utilizing the service, nurses can educate patients about these resources (Green, 2018). At UC Davis, there was a student-run clinic called Shifa clinic that provided unisured individuals, mostly from southeast Asian cultures, free healthcare and the community benefited from it at large.
Green, S. Z. (2018). Community & public health: The future of healthcare. Grand Canyon
University. https://lc.gcumedia.com/nrs427vn/community-and-public-health-the-future-of-health-care/v1.1/#/home
I agree that assessing the community's environmental factors is important. Just like the ADPIE nursing process, we assess the patient first, then diagnose, plan, perform interventions, and evaluate the interventions after. We assess the community's strengths, weaknesses, opportunities, and threats. SWOT is very similar to ADPIE, but it is easier to categorize a community more broadly. I think it is crucial for public health nurses to intervene with government officials when necessary, they should never be afraid to advocate for their community. Being able to work with the resources available and expand them to benefit more people is also an important skill. Community health nurses are leaders and can benefit a population in many different ways. Working with nonprofit organizations, schools, churches, and small businesses are connections they should always be resourceful with. Thank you for sharing.
Your post is well written and descriptive. I like that you used an example of not having access to a park nearby or a place to walk so they may be less inclined to be mobile or physically active. I completely agree, where you are and what you are around has a huge impact on your health, for better or for worse. Green (2018) pointed out how some areas are more inclined to natural disasters, this would be a huge thing to take into consideration for a community assessment as disasters can cause catastrophic effects like a family losing their home. I also like that you pointed out how community nurses can work with county officials to look into community centers or even parks to be built. Thank you for sharing!
Reference
Green, Z. S. (2018). Populations as Clients. Community and Public Health: The Future of Health Care. (1st ed.). Grand Canyon University.