NRNP 6675 PMHNP Care Across the Lifespan II: Focused SOAP Note for Anxiety, PTSD, and OCD
NRNP 6675 PMHNP Care Across the Lifespan II: Focused SOAP Note for Anxiety, PTSD, and OCD
NRNP 6675 PMHNP Care Across the Lifespan II: Focused SOAP Note for Anxiety, PTSD, and OCD
Subjective:
CC (chief complaint): "Anxiety and worry."
HPI: Dev is a 7-year-old boy accompanied by his mother for psychiatric assessment because of exhibiting excessive anxiety and worry. The boy states that he worries about everything. He worries about his mother and brother when at school and is always thinking about how they are fairing and if they are fine. He gets intrusive thoughts of the mother failing to come home, like what happened to his father. The excessive worry has affected his concentration in class, and he gets into trouble with his teacher. Dev experiences frequent bad dreams whereby he dreams he is lost and cannot trace his mother or younger brother. He has to sleep with the lights on and the open to assure him the mother is truly there. Furthermore, Dev's classmates nicknamed him 'Smelly' due to his body odor caused by not showering and wetting the bed.
Dev's mother reports that the boy always appears very anxious about ridiculous things, like she will die or fail to pick him up from school. Dev claims that his mother loves his brother. He throws things around the house and school, which has gotten him in trouble at school. Besides, he has sleeping difficulties and frequent nighttime awakenings. Dev always wants to return home from school and frequently complains of stomach aches and headaches. He also has a poor appetite leading to weight loss.
Substance Current Use: None
Medical History: No chronic illnesses.
Current Medications: None
Allergies:None
Reproductive Hx:None
ROS:
GENERAL: Poor appetite and weight loss. No fever, chills, or excessive fatigue
HEENT: No visual problems, ear pain, tinnitus, rhinorrhea, or throat pain.
SKIN: No rashes, bruises, or cuts.
CARDIOVASCULAR: No dyspnea or palpitations.
RESPIRATORY: No cough, wheezing, or sputum.
GASTROINTESTINAL: Appetite loss and abdominal pain.
GENITOURINARY: Nighttime urinary incontinence
NEUROLOGICAL: Reports headaches.
MUSCULOSKELETAL: No joint stiffness/ pain or muscle pain.
HEMATOLOGIC: No bleeding.
LYMPHATICS: No lymph swelling.
ENDOCRINOLOGIC: No endocrine symptoms.
Objective:
Diagnostic results: No tests were ordered.
Assessment:
Mental Status Examination:
The boy is well-groomed and dressed appropriately for the weather and function. He is alert, maintains good eye contact, and is oriented x4. He has clear and coherent speech. His thought process is logical, coherent, and goal-directed. He conveys excessive worry regarding his mother and brother. No hallucinations, delusions, suicidal, or homicidal ideations or plans. Demonstrate good judgment, and insight is present.
Diagnostic Impression:
Pediatric Generalized Anxiety Disorder (GAD): This differential diagnosis is due to Dev's excessive and unjustified worry about his mother and brother. He worries that they could be in danger and that the mother may fail to pick him up from school or return home like his father. He presents with other symptoms of pediatric GAD, like concentration difficulties, frequent headaches and stomachaches, and sleeping disturbances (Walter et al., 2020). The excessive anxiety has impaired school functioning since he does not pay attention and looks for excuses not to be in school.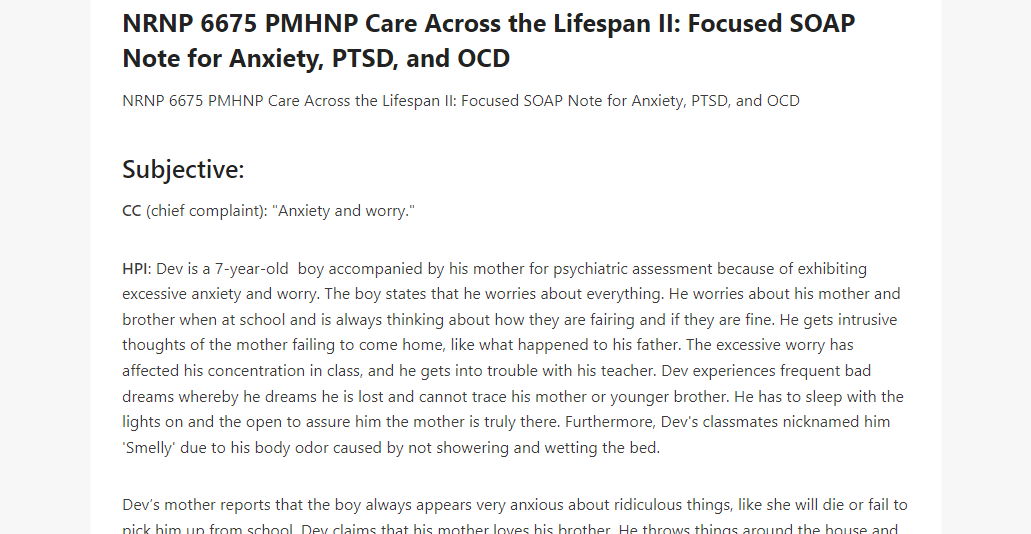 Separation Anxiety Disorder (SAD): The patient presents with features of GAD, like getting excessively worried and anxious when separated from his mother and brother. Besides, he gets intrusive thoughts about her mother failing to return home and about her being in danger (Patel & Bryant, 2021). He also has bad dreams about getting separated from his family. The anxiety related to separation causes headaches and abdominal pain and makes him frequently want to go home from school.
Pediatric Obsessive-Compulsive Disorder (OCD): The boy has obsessions about his mother and brother being in danger and getting separated. The obsession about getting separated has led to compulsive acts like sleeping with lights on and doors open to be assured the mother is there (Nazeer et al., 2020). He also constantly wants to go back home and makes excuses to return home.
Case Formulation and Treatment Plan:
Psychotherapy: Cognitive behavior therapy (CBT) is the selected psychotherapy treatment for pediatric GAD patients. It reduces GAD symptoms and has long-lasting effects. It will involve training the patient to self-monitor his worry and related symptoms as well as assessing and reviewing interpretive and predictive worries (Patel et al., 2018).
Medication therapy: Fluoxetine 10 mg orally once daily. It has a less prominent adverse effect profile, a long half-life, and a better compliance rate (Patel et al., 2018).
Alternative therapy: Buspirone 5 mg orally once daily. It has an anxiolytic effect and has demonstrated superior effectiveness compared with a placebo (Strawn et al., 2018).
Health promotion and Health Education: Educate the patient on the importance of daily baths to avoid bad body odor. Advise the boy to limit fluid intake in the evenings to reduce bedwetting.
Follow-up: Follow up after 4 weeks to assess the client's response to treatment, adjust medication when necessary, and evaluate for side effects.
Reflections: If I were to conduct this session again, I would use structured interviews to come up with DSM-V diagnoses. This includes using the Anxiety and Related Disorders Interview Schedule for DSM-5 (ADIS-5) and the Diagnostic Interview Schedule for Children (Walter et al., 2020). I would also assess for bullying in school, which could cause the patient to want to go home constantly. Ethical factors of beneficence and nonmaleficence should be considered. The PMHNP should select interventions established to improve anxiety in children and with the least harm to the population. The PMHNP should also seek consent from the mother and involve her in decision-making. Health promotion for this patient should include family-based interventions., to relieve anxiety and teach the child problem-solving and coping skills relevant to his age.

References
Nazeer, A., Latif, F., Mondal, A., Azeem, M. W., & Greydanus, D. E. (2020). Obsessive-compulsive disorder in children and adolescents: epidemiology, diagnosis, and management. Translational pediatrics, 9(Suppl 1), S76–S93. https://doi.org/10.21037/tp.2019.10.02
Patel, A. K., & Bryant, B. (2021). Separation Anxiety Disorder. JAMA, 326(18), 1880-1880. doi:10.1001/jama.2021.17269
Patel, D. R., Feucht, C., Brown, K., & Ramsay, J. (2018). Pharmacological treatment of anxiety disorders in children and adolescents: a review for practitioners. Translational pediatrics, 7(1), 23. doi: 10.21037/tp.2017.08.05
Strawn, J. R., Mills, J. A., Cornwall, G. J., Mossman, S. A., Varney, S. T., Keeshin, B. R., & Croarkin, P. E. (2018). Buspirone in Children and Adolescents with Anxiety: A Review and Bayesian Analysis of Abandoned Randomized Controlled Trials. Journal of Child and Adolescent Psychopharmacology, 28(1), 2–9. doi:10.1089/cap.2017.0060
Walter, H. J., Bukstein, O. G., Abright, A. R., Keable, H., Ramtekkar, U., Ripperger-Suhler, J., & Rockhill, C. (2020). Clinical Practice Guideline for the Assessment and Treatment of Children and Adolescents With Anxiety Disorders. Journal of the American Academy of Child & Adolescent Psychiatry. doi:10.1016/j.jaac.2020.05.005