NRNP 6675 PMHNP Across the LifeSpan II: Controversy Associated with Personality and Paraphilic Disorders
NRNP 6675 PMHNP Across the LifeSpan II: Controversy Associated with Personality and Paraphilic Disorders
NRNP 6675 PMHNP Across the LifeSpan II: Controversy Associated with Personality and Paraphilic Disorders
Pedophilia is one of the paraphilic disorders that psychiatric mental health nurses encounter in their practice. Pedophilia is a psychiatric condition characterized by older or adult patients having exclusive or primary sexual attraction to children (pre-pubescent). The DSM-5 considers that a person is diagnosed with pedophilia if he or she is aged at least 16 years and attracted to a child who is at least five years younger than them. Significant controversies surround the pedophilia(Keith, 2019). Therefore, the purpose of this paper is to examine controversies surrounding pedophilia, professional beliefs about it, strategies to maintain therapeutic relationship, and ethical and legal considerations for patients with pedophilia disorder.
Controversy Surrounding Pedophilia
Significant controversies surround pedophilia. First, most of the psychiatric mental health practitioners do not equate pedophilia and other paraphilic disorders with mental illnesses or psychopathology. This makes it a challenge for them to offer appropriate treatments and assessments in collaboration with the criminal justice system. There is also a lack of a comprehensive definition for paraphilic disorders, including pedophilia. The lack makes it a challenge for the psychiatric mental health practitioners to approach the issue since the existing definitions medicalizes sexuality. There is a also a lack of clear differences between pedophilia and other paraphilias, sexual offending and sexual defiance. What a society or culture considers sexual defiance, offending or paraphilias changes over time (Heron et al., 2023; Seto, 2022). As a result, the topic of paraphilias becomes a challenge to address in practice due to controversies in its associated normality and abnormality in societies.
Professional Beliefs
            Despite the controversies surrounding pedophilia, I believe that it is a mental health disorder. Pedophilias do not choose their mental health problems. Factors within their environment may play a role in its development. As a result, they have the right to access the care they need to overcome their sexual fantasies and attraction. Psychiatric mental health practitioners should be competent in providing patient-centered care to address the actual and potential mental health needs of the pedophilias. They should separate their views, beliefs, and attitudes towards paraphilias when caring for these patients (Krejčová & Klapilová, 2022; Seto, 2022; Winters et al., 2019). An example of an approach to achieve optimum outcomes for these patients is being culturally competent and sensitive to the needs of the different patients.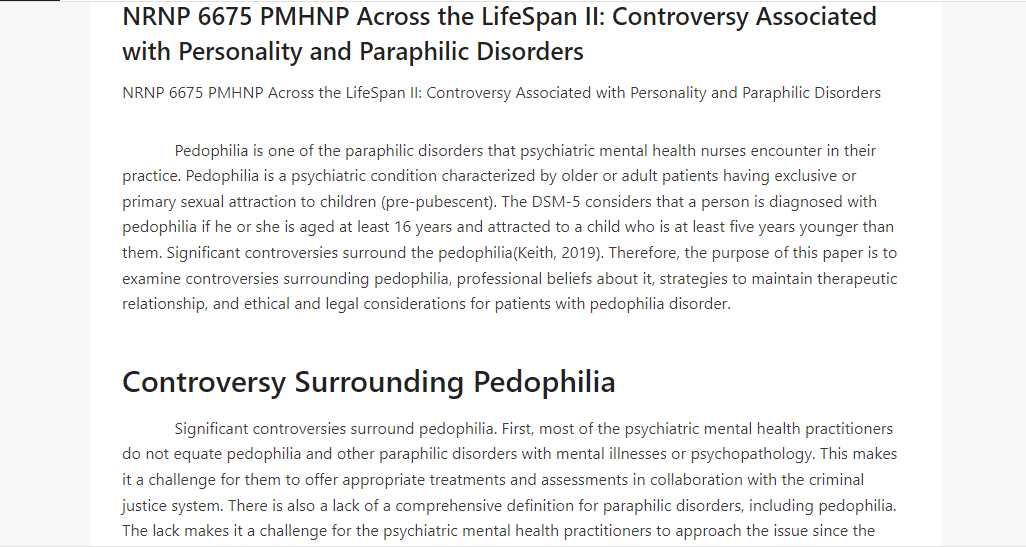 Strategies to Maintain Therapeutic Relationship
Psychiatric mental health nurses should strive to create and maintain a therapeutic relationship with patients diagnosed with pedophilia. One of the strategies is establishing rapport with their patients and assuring them confidentiality of their information. Patients should be informed that the information will not be shared with anyone without their consent. The other intervention is being patient-centered. The adopted care plans should address the unique and prioritized patient needs. The other strategy is being non-judgmental. The nurse should not base the decisions made on her attitude towards paraphilia but according to the clients' needs (Krejčová & Klapilová, 2022). The practitioner should also embrace open communication and shared decision-making to empower the patient to be proactively involved in managing their disorders.
Ethical and Legal Considerations
One of the ethical and legal considerations related to pedophilia that I need to bring to my practice is the protection of patient's right to high-quality and safe mental healthcare irrespective of their diagnoses. Practitioners must uphold their professional obligation to maintain the optimum health of the public irrespective of their backgrounds, disease status, or sexual identity. The other consideration is the promotion of data privacy and confidentiality. Practitioners should not disclose or allow access to data of patients diagnosed with pedophilia disorder without their consent (Heron et al., 2023). These considerations promote quality, safety, and efficiency in the delivery of mental healthcare services.
Conclusion
Controversies surround pedophilia. Psychiatric mental health nurse practitioners should uphold professional ethics when caring patients with pedophilia disorder. Focus should be on maintaining optimum therapeutic relationship when caring patients with this disorder. Ethics of nursing practice should inform approaches to pedophilia disorder management.

References
Heron, R. L., Schwiekert, L., & Karsten, J. (2023). Meeting a person with pedophilia: Attitudes towards pedophilia among psychology students: A pilot study. Current Psychology, 42(2), 1022–1033. https://doi.org/10.1007/s12144-021-01384-5
Keith, R. E. (2019). Paraphilias and the Medicalization of Criminal Behavior [Thesis, Virginia Tech]. https://vtechworks.lib.vt.edu/handle/10919/90378
Krejčová, L., &Klapilová, K. (2022). The paraphile project: Primary prevention program for people with paraphilia and their important others. The Journal of Sexual Medicine, 19(11, Supplement 4), S111–S112. https://doi.org/10.1016/j.jsxm.2022.10.097
Seto, M. C. (2022). Clinical and Conceptual Problems With Pedophilic Disorder in the DSM-5-TR. Archives of Sexual Behavior, 51(4), 1833–1837. https://doi.org/10.1007/s10508-022-02336-1
Winters, G. M., Calkins, C., Greene-Colozzi, E., &Jeglic, E. L. (2019). Mental Abnormalities in Sexually Violent Predator Evaluations: Ethical Use of Paraphilic Disorder Diagnoses. Journal of Forensic Psychology Research and Practice, 19(2), 170–185. https://doi.org/10.1080/24732850.2018.1556541