NRNP 6675 PMHNP Across the Life Span II: Prescribing for Older Adults and Pregnant Women
NRNP 6675 PMHNP Across the Life Span II: Prescribing for Older Adults and Pregnant Women
NRNP 6675 PMHNP Across the Life Span II: Prescribing for Older Adults and Pregnant Women
One of the factors that predispose individuals to more illnesses is advancing age. Therefore, older adults are known to be faced with a myriad of diseases. One such condition is Alzheimer's disease. This is a condition that starts with mild memory loss and may lead to a complete loss of ability to respond to the environment and carry on conversations. One FDA-approved medication for the condition is Aducanumab, an anti-amyloid that reduces decline among individuals with the condition (Walsh et al., 2021). An off-label medication for the condition is Olanzapine which is prescribed to reduce agitation (Zhu et al., 2021). Apart from the pharmacological approaches, non-pharmacological approaches can also be used for the condition. One approach is the use of memory and orientation exercises (Budson & Solomon, 2021).
Making treatment decisions for these patients need to consider risks. Therefore, I would consider the risk of stroke when choosing an approach. One benefit of Aducanumab as a treatment approach is that it is effective in reducing cognitive decline. However, one risk is that it may lead to brain bleeding (Walsh et al., 2021). Olanzapine, as an off-the-label medication, also has various benefits, such as sedating an individual showing aggression. On the other hand, this medication has various risks, such as putting an individual at risk of having a stroke.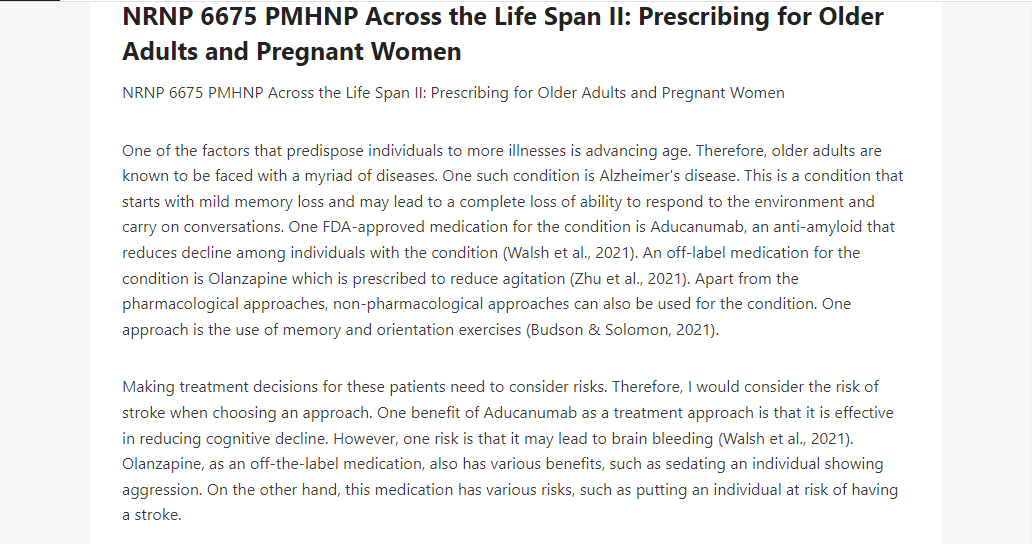 The negative impacts of Alzheimer's disease and other forms of dementia have led to the establishment of various clinical guidelines. One of the recent guidelines published by NICE covers the diagnosis and management of dementia forms such as Alzheimer's disease. The guideline suggests the use of both pharmacological and non-pharmacological management of the condition (Porsteinsson, 2021). For example, it suggests the use of off-label medications such as Olanzapine to help control aggression. Therefore, the guideline supports the suggestions made in this write-up.
References
Budson, A. E., & Solomon, P. R. (2021). Memory Loss, Alzheimer's Disease, and Dementia-E-Book: A Practical Guide for Clinicians. Elsevier Health Sciences.
Porsteinsson, A. P., Isaacson, R. S., Knox, S., Sabbagh, M. N., & Rubino, I. (2021). Diagnosis of early Alzheimer's disease: clinical practice in 2021. The Journal of Prevention of Alzheimer's Disease, 8, 371–386. Doi: 10.14283/jpad.2021.23
Walsh, S., Merrick, R., Milne, R., & Brayne, C. (2021). Aducanumab for Alzheimer's disease?. Bmj, 374. https://doi.org/10.1136/bmj.n1682
Zhu, L., Wu, G., Heng, W., & Zang, X. (2021). A comparative study of Olanzapine, aripiprazole and risperidone in the treatment of psychiatric and behavioral symptoms of Alzheimer's disease. Pakistan Journal of Pharmaceutical Sciences, 34.https://pubmed.ncbi.nlm.nih.gov/34862873/