NRNP 6635 Assessing and Diagnosing Patients With Schizophrenia, Other Psychotic Disorders, and Medication-Induced Movement Disorders
NRNP 6635 Assessing and Diagnosing Patients With Schizophrenia, Other Psychotic Disorders, and Medication-Induced Movement Disorders
NRNP 6635 Assessing and Diagnosing Patients With Schizophrenia, Other Psychotic Disorders, and Medication-Induced Movement Disorders
Subjective:
CC (chief complaint): "My parents requested this appointment."
HPI: Jay Feldman is a 19-year-old European-American male client on psychotherapy after his parents booked him a psychiatric appointment. When booking the appointment, Feldman's parents reported that he was having difficulties in school. However, the client states that he is doing fine in school as a freshman pursuing Theoretical physics and advanced calculus. Feldman mentions that the combined courses are mysteries, and the moment he thinks that he has grasped it, it fades away. The client mentions that his roommate at State College brought a microwave. He reports that the purpose of the microwave is to trigger a bleeding degeneration of blood cells and bleed humanity from peoples' rightful destiny. Feldman also mentions that their room is spying on them. The client has not been showering.
Past Psychiatric History:
General Statement: The client has a psychiatric history of mild paranoia.
Caregivers (if applicable): None
Hospitalizations: None
Medication trials: The patient was on a short trial of Aripiprazole for six months. The medication was stopped due to the side effects of akathisia.
Psychotherapy or Previous Psychiatric Diagnosis: Mild paranoia
Substance Current Use and History: Attempted to smoke marijuana twice at 18 years. He admits to taking vodka 3-4 glasses on weekends. Denies tobacco or other illicit substance use.
Family Psychiatric/Substance Use History: The patient has two younger brothers; one has a history of ADHD and the other a history of anxiety. Feldman's mother has a history of anxiety, and his father of paranoia schizophrenia.
Psychosocial History: Feldman is a freshman at State College pursuing a combination of Theoretical physics and Advanced calculus. He plans to pursue a double major in philosophy and physics. He is the firstborn in a family of three and was raised by both parents. He attained all his childhood developmental milestones. He states that he has several friends, but he has not kept in touch with them since he came back home. He sleeps 4–5 hrs per day.
Medical History:
Current Medications: None
Allergies: None
Reproductive Hx: No history of STIs.
ROS:
GENERAL: Reports appetite loss and weight loss. Denies fever, chills, or increased fatigue.
HEENT: Denies visual changes, ear pain/discharge, rhinorrhea, or swallowing difficulties.
SKIN: Denies rashes, discoloration, or bruises
CARDIOVASCULAR: Denies dyspnea, neck distension, or edema.
RESPIRATORY: Denies SOB, wheezing, or productive cough.
GASTROINTESTINAL: Reports having an inconsistent appetite. Denies having nausea, vomiting, abdominal discomfort, diarrhea, or constipation.
GENITOURINARY: Denies urinary symptoms.
NEUROLOGICAL: Denies headache, dizziness, or muscle weakness.
MUSCULOSKELETAL: Denies joint stiffness/pain or muscle pain.
HEMATOLOGIC: Denies bruising.
LYMPHATICS: Denies swollen lymph nodes.
ENDOCRINOLOGIC: Denies excessive sweating, heat/cold intolerance, or acute thirst.
Objective:
Physical exam: T- 98.3 P- 69 R 16 106/72 Ht 5'7 Wt 117lbs
Diagnostic results: None
Assessment:
Mental Status Examination:
The patient is untidy with shaggy hair, long dirty nails, yellow teeth, and a stinking body odor. He is alert but appears fatigued. He maintains minimal eye contact and appears uninterested in the interview. His speech is clear but speaks at a fast rate and high volume. The self-reported mood is "okay," but he has a flat affect. He makes long pauses before responding to questions. He has a looseness of association, and his speech is difficult to follow. His thoughts are disorganized. The client has odd beliefs and paranoid delusions. No hallucinations, phobias, compulsions, or suicidal/homicidal ideations were noted. Insight is absent.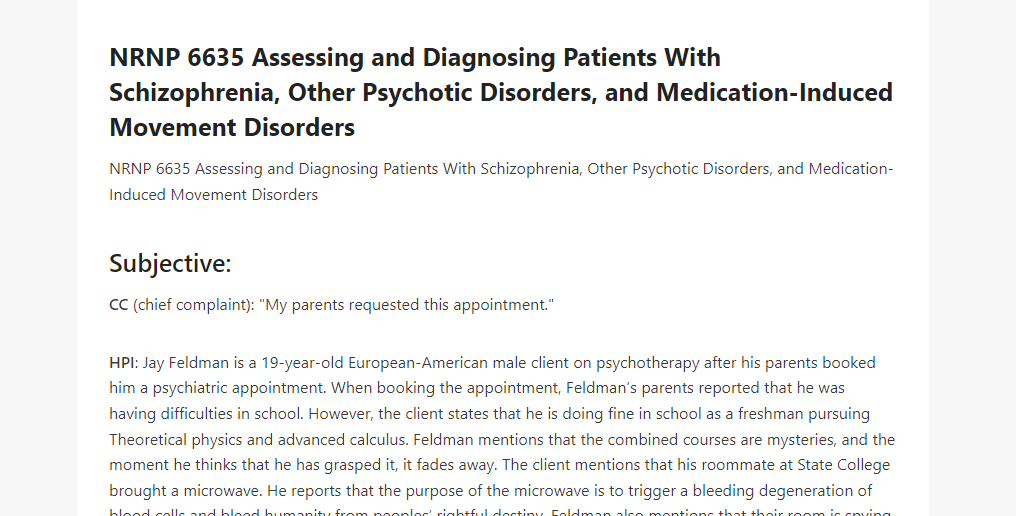 Differential Diagnoses:
Schizophrenia: Schizophrenia is a psychotic disorder characterized by hallucinations, delusions, and problems with perception, thought, and behavior. The DSM-V criteria for diagnosing schizophrenia require the presence of two or more of the following psychotic features: Delusions, Hallucinations, Disorganized or catatonic behavior, Disorganized speech and Negative symptoms (McCutcheon et al., 2020). Schizophrenia is thus a differential diagnosis based on the patient's symptoms of odd beliefs, paranoia delusions, looseness of association, and disorganized thoughts and speech. The patient's symptoms have contributed to impairment in academic and self-care activities.
Bipolar Disorder: Bipolar disorder is diagnosed based on the presence of alternating episodes of mania and profound depression. Mania is manifests with an elevated/irritable mood and increased goal-directed activity. Patients also present with grandiosity, excessive talking, racing thoughts, distractibility, diminished need for sleep, and increased engagement in risky activities (McIntyre et al., 2020). The episodes of profound depression present with a depressed mood, loss of interest, insomnia/hypersomnia, appetite changes, and suicidal ideations (McIntyre et al., 2020). Bipolar disorder is a differential based on the patient's symptoms of looseness of association, reduced sleep, inconsistent appetite, and altered functioning in school and self-care areas. Nonetheless, the patient has no history of depression which makes Bipolar disorder an unlikely primary diagnosis.
Persecutory Delusional Disorder (PDD): Patients with PDD present with a persistent pattern of unwarrantable distrust and suspicion of others. They interpret others' motives and actions as spiteful. Besides, individuals perceive that they may be attacked at any time and without reason (González-Rodríguez & Seeman, 2020). The patient's paranoid delusions are consistent with PPD. The client believes that his roommate has brought a microwave to cause a bleeding degeneration of blood cells and bleed humanity from peoples' rightful destiny. Besides, he expresses suspicions that they are being spied on in their room. However, the patient has looseness of association, and disorganized thoughts and speech, which are not characteristic of PPD, making it an unlikely primary diagnosis (Joseph & Siddiqui, 2021).
Reflections:
If I were to redo the session, I would assess the patient for depressive and anxiety symptoms, common comorbidities of schizophrenia. I would assess anxiety and depression using screening tools such as the Generalized Anxiety Disorder Assessment (GAD-7) and Patient Health Questionnaire- 9 (PHQ-9). The tools are effective in identifying the symptoms and their severity. Ethical principles to be considered in this patient include beneficence which is a duty to promote good and thus the best patient outcomes (Bipeta, 2019). Nonmaleficence should also be considered by avoiding causing harm to the patient. Health promotion interventions should include educating the patient on lifestyle changes such as increasing the level of physical activity and practicing healthy dietary habits.

References
Bipeta, R. (2019). Legal and Ethical Aspects of Mental Health Care. Indian journal of psychological medicine, 41(2), 108–112. https://doi.org/10.4103/IJPSYM.IJPSYM_59_19
González-Rodríguez, A., & Seeman, M. V. (2020). Addressing Delusions in Women and Men with Delusional Disorder: Key Points for Clinical Management. International Journal of Environmental Research and Public Health, 17(12), 4583.
Joseph, S. M., & Siddiqui, W. (2021). Delusional Disorder. In StatPearls. StatPearls Publishing.
McCutcheon, R. A., Reis Marques, T., & Howes, O. D. (2020). Schizophrenia-An Overview. JAMA Psychiatry, 77(2), 201–210. https://doi.org/10.1001/jamapsychiatry.2019.3360
McIntyre, R. S., Berk, M., Brietzke, E., Goldstein, B. I., López-Jaramillo, C., Kessing, L. V., Malhi, G. S., Nierenberg, A. A., Rosenblat, J. D., Majeed, A., Vieta, E., Vinberg, M., Young, A. H., & Mansur, R. B. (2020). Bipolar disorders. Lancet (London, England), 396(10265), 1841–1856. https://doi.org/10.1016/S0140-6736(20)31544-0