NR505NP Assignment Area of Interest in NP 
NR505NP Assignment Area of Interest in NP 
NR505NP Assignment Area of Interest in NP 
We will start this week by discussing a practice issue in an area of interest as an NP. Please focus on an area of interest that is a practice change issue you would like to implement as an NP.
You will want to avoid anything requiring a policy or law change, such as full-practice authority. Focus on what you see as a need for change in practice that would improve patient outcomes.
I am looking forward to reading your work!
If you haven't already, please join the NP Cafe! It has many resources to help your journey in this course succeed!
This café is designed to create a community of support and friends. Get to know your fellow students and share some information, ask questions, and answer questions. It will also contain vital information to help your educational journey here at Chamberlain.
Please join the café by joining the following link. You must be logged into Canvas before you click on the link:
Remember, I am available to you by text with urgent questions or concerns!
Let's have a great week! 
Nurse practitioners are uniquely positioned to empower their patients to engage in activities that prevent disease and promote optimal health through a shared decision-making process (Parks, 2018). Colorectal cancer screening is one of the many health strategies an NP can utilize to reduce colon cancer incidence and death rates. According to the Centers for Disease Control and Prevention (2020), colorectal is ranked as the fourth leading cause of cancer in the United States.
Colonoscopy is the gold standard for colon cancer screening and the only screening measure that prevents cancer by removing precursor lesions (Niederreiter et al., 2019). A successful colonoscopy requires a good bowel cleansing (Hernández et al., 2019). Therefore, poor bowel preparation leads to poor outcomes. Patients should have a clear understanding of the bowel instructions. During a health encounter, nurse practitioners, with their knowledge and communication skills, can initiate prep instructions to promote adherence. Patients are then referred to gastroenterologists to schedule their screening colonoscopies, or eligible patients can get a schedule through Open Access Colonoscopy (where they can fill out a form and schedule at their convenience). However, a problem arises if a procedure is scheduled a few months out; therefore, retention of bowel prep information can be a challenge. This is evident at an outpatient endoscopy center where I currently work. Preoperative calls are done before the procedure, and staff will remind the patients about the procedure's date and time, confirm the appointment, and give verbal instructions regarding bowel preparation and dietary requirements. However, there is no standard timeframe for when reminder calls should be done and, at times, completed as early as ten days before the procedure. With the time-lapse between the call and colonoscopy, some patients have forgotten the instructions, resulting in poor bowel preparation and poor colon visualization. Suppose it was determined in the preoperative area that patients did not correctly follow colonoscopy instructions, procedure is canceled. The procedure is aborted in the intraoperative area if the colon is poorly visualized.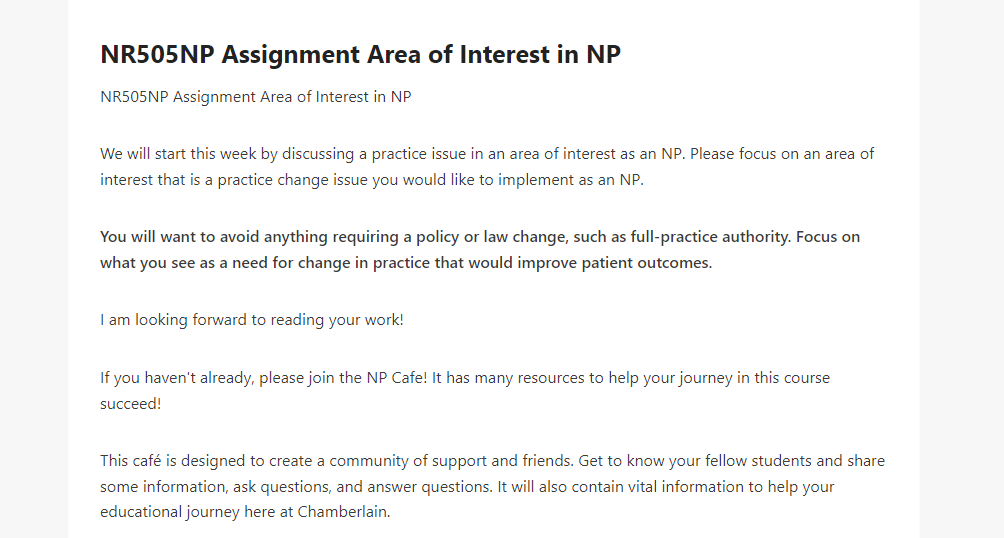 When patients are dissatisfied with the process, they may find fault in the practice, leave it, and choose a new healthcare provider. Nurse practitioners have an educational background and leadership qualities to implement new practice guidelines in their organizations. They can share their interest in improving patient outcomes in their working environments.
Preoperative phone calls completed 1-3 days before the procedure that includes bowel prep education improve compliance, resulting in better bowel cleansing and patient satisfaction. High-quality bowel visualization leads to higher detection of adenomas. The timing of preoperative phone calls is a significant influence. Incorporating standardized preoperative phone calls may improve patient satisfaction and quality (Berardinelli & Koteles, 2021).
References
Berardinelli, T., & Koteles, T. (2021). Breakin' up is hard to do! – standardized pre-operative phone call. Journal of PeriAnesthesia Nursing, 36(4), e16. https://doi.org/10.1016/j.jopan.2021.06.050
Centers for Disease Control and Prevention. (2020). Uscs data visualizations. https://gis.cdc.gov/Cancer/USCS/?CDC_AA_refVal=https%3A%2F%2Fwww.cdc.gov%2Fcancer%2Fdataviz%2Findex.htm#/AtAGlance/
Hernández, G., Gimeno-García, A. Z., & Quintero, E. (2019). Strategies to improve inadequate bowel preparation for colonoscopy. Frontiers in Medicine, 6. https://doi.org/10.3389/fmed.2019.00245
Niederreiter, M., Niederreiter, L., Schmiderer, A., Tilg, H., & Djanani, A. (2019). Colorectal cancer screening and prevention—pros and cons. memo – Magazine of European Medical Oncology, 12(3), 239–243. https://doi.org/10.1007/s12254-019-00520-z
Parks, P. (2018, October 16). Nurse practitioners can lead the way in affecting colorectal cancer screening. AJMC. https://www.ajmc.com/view/nurse-practitioners-can-lead-the-way-in-affecting-colorectal-cancer-screening
I found your post discussing proper bowel preparation for patients scheduled for colonoscopies interesting. I work on an inpatient unit and, at times, help patients with their bowel preparation before their colonoscopy. Although these colonoscopies are not for colon cancer screening, the process and need for adequate bowel preparation pre-op is still essential. Proper education on the importance of bowel preparation before colonoscopies is crucial for any patient going for this procedure. If not done correctly, the preparation before and during the procedure will have been useless and will have to be rescheduled, further angering the patient and potentially even the provider. As future nurse practitioners, we have the ability to advocate for the education and health promotion of these patients. Through your suggestion of pre-operative phone calls a few days prior to the colonoscopy, along with other forms of education given during the scheduling process to help remind patients as well, this can help improve patient satisfaction and outcomes through successful colonoscopies. We are in a special position to advocate for our patients, and with our background in nursing and communication skills have the potential to decrease the rate of poor colonoscopy preparation, thereby increasing health promotion through the detection of cancers or other illnesses.
Colorectal cancer screening needs to be done sooner than waiting for a colonoscopy. It is most common after age of 50 but young adults can also get it (ACS, 2023). There are many modifiable risk factors such as being obese and certain diets (ACS,2023). Having a family history of colorectal cancer increases the risk for it (ACS,2023). Early screening is necessary for detection and treatment. I have seen patients in their mid 30s-40s being diagnosed with colorectal cancer. In my opinion, the age for colonoscopy screening needs to be reevaluated especially if risk factors are high. This a great topic regarding a positive change in NP practice. The early screening will help improve patients outcomes with early treatment. Bowel preparation is very important prior to colonoscopy. The preparation instructions should be given to the patient prior to the procedure and clear understanding should be noted. My grandmother was scheduled for a colonoscopy and did not receive clear instructions therefore the doctor could not clearly assess the colon. This resulted in rescheduling the procedure and can also delay treatment. Preoperative calls are important to clarify procedure instructions and answer any questions or concerns.
American Cancer Society. (2023) What is Colorectal Cancer? https://amp.cancer.org/cancer/types/colon-rectal-cancer/about/what-is-colorectal-cancer.htmlLinks to an external site.
I was a GI nurse for years which is what stopped me at your post. I agree with calling patients 1 to 3 days in advance to ensure that they are coming and to ensure that they start taking their prep, and if they have any other questions, during the conversation would be the time to get the answers they need. I fell into this with my own prep and my appointment was made at least 2 months later. Of course I forgot and I got a call from the pre-op nurses and I had to cancel because I did not have an escort. In procedure, as a nurse, I have seen great preps and bad preps. At times some patients prep for two days and may still produce a not so good prep on video. Maybe your picot question can be about the bowel prep,
In adult populations having a colonoscopy procedure, Is a one day prep or a three day prep more effective over a six month period. Or comparing the types of preps GoLytely and suprep with added stool softeners?
I found and interesting read about different prep agents, here is a selection:
"Many different bowel preparations agents and regimens are available today, all with the aim of producing adequate bowel cleansing. However, each regimen's comparative efficacy, tolerability and toxicity is unclear. In addition, colonoscopy is increasingly used in different participant populations and the ability to synthesize the efficacy and side effects of each bowel preparation is important. Furthermore, overall adverse events to bowel preparation are reported to be up to 31.7% of participants, with vomiting occurring in up to 20.7% of participants and similar proportions for abdominal pain and distention. Therefore, bringing this information together in a single resource would help clinicians make an informed decision as to the regimen of choice for the participant."
Tan, L., Lin, Z. C., Ma, S., Romero, L., & Warrier, S. (2018). Bowel preparation for colonoscopy. The Cochrane Database of Systematic Reviews, 2018(11), CD006330. https://doi.org/10.1002/14651858.CD006330.pub3
Dementia is a progressive, chronic condition that affects much of the older population. According to the Diagnostic and Statistical Manual of Mental Disorders (DSM)-IV, dementia is characterized by a decrease in cognitive, linguistic, visual, memory, and judgment capabilities (Calsolaro et al., 2021). Although there are other causes and types of dementia, Alzheimer's disease (AD) remains the most common (Calsolaro et al., 2021). Patients with dementia may be high functioning, with only minor noticeable symptoms such as short-term memory loss or judgment abilities. However, patients suffering from Behavioral and Psychological Symptoms of Dementia (BPSD) pose an increased health risk to themselves and others. BPSD are one of the earliest signs of decreased cognitive function and characterizes some of the most severe symptoms of dementia (Calsolaro et al., 2021). BPSD consist of a variety of symptoms ranging from depression and apathy to hallucinations, psychosis, and aggression, and increases the risk of hospitalization for these patients, which creates another set of problems for this group. (Calsolaro et al., 2021). According to Osuoha et al. (2021), patients hospitalized with dementia experience worse outcomes compared to those without dementia. This is believed to be related to the unfamiliar environment and personnel caring for these patients with dementia and is associated with longer hospital stays and increased risk of re-admission (Osuoha et al., 2021). The main treatment for hospitalized patients suffering from BPSD is the use of antipsychotics, despite warnings issued by the US Food and Drug Administration (FDA) (Calsolaro et al., 2021). There are several severe risks associated with the use of antipsychotics in patients with dementia such as increased risk of stroke, falls, worsening cognitive impairment, pneumonia, and even death (Calsolaro et al., 2021).
My recommendation for the treatment of hospitalized dementia patients experiencing BPSD is the use of non-pharmacologic interventions, with medication use reserved only for the most severe cases in which the patient or staff member is in imminent danger. Four themes were recognized in the study conducted by Osuoha et al. (2021): caring, communication, care environment, and education. Providing person-centered care and communicating with patients and their families provided a means to understand the patient's behavior in order to develop appropriate treatment options. Using the care environment to promote physical activity and other recreational activities to occupy these patients provided a proactive diversion for them to focus on. Education of how to care for this special population of patients and understanding the pathological process of what is happening to them can help caregivers safely care for these patients. Avoiding the use of antipsychotics in patients with dementia requires abstract thinking. Looking at the overall picture, patterns exhibited by the patient, and developing individualized treatment options are all ways nurses can engage in abstract thinking (Gray et al., 2017).
References
Calsolaro, V., Femminella, G. D., Rogani, S., Esposito, S., Franchi, R., Okoye, C., Rengo, G., & Monzani, F. (2021). Behavioral and psychological symptoms in dementia (BPSD) and the use of antipsychotics. Pharmaceuticals, 14(3). https://doi.org/10.3390/ph14030246
Gray, J., Grove, S. K., Sutherland, S., & Burns, N. (2017). Burns and Grove's the practice of nursing research: Appraisal, synthesis, and generation of evidence (8th ed.). Elsevier.
Osuoha, P., Masoud, S. S., Leibas, M., Cleveland, L. M., Reed, C. C., Piernik-Yoder, B., & White, C. L. (2021). "Getting to know them": Person-centered care for patients with dementia in acute care. Journal of Gerontological Nursing, 47(5), 37–44. https://doi.org/10.3928/00989134-20210408-01
Thank you so much for the advice and clinical practice guidelines! I realize that my prior recommendation for change is more geared towards nursing, and not so much an intervention to augment NP practice. My goal as a future NP in the acute care specialty is to provide recommendations for practice changes in regard to the care of hospitalized patients with dementia. When in a hospital setting, patients with dementia are in an unfamiliar environment, and whatever acute illness they are hospitalized with only augments their confusion (Osuoha et al., 2021). This creates problematic situations, especially for the staff caring for the patient. When suffering from an acute illness, for example, a UTI, dementia patients became even more confused than their baseline. Throughout my experience as a nurse, I have noticed that this particular group of patients is either pleasantly confused and cooperative, or agitated, aggressive, and combative. The latter situation causes the most problems for both the patient and the staff caring for them. Treating patients in these situations with medications, often antipsychotics, may resolve the problem temporarily, but oftentimes does not and only creates more problems by placing the patient at risk for more complications. Using the APA Clinical Practice Guidelines for Dementia, I can help recommend practice changes that NPs can implement to promote safe environments for hospitalized patients suffering from dementia as well as the staff caring for them.