NR 599 Week 6 Assignment Midweek Comprehension Questions
NR 599 Week 6 Assignment Midweek Comprehension Questions
NR 599 Week 6 Assignment Midweek Comprehension Questions
Telecommunication has advanced over the years and become very popular. Due to the global pandemic, telemedicine is safer and more convenient. According to an article conducted by Stuckey et al. (2018), using information and communication technologies for the exchange of valid Information for diagnosis, treatment and prevention of disease and injuries, and for the continuing education of health care providers. Always advancing our skills as providers is essential to patient care.
Stuckey, R., Domingues-Montanari, S. (2018). Telemedicine is helping the parents of children with neurodevelopmental disorders living in remote and deprived areas. Paediatrics & International Child Health. Vol. 37 Issue 3, p155-157.
In my current role as a care transition nurse, I follow patients telephonically to monitor their progress after an emergency department visit or hospital stay. Our department calls the patient within two days post hospitalization and within 24 hours for an E.D. visit to ensure the patient is not having new or worsening symptoms. We also educate them on any chronic condition or current illness, assure they have picked up their medications, have a follow-up appointment with their PCP and have connected with any additional services ordered for them (such as home health care). Due to the current demographic of our patients (mostly elderly), we typically just call them as they are not as comfortable with technology. However, there has been much discussion about performing video visits in the future. I hope to be able to practice as a PMHNP solely through video visits or at the very least hybrid (part face-to-face, part video visits remotely). I will need to continue to learn and stay on top of technology related to my work. It's with these advances that I'm even able to envision this future goal.
Many errors and adverse incidents in healthcare occur because of poor data and information. In addition to threatening patient safety, poor data quality increases healthcare costs and inhibits health information exchange, research, and performance measurement. There are health care institutions that are developing and implementing standards for data content, data mapping, and documentation. Implementing continuous quality improvement strategies to support quality data and information are critical to achieve desired positive patient outcomes.
I agree. That is a good reminder that even though this technology is available it also needs to be accurate with good quality information. Otherwise, it is no help to us at all. Like most products, there must be quality control to make sure that customer satisfaction remains high, the product is safe to use and accurate. 
With medical applications, the F.D.A. has set guidelines and recommendations for manufacturers and developers to follow in order to keep the public safe. "if a software function is intended for use in performing a medical device function (i.e., for diagnosis of disease or other conditions, or the cure, mitigation, treatment, or prevention of disease), it is a medical device, regardless of the platform on which it is run". (FDA, n.d.).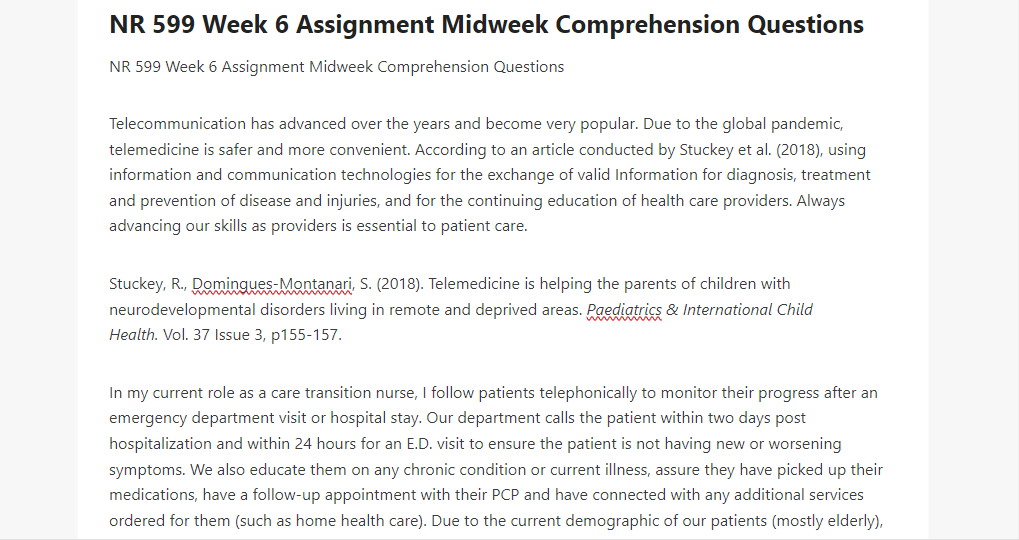 The technological world is enormous and advanced, and I feel that it will only get more complicated and more difficult to oversee, but quality control for patient safety must be done.
Many errors and adverse incidents in healthcare occur because of poor data and information. In addition to threatening patient safety, poor data quality increases healthcare costs and inhibits health information exchange, research, and performance measurement. There are health care institutions that are developing and implementing standards for data content, data mapping, and documentation. Implementing continuous quality improvement strategies to support quality data and information are critical to achieve desired positive patient outcomes.
I used the Epocrates Essential app as a reference guide as an ER nurse. It has been helpful in many ways. For example, it identifies pills in an overdose patient. The mobile app combines communication and computing features, allowing easy access and use at the point of care. Another example is the mhealth app had a record of recent laboratory results.  This was beneficial to know with a patent with a GI bleed to compare laboratory results. In addition, this helps facilitate communication among healthcare professionals.   The transition from registered nurse to nurse practitioner is a significant career role transition.  The responsibilities will be essential as advancements in digital technology continue to increase patient care options.  Understanding security requirements and protecting patients' personal information must be a top priority.  APNs may need to provide care with an interactive video visit keeping in mind privacy. Telehealth is a safe and convenient alternative to care to in-person visits. This is beneficial for older adults who have limited mobility.  APNs need to be aware the patient's home needs access to the internet and technology to conduct a video telehealth visit. Stay current is, attending education meetings and conferences and keeping open communication with other APNs. 
The point-of-care tools I will use in my future NP practice include computers and systems like CDSS, EHR, and E-prescribing. I will stay current with new and innovative telecommunication tools in healthcare by joining a professional nursing organization that offers regular informatics training and publishes newsletters with current nursing informatics news and technology advances (Navaz et al., 2021). Besides, I will subscribe to newsletters with technology publications and follow the tech sites they recommend to remain current. In addition, I will attend nursing informatics conferences and informatics events. Conferences are a great opportunity to see innovative technology specific to nursing (Schiavone & Ferretti, 2021). I will listen to industry leaders during the conferences, attend classes, and talk with vendors about their products. 
References

Navaz, A. N., Serhani, M. A., El Kassabi, H. T., Al-Qirim, N., & Ismail, H. (2021). Trends, Technologies, and Key Challenges in Smart and Connected Healthcare. IEEE access : practical innovations, open solutions, 9, 74044–74067. https://doi.org/10.1109/ACCESS.2021.3079217
Schiavone, F., & Ferretti, M. (2021). The FutureS of healthcare. Futures, 134, 102849. https://doi.org/10.1016/j.futures.2021.102849
Since starting this class, I have made some changes at my job. I started trying to use point-of-care tools that are available. We have cellphones that can be used to scan patient medications for administration. Instead of bring the computer-on-wheels to the individual room, I can just use the cellphone to scan. This has taken some adjustment. It is more difficult to navigate a small screen. Sometimes I will have to go back and chart the pain assessment on the desktop. I have also used the cellphone to scan IV bags that were otherwise not scanning on the computer-on-wheels scanner.
     Using the cellphone for scanning has required some adjustments in my daily routine.  There will also be adjustments to be made as an APN.  I could see using a tablet for rounding to be a beneficial point-of-care tool.  To stay current, it is sometimes only possible to use what is offered to you at your place of employment.  I believe it is up to the employer to stay current.  Suggestions can be brought up on how to make a more effective workflow, but ultimately you can only use what is offered to you.
For some, transitioning from an RN who gathers and reports information to a provider who receives and responds to information can take time and effort. Thankfully there are many tools available to assist you. One key strategy is knowing about these tools and how and when to access them. One such resource is the Access Medicine database on the Chamberlain Library website. AccessMedicine is a comprehensive online medical resource that provides a complete spectrum of knowledge from the best minds in medicine, with essential information accessible anywhere. The CU library provides instructions to download the Access Medicine app. Check it out! 
Reviewing week six lesson plan elaborates the use and benefits of point of care tools. Point of care tools are used as a reference for providers and patients to provide details about their current health. In my current role as an RN, some point of care tools I use daily are stethoscope, BP cuff, thermometers and lastly glucometer. As a future NP, having access to tools such as an app for quick reference guide of treatment plans to share instantly and get feedback with certainly facilitate effective patient care.
As a bedside RN in the preoperative department, point of care tools that we use prior to surgery are blood Glucose monitoring, ISTAT for electrolytes and hematocrit, POC covid antigen tests, that appropriately upload results into the EHR with proper barcode scanning.  We also use vital signs monitors to enter vitals in to the EHR and barcode administration to give preop medications.  As a bedside RN we are data collectors and communicate information to other providers. As an APN I will have increased responsibility to take further action on the information received by the POC technology and create a care plan to manage the patient's health.  While as a bedside RN there is some autonomy to managing the information, it is always communicated to the appropriate provider for guidance moving forward. 
I currently work in a hospital setting on a same-day surgery unit. As registered nurses, we actively work with point-of-care tools such as pregnancy tests and glucometers, I-stat machines, and scales to weigh the patients. My role now is to use the tools directly with patients and input the data in an EHR. As a future APN, my role with change, instead I will be interpreting the values obtained from these point-of-care tools to make informed decisions regarding patients' treatment plans. I will use these tools to properly educate patients on their health maintenance. 
Working in the community I have limited access to larger mHealth tools. I do rely on mobile apps for medication dosing and pill identification along with pharmacological equivalent medications as well as video conferencing with staff to triage and provide recommendations. As an APN I see the benefits of video visits, med dosing apps, treatment recommendations via mobile resources and limited patient chart access. I do think that as the market of mHealth tools continues to be flooded it will be challenging to decipher which tools may be the most accurate and reliable evidence supported information. Possibly subscribing to a nursing informatics newsletter with updates and recommendations of new technology may be the best way to know what's good, new or changed. This stream of information may also provide seminars applicable to mHealth technologies and can provide information on upcoming trainings on the newest systems. 
The health delivery system competency is critical to an NP as it is constantly changing and requires self-motivation and discipline to keep up with changing rules, regulations, and laws. Independent practice competency will be beneficial. Waite (2019) illustrates NPs with independent practices encounter four major hurdles as they transition to independent practice beginning with questioning evolving into self-directing and transforming then finally achieving fulfillment. The transformation begins when NP's experience frustration with limitation within current practices causing them to question the healthcare delivery process and how they could
As an advanced practice nurse there are numerous ethical responsibilities to uphold for patient's safety and autonomy.  Through knowledge gained in this course assessing patients for cultural, educational, and informational literacy is imperative to caring for our patients. What are some of the ethical dilemmas that you anticipate as an APRN? 
References
Waite, A. (2019). Highlighting the lived experience of nurse practitioners in independent practice. The Journal of Nurse Practitioners. 15(10), 787-791. https://10.1016/j.nurpra.2019.07.020Links to an external site. 
As mentioned in this lesson, numerous telecommunications-ready tools are already available to assist nurses in delivering care and improving patients' health outcomes. New and innovative tools are rapidly making it to the marketplace, making current tools dated and sometimes obsolete. Continue to reflect upon the point-of-care tools you may be familiar with using in your role as a Registered Nurse and how your responsibilities will change with your future role as an APN. How will you stay current? Provide a brief response (100 words or less)
I have used many point-of-care gadgets as a nurse. I may use several resources to engage my patients in their health. Patient portal software makes appointments, provides medical records and results, and allows patient-provider communication and education. This health data organization and sharing system benefits nurses, doctors, and patients.
As an advanced practice nurse, I will provide medication and communicate with patients via mobile apps. I'll have instant access to patient data and conclusions to quickly address patient concerns. I can save time, calm patients, and improve care by being available outside of office hours. I can manage several patients better with the correct tools. I will review new tools and software to stay current. I will also continue using and educate patients about their many resources.
Point of care tools aid us in providing high quality healthcare. These tools use the latest technology to provide evidence-based practice. To stay current with the rapid changes in point-of-care tools it will be important to stay abreast of the latest tools. It will be important to attend training offered by my facility and professional organizations such as the American Nursing Informatics Association. Dedicating time to read  the Journal of Medical Internet Research and the Journal of Informatics Nursing is pat on my plan. Another I'll gather information is through peers and colloagues, they can be a wealth of information.
My experience, as a healthcare professional, with telecommunication tools is limited due to working on an inpatient psychiatric unit. However, we do utilize tools such as telehealth tools. When the providers are unable to make it to the facility, they have the option to assess the patient via video through an app called BlueJeans. We also hold hearings for involuntary patients via video conference on over an iPad which includes the judge, lawyer, case worker and the patient, who are all at different locations. We utilize and app called Tiger Text to send confidential texts to providers or other employees involved in the patient's care. Providers also have remote access to put orders when they are not at the facility. However, I have utilized many tools as a receiver of healthcare such as patient portals, which I can't imagine not having, as well as different health apps that I use to track my own health. I am all for the different telecommunication tools in healthcare and will utilize them as a PMHNP to better care for my patient population. I will stay current by looking out for new tools, trying out ones that are relevant to my area of practice. I can stay current through social media which will allow me to connect with other practitioners and help to stay up-to-date on news and trends. I can also stay current by reading current journal articles, and joining professional organizations.