NR 599 Discussion EHRs Benefits and Drawbacks
NR 599 Discussion EHRs Benefits and Drawbacks
NR 599 Discussion EHRs Benefits and Drawbacks
As discussed in the lesson and assigned reading for this week, EHRs provide both benefits and drawbacks. Create a "Pros" versus "Cons" table and include at least 3 items for each list. Next to each item, provide a brief rationale as to why you selected to include it on the respective list.
| | | | | | |
| --- | --- | --- | --- | --- | --- |
| PRO's | Improved patient-provider communication | EHRs have become an important part of nurse-patient interactions which includes both face-to-face and remote consultations (Aveyard, et al., 2022). EHRs allow the patient to connect with their provider from anywhere. Being able to connect at any time for any issue facilitates better communication and promotes better patient outcomes. | CONs | Less patient interaction | The distraction that can be caused by the use of EHRs by providers has negative impacts on the patient-provider relationship (Bohsali, et al., 2018). Providers need to be cognoscente of time they are devoting to EHR documentation, especially in the presence of the patient, as not to distract of the patient-provider interaction (Bohsali, et al., 2018). |
| PRO's | Reduced costs | Advantages of EHRs are the shortening of the time to make a new medical record, the reduction of working hours for employees in the records department and other departments, increase of billing accuracy and income, and improvement in the quality of provider documentation (Adebowale, et al., 2022). | CONs | Cost of operation/running | Long-term costs associated with running an HER includes software protection to protect against malware, system upgrades, and ransomware concerns (Adebowale, et al., 2022). |
| PRO's | Legible and complete documentation | EHRs support documentation which improves clinical outcomes and streamlines communication between professionals to improve patient safety, assess quality of care and maximize efficiency (Eltair, et al., 2018). | CONs | Usability | "…poor EHR usability has been found to be a contributor to physician dissatisfaction, and many have hypothesized a direct relationship between EHR usability and physician burnout" (Dyrbye, et al., 2019, para. 6). Authors further point out that providers spend 1 to 2 hours time charting in the EHR for every 1 hour they spend with their patient on top of the 1 to 2 hours personal time they spend working in the EHR (Dyrbye, et al., 2019). |
2. Refer to the Stage 3 objectives for Meaningful Use located in this week's lesson under the heading Meaningful Use and the HITECH Act. Select two objectives to research further. In your own words, provide a brief discussion as to how the objective may impact your role as an APN in clinical practice.  
Generate and transmit prescriptions electronically: this objective strives to ensure all eligible hospitals and critical access hospitals use electronic health record technology to transmit prescriptions to patients (CMS, 2018). Under stage 2 controlled substances were excluded but under stage 3 e-prescribing of controlled substances is included in states where allowable (CMS, 2018). As an Advanced Practice Provider, I will have to be knowledgeable about prescribing restrictions. For example, in my state of Wisconsin, there are restrictions on prescribing controlled substances (Board of Nursing, 2019). Regardless of eligibility under the objective, I will be unable to prescribe any schedule I controlled substance (Board of Nursing, 2019). One of the factors in my ability to meet this objective is the training I receive. Proper training to ensure correct utilization of the organization's EHR to e-prescribe will be vital. Beykloo, et al. states that use of the EHR for prescribing increases patient safety by reducing risk of errors, but can add to workflow thereby increasing provider frustration (The impact of electronic prescribing, 2019). To decrease workload, reduce steps in the process, and decrease frustration, providers often use workarounds (Beykloo, et al., 2019). Although workarounds can save time, they are not best practice and can lead to adverse events or poor patient outcomes.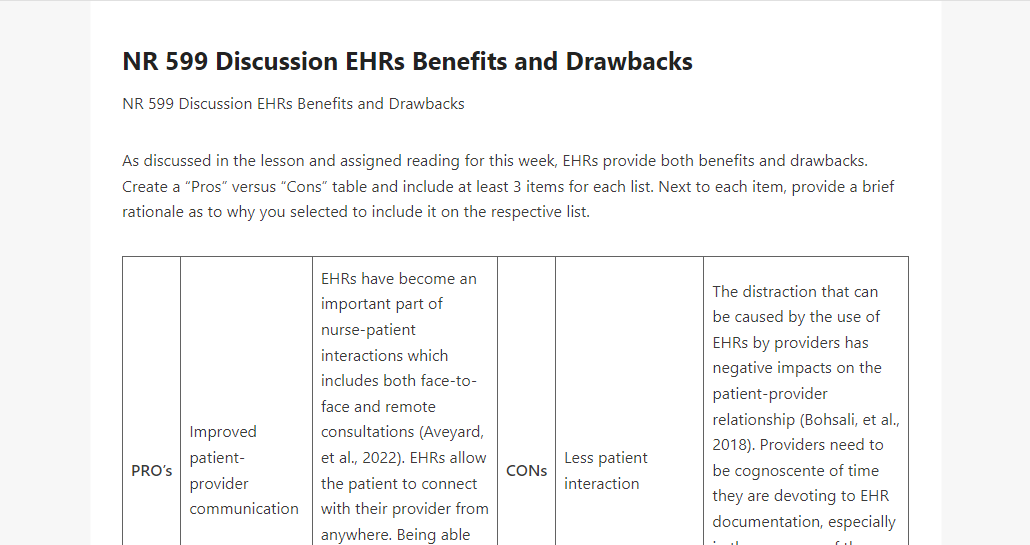 Actively engage in public health: this objective requires providers to show active engagement with public health agencies by meeting at least 2 of the 5 different public health measures (Forward Health, 2023). These measures are: immunization registry reporting, syndromic surveillance reporting, electronic case reporting, public health registry reporting, and clinical data registry reporting (Forward Health, 2023). Meeting these public health measures are vital in my future practice to promote the overall health of the community by focusing on the social, economic, and environmental factors that contribute to patient well-being (Bekemeier, et al., 2021). As Advanced Practice Providers, we have the capacity to work in diverse settings such as health departments, nonprofits, and complex care systems in our community. Being able and willing to engage the fore-mentioned public health measures will guide us to provide better care to the patients we serve in our future practice (Bekemeier, et al., 2021).
Aveyard, H., Butcher, D. & Forde-Johnston, C. (2022). An integrative review exploring the impact of electronic health records (HER) on the quality of nurse-patient interactions and communication. JAN, 79(1), 48-67. Retrieved on 03/19/2023 from: https://onlinelibrary.wiley.com/doi/full/10.1111/jan.15484Links to an external site.
Adebowale, A., Amanullah, S. & Gopidasan, B. (2022). Electronic medical records – a review of cost-effectiveness, efficiency, quality of care, and usability. Journal of Psychiatry Spectrum, 1(2), 76-79. DOI: 10.4103/jopsys.jopsys_17_22. Retrieved on 03/19/2023 from: https://journals.lww.com/jops/Fulltext/2022/07000/Electronic_Medical_Records___A_Review_of.2.aspxLinks to an external site.
Bekemeier, B., Johnson, K., Kaneshiro, J., Kuehnert, P., Swider, S. & Zahner, S. (2021). A critical gap: advanced practice nurses focused on the public's health. Elsevier Public Health Emergency Collection, 69(5), 865-874. doi:10.1016/j.outlook.2021.03.023. Retrieved on 03/19/2023 from: https://www.ncbi.nlm.nih.gov/pmc/articles/PMC8092811/Links to an external site.
Beykloo, M., Blandford, A., Franklin, B., Furniss, D., Ma, T., McLeod, M. & Mohsin-Shaikh, S. (2019). The impact of electronic prescribing systems on healthcare professionals' working practices in the hospital setting: a systematic review and narrative synthesis. BMC Health Services Research, 19. Retrieved on 03/19/2023 from: https://www.ncbi.nlm.nih.gov/pmc/articles/PMC6806498/Links to an external site.
Board of Nursing (2019). Chapter N8. Wisconsin Legislature. Retrieved on 03/18/2023 from: https://docs.legis.wisconsin.gov/code/admin_code/n/8.pdfLinks to an external site.
Bohsali, F., Chisolm, M. & Wolfe, L. (2018). Clinically excellent use of the electronic health record: review. JMIR Human Factors, 5(4). doi: 10.2196/10426. Retrieved on 03/18/2023 from: https://humanfactors.jmir.org/2018/4/e10426/Links to an external site.
CMS (2018). Medicare promoting interoperability program stage 3 eligible hospitals, critical access hospitals, and dual-eligible hospitals attesting to CMS objectives and measures for 2018. Department of Health and Human Services. Retrieved on 03/18/2023 from: https://www.cms.gov/Regulations-and-Guidance/Legislation/EHRIncentivePrograms/Downloads/MedicareEHStage3_Obj2.pdfLinks to an external site.
Dyrbye, L., Melnick, E., Nedelec, L., Shanafelt, T., Sinsky, C., Trockel, M., Tutty, M. & West, C. (2019). The association between perceived electronic health record usability and professional burnout among US physicians. Mayo Clinic Proceedings, 95(3), 476-487. Retrieved on 03/18/2023 from: https://www.clinicalkey.com/#!/content/playContent/1-s2.0-S0025619619308365?returnurl=https:%2F%2Flinkinghub.elsevier.com%2Fretrieve%2Fpii%2FS0025619619308365%3Fshowall%3Dtrue&referrerLinks to an external site.=
Eltair, S., Faber, K. & Pagulayan, J. (2018). Use the nursing process to take advantage of EHR's capabilities and optimize patient care. The American Nurse Journal. Retrieved on 03/18/2023 from: https://www.myamericannurse.com/documentation-electronic-health-record/Links to an external site.
Forward Health (2023). Promoting interoperability program: meaningful use of certified EHR technology. Department of Health Services. Retrieved on 03/19/2023 from: https://www.forwardhealth.wi.gov/WIPortal/Subsystem/KW/Print.aspx?ia=1&p=1&sa=15&s=11&c=637&ntLinks to an external site.=
Part of the stage one requirements for meaningful use criteria is increasing compliance with medication reconciliation (Resnick, et al., 2016). Medication reconciliation can be such an important part of our care as an APRN. Until I worked in home health and sat down with each patient to not only go over each and every medication they are taking including vitamins and supplement but also have them show me how they were taking them each day, I found that almost none of the patients were doing so correctly. Since this experience I make sure to do a full medication reconciliation with each patient and make sure they known the importance of telling their providers of all vitamins and supplement as well. With a proper medication reconciliation we can help to avoid those drug-to-drug interactions.
Resnick, C. M., Meara, J. G., Peltzman, M., & Gilley, M. (2016). Meaningful use: A program in transition.Links to an external site.Links to an external site. Bulletin of the American College of Surgeons, 101(3), 10-16.
This is an excellent topic, as the consumption of vitamins, supplements, and herbs has increased. Approximately 76% of adults in the U.S. consumed herbal supplements in 2017, compared to 2012 when it was about 64% (Choi & Song, 2021). It is essential to know interactions, as patient safety is a priority. To tackle this issue, I would ask if the patient is taking anything not prescribed by a physician. There could be leading questions asked to help remind or guide the patient. Asking the patient to bring in the bottles of the supplements or photos would help. Educate the patient on the importance of disclosing everything they are taking. As a provider, I can educate myself on the interactions of vitamins/ all-natural items and the interactions with pharmaceuticals as well as food. Books and databases are available that can be utilized on the spot or to gain more knowledge in general. It is impossible to know every single interaction as not all interactions are reported or traced back to the culprit. However, it is essential to educate ourselves as much as possible on interactions and alternatives outside of pharmaceutical medications.
Choi, M.-K., & Song, I.-S. (2021). Pharmacokinetic Drug–drug interactions and herb–drug interactions. Pharmaceutics, 13(5), 610. https://doi.org/10.3390/pharmaceutics13050610
Adverse drug interactions are common and costly to our health care system. Fortunately, medication reconciliation is a means to decrease medication related injuries hence improving quality of care. One method to combat drug-drug interactions is the inclusion of pharmacy during the admission and discharge process (Patel, et al., 2019). As a parent of a child with disabilities who takes several herbal supplements, I understand the importance of full transparency for accurate and efficient care. I believe this barrier falls under educating patient on the importance of full disclosure. I had a patient who told me he didn't feel comfortable telling the medical team about his supplements due to fear of the supplements being taken away while he was hospitalized.
Patel, E., Pevnick, J. M., & Kennelty, K. A. (2019). Pharmacists and medication reconciliation: a review of recent literature. Integrated Pharmacy Research and Practice, 39-45.
This is an insightful discussion of the pros and cons of EHR. Indeed the pros of the EHR include improving patient-provider communication, reduced costs, and promoting legible and complete documentation. Your post has enlightened me that EHRs allow patients to connect with their providers from anywhere. I agree that patients connecting with providers at any time for any issue facilitates better communication and promotes better patient outcomes.
The fundamental aim of the EHR is to have all the information needed for patient care, practice management, research, and education easily accessible at the point of care. The EHR promotes improved communication and integration of care between various health providers and more efficient documentation and patient monitoring. Studies have established that EHRs help to reduce medical errors by improving access to crucial patient information (Jetté & Kwon, 2019). Furthermore, the EHR can potentially reduce medical errors, decrease paperwork, and support reimbursement for healthcare professionals.
Your post is also insightful on the cons of EHR, like reducing patient interaction, high costs of operation and running the EHR system, and usability issues. Poor EHR usability contributes to provider dissatisfaction and leads to physician burnout. In addition, EHRs are at risk of security breaches. Security breaches threaten patient privacy when others access confidential health data from the EHR without the patient's consent or authorization (Tsai et al., 2020). This can lead to legal consequences for the provider and the organization.
The objective of generating and transmitting prescriptions electronically may affect APN practice since the APN will be required to send drug prescriptions to pharmacies electronically to avoid fraudulent prescribing and security breaches of patient data. To actively engage in public health, the APN will be expected to collaborate actively with public health agencies and clinical data registries.
References
Jetté, N., & Kwon, C. S. (2019). Electronic Health Records—A System Only as Beneficial as Its Data. JAMA Network Open, 2(9), e1911679-e1911679. https://doi.org/10.1001/jamanetworkopen.2019.11679
Jetté, N., & Kwon, C. S. (2019). Electronic Health Records—A System Only as Beneficial as Its Data. JAMA Network Open, 2(9), e1911679-e1911679. https://doi.org/10.1001/jamanetworkopen.2019.11679
I agree with you on the importance of patient portals. Han et al. (2019) suggests that patient portals lead to improvements in various behavioral outcomes such as health knowledge, self-efficacy, decision making, medication adherence, and engaging in preventative services. In my own personal experience, patient portals have been vital, even a necessity. I have 4 kids, and patient portals helped immensely during my pregnancies to keep me on track with doctors appointments, viewing any test results, communication with my provider and now help me stay on track with my children. I am able to set up appointments, refill medications, access any information when needed. I honestly could not imagine not having this tool right at my fingertips, or how much of an inconvenience it would be. I believe it has had a major impact in people becoming more involved and proactive in their own care.
I also wanted to comment on your con regarding inaccuracy in the EHR due to clinicians not entering their own notes. I have also witnessed this and another con is the voice to text tool. While this can an efficient tool that can save time, if not used properly it can cause confusion and errors. I have read many physicians notes that made no sense because the physicians were not correcting the errors the voice to text was making. They were just quickly dictating the note to get it done without reviewing it. In my opinion, it is the equivalent of ineligible handwriting on paper notes. I plan to be very diligent in my documentation, ensuring that it is thorough, accurate, and makes sense.
References
Han, H., Gleason, K.T., Sun, C.-A., Miller, H.N., Kang, S.J., Chow, S. J., Chow, S., Anderson, R., Nagy, P., & Bauer, T. (2019). Using patient portals to improve patient outcomes: Systematic review. JMIR human factors, 6(4), e15038-e15038. https://doi.org/10.2196/15038Links to an external site.